Do you love candles as much as I do?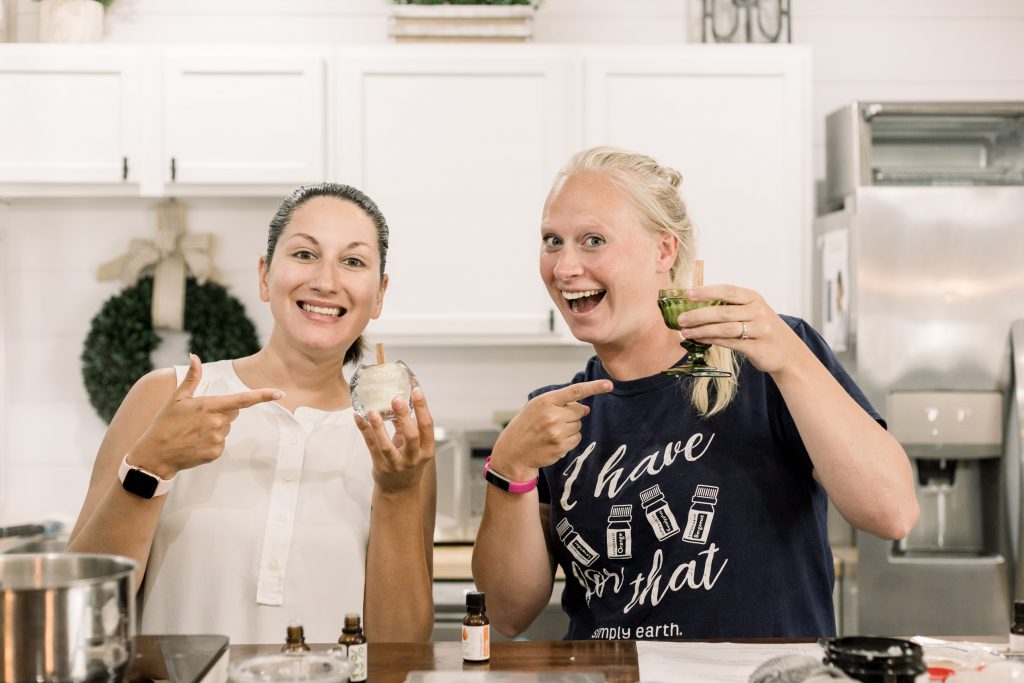 Candles always make me think of my mom. We had candles burning in our house almost every day growing up. We always had them going at the dinner table and then into the evening while we did homework or watched a movie.
Now, when we're spending a relaxing evening at home, I'll light a candle and Lee always says "Isn't this so nice?" I love the way candles set a cozy atmosphere for those "Isn't this so nice?" evenings.
In this blog, you'll learn everything you need to know about how to make scented candles using essential oils.
Why Make Your Own Candles?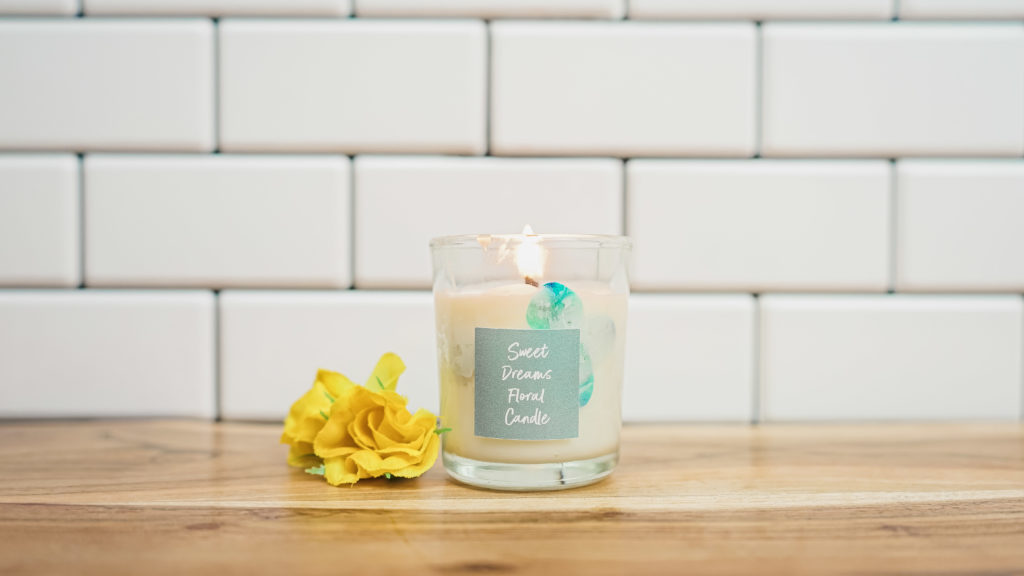 Making candles may sound daunting, but they are actually quick and easy to make. Using essential oils and a natural wax base makes it easy to ditch synthetically fragranced candles that dominate store aisles.
Making your own candles allows you to get creative with the containers, wicks, and essential oils you use. A fun and budget-friendly idea is to reuse jars from home or visit your local thrift store for tons of fun and different options. I found a cat candle holder which was perfect for my co-worker Shilah, who loves cats. I even found a cute one that says "Mary" which is my mom's name.
You can also have so much fun blending your own scents. You need about 15 drops per oz of wax you use to get a good, strong aroma out of your candle. I'll make sure to share with you some of my favorite combinations.
How to Make Scented Candles with Essential Oils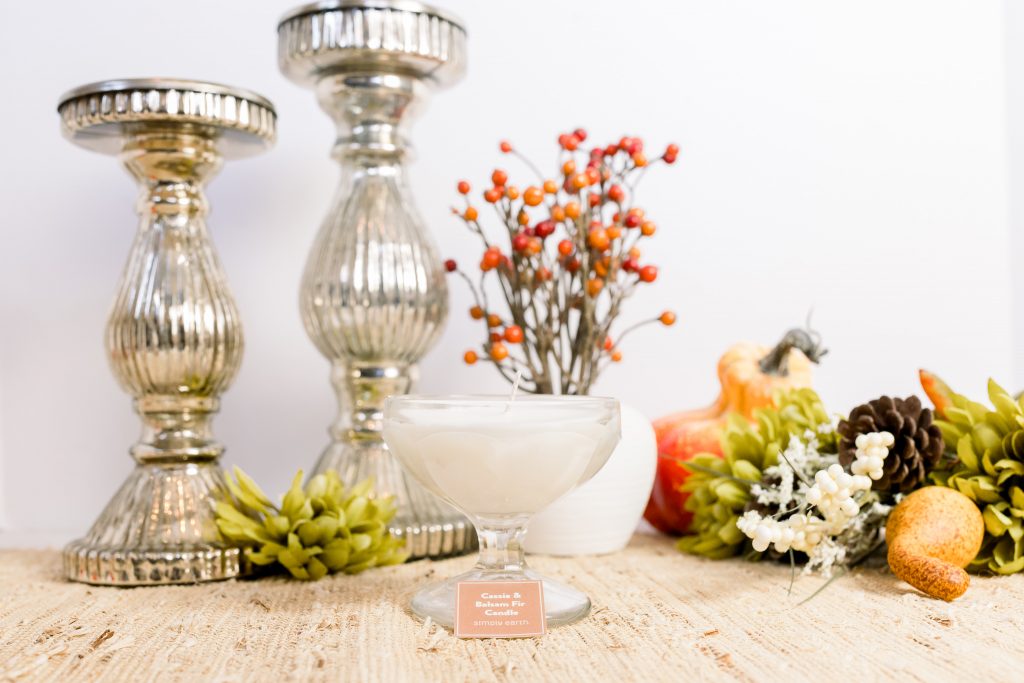 In this blog, I'll teach you the basics of how to make scented candles, then share with you my favorite candle recipes that you can use and play around with to create your own favorite candle recipes.
Ingredients
Wax
There are a variety of waxes you can use to make candles. My favorites are beeswax and soy wax. You can use beeswax and soy wax on their own or mix them together.
Beeswax adds a yellow tint to your candle along with a slight honey scent to it.
Soy wax is odorless and creates a white candle.
Coconut oil (solid) is an ingredient that I often add to my candles to help the ingredients last longer. It also helps add an even melt to the candle.
Wick
There are a lot of different kinds of wicks you can use. There are wooden wicks that add a slight cracking sound while burning, cotton wicks, braided wicks, or wicks that are blended with paper and cotton. Another is floating candle wicks if you want to try making some floating candles (see the recipe below).
Container or Mold
Use a jar, or teacup, or head over to your local thrift store and get creative with all of the options there. I've found a variety of used candle holders along with fun cups and dessert dishes that have been really fun to play around with. Just make sure that what you use isn't flammable or meltable. 
You can also create a candle in a silicone mold if you want a stand-alone candle.
Essential Oils
Many people ask "how much essential oil should I use when making candles?"
You'll want to use 15 drops of essential oils per oz of candle you are making to get a strongly scented candle.
Here are some of my favorite essential oils and oil combinations to use in candles:
Instructions
Step 1: Measure the Wax
The amount of wax you use will determine the size of the candle you will make. For example, if you use 2 oz of wax, you will create a 2 oz candle.
Step 2: Melt the Wax
You can do this in the microwave at short intervals, but I find that I get the best results when I use a double boiler. If you don't have a double boiler, you can use a glass jar/bowl in a pan with about 2 inches of water in it.
You'll want to heat the wax until it is just melted and take it off the heat immediately. If the wax gets too hot, the essential oils will evaporate when added and won't scent your candle. If you do happen to overheat your wax, stir it until it cools down before adding your oils.
Step 3: Attach the Wick
Dip the bottom of your wick into the melted wax and place it in the center of the bottom of your container. You can also use a bit of glue to do this instead of wax.
If necessary, prop it upright. You can do this by placing it between two pencils, toothpicks, etc.
Step 4: Mix in the Oils
Add the essential oils to the melted wax. Remember – you are using 15 drops per oz of wax. Stir for at least 30 seconds to make sure the oil is fully distributed throughout the melted wax.
Step 5: Pour the Wax
Pour the melted wax (with the essential oils) into your container or mold. Make sure the wick stays centered while you do this.
Step 5: Cool the Wax
You'll know your candle is ready to use once the wax is totally cooled. How long it takes to cool will vary depending on the wax you use and the size of the candle you make. You'll know it's cooled down once it has become opaque and is at room temperature.
Step 6: Trim the Wick
Wicks are made to be longer than you need so that you can trim them to your desired length. Trim the wick so that it sticks out approximately ¼ inch from your candle.
Step 7: Enjoy!
Burn candles within sight, away from flammable objects, children, and pets. Enjoying the aroma and ambiance!
A Note About Candle Cleanup
Cleaning up can be tough when working with wax. The best way to get wax out of the bowl or double boiler you used is by using a paper towel and wiping it out while the wax is still melted and then cleaning it with dish soap.
If the wax hardens before you get to it, you can remelt it and then wipe it out.
If you are going to be making candles often, you can designate materials for candle-making alone to save time on clean-up.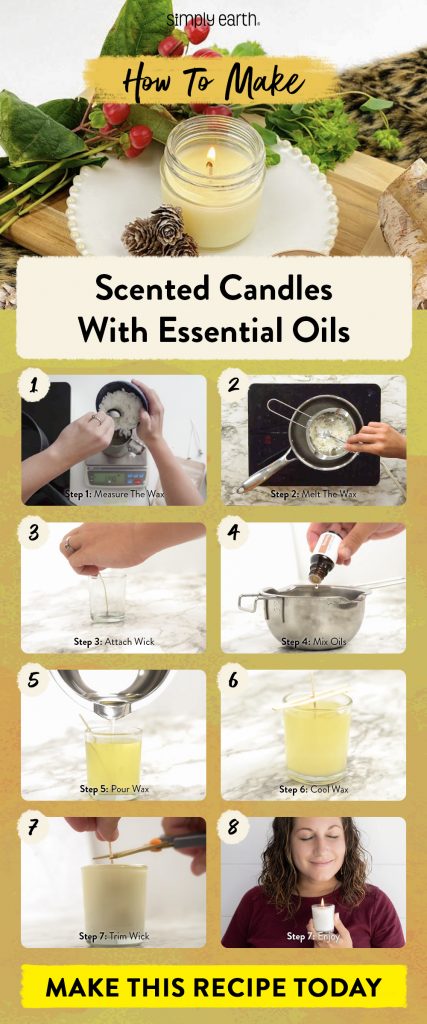 My Favorite Candle Recipe
The Best Candle Recipe with Essential Oils
Here is my favorite recipe that you can play with to make it your own! It creates a 2 oz candle.
Ingredients
½ cup (1.5 oz) soy wax

1 Tbsp beeswax

1 Tbsp coconut oil (solid)

30 drops essential oil

Wick 

2-3 oz jar or similar container*
Directions
Melt soy wax, beeswax, and coconut oil in a double boiler.
Once the mixture has just melted, remove from heat, add essential oils and stir for 30 seconds.
Dip the bottom of the wick into the melted wax to adhere it to the bottom of the container. Prop wick upright and pour the wax into the container.
Allow the candle to cool completely. Trim the wick to ¼ inch in height. Burn candles within sight, away from flammable objects, children, and pets. 
Essential Oil Candles You Can Make at Home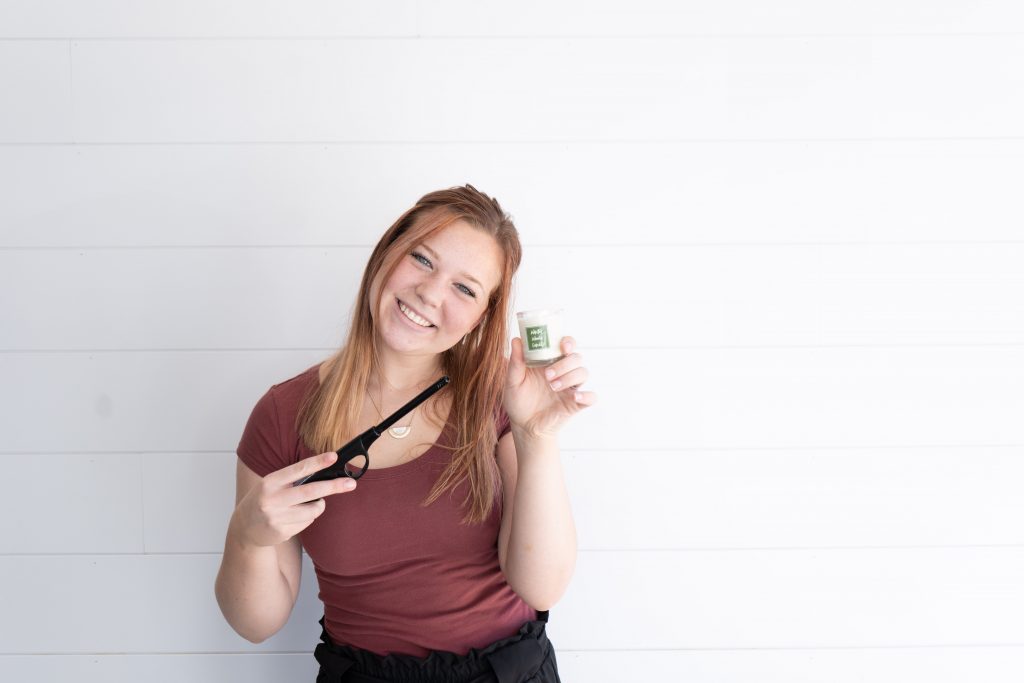 Here are some more fun ways to make scented candles with essential oils. You will love these scented candle recipes!
What's Your Favorite Essential Oil for Candles?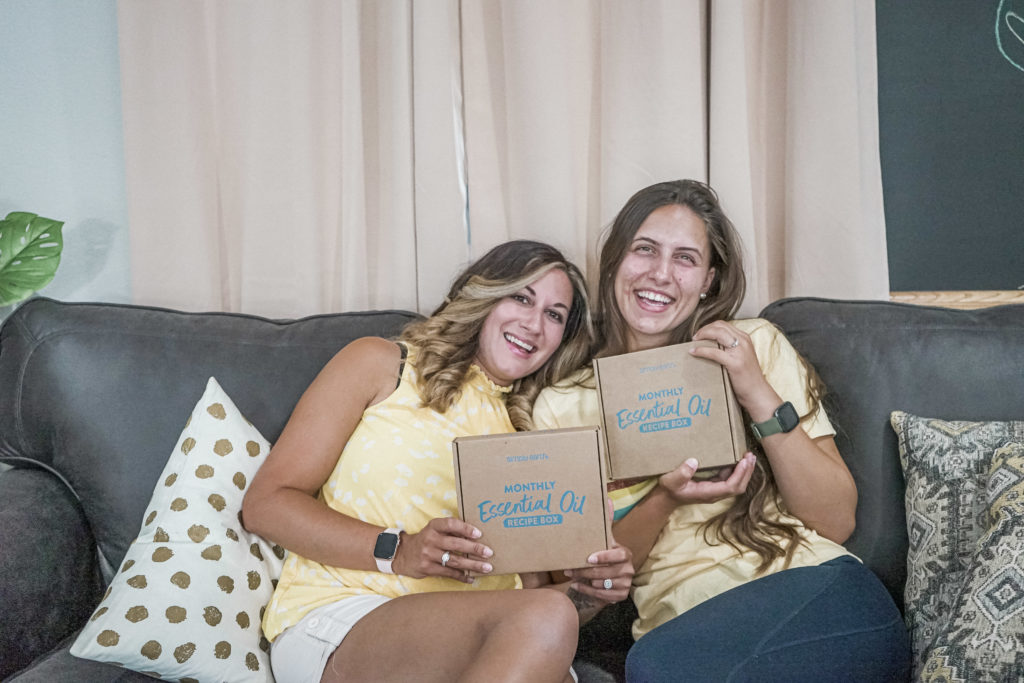 Making aromatherapy candles is easy and fun. What are your best tips and tricks on how to make scented candles with essential oils? What are your favorite oil combinations and waxes to use? We'd love to hear about it on social media with @fromsimplyearth and in the comments below!
Are you ready to master essential oils? You get FREE access to our Hero Course if you subscribe to our Monthly Essential Oil Recipe Box. With it, you'll receive 4 pure essential oils, 6 aromatherapist-created recipes, and more—all delivered directly to your door each month for just $44.99/month. Plus, we'll give you a FREE Big Bonus Box!
Don't miss out on the all-natural fun that comes with the Recipe Box; get yours today: Subscribe now to learn how to use essential oils!