Do you have an upcoming gathering and want to impress your guests?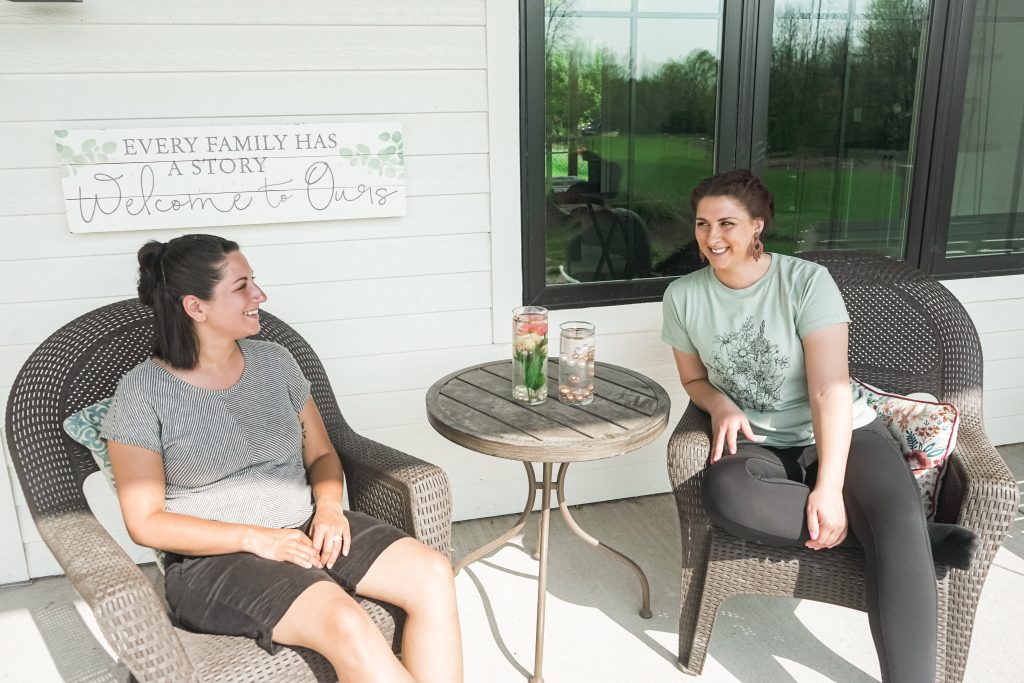 A floating candle is a fun, elegant twist on a candle recipe that requires very little effort and time to make. It makes an impressive centerpiece that can be customized for any event. You can play with the essential oils, decor, and containers for your floating candle. The possibilities are endless!
How to Make a Floating Candle
How to Make a Floating Candle: Step-by-Step Guide
Ingredients
Floating Wicks
Just like any candle, we also need floating candle wicks for our floating candle. These special wicks will float on top of the candle, burn the oils underneath, and exude the candle's aroma.

Heat Proof Vase or Jar
The jar acts as a vase that will hold the recipe together. You can use any heat proof vase or jar for your floating candle. It can be any size or shape as long as its mouth is large enough to hold the candle wick and oil. We recommend using polarized glass as the heat from the candle is unlikely to damage the glass.

Tip: Use clear vase/ jar. It is perfect for displaying decors inside the vase/ jar.

Decorative Items
The best part about floating candles is that you can use any decorative items to fit your theme or party. Your imagination is the limit here!

Ideas: Use clear water beads to get a cool floating effect (use with beads, fake flowers, shells, etc.). You can also try adding a submergable tea light. You can also use flowers, fruits, spices, leaves, etc. Be creative!

Oil
You can use vegetable oil, fractionated coconut oil, or any cooking oil available in your kitchen. This will allow the candle to burn.

Water
The water shows off the decorations inside your jar, and will keep the oil on the top of the candle so the wick can stay lit.

Essential Oils
Of course, to make your floating candle aromatic, add essential oils to it. You can choose essential oils for their specific benefits and/or aromas to match your candle's theme.
Directions
Place decorative items in your jar. Make sure your decorative items do not float above the surface as they can become fire hazards.
Add water to the jars until they're almost full (leave about an inch from the top). 

Tip: If your jar has a neck, fill it slightly above neck. 
Tip: Depending on the container you are using, you may want to complete this step in the location where you plan to use the candles so that you don't need to carry them to their final location full of water.
Add a couple tablespoons of oil to your jar so that there is a thin layer of oil (~1/8th inch) resting on top of the water.
You can expect 2 Tbsp oil to burn for about four hours. (This time is based on using a mason jar; time can vary based on the width of the jar.) Add more or less vegetable oil depending on how long you want your candle to burn.
Add 15 drops essential oil per 2 tbsp oil and stir thoroughly. †
Assemble wicks so that ~ ⅓ of the wick comes out of the foil lined side. Place wicks on top of oil, cork side down.
To use, light the candle wick. Burn within eyesight, away from kids, pets, and flammable objects. The flame will naturally extinguish as it runs out of oil. The wick will last for several uses. Refresh décor, water, and oils as needed.
Notes
†Essential oils are flammable. If the essential oils are only dropped onto the cooking oil without stirring, the essential oils will remain floating on the surface of the oil and may catch fire. If you plan to use more oil, you can proportionally add more essential oil.
Tip: After you burn through your oil, feel free to change up the essential oils you use the next round.  Once you burn through your entire wick, you can keep the floating tab and add another trimmed wick to recreate the floating wick.
Floating Candle Recipes You Can Follow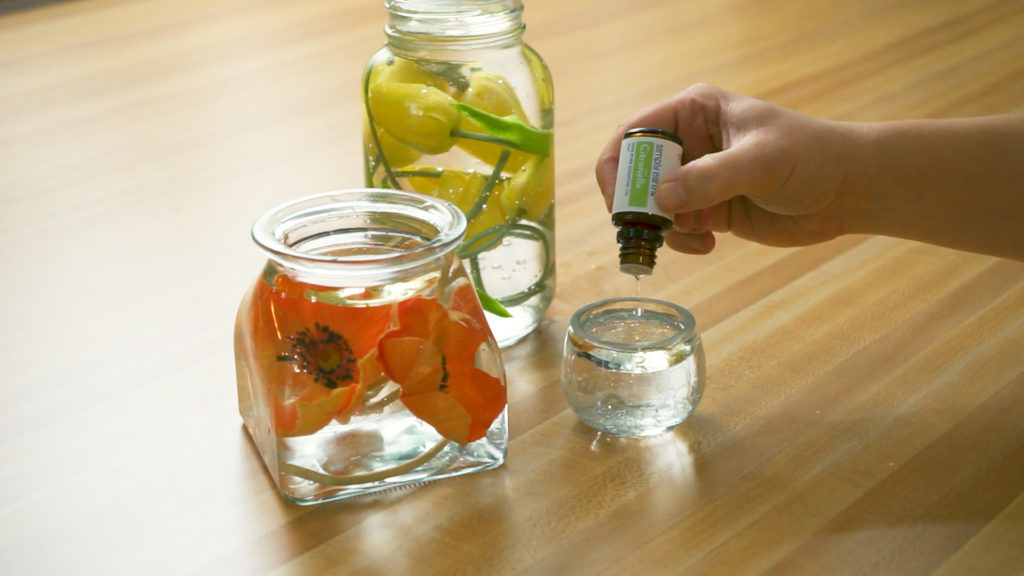 You can also check out this comprehensive blog on How to Make Scented Candles With Essential Oils.
The Possibilities Are Endless!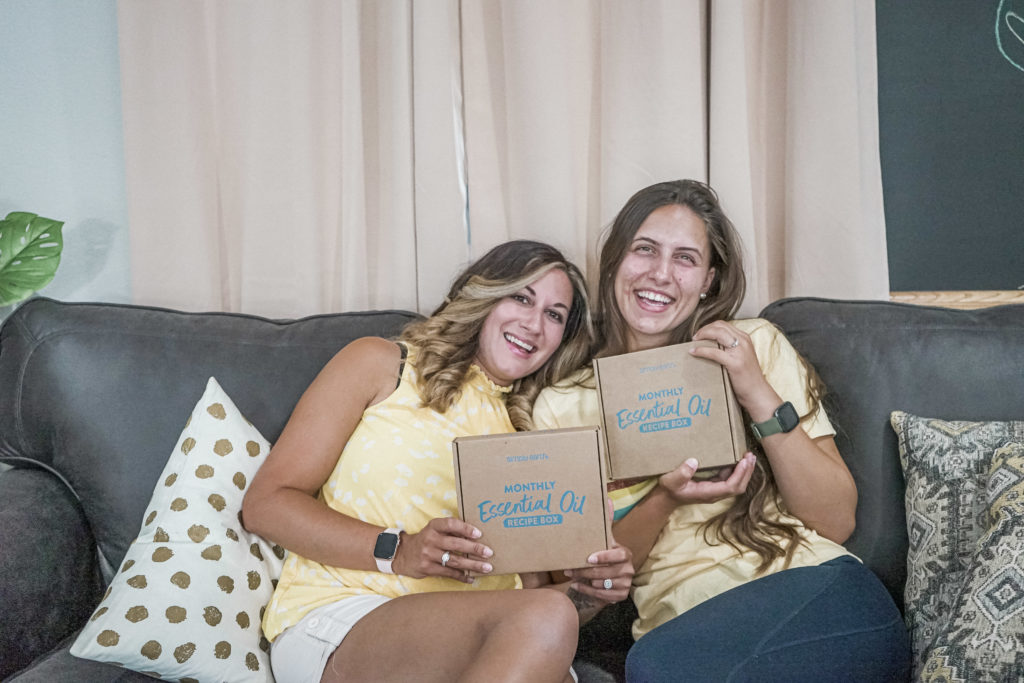 Level up your candlemaking by making these creative floating candles. With this recipe, you'll not only be improving your candlemaking skills, but will also be enhancing your home's style and feel. What will be the theme of the first floating candle? We'd love to hear about it on social media with @fromsimplyearth and in the comments below!
Are you ready to master essential oils? You get FREE access to our Hero Course if you subscribe to our Monthly Essential Oil Recipe Box. With it, you'll receive 4 pure essential oils, 6 aromatherapist-created recipes, and more—all delivered directly to your door each month for just $44.99/month. Plus, we'll give you a FREE Big Bonus Box!
Don't miss out on the all-natural fun that comes with the Recipe Box; get yours today: Subscribe now to learn how to use essential oils!