Candles can be pretty basic.
We are taking candle-making up a notch with our Ice Cream Scoop Candle and this Sweet Dreams Floral Candle recipe! With creativity and a few more ingredients, you can have not only yummy-smelling candles but also beautiful candles that you can even display as home decoration.
For this flower candle recipe, we used Sweet Dreams Essential Oil Blend, a kid-friendly synergy blend that is calming and relaxing. This is a great addition to your child's bedtime routine to set a great relaxing atmosphere to promote sleep. Feel free to use other essential oils if you'd prefer a different scent. Perhaps you can customize this recipe a bit by using a pressed flower, fruit, or herb that matches the essential oil. Say rose petals for rose essential oil or eucalyptus leaves for eucalyptus essential oil? Be creative!
What I Love About This Flower Candle Recipe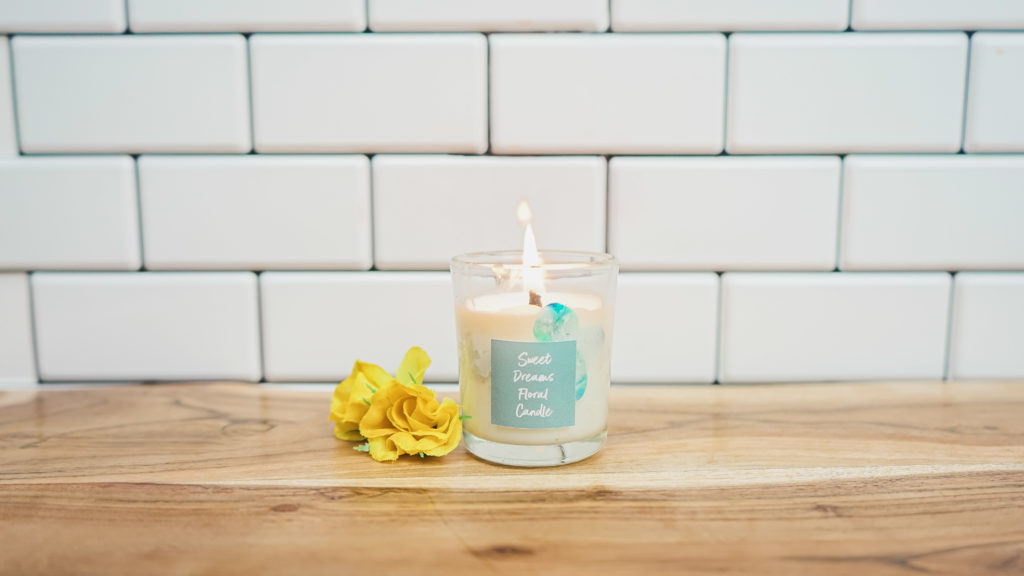 Well, aside from the fact that I super love any scented candles, I love how beautiful this candle looks. It looks so luxurious that I sometimes even hesitate to light it! If not for the benefits of the essential oils, I guess I would really just keep it as decor.
What's in This Sweet Dreams Floral Candle Recipe?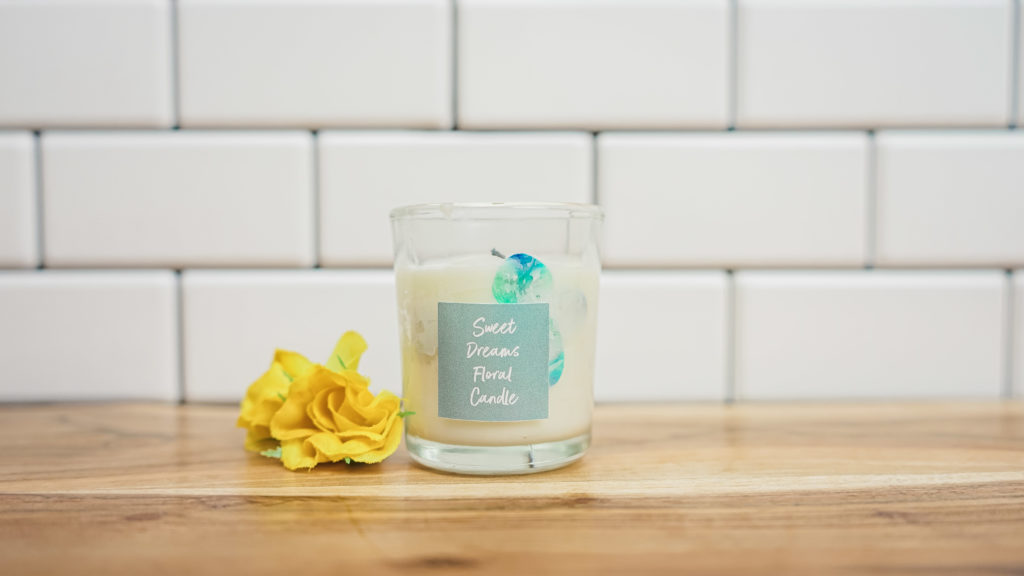 Soy Wax
Soy Wax is a popular and eco-friendly wax option for making all-natural candles. It burns clean and slow and retains the scent of the essential oils well. Because of its slow burn, it lasts longer than common candles made of paraffin wax.
Beeswax
Like Soy Wax, Beeswax also burns clean and slow. This means you can enjoy your candle for a longer time! And did you know that when burned, beeswax releases negative ions that get rid of contaminants in the air like dust, mold, and unpleasant odors? Beeswax is a great and useful ingredient for natural candles.
Solid Coconut Oil
We added Solid Coconut Oil in this flower candle recipe to help you get more out of our wax. Coconut Oil also keeps the candle solid at room temperature and eliminates wet spots and frosting.
Sweet Dreams Essential Oil Blend
For this recipe, we used our kid-safe and relaxing blend, Sweet Dreams Essential Oil Blend. This blend provides a calming atmosphere that is conducive for sleep and relaxation making this candle perfect to put on the bedside table.
If you are a candle enthusiast you'll notice that Sweet Dreams offers a subtle and light fragrance to the candle. Essential oils do not have as strong of a smell in candles as synthetic fragrances.
Essential oils are flammable so make sure you really mix this oil into your recipe. If you leave the oil floating on top of the wax, rather than mixed in, it can cause the top of your candle to light on fire. If you mix the oil into the wax well, this won't happen with the amount used in this recipe.
Cotton Wick
We use 100% cotton wick for a nice and clean burn for our candle.
Pressed Flowers
We at Simply Earth just love making recipes look pretty in a natural way! A flower candle recipe sure needs FLOWERS, so here it goes… Check out this blog, How To Press Flowers To Level Up Your DIY Crafts, for some artsy information about leveling up your home DIY's.
Votive Candle Jar
We used ingredients that promote slow candle burn, and for our container, we used a votive candle jar. This is the perfect size for the amount of wax used in this recipe.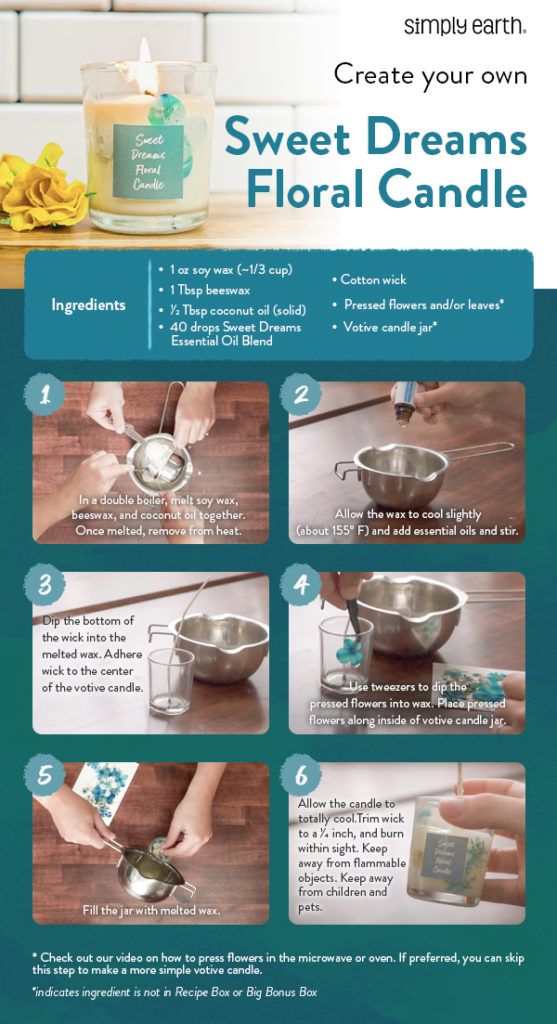 Things to Remember When Using This Candle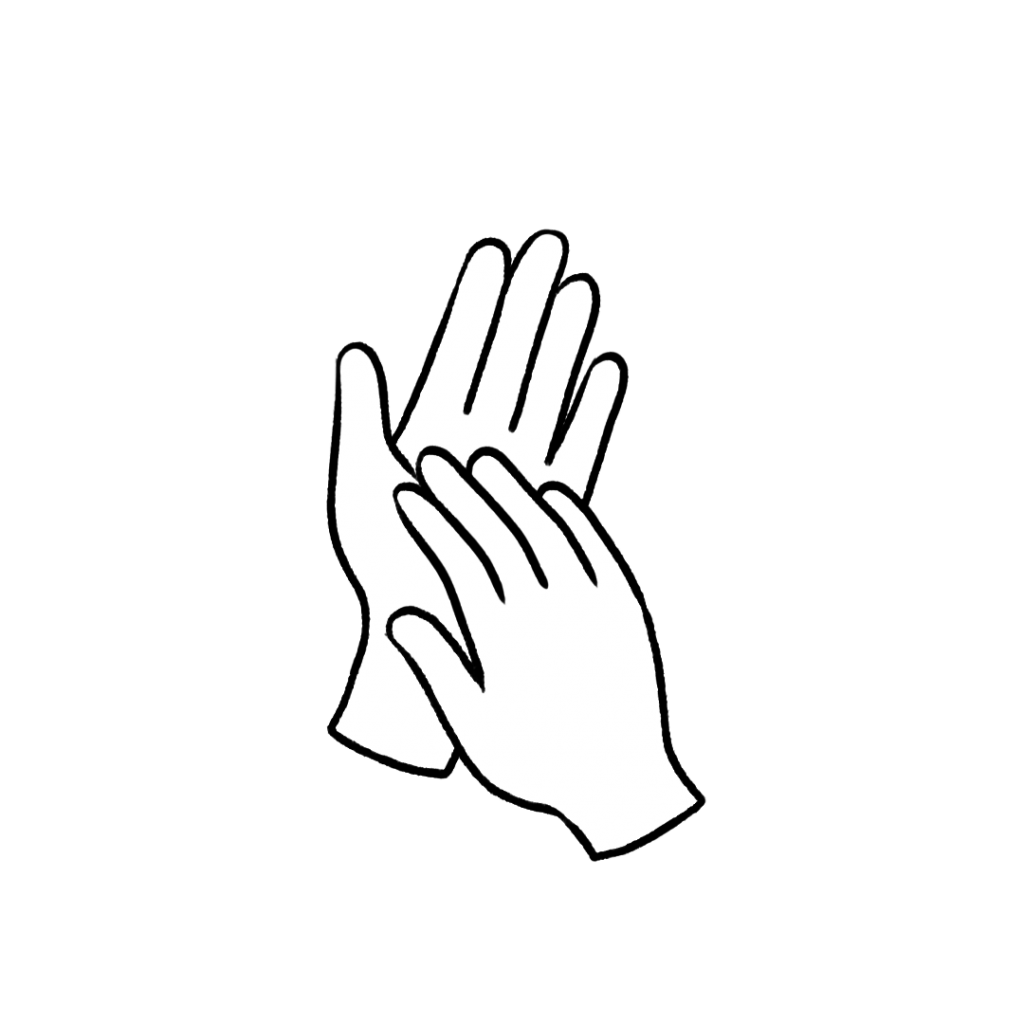 Always dilute an essential oil when using it on the skin. This essential oil recipe is unlikely to cause skin irritation when diluted properly. If the oil has been oxidized (left with the cap off for long periods of time) it is more likely to cause skin irritation. Check out this dilution chart for diluting this essential oil properly.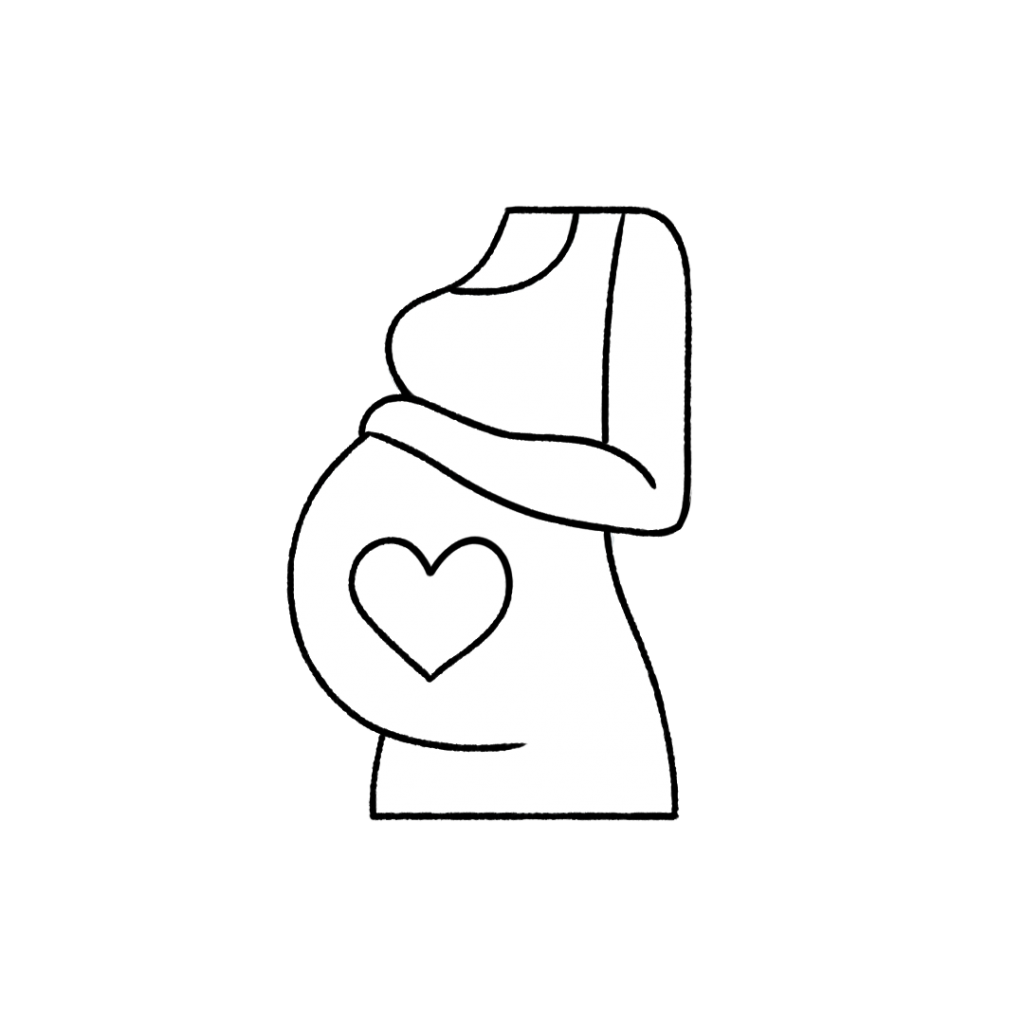 This recipe is generally safe to use if you are pregnant. Consult your doctor prior to use.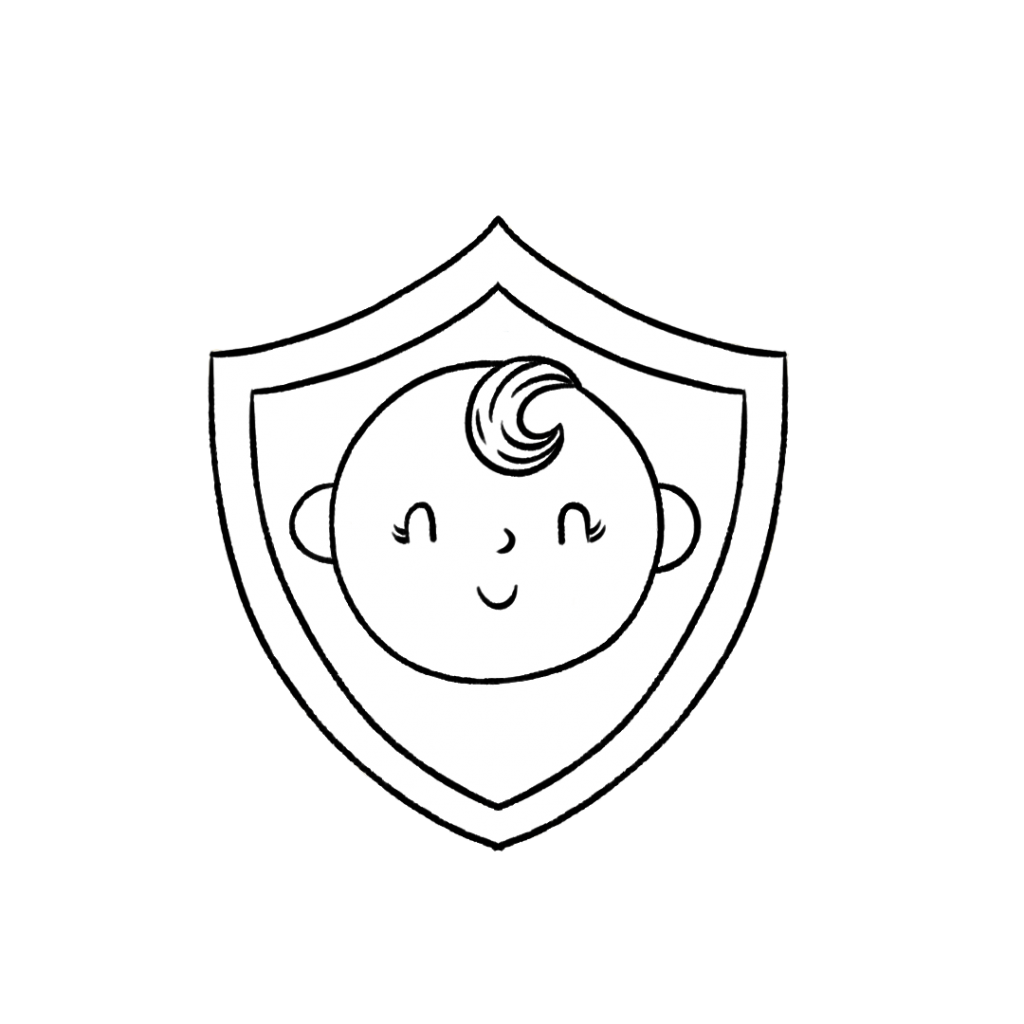 This recipe is safe to use with kids aged 2+.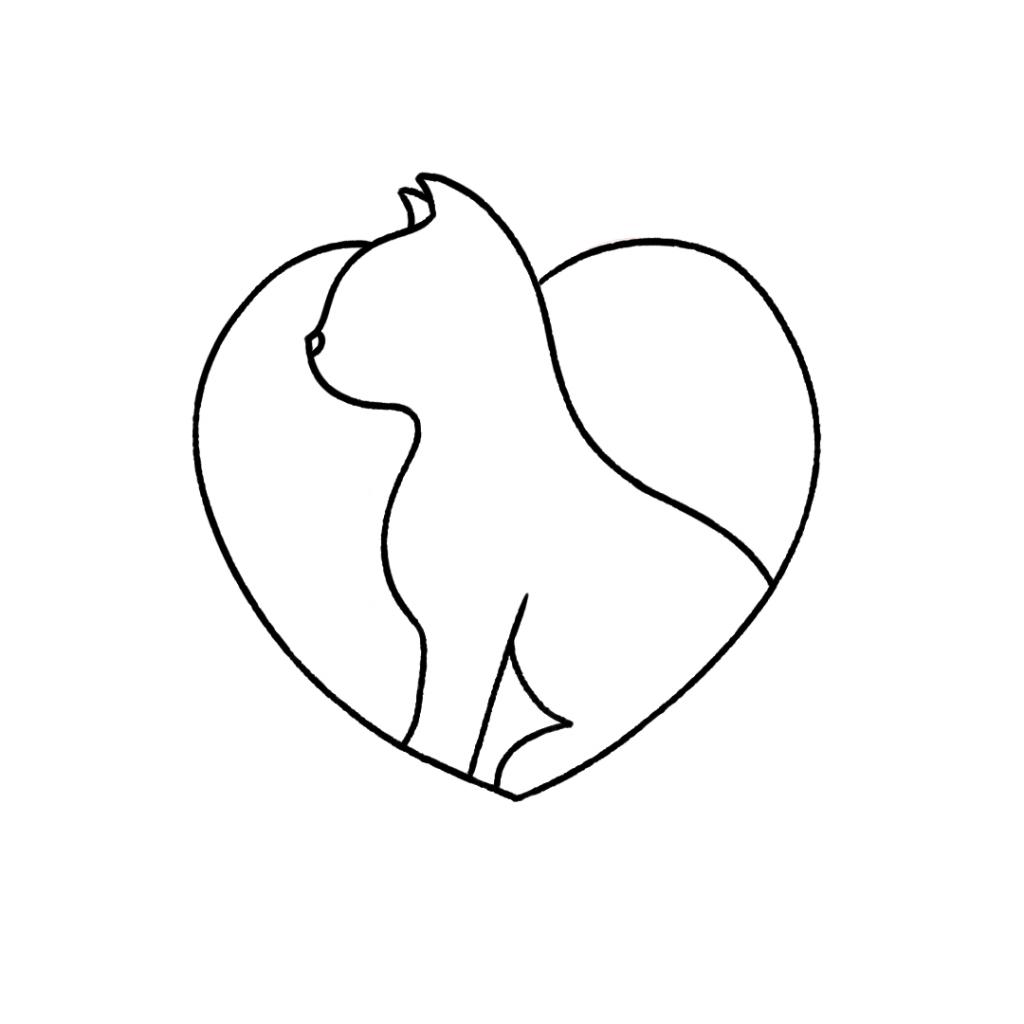 Cats may find the oils in this recipe irritating. However, we do not expect your cat to be disturbed if you use this recipe as directed. Just be mindful of your pet's behavior. For more information on using essential oils with cats, check out this blog post.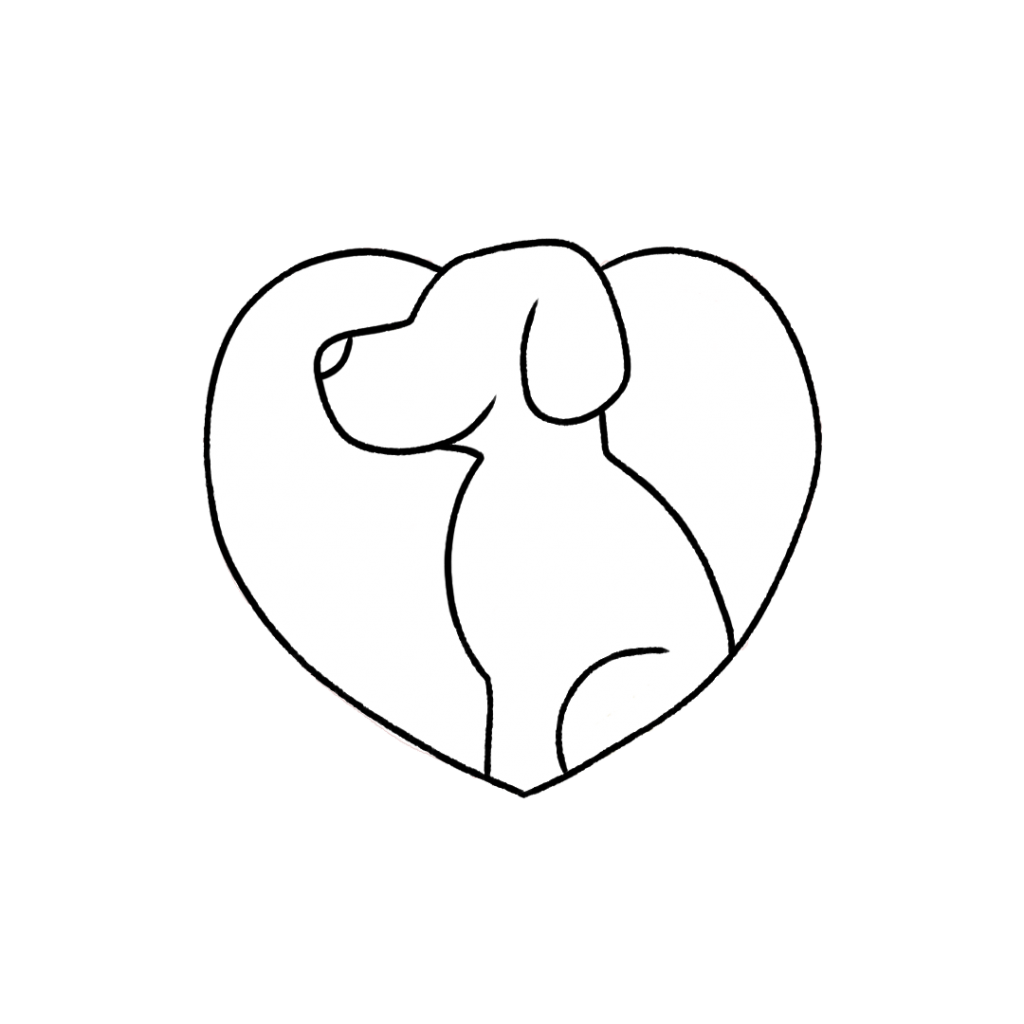 Dogs may find the oils in this recipe irritating. However, we do not expect your dog to be disturbed if you use this recipe as directed. Just be mindful of your pet's behavior. For more information on using essential oils with dogs, check out this blog post. 
We don't recommend ingesting essential oils unless under the direction of a doctor certified in aromatherapy. For more information on why we don't ingest essential oils check out this blog post.
*Please note: This post is a compilation of suggestions made by those that have extensively used essential oils and has not been verified scientifically with clinical tests nor reviewed by medical experts. It is anecdotal information and should be treated as such. For serious medical concerns, please consult your doctor. The statements given in this blog post have not been verified by the FDA
Sweet Dreams Floral Candle Recipe
Flower Candle Recipe for Sweet Dreams
Ingredients
1 oz soy wax (~1/3 cup)

1 Tbsp beeswax

1/2 Tbsp coconut oil (solid)

40 drops Sweet Dreams Essential Oil Blend

Cotton wick

Pressed flowers and/or leaves*†

Votive candle jar*
Directions
In a double boiler, melt soy wax, beeswax, and solid coconut oil together. Once melted, remove from heat.
Allow the candle to cool slightly (about 155° F) and add essential oils and stir.
Dip the bottom of the wick into the melted wax. Adhere the wick to the center of the votive candle.
Use tweezers to dip the pressed flowers into wax. Place pressed flowers along the inside of votive candle jar.
Fill the jar with melted wax.
Allow the candle to totally cool. Trim wick to a 1/4 inch, and burn within sight. Keep away from flammable objects. Keep away from children and pets.
Notes
† Check out our video on how to press flowers in the microwave or oven. If preferred, you can skip this ingredient to make a more simple votive candle.
A Candle With All Things Pretty!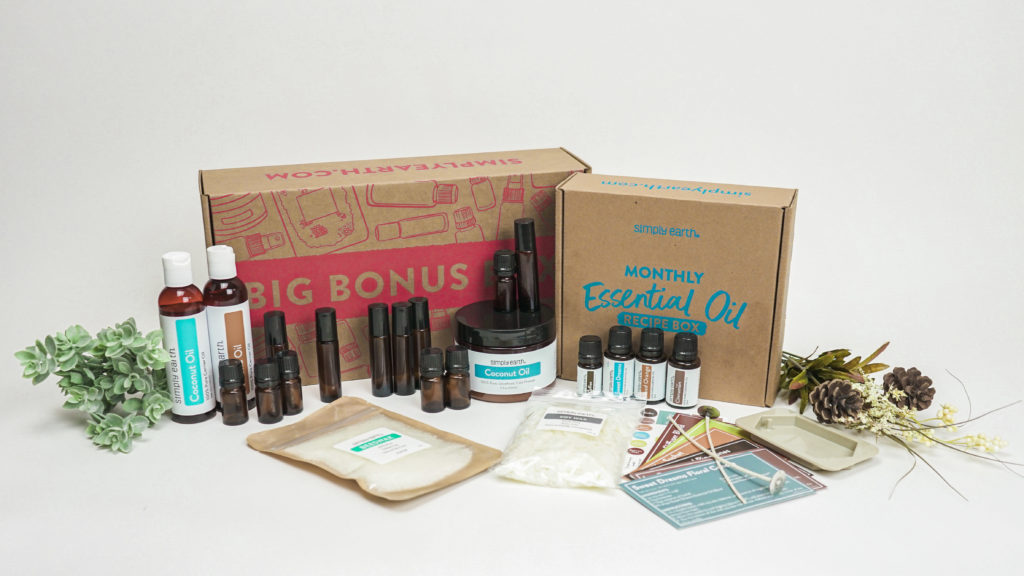 Candles should never be boring. Now, we can make candles that not only diffuse the aroma of our favorite essential oils but we can also display them as fun decoration for you home. What do you think about this flower candle recipe? We'd love to hear about it on social media with @fromsimplyearth and in the comments below!
To learn more about how to use essential oils, check out our Simply Earth Essential Oil Recipe Box. When you subscribe, we'll ship you a monthly supply of four 100% pure essential oils, six natural recipes like this flower candle recipe, and all the quality ingredients you'll need to make your own wonderful products for just $44.99/month. All of these goodies have over $100 value, plus we'll give you a FREE Big Bonus Box when you subscribe. 
Subscribe today to learn how to use essential oil.