I was first introduced to the power of essential oils when we used them to make our first product, a natural foot deodorizer. I was amazed at how they made my stinky feet smell great. But, I wasn't sure I could totally buy into all the benefits of essential oils. All the messaging I heard was confusing and made me doubt that essential oils could actually change my life.
Peppermint Essential Oil changed those doubts for me. I am prone to headaches and decided to give Peppermint Essential Oil a try. It was cooling, soothing, and refreshing. It was amazing! I had never experienced head relief like it.
Since I started using Peppermint Oil, I haven't looked back. I'm so thankful for what this oil did for me, and it started me on my very own toxin-free journey. Let's dive into the various Peppermint Essential Oil benefits and how YOU can use this oil to make your home toxin-free.
Peppermint Essential Oil Benefits, Uses, & Recipes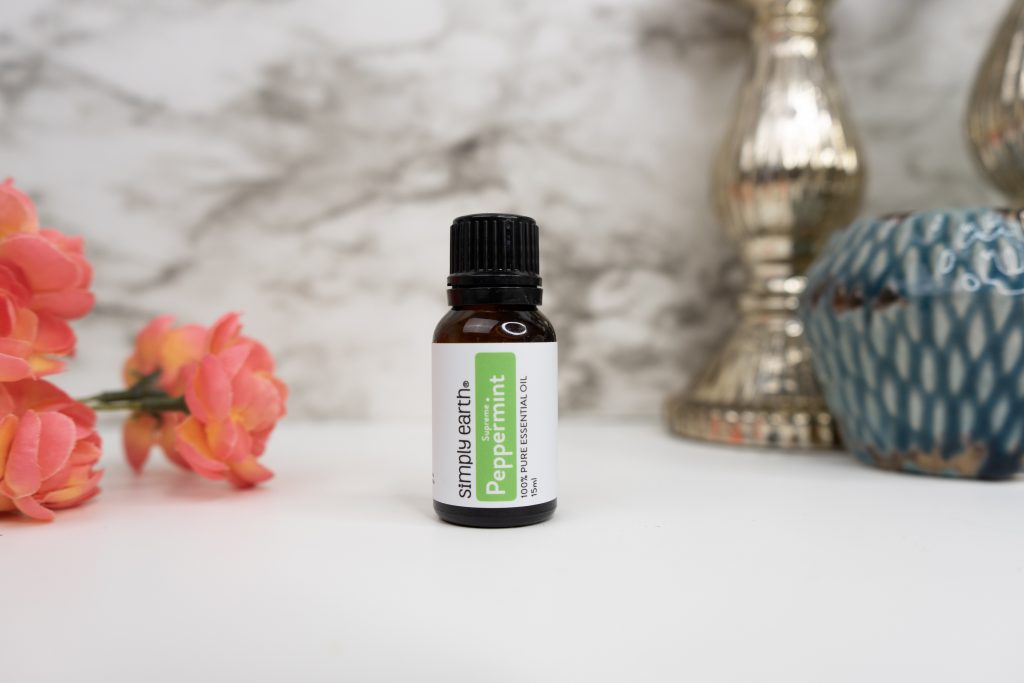 Supports Respiration
I love using peppermint essential oil when I have a cold (especially if you add it to Eucalyptus Essential Oil, it's an absolute essential when I feel under the weather). It helps break down congestion as per this study3 and comforts respiration. Since it may also promote awareness, Peppermint may also help with the grogginess that comes with a cold, as well.
For more natural ways to fight sickness, check out this post on Top Essential Oils for Cold and Flu Season. Hint: Peppermint Essential Oil is one of them!
Eases Seasonal Discomfort
While you're breaking down congestion, this oil will also help boost your immune system making you more equipped to deal with seasonal discomforts.
Energizes
The fresh scent of peppermint also supports awareness. Try dropping a few drops of Peppermint Essential Oil in the diffuser the next time you are struggling to get things done and see if you find more motivation to finish the task at hand.
Peppermint Essential Oil has been shown to be stimulating and energizing for both mental and physical fatigue according to this study2. That's why it makes our list of Best Essential Oil for Energy, Essential Oils for Hiking, The Best Essential Oils to Boost Your Workouts, Best Essential Oils for Traveling, and Best Essential Oil for College Students.
Soothes Head Discomfort
Soothing pain is probably the most famous use of Peppermint Essential Oil. It has an amazing cooling effect on the skin which can be super soothing to muscle wellness. Peppermint Essential Oil is also well known for its ability to ease headaches according to this study3. We've even named it one of The Best Essential Oils to Soothe Head Discomfort AND one of the Best Essential Oils to Soothe Muscles. There are lots of ways you can tap into those soothing benefits. We've listed a bunch of options so that you can choose the most convenient recipe for you!
Aids Digestion
Another positive trait of Peppermint Essential Oil is promoting stomach wellness. It been used throughout history is to soothe nausea. It has also been proven in this study4 that inhalation of peppermint oil resulted in a decrease in nausea. Create a personal inhaler or put it in the diffuser to help soothe a turning stomach.
Lengthens Hair
In some parts of the world, peppermint oil has already been used to support the lengthening of hair. But a recent study5 has shown that Peppermint Essential Oil can help facilitate hair growth.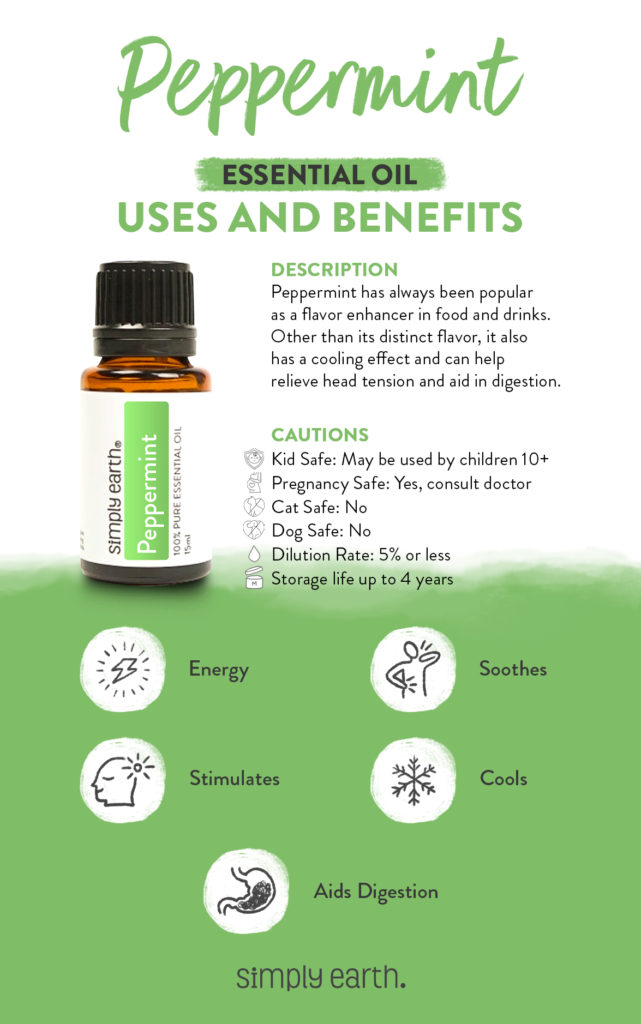 What Does Peppermint Essential Oil Blend Well With?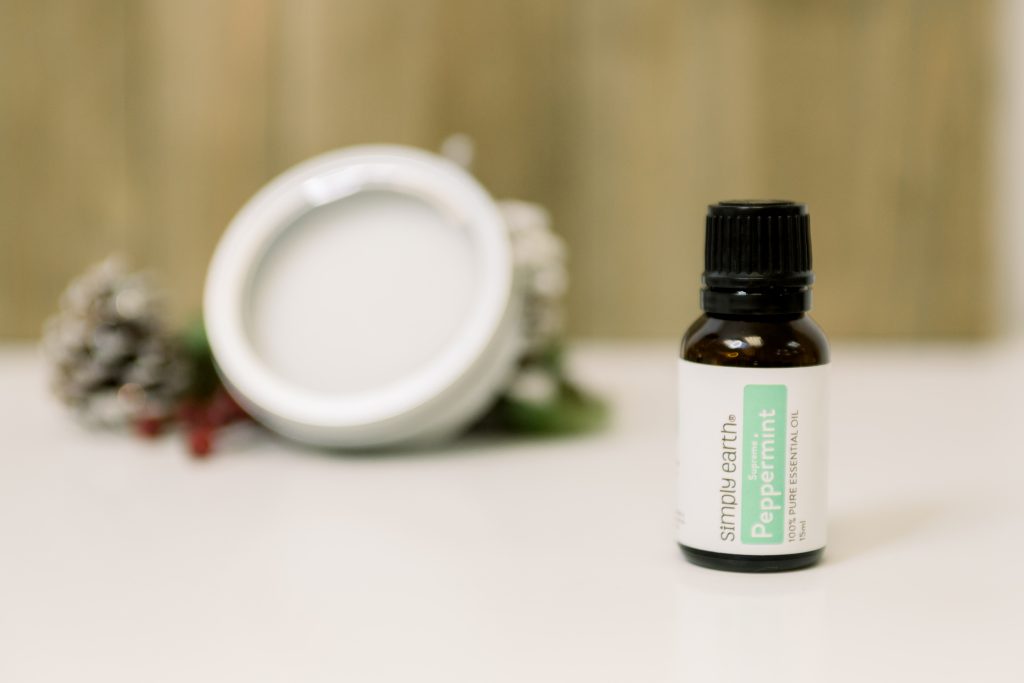 Peppermint Essential Oil has a sharp, penetrating aroma that smells strongly of mint. Some of my favorite oils to blend with Peppermint Essential Oil are Basil, Bergamot, Cajeput, Cedarwood, Eucalyptus, Lemon, Lime, Mandarin, Marjoram, Neroli, Pine, Rosemary, Spearmint, and Thyme.
Simply Earth Blends That Use This Oil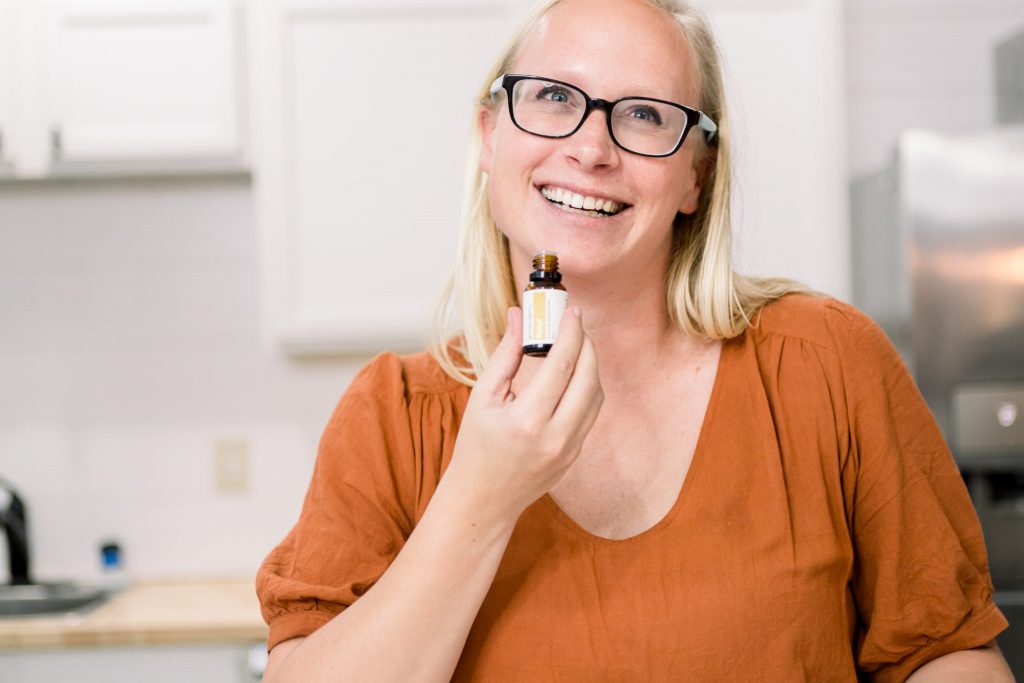 If you are looking for Peppermint Essential Oil benefits, but aren't sure where to start, I recommend trying one of our pre-formulated blends. Here are some of our blends that use the power of Peppermint Essential Oil.
Relief Essential Oil Blend
Relief Essential Oil Blend is a warming blend that can help soothe muscle discomfort and support joint function.
Energy Essential Oil Blend
Energy Essential Oil Blend: Support your body's natural energy with essential oils! Diffuse it or use a roll-on for on-the-go energy support!
What's the Science Behind This Oil?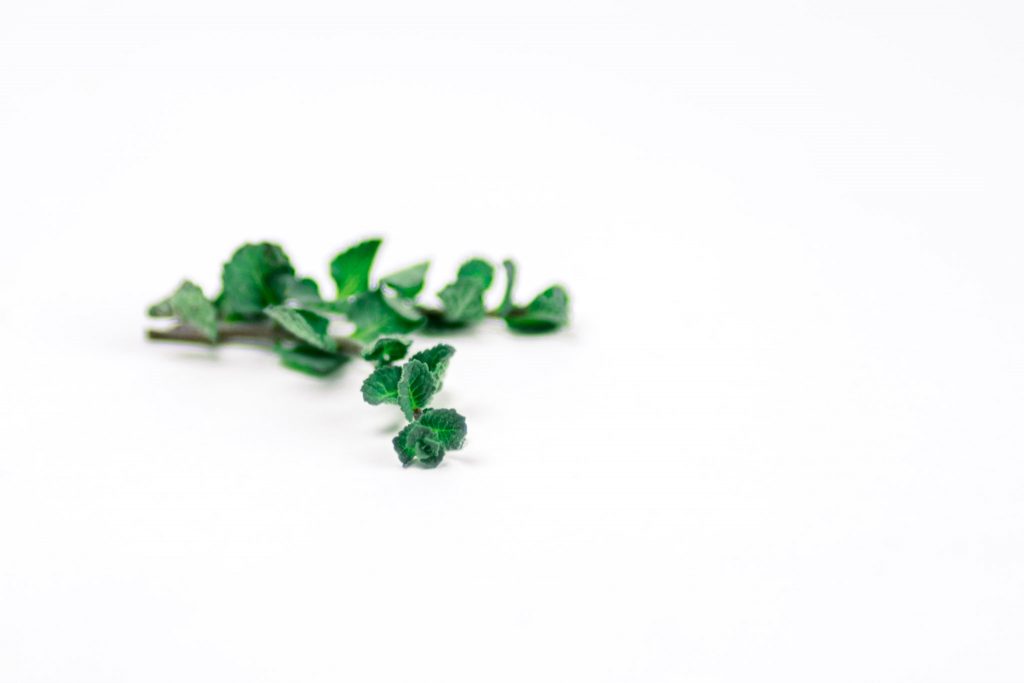 Essential oils are made by distilling plant material and extracting the oil from that distillation process. All the chemicals in the oil are naturally created by the plant. When an oil only contains the chemicals created by the plant, it's considered pure.
Pure Peppermint Essential Oil is mostly made up of L-Menthol and L-Menthone. If you have ever used a vapor rub you will be familiar with these chemicals. But when you're using pure Peppermint Essential Oil, you can be confident that there are no toxic chemicals used alongside menthol to create the product.
L- Menthol
L- Menthol has been shown in some studies to soothe pain, kill germs, break down inflammation, and stimulate the brain (make you more alert).
L-Menthone
L-Menthone, the second most abundant chemical in Peppermint Essential Oil, further supports the work of L-menthol in easing pain, killing germs, breaking down inflammation, and stimulating your brain as shown in some studies.
What Earthies Are Saying About It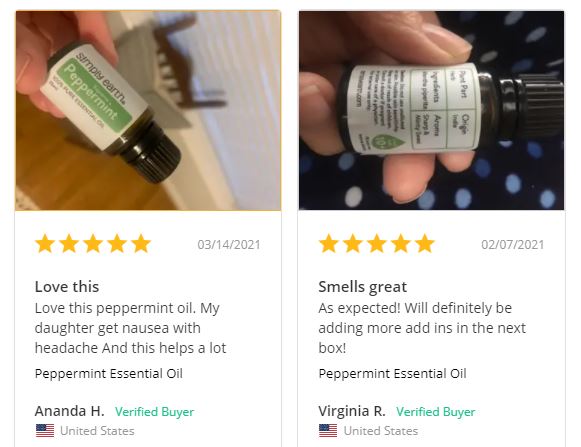 What I Love About Peppermint Essential Oil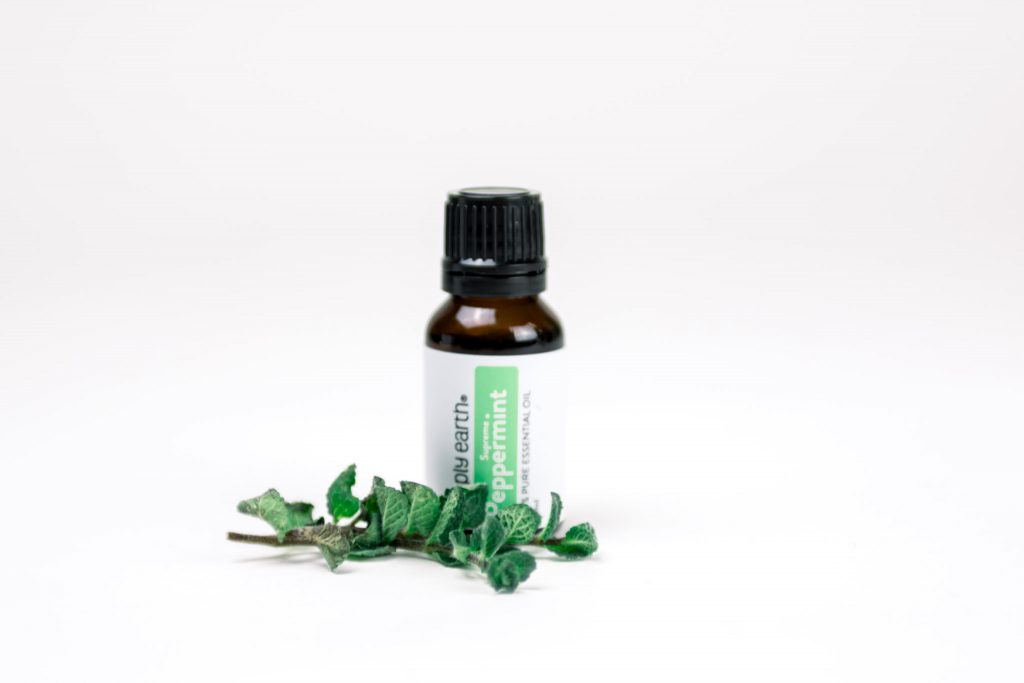 Hey — Katie here! I'm a Certified Aromatherapist, I plan our monthly Recipe Box and write blog posts like this one.
I love to use Peppermint Essential Oil for head discomfort. Its penetrating scent helps stimulate my brain against the headache, plus using diluted Peppermint Essential Oil to massage my neck helps soothe discomfort.
Things to Remember When Using Peppermint Essential Oil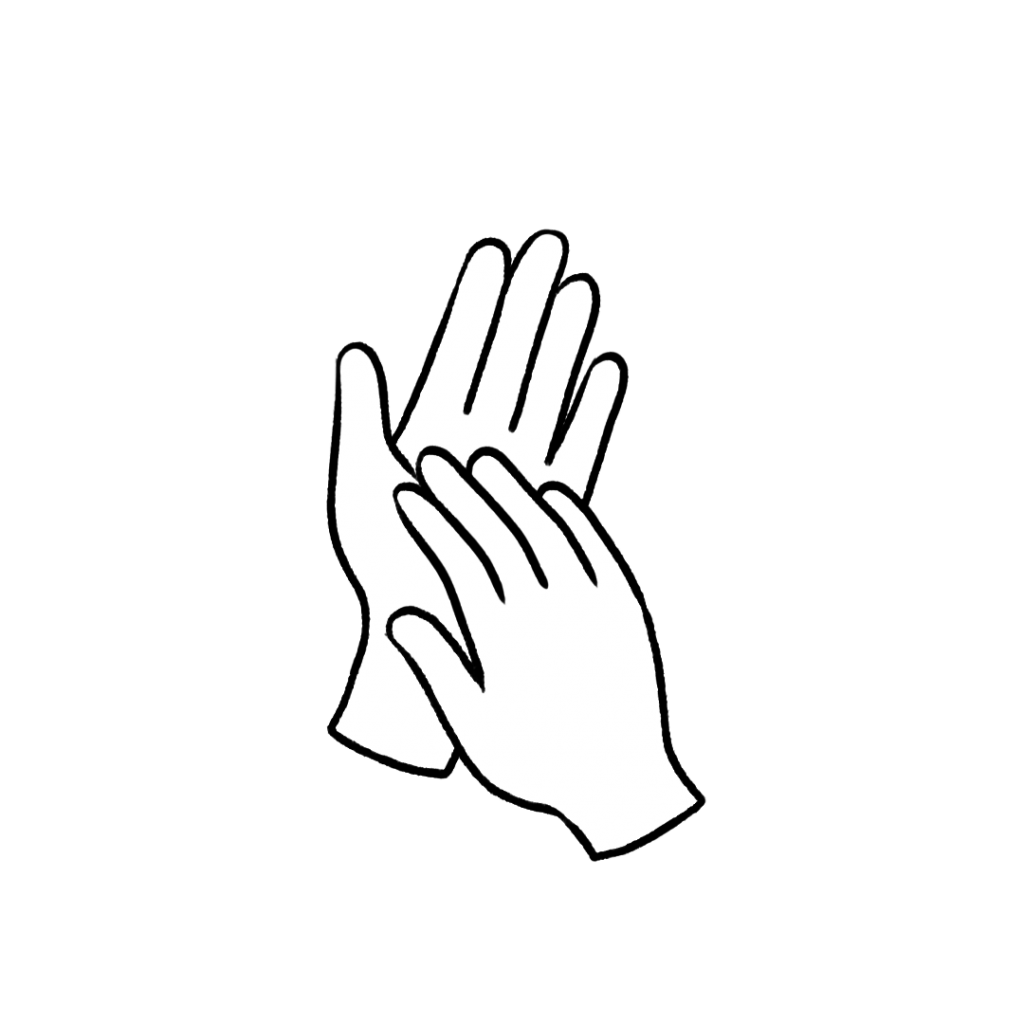 Always dilute an essential oil when using it on the skin. This essential oil is unlikely to cause skin irritation when diluted properly. If the oil has been oxidized (left with the cap off for long periods of time) it is more likely to cause skin irritation. Check out this dilution chart for diluting this essential oil properly.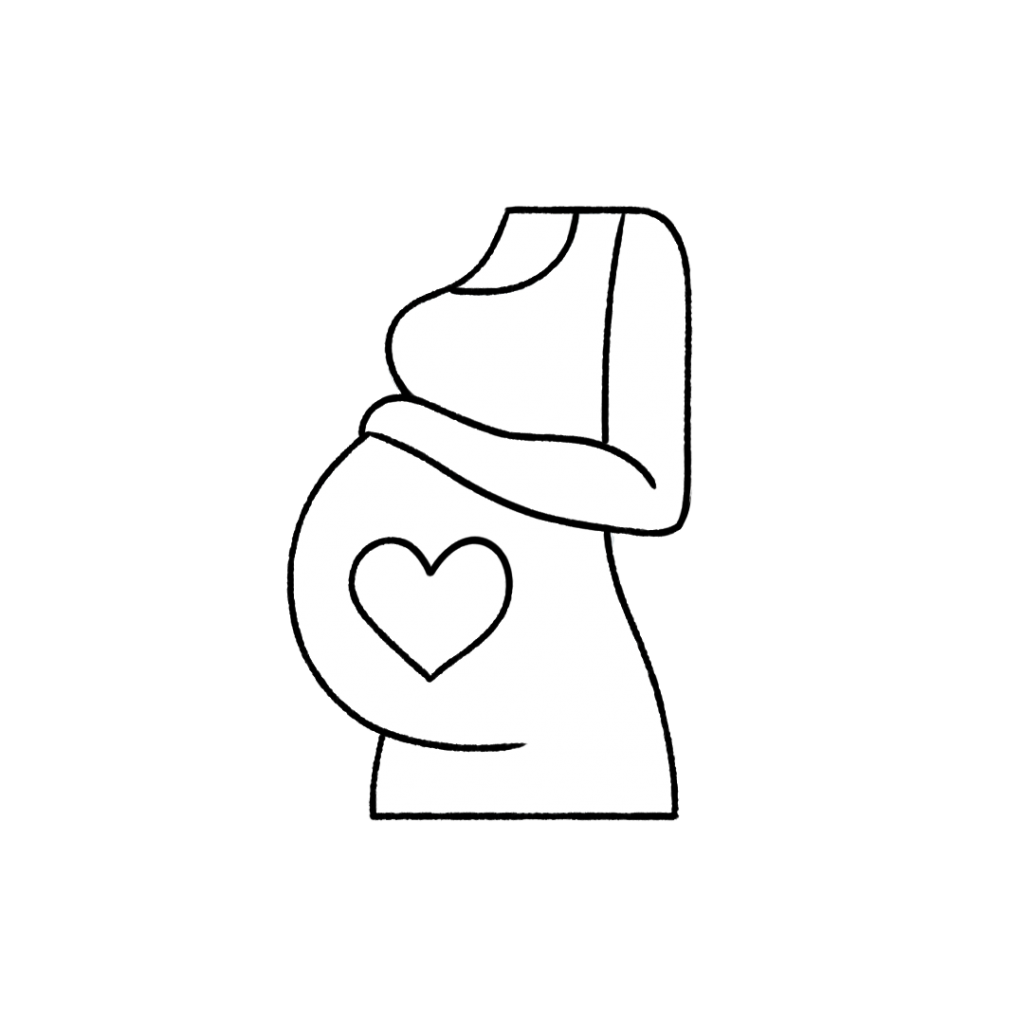 This essential oil is generally safe to use if you are pregnant. Consult your doctor prior to use.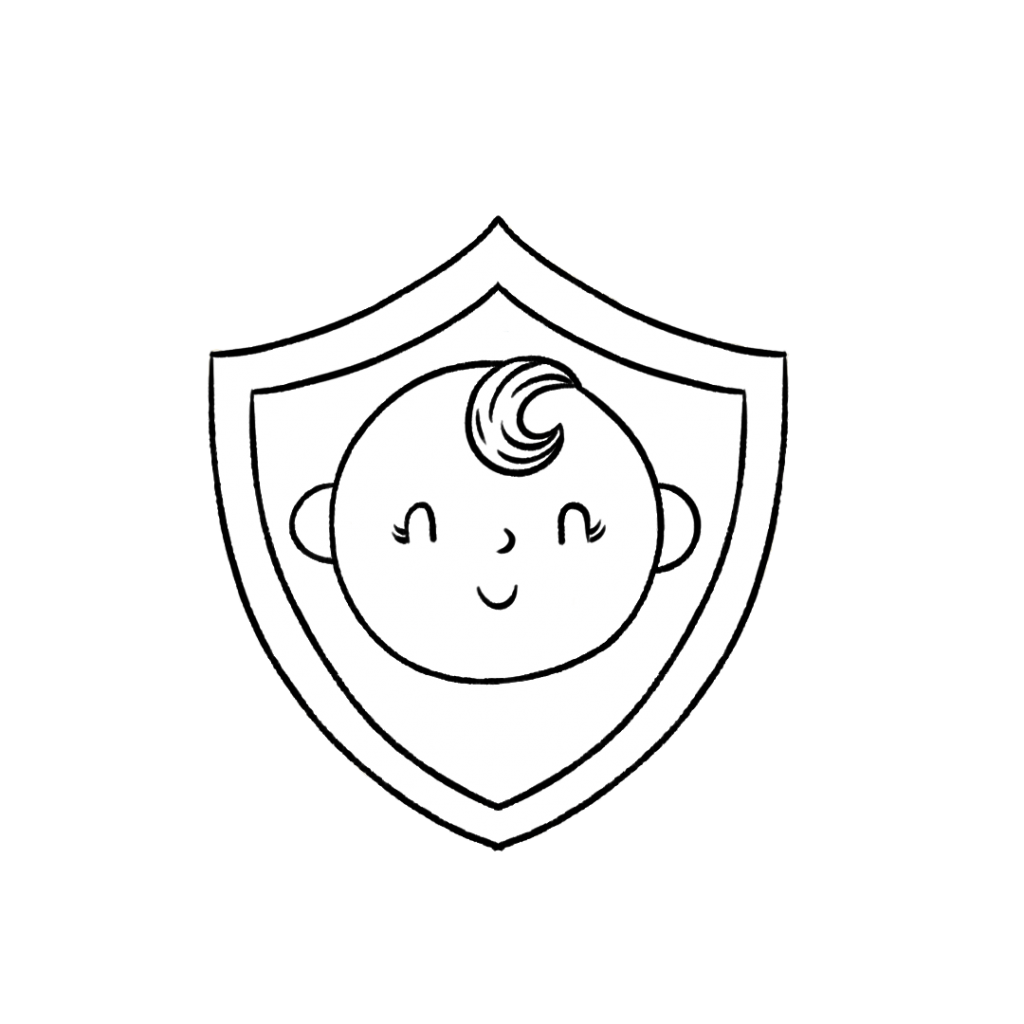 This essential oil is safe to use with kids age 10+.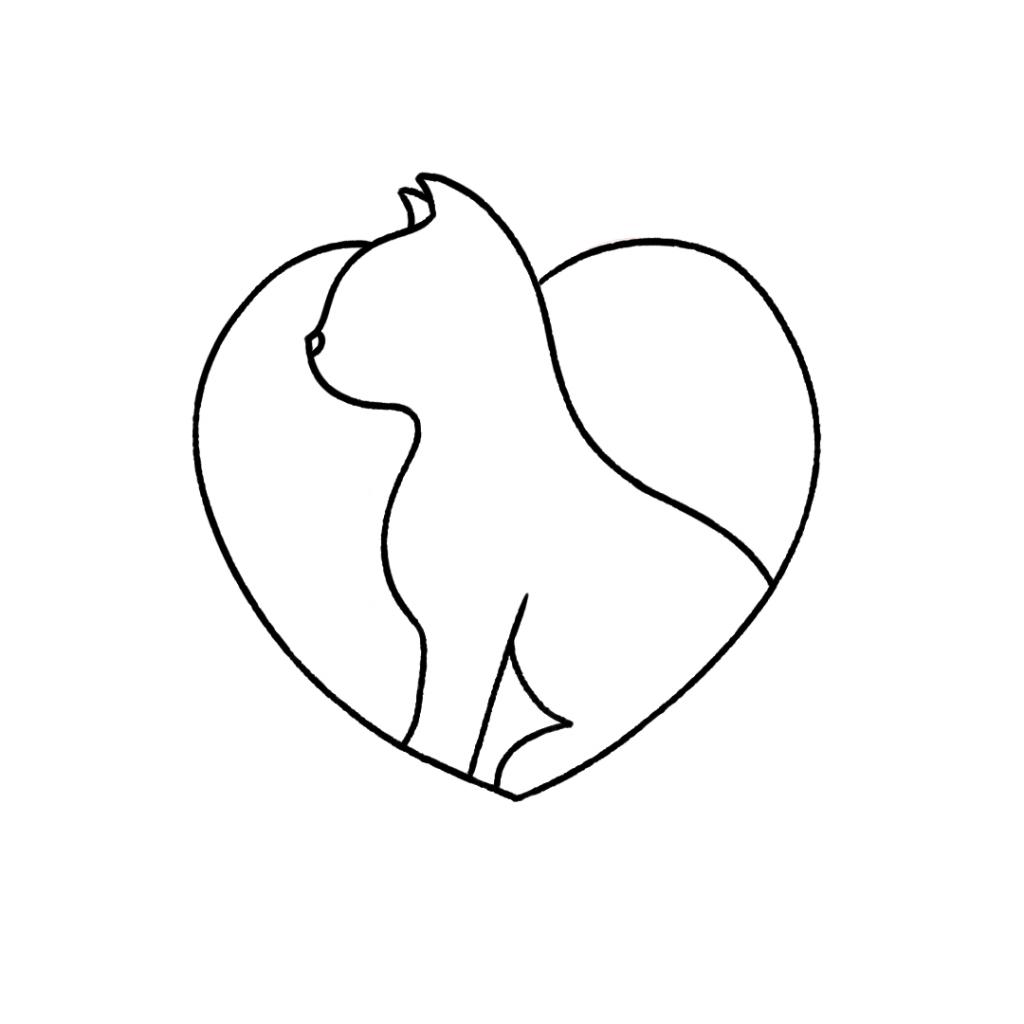 Cats may find this oil irritating. However, we do not expect your cat to be disturbed if you use this recipe on yourself. Just be mindful of your pet's behavior. For more information on using essential oils with cats, check out this blog post.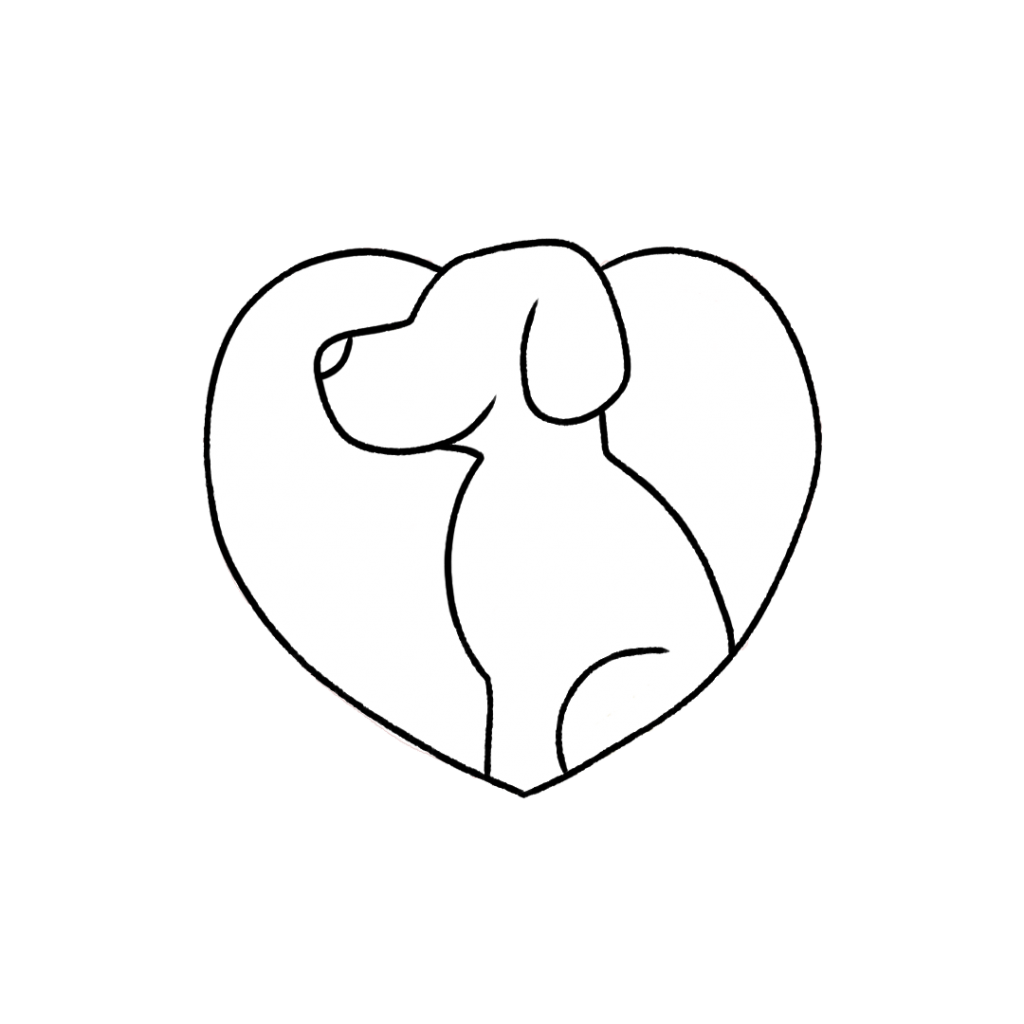 Dogs may find this oil irritating. However, we do not expect your dog to be disturbed if you use this recipe on yourself. Just be mindful of your pet's behavior. For more information on using essential oils with dogs, check out this blog post.
We don't recommend ingesting essential oils unless under the direction of a doctor certified in aromatherapy. For more information on why we don't ingest essential oils check out this blog post.
*Please note: This post is a compilation of suggestions made by those that have extensively used essential oils and has not been verified scientifically with clinical tests nor reviewed by medical experts. It is anecdotal information and should be treated as such. For serious medical concerns, please consult your doctor. The statements given in this blog post have not been verified by the FDA
What's Your Favorite Way to Use Peppermint Essential Oil?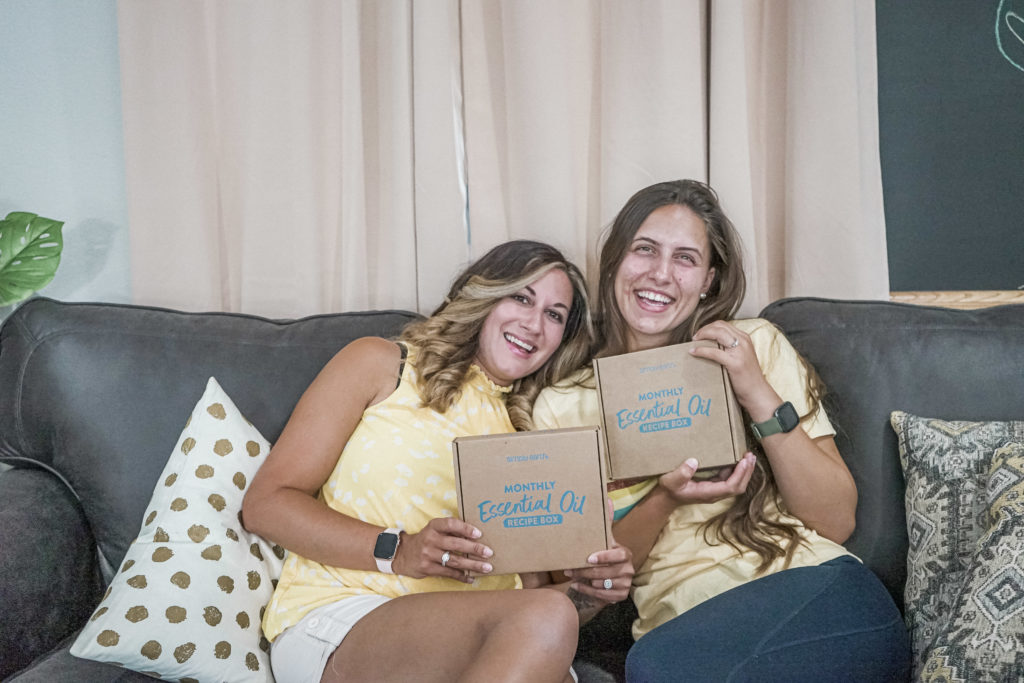 Trying Peppermint Essential Oil on my head discomfort was what got me hooked on essential oils, but Peppermint Essential Oil has so many benefits beyond that. What do you love most about Peppermint Essential Oil? We'd love to hear about it on social media with @fromsimplyearth and in the comments below!
Are you ready to master essential oils? You get FREE access to our Hero Course if you subscribe to our Monthly Essential Oil Recipe Box. With it, you'll receive 4 Pure Essential Oils, 6 Aromatherapist-Created Recipes, and FREE Essential Oil Recipe Supplies for Life—all delivered directly to your door each month for just $44.99/month. Plus, we'll give you a FREE Big Bonus Box!
Don't miss out on the all-natural fun that comes with the Recipe Box; get yours today: Subscribe now to learn how to use essential oils!
---
References: