I would love it if it were easy to be productive every day. My house would be spotless, the piles of laundry would be clean and neatly folded in drawers, my girls would always have engaging and educational activities to do, I'd feed them those healthy animal-shaped snacks and lunches I see on Pinterest, and dinners would never look like hotdogs and mac n' cheese.
While I know that will probably never happen, I also know essential oils can at least help me stay on top of a couple of those things. I made an awesome roll-on recipe using essential oils to help us work better and bring out the productive willpower I know is in there somewhere!
What I Love About the Work It Roll-On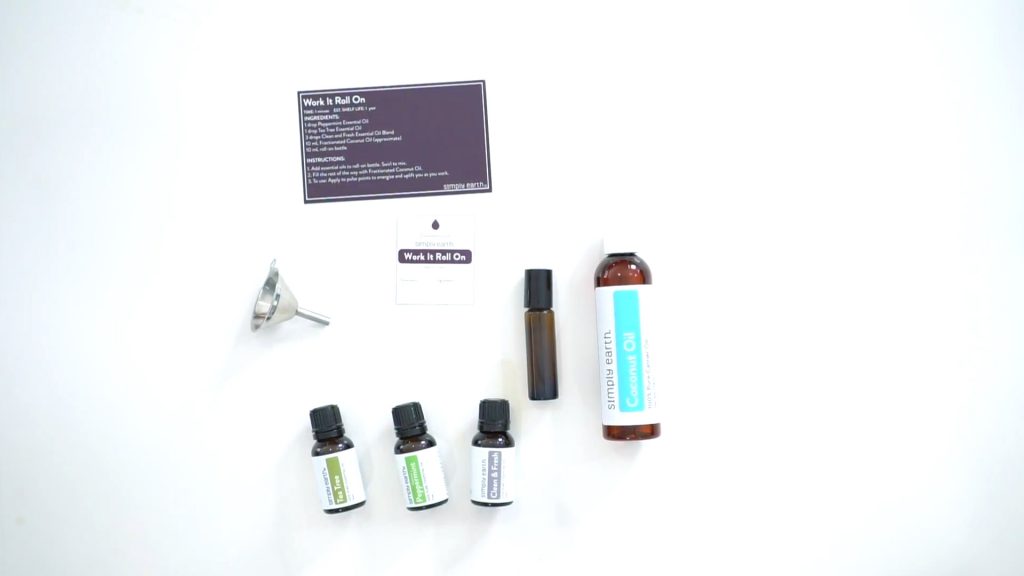 Katie here, I'm a Certified Aromatherapist for Simply Earth. I plan our subscription recipe box. I create and test the recipes you'll find on this blog. This recipe is included in our April Essential Oil Recipe Box.
Ever hear the phrase, work better not harder? This essential oil roll-on is designed to help you with just that.
What's in This Roll-On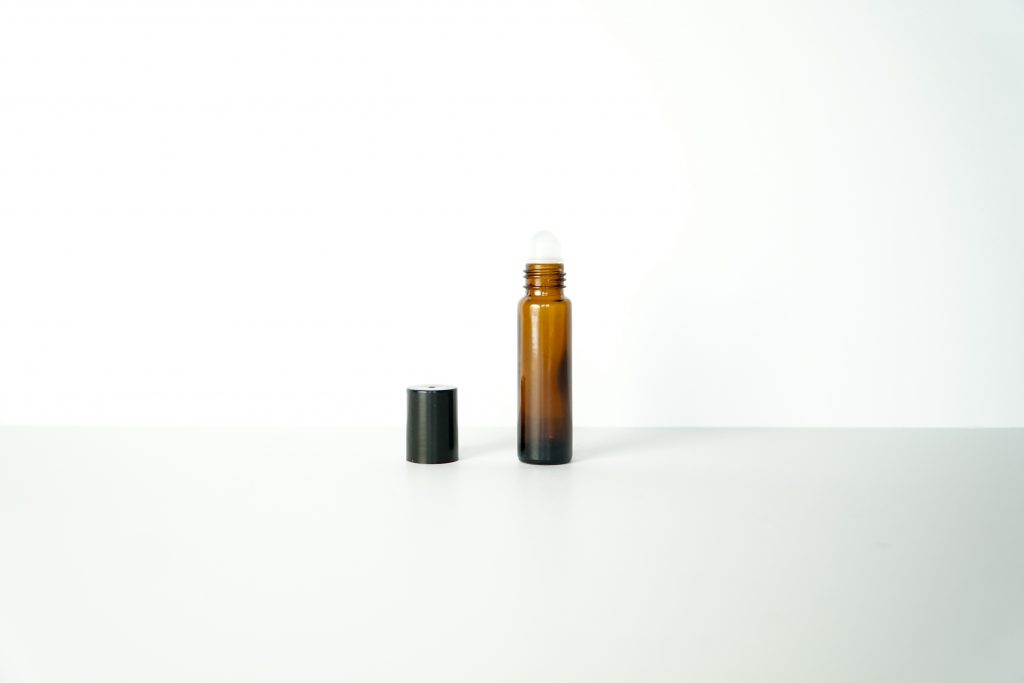 Peppermint Essential Oil
Peppermint has always been popular as a flavor enhancer in food and drinks. In Aromatherapy, Peppermint Essential Oil helps you increase focus and energy [i].
Tea Tree Essential Oil
You can get the most out of Tea Tree Essential Oil as a stimulant in aromatherapy. A good stimulant can also help boost brain functions which can make this roll-on more effective.* Tea Tree Essential Oil's aroma blends well with Peppermint Essential Oil and Clean & Fresh Blend.
Clean and Fresh Essential Oil Blend
Clean & Fresh Essential Oil Blend gives you the boost of energy you need to clean your home naturally. It also uplifts and supports the focus you need.
Fractionated Coconut Oil
We're using Fractionated Coconut Oil as our carrier oil. A carrier oil is an oil that will dilute the essential oil so that it's safe to put on your skin. Essential Oils are very potent, so they shouldn't be put on the skin by themselves.
Carrier oils in recipes are often interchangeable. In this recipe, you could also try another carrier oil.
10 mL Roll-on Bottle
A roll-on bottle has a roller top making it easy to apply an essential oil. They are also small so they are easy to take with you wherever you go. The amber color of the bottle will protect the essential oils from light, which can break down the essential oil's properties.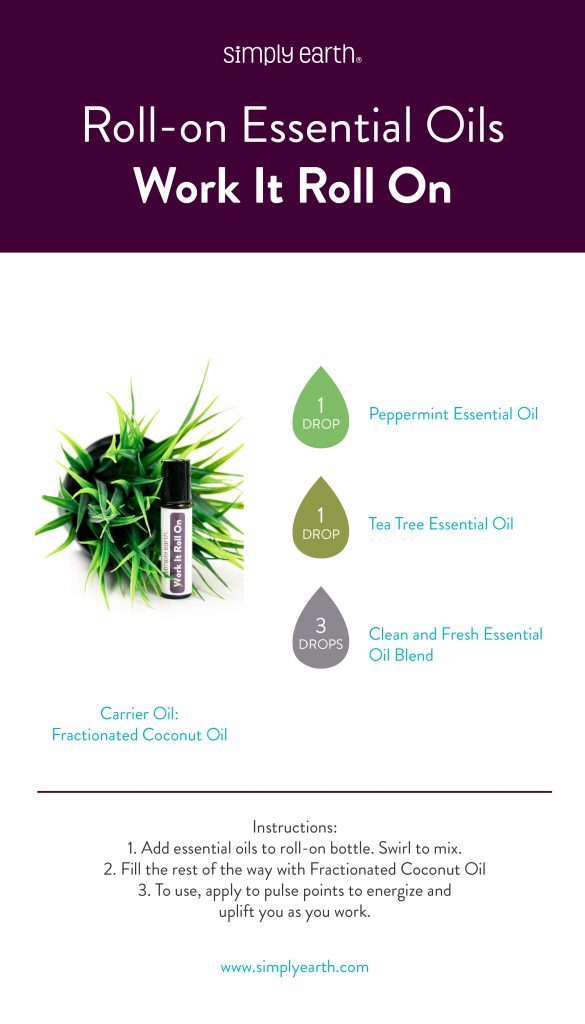 Things to Remember When Using This Recipe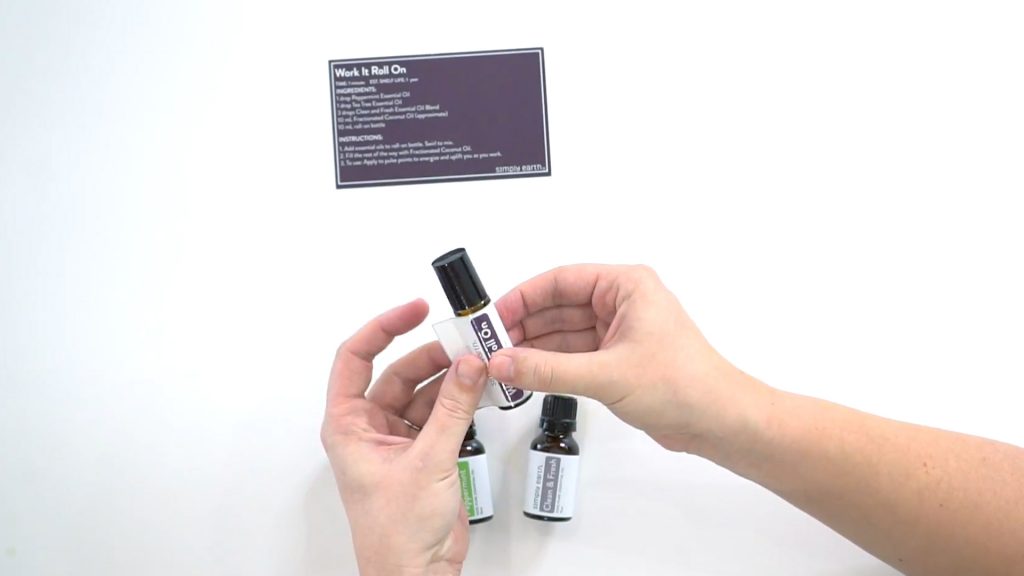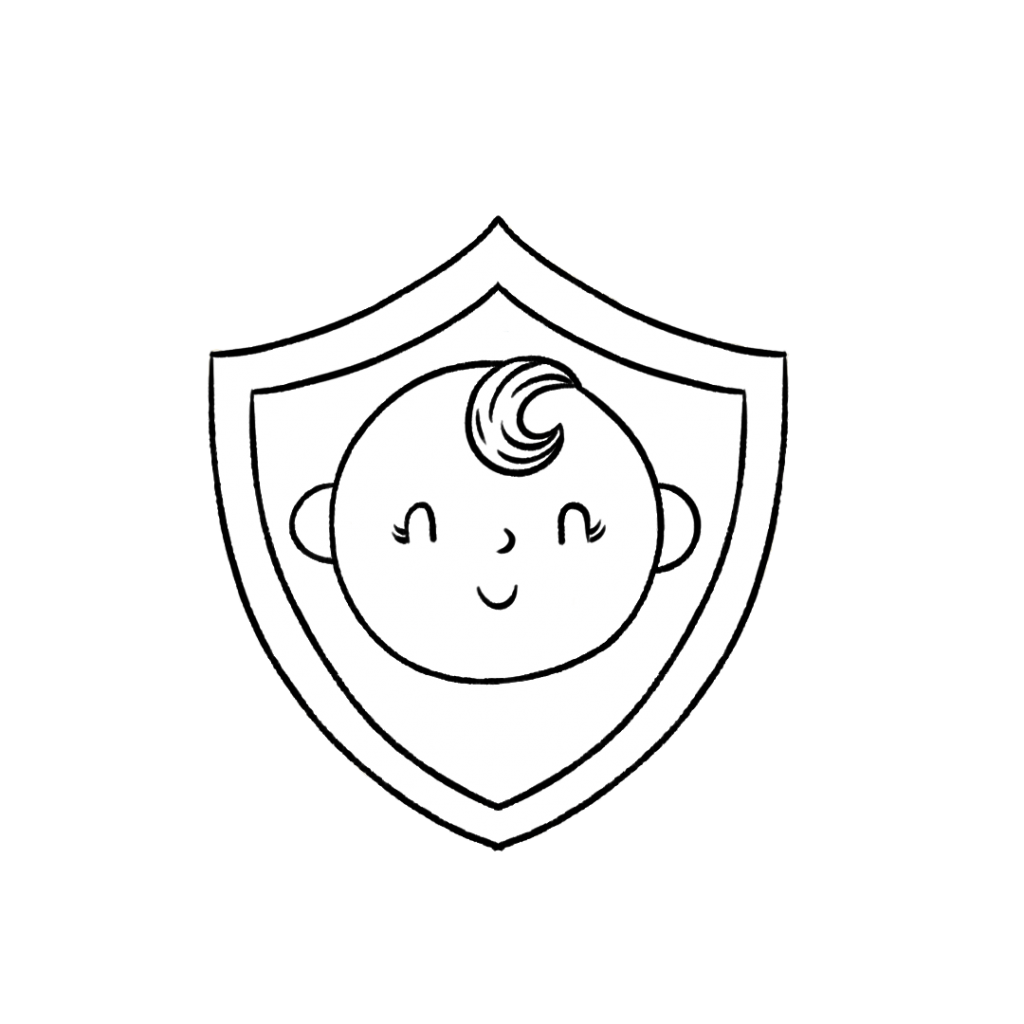 This recipe is safe to use with kids aged 10+.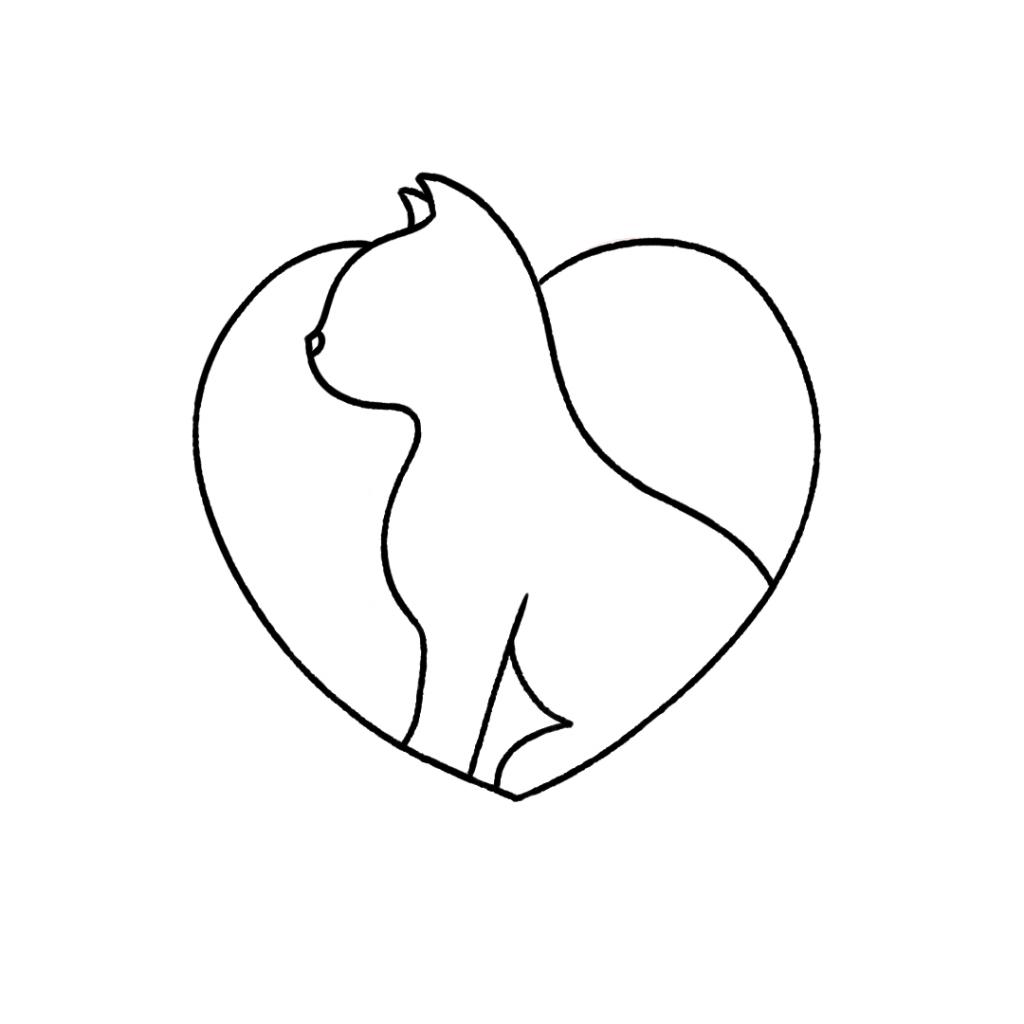 Do not use this recipe around cats. For more information on using essential oils with cats check out this blog post.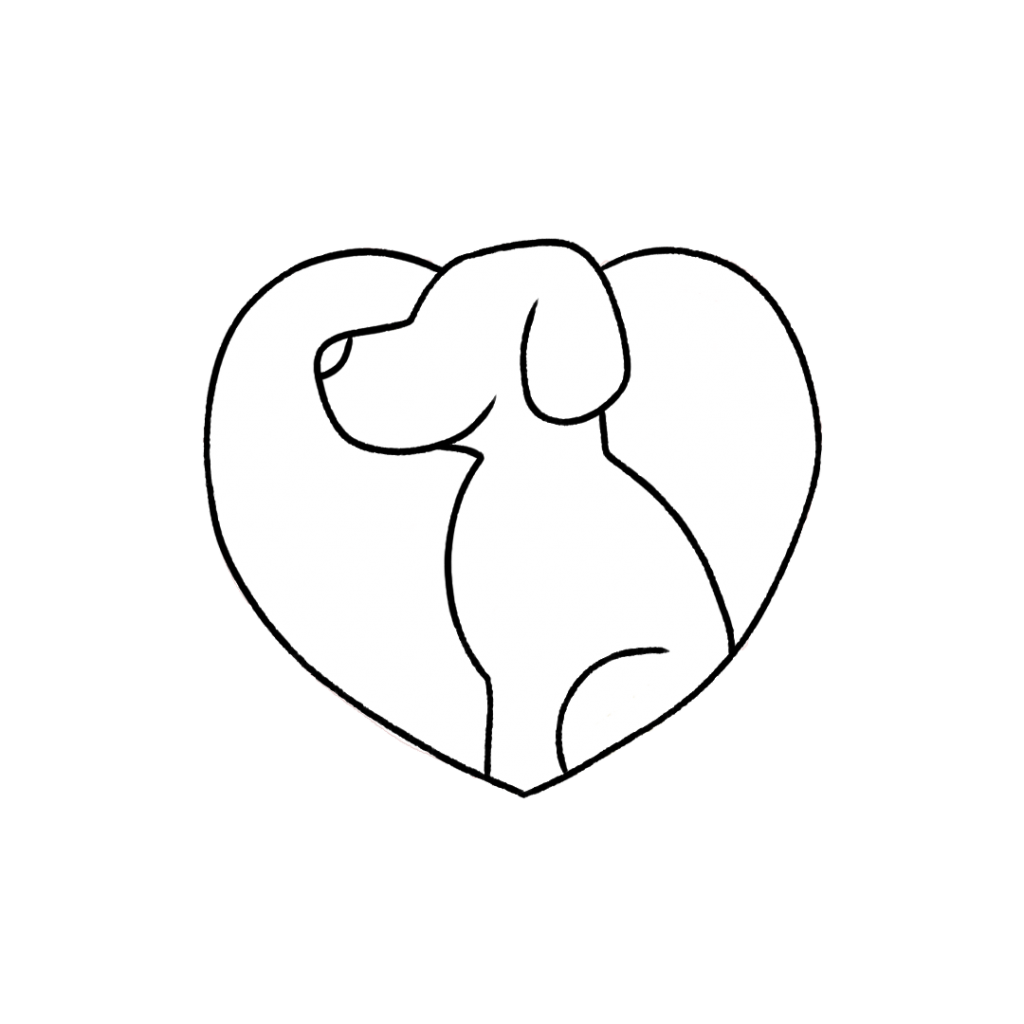 Do not use this recipe around dogs. For more information on using essential oils with dogs check out this blog post.
This recipe is intended for topical application. Never ingest any essential oil even if it's regarded as safe. For more information on why we don't ingest essential oils check out this blog post.
*"These statements have not been evaluated by the Food and Drug Administration. This product is not intended to diagnose, treat, cure, or prevent any disease."*
Work It Roll-On Recipe
Work It Roll-On
Est. Shelf life: 1 year
Ingredients
1 drop Peppermint Essential Oil

1 drop Tea Tree Essential Oil

3 drops Clean and Fresh Essential Oil Blend

10 ml Fractionated Coconut Oil (approximate)

10 ml bottle
Directions
Add essential oils to the roll-on bottle. Swirl to mix. 
Fill the rest of the way with Fractionated Coconut Oil.
To use: Apply to pulse points to energize and uplift you as you work.
---
How Will You Boost Your Productivity?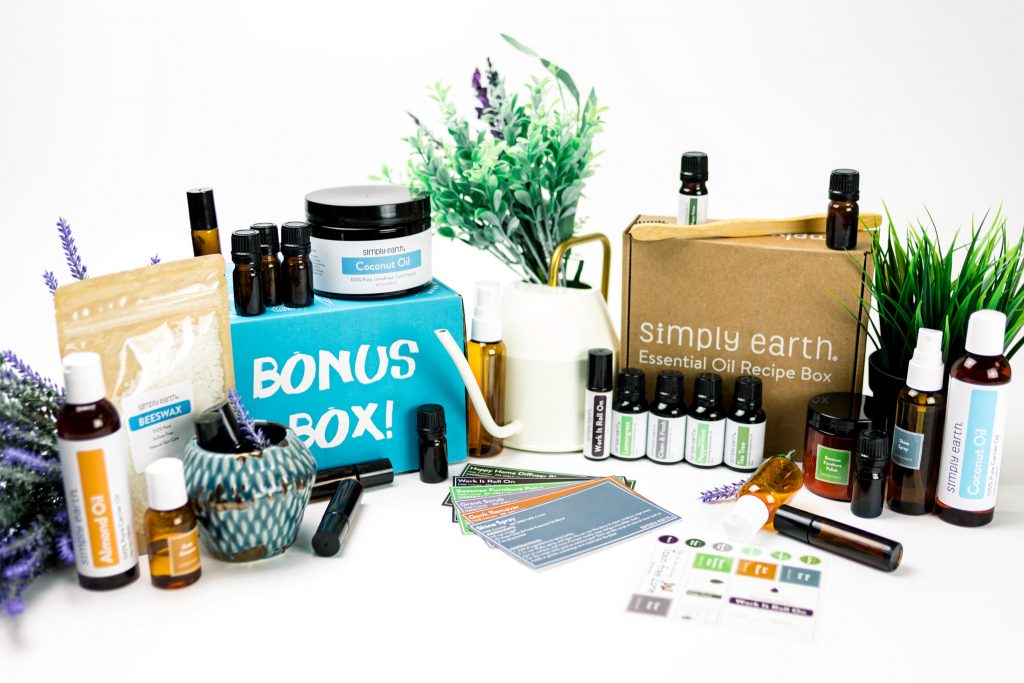 Now that you have this amazing roll-on, what activity will you tackle first? Let us know in the comments or @fromsimplyearth!
Subscribe today to our Essential Oil Recipe Box. Each month, you can receive four full-size 100% pure essential oils, six natural recipes, plus the ingredients you need to make them in our Recipe Box.
With the box, you'll learn new ways to use essential oils, make more essential oil roll-on recipes, and have the peace of mind that you are making your home toxin-free. This month of April, we focus on Home Detox. This box is worth over $150 if priced from the Big Essential Oil Companies. You get all those goodies from Simply Earth for only $44.99. Go get it! 
[i]Moss, M., Hewitt, S. and Moss, L. (2008) Modulation of cognitive performance and mood by aromas of peppermint and ylang ylang. International Journal of Neuroscience 118, 59-77.