Lemons are packed with essential vitamins to boost your immune system, so it's no surprise that Lemon Essential Oil is a powerhouse on its own! Extracted from the peel of fresh lemons, this essential oil packs a punch of benefits, from uplifting your mood to aiding digestion. Not only can it be used for its aromatic properties in diffusers or sprays, but it can also be applied topically or inhaled for a variety of health benefits. With Lemon Essential Oil, the possibilities are endless – from adding it to your morning routine for a refreshing kick to incorporating it into household cleaning, this oil will not disappoint. So the next time life gives you lemons, make not just lemonade but add a few drops of Lemon Essential Oil for an extra zesty boost.
Lemon Essential Oil Benefits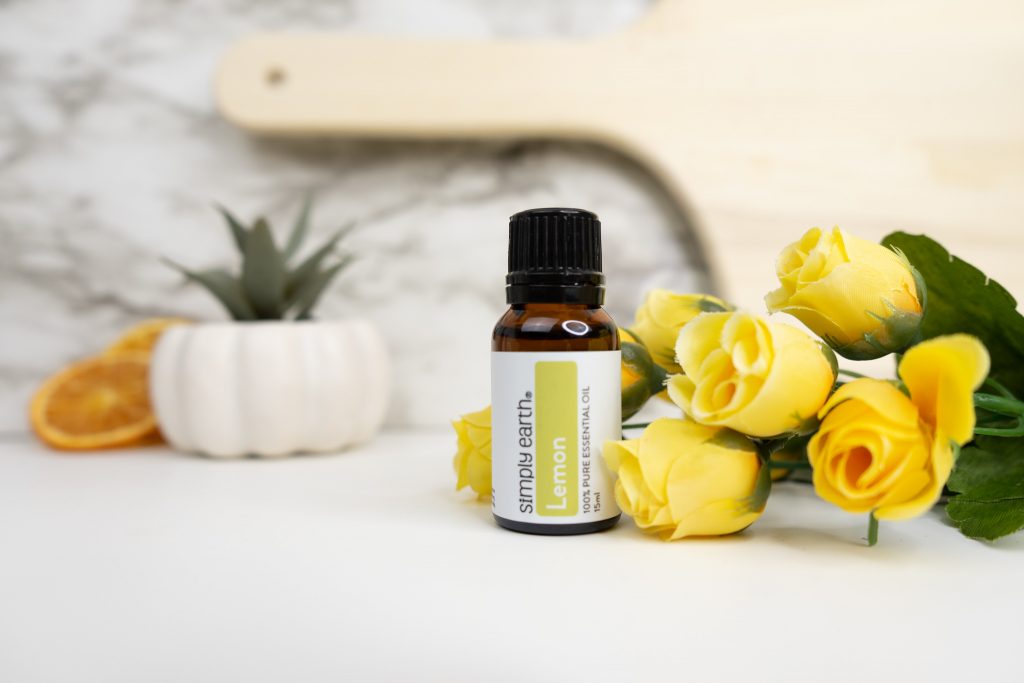 Reduces Appearances of Breakouts
Lemon Essential Oil is more than just its pleasant scent. This helpful oil also has numerous benefits for your skin, including reducing the appearance of breakouts. A study1 found that Lemon Essential Oil has antimicrobial and anti-inflammatory properties, which makes it an excellent solution for skin issues such as acne vulgaris and rosacea. When used correctly, this oil can help fight off and prevent pesky breakouts, giving you clearer, healthier-looking skin.
Detoxifies
Lemon Essential Oil is a powerhouse when it comes to detoxifying the body. It has been proven to aid in the removal of unwanted wastes and harmful toxins, which can often build up and interfere with our health. Research2 has shown that Lemon Oil has the ability to decrease oxidative stress in both the liver and kidney, two organs that are critical in our body's detoxification system.
Eases Seasonal Discomfort
One of Lemon Essential Oil's most notable uses is easing seasonal discomfort. With its powerful anti-inflammatory and anti-allergic effects, as per this study3, Lemon Oil can provide a natural and effective remedy for uncomfortable symptoms. Whether you suffer from a stuffy nose, itchy eyes, or other seasonal discomforts, incorporating Lemon Essential Oil into your routine could be just the solution you need.
Cleans
Lemon Essential iOl has proven to be a powerful natural cleanser with numerous benefits. A study4 has shown that it has antibacterial properties that can work against one or more strains of bacteria, providing a significant inhibitory effect. Furthermore, it has a refreshing aroma and provides a pleasant scent in personal and household settings.
Uplifts
Lemon Essential Oil has been praised for its countless benefits, but its ability to uplift your mood and reduce stress is remarkable. A study5 found that Lemon Essential Oil had the strongest anti-stress effect among all oils tested. In addition, it also possesses anxiolytic and antidepressant-like effects, meaning it can help alleviate anxiety and promote relaxation, making it a popular choice for aromatherapy and self-care routines.
Promotes Stomach Wellness
Lemon Essential Oil is a versatile remedy that can provide several benefits, including promoting stomach wellness. It is particularly favored among pregnant women for its safety and effectiveness in alleviating several pregnancy-related ailments. A study6 has concluded that the aroma of Lemon Oil can lessen nausea and vomiting, making it an excellent natural alternative to traditional medication.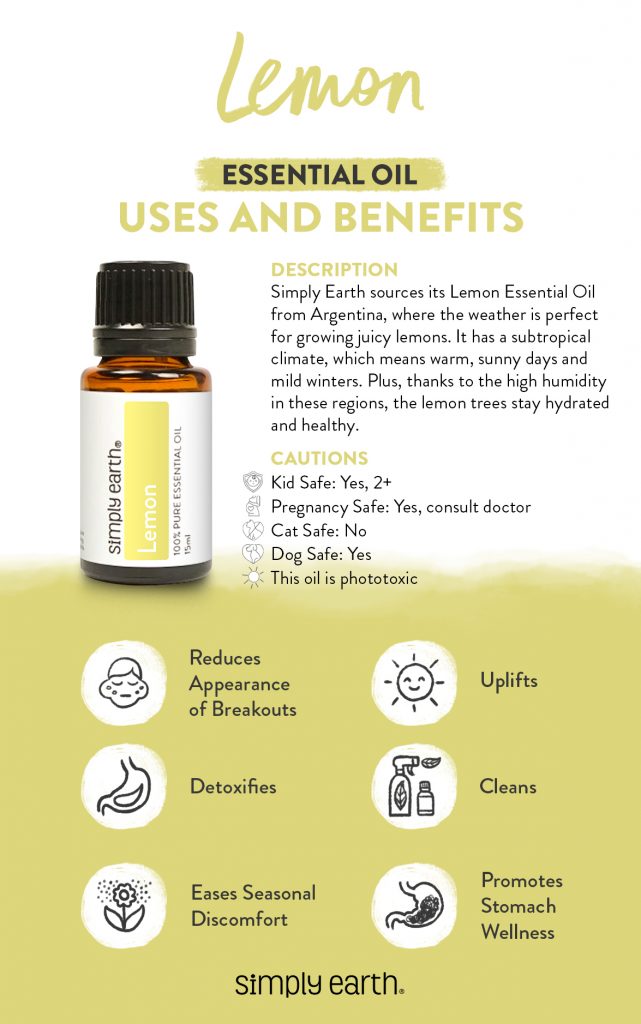 Lemon Essential Oil Uses & Recipes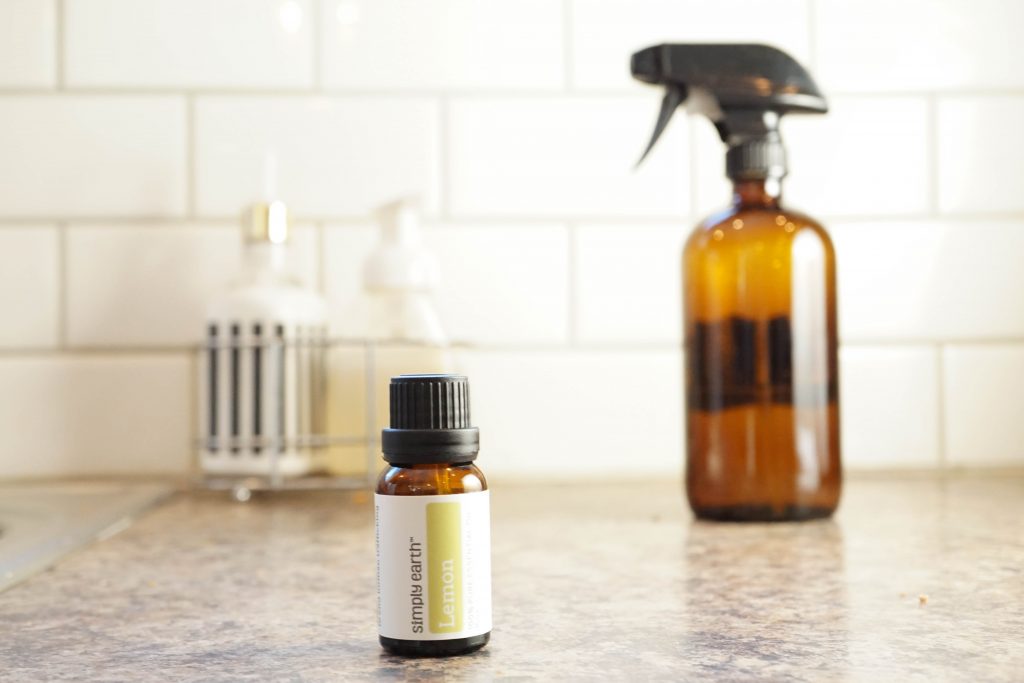 Cleaning Recipes
With its refreshing scent and powerful cleansing properties, it can easily be incorporated into a variety of cleaning recipes. Whether you're looking to freshen up a room or tackle tough stains, this essential oil is a natural and effective solution.
Skincare Recipes
Lemon Essential Oil is a must-have for any skincare enthusiast. This versatile oil can work wonders when incorporated into skincare recipes like serums and balms. One of its most notable benefits is its ability to soothe acne-prone skin.
Personal Care Recipes
Lemon Essential Oil can also be used in your personal care routine for a refreshing and revitalizing experience. Incorporating this oil into your personal care recipes is a simple and effective way to pamper yourself while reaping the benefits of this amazing oil.
Roll-On Recipes
One popular way to use Lemon Essential Oil is in a roll-on, which makes it easy to apply the oil to specific areas of your body. This can be especially helpful if you are looking to soothe your stomach or promote relaxation.
Diffuser Blend Recipes
Lemon Essential Oil is known to have an amazing aroma. The scent is often associated with feelings of cleanliness and freshness, making it a great addition to any living space. In addition to its pleasant smell, it has been known to soothe nausea and improve mood, making it an all-around versatile option.
What Lemon Essential Oil Blends Well With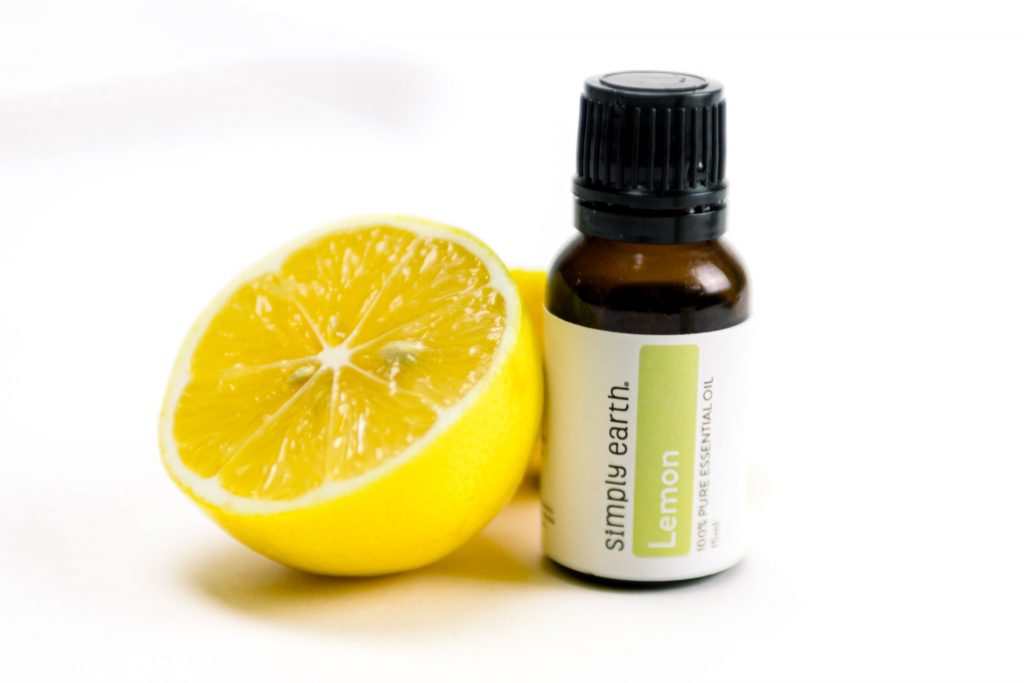 There's something undeniably refreshing about the scent of fresh lemons, and Lemon Essential Oil only amplifies that experience. Its bright, clean, and strong aroma can elevate any blend in which it's used. Fortunately, there's no shortage of complementary oils that you can pair with Lemon Oil. Some of the oils that blend well with it include Bergamot, Cedarwood (Himalayan), Citronella, Coriander, Geranium, Lavender, Lemongrass, Lime, Neroli, Palmarosa, Rosemary, Sandalwood, and Vetiver Essential Oils.
Simply Earth Blends That Use This Oil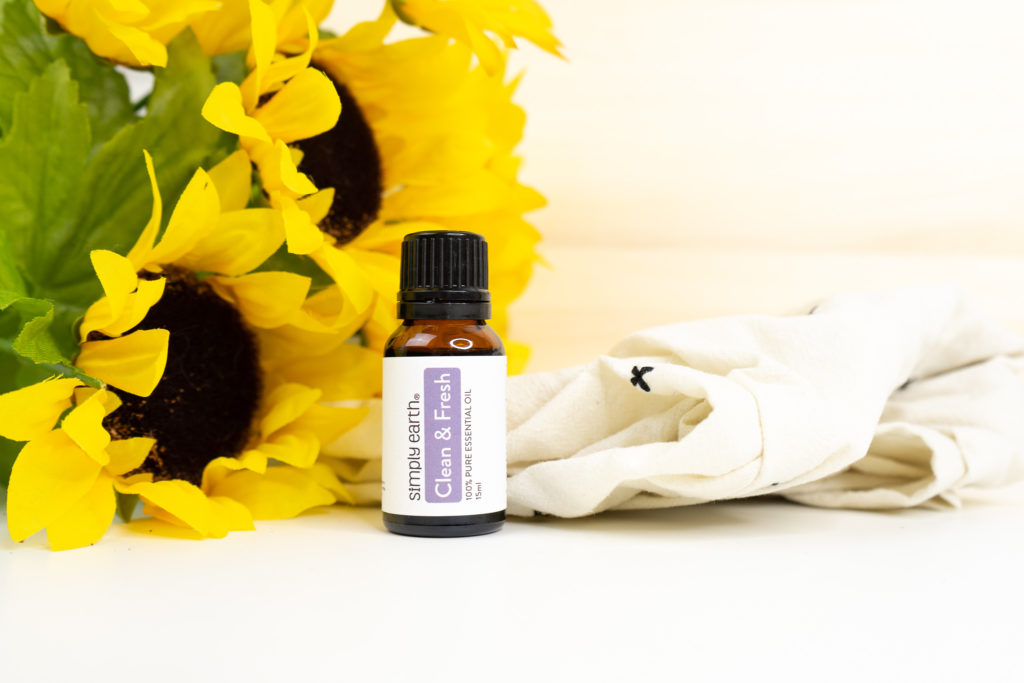 Autumn Air Blend
Aroma: Spicy
What better way to celebrate the Autumn than with the perfect autumn-inspired scent? Simply Earth has just the remedy with their Autumn Air Essential Oil Blend, which boasts a delightful combination of citrus and spice.
Bumps & Boo-Boos Blend
Aroma: Fresh & Citrus
Bumps & Boo-Boos Essential Oil Blend utilizes the powerful properties of essential oils to support the healing process of minor injuries. But the benefits don't stop there. This blend's calming and uplifting aroma can help ease anxious emotions that often accompany pain.
Candy Cane Blend
Aroma: Fruity & Minty
Get into the festive spirit with the Candy Cane Essential Oil Blend from Simply Earth. It puts a natural holiday scent in the air and is also a great way to create a warm and inviting atmosphere for family and friends.
Citrus Burst Blend
Aroma: Citrusy & Fresh
Citrus Burst Essential Oil Blend is a must-have for anyone needing a perky pick-me-up. This energizing and uplifting blend has a fresh citrus aroma that invigorates the senses. It's perfect for cleaning and getting rid of any lingering smells or stale air.
Clean & Fresh Blend
Aroma: Fresh
Clean & Fresh Essential Oil Blend is the perfect solution for anyone seeking a safe and effective alternative to traditional cleaning products. This blend is designed to leave your home feeling squeaky clean and fresh.
Clear Skin Blend
Aroma: Fresh & Medicinal
The Clear Skin Essential Oil Blend is a great option for anyone looking to achieve a youthful, clear complexion. Enriched with the rejuvenating properties of essential oils, this blend serves a noble purpose in promoting healthy and smooth skin.
Also available: Clear Skin Essential Oil Roll-On
Defender Blend
Aroma: Spicy
Defender Essential Oil Blend is specifically designed to support your immune system during seasonal stress, which can be a major relief in the midst of cold and flu season. And that's not all – it also doubles as a fantastic cleaner, making it a valuable addition to any eco-friendly home.
Also available: Defender Essential Oil Roll-On
Energy Blend
Aroma: Fresh & Invigorating
Need a pick-me-up during the afternoon slump? Look no further than Energy Essential Oil Blend. This incredible blend provides a burst of energy when you need it most. But that's not all – it can also help clear your mind, boost your mood, and even support your immune system.
Also available: Energy Essential Oil Roll-On
Farewell Scars Blend
Aroma: Citrus & Floral
Farewell Scars Essential Oil Blend caters specifically to skin problems and is formulated to support your skin's natural healing process. With its combination of powerful ingredients, the Farewell Scars blend is perfect for those looking to diminish and heal scars.
Also available: Farewell Scars Essential Oil Roll-On
Good Vibes Blend
Aroma: Fruity & Floral
Good Vibes Essential Oil Blend has been carefully crafted to support women's hormonal health and general well-being. With its unique blend of essential oils, Good Vibes Blend brings balance and calmness to your life and helps you stay on top of your game.
Tranquility Blend
Aroma: Fresh & Fruity
Tranquility Essential Oil Blend, which includes the refreshing scent of Lemon, is a soothing blend designed to promote relaxation and peace of mind. After a long and exhausting day, this blend can help you unwind and let go of the stress that has built up.
Also available: Tranquility Essential Oil Roll-On
Veins Blend
Aroma: Sweet & Woody
If you're looking for a natural way to improve your skin's appearance while increasing your circulation, Veins Essential Oil Blend is definitely worth a try. This blend effortlessly enhances your skin's natural glow while invigorating your senses.
Also available: Veins Essential Oil Roll-On
What's the Science Behind This Oil?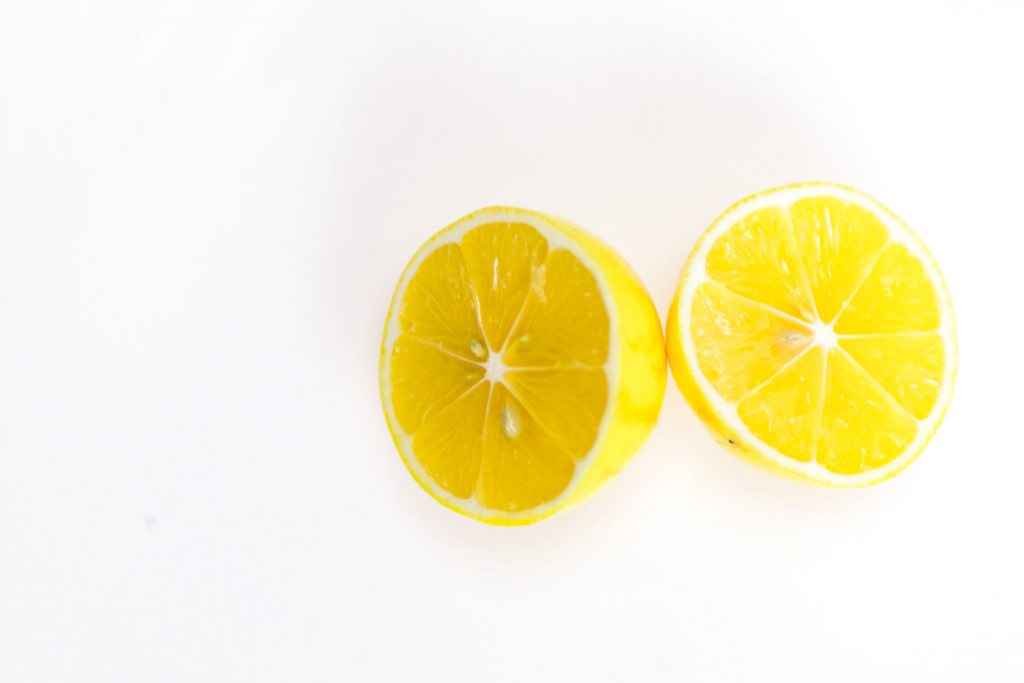 Chemical Constituents
Limonene
Limonene is a colorless liquid and is the major component in the oil of citrus fruit peels. It occurs more commonly in nature as the fragrance of oranges and is a flavoring agent in food manufacturing, a renewables-based solvent in cleaning products, a fragrance ingredient for cosmetics products, and a fragrance in perfumery and personal care products. It is also used as a botanical insecticide and organic herbicide.
β-Pinene
β-Pinene is a monoterpene, an organic compound found in plants. It has a woody-green, pine-like smell.
γ-Terpinene
Gamma-terpinene has a role as an antioxidant, a plant metabolite, a volatile oil component, and a human xenobiotic metabolite. It is a major component of essential oils made from Citrus Fruits and has strong antioxidant activity. It has a lemon odor and is widely used in food, flavors, soaps, cosmetics, pharmaceutical, tobacco, confectionery, and perfume industries.
A World-Renowned Citrus Farm
If you're a fan of Lemon Essential Oil, then you're in for a treat when you learn about Citrusmade Farm in Sicily, Italy. This family-owned and operated farm has been in the citrus farming business for multiple generations, and they take great pride in their work. They follow a scientific approach in cultivation, ensuring that each tree is well taken care of and producing the best fruit possible. The soil and microclimate in this area make for prime growing conditions, and workers check on each tree daily to monitor its status. Citrusmade Farm also only use natural fertilizers, making their products a healthy and sustainable option for those who care about the environment. It's no wonder why Simply Earth sources its Lemon Essential Oil from this farm – their commitment to quality and sustainability aligns perfectly with Simply Earth's values.
What Earthies Are Saying About It


Things to Remember When Using This Oil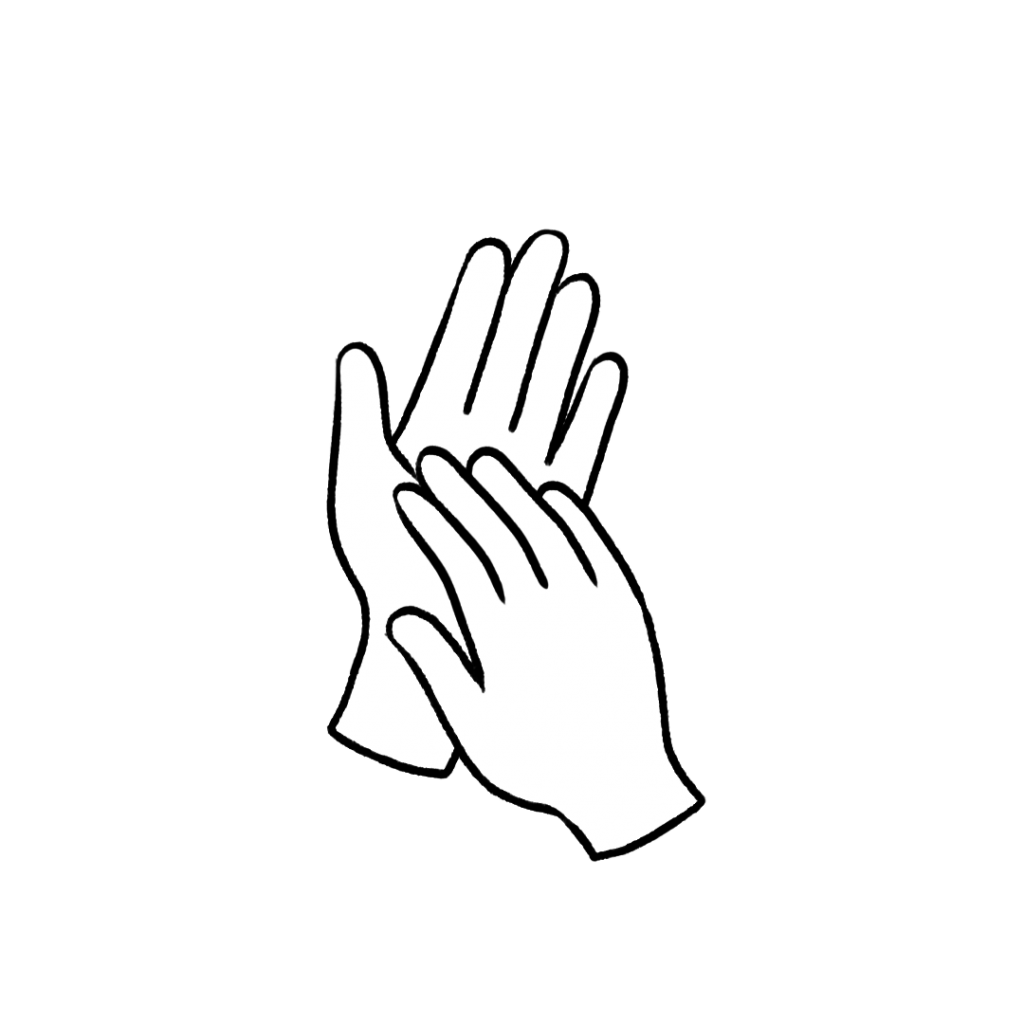 Lemon Essential Oil is unlikely to cause skin irritation when diluted properly. If the oil has been oxidized (left with the cap off for long periods), it is more likely to cause skin irritation. Check out this dilution chart for diluting essential oils properly.
Lemon Essential Oil is slightly phototoxic. This means using it on your skin can make you more likely to get sunburned. Phototoxicity should not be an issue if you dilute Lemon Essential Oil at 2% or less.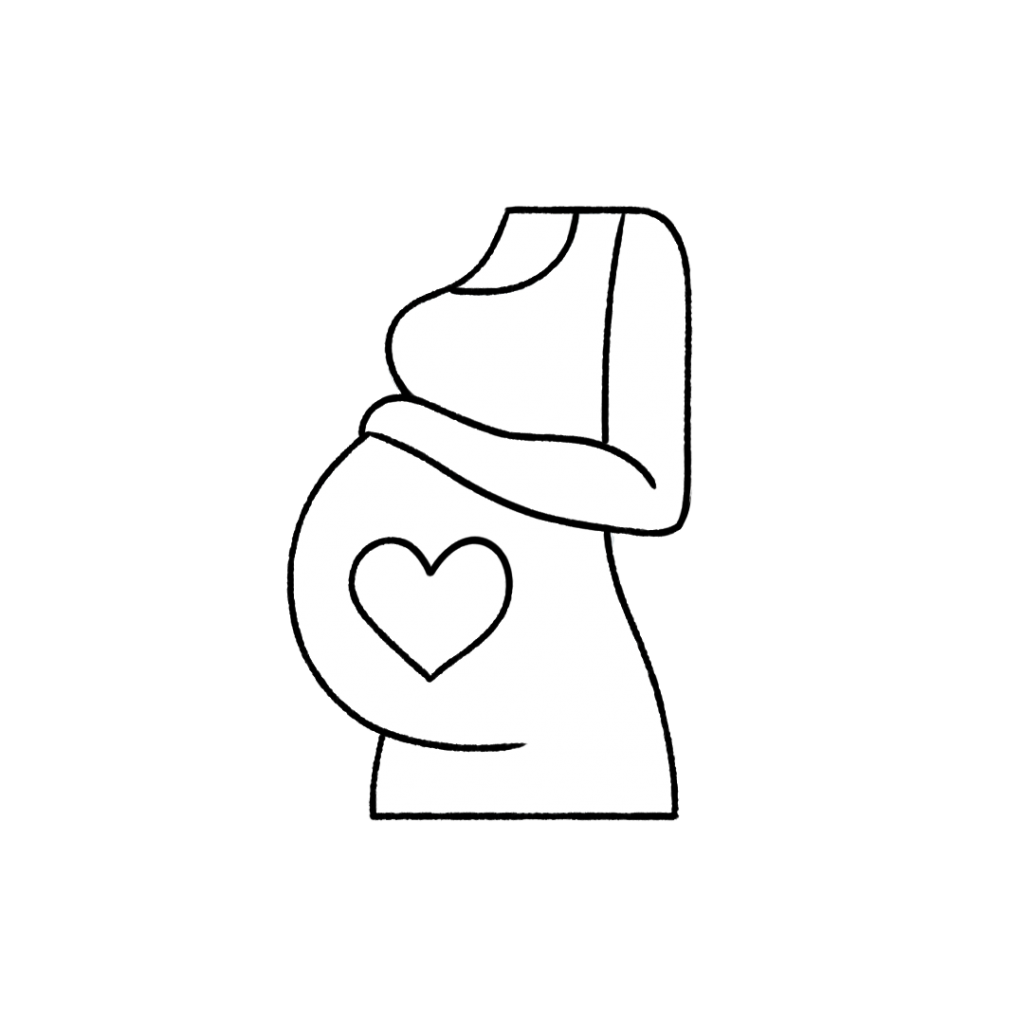 This oil is generally safe to use if you are pregnant. Consult your doctor prior to use.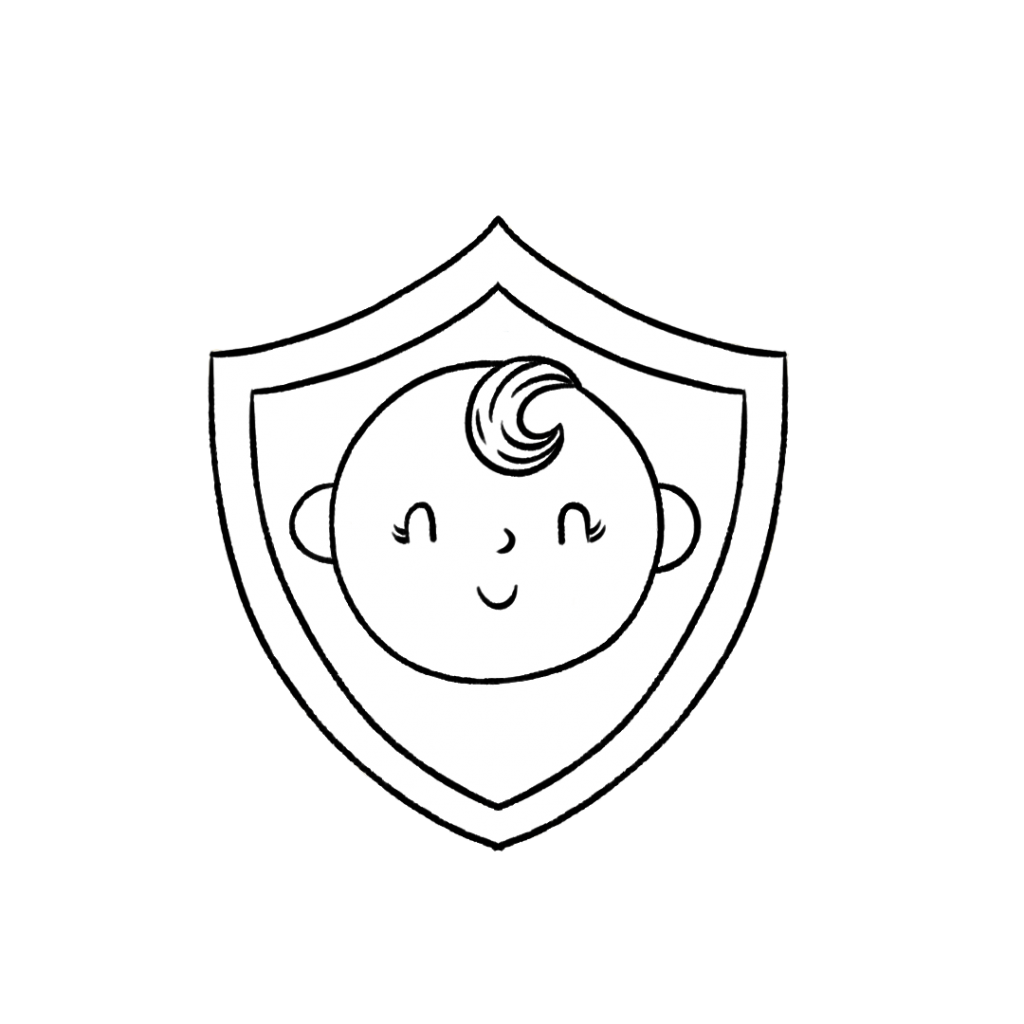 This oil is considered safe to use with kids aged 2+.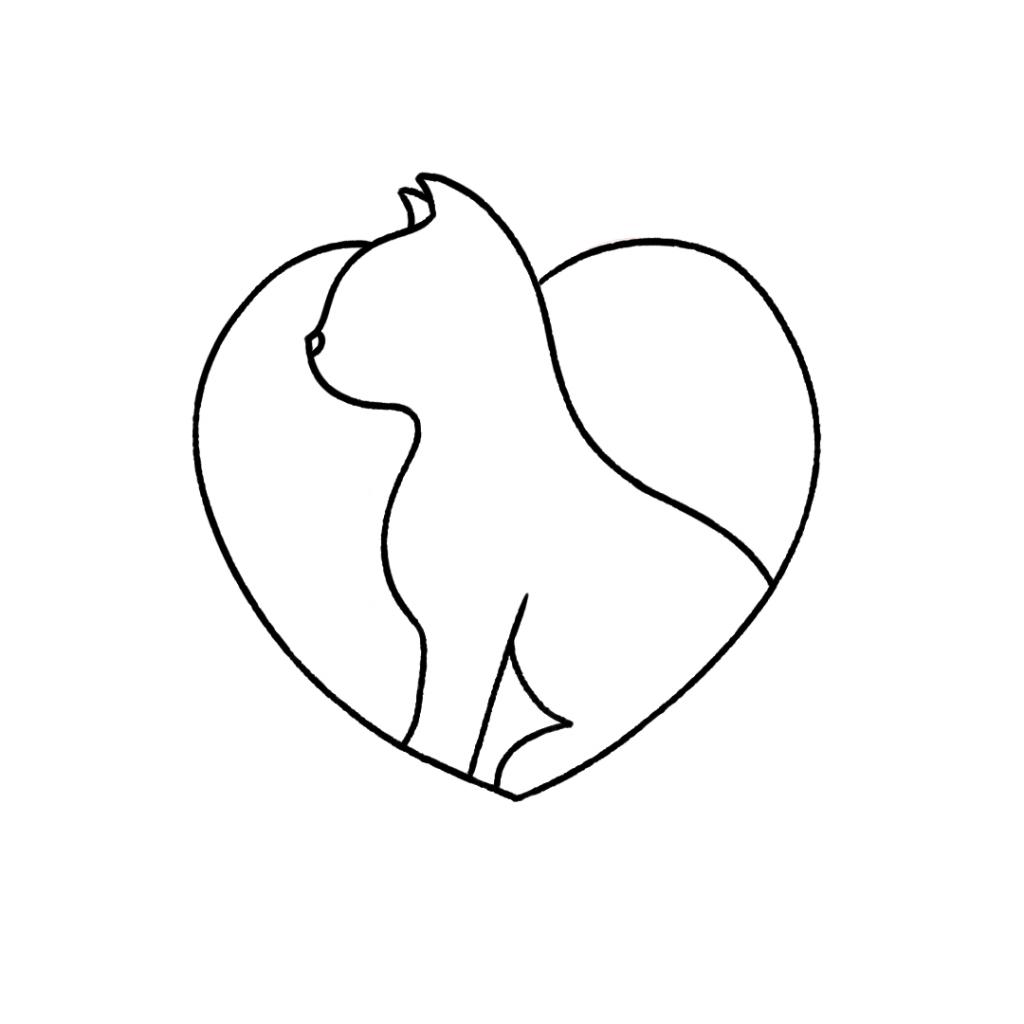 Cats may find this oil irritating. However, we do not expect your cat to be disturbed if you use this oil on yourself. Just be mindful of your pet's behavior. For more information on using essential oils with cats, check out this blog post.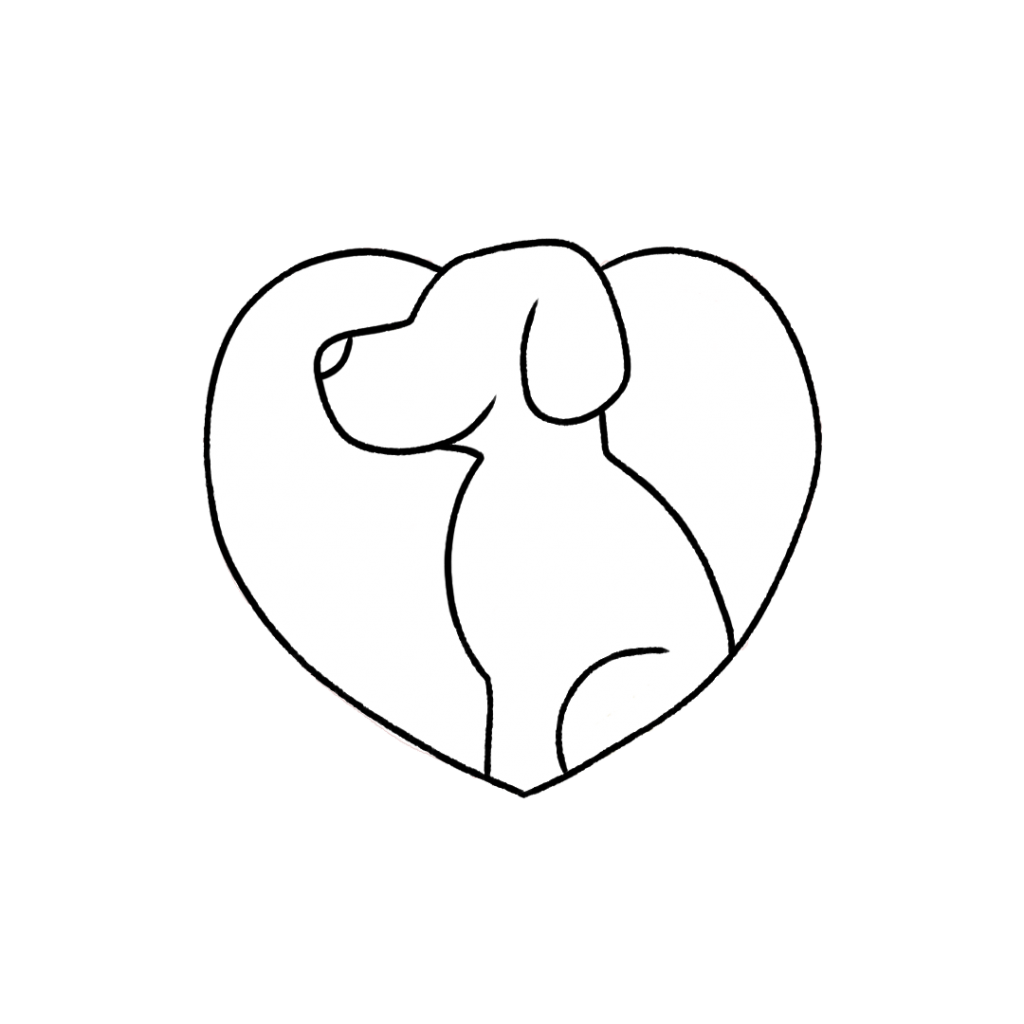 This essential oil is generally safe to use around dogs. For more information on using essential oils with dogs, check out this blog post.
We do not recommend ingesting essential oils. Adding Lemon Essential Oil to your water or food can lead to irritation and possible damage to your throat, mouth, and stomach. If you're looking for lemon flavoring, use lemon or lemon juice. For more information on why we don't ingest essential oils, check out this blog post.
Please note: This post is a compilation of suggestions made by those who have extensively used essential oils and have not been verified scientifically with clinical tests nor reviewed by medical experts. It is anecdotal information and should be treated as such. For serious medical concerns, please consult your doctor.
Where to Buy Lemon Essential Oil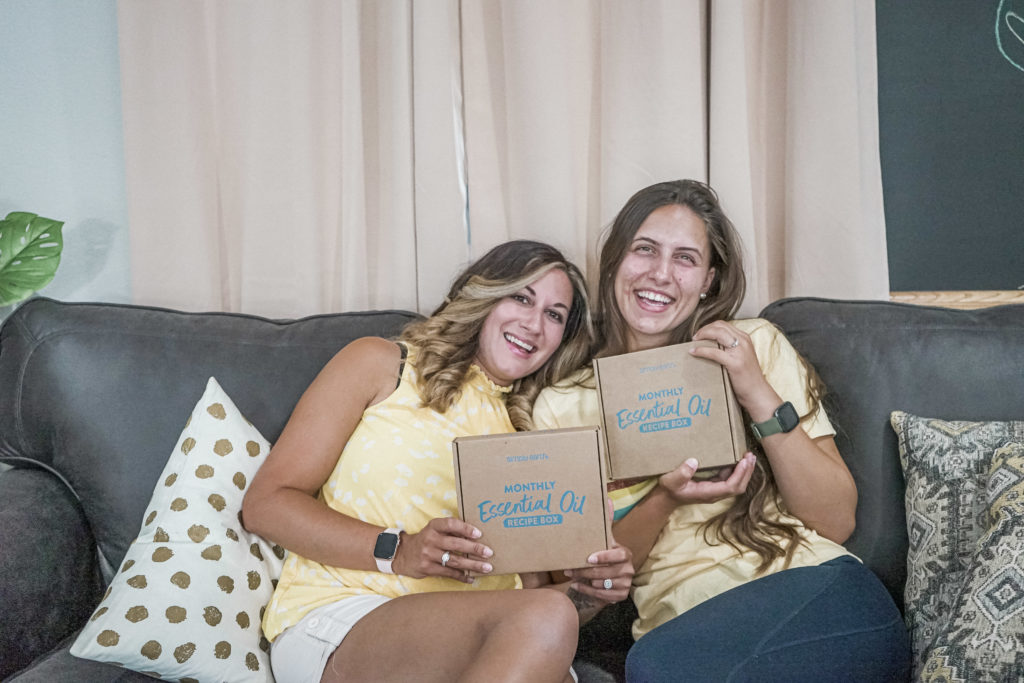 Lemon Essential Oil is a true multipurpose product with a variety of uses- from aromatherapy to all-natural recipes. When purchasing a bottle, there is no need to break the bank. Simply Earth offers high-quality oils at an affordable price, making it the perfect choice for those who want to enjoy all the benefits without having to sacrifice their budget. And the best part is that with every purchase, you can help stop human trafficking – something we should all strive to do. So, grab a bottle of Lemon Essential Oil from Simply Earth if you're looking to add it to your collection of essential oils or are a first-time user. You won't be disappointed!
---
Reference: