When you have a kid, you are always mindful of having products that are safe for them. You buy corner guards and those locks you put on the fridge. Since becoming a mom, I have become more mindful of the products I use at home – especially the ones I use for cleaning. To really ensure the safety of the products I am using, I make them myself like this DIY Surface Cleaner with Tea Tree and Lemon.
Also, I want something that has scent that is not too strong and nauseating. This one smells AMAZING and does the job!
What I Love About This Recipe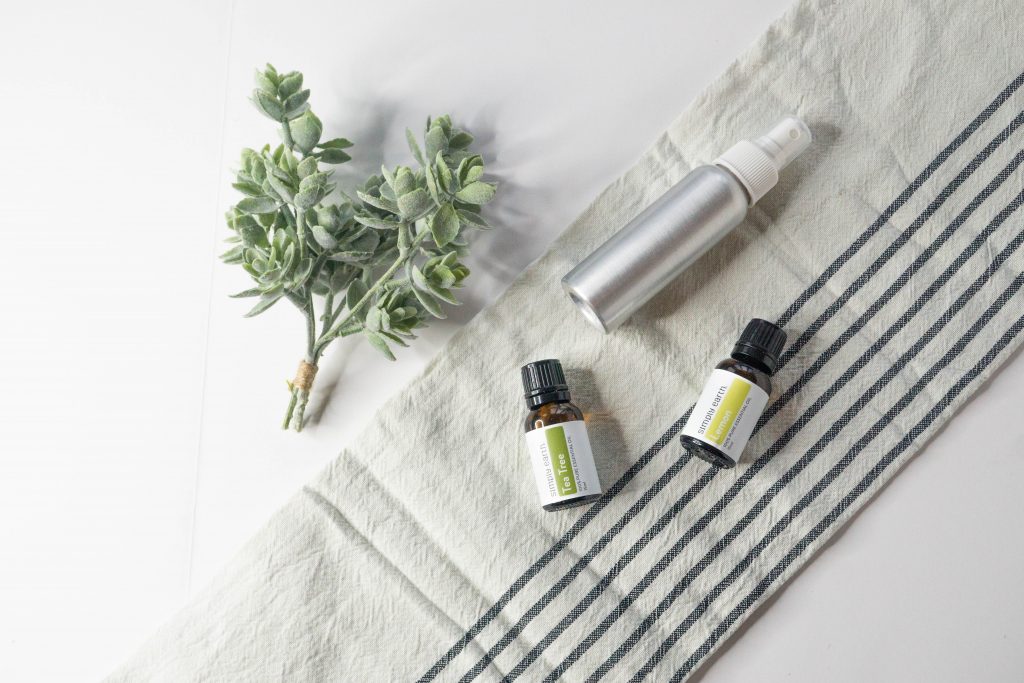 It's free from synthetic cleansers!
I use the same essential oil blend in my diffuser – so I know it smells good!
I'm not afraid if my little girl picks it up and uses it to clean her stuff.
What's in this DIY Surface Cleaner?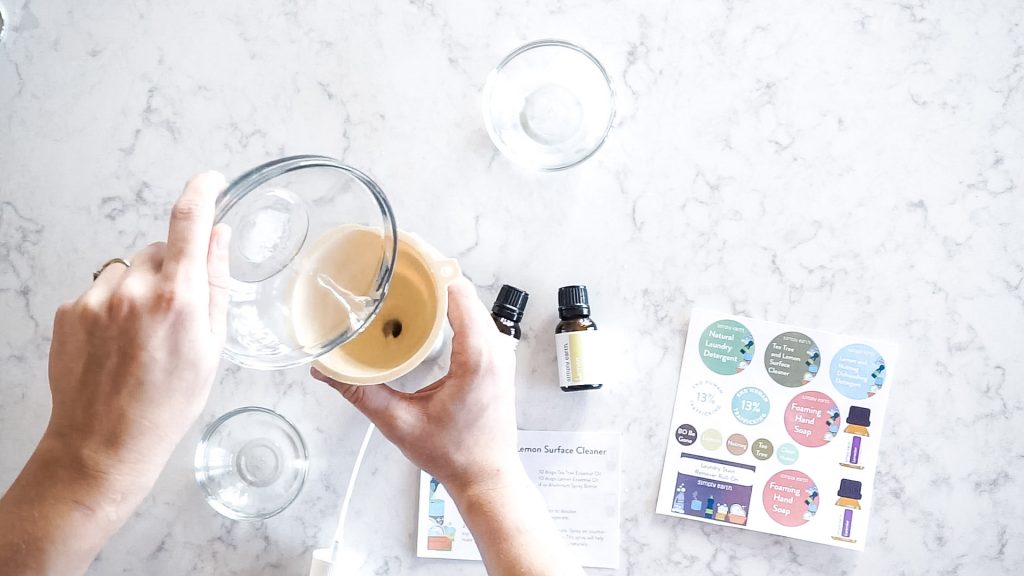 Distilled Water
Hot Distilled Water is the base for this recipe! It is crucial to use distilled water as it is free of impurities and minerals that could potentially mess with the balance of this recipe.
Borax
Borax is used as a cleaning agent in this recipe. It is generally regarded as safe, but use caution while making the recipe so none of it gets ingested. Follow the instructions on the box that you get.
White Vinegar
White Vinegar is a natural and non-toxic cleaning agent thats perfect for this recipe!
Rubbing Alcohol
Rubbing Alcohol is a fairly strong cleaning agent, but if diluted properly it can work wonders on all surfaces!
Tea Tree Essential Oil
Tea Tree Essential Oil is one of the best cleaning essential oils out there! It has a medicinal and woody aroma that gives your home that "fresh" scent you want after a good cleaning!
Lemon Essential Oil
Lemon Essential Oil is another cleaning powerhouse! Its sweet and citrus aroma is commonly found in other cleaning products, but this recipe does not overwhelm that with toxic chemicals!
Aluminum Spray Bottle
A 4 oz Aluminum Spray Bottle is an important part of this recipe! Using aluminum is crucial because essential oils can start to corrode other types of spray bottles.

Things to Remember When Using This Recipe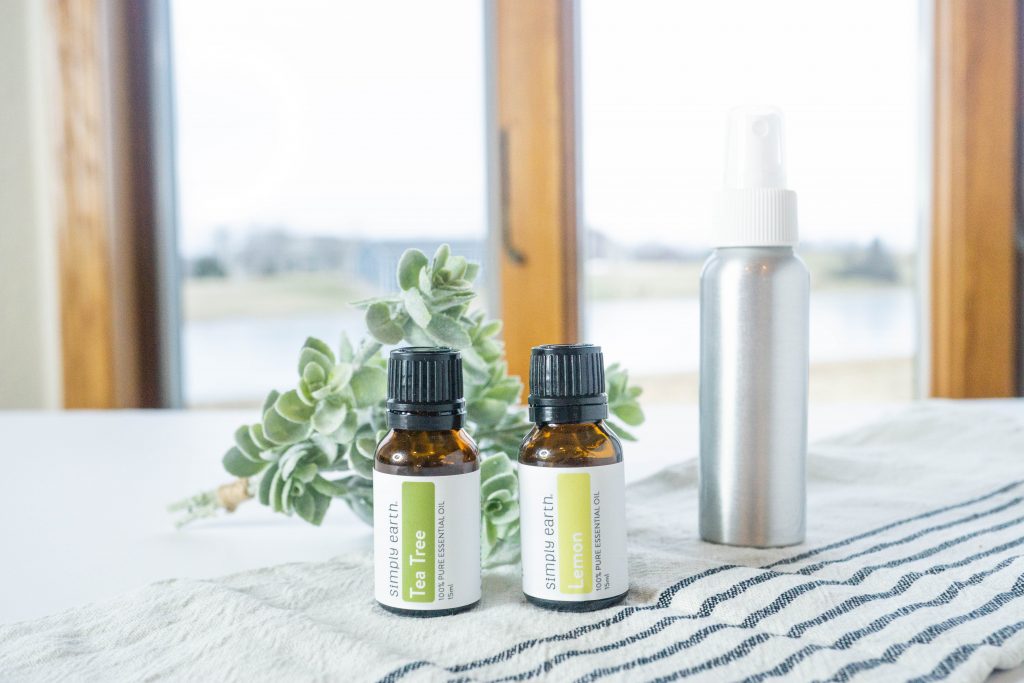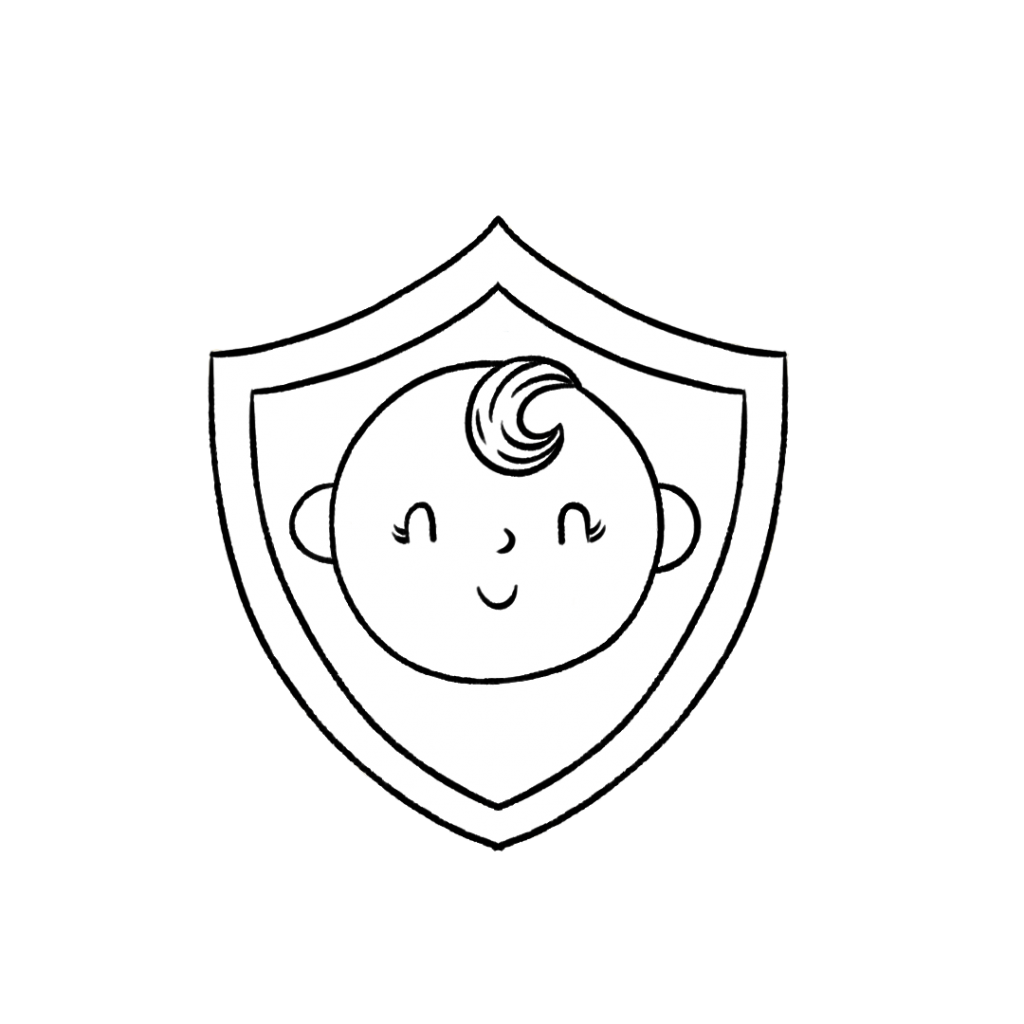 This recipe is safe to use around children 2+.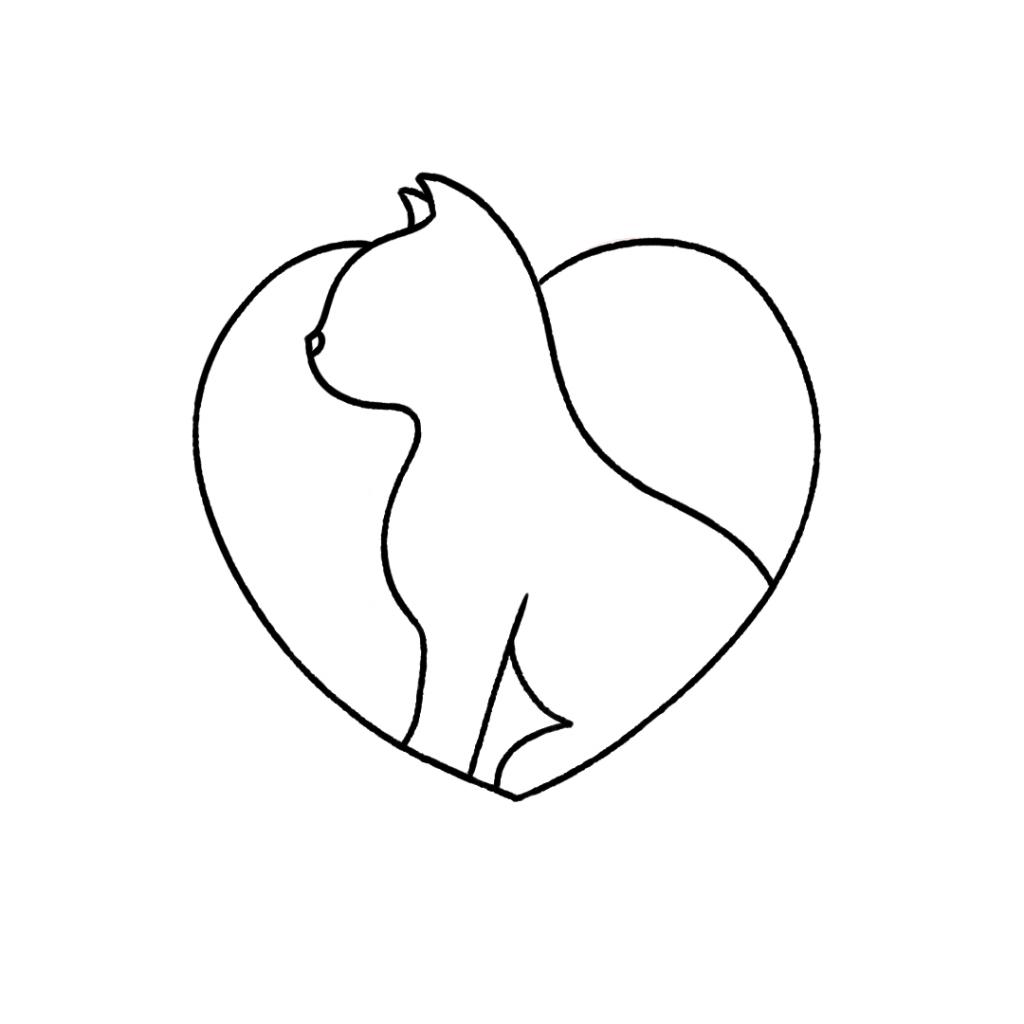 This surface spray is not recommended for use in close proximity to cats as its essential oils can cause irritation. For more information on using essential oils with cats, check out this blog post.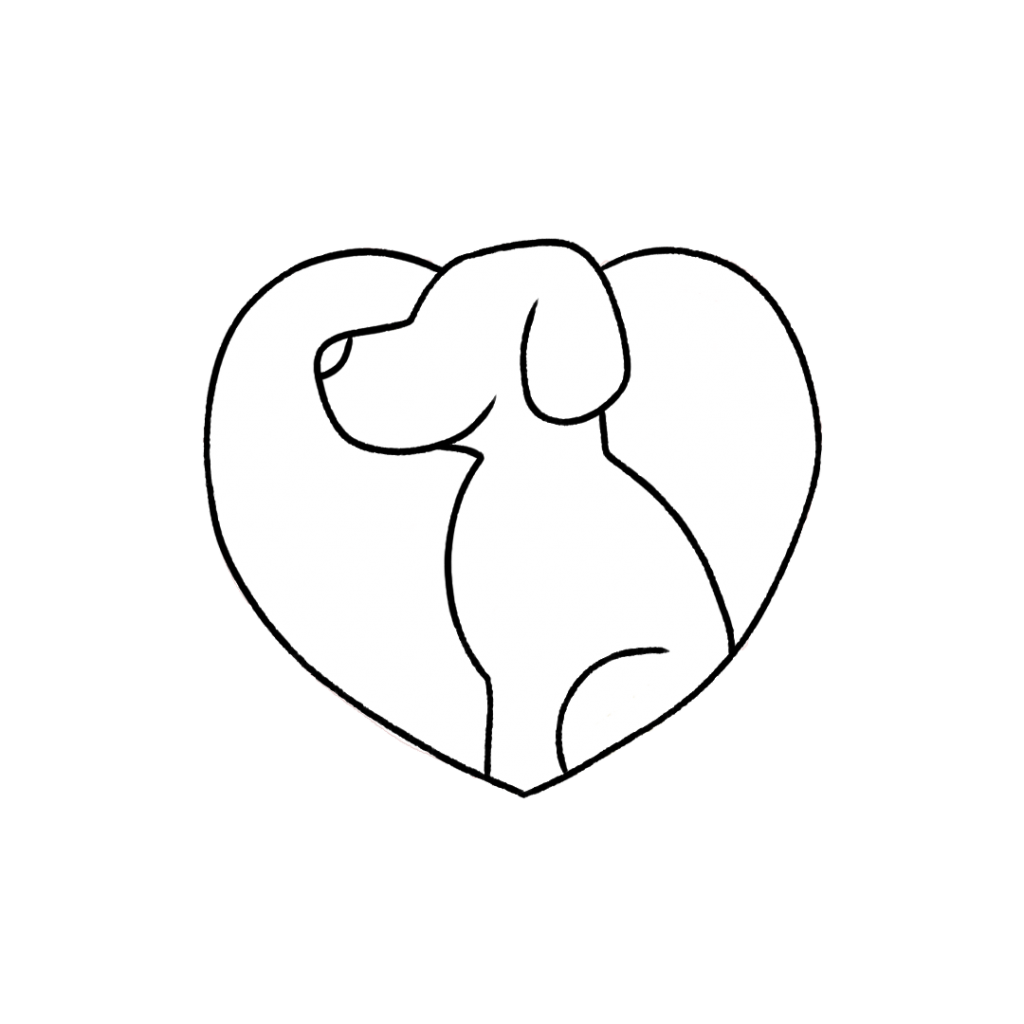 This surface spray is not recommended for use in close proximity to dogs as it's tea tree essential oil may cause irritation. For more information on using essential oils with dogs, check out this blog post.
Never ingest any essential oil, even if it's generally regarded as safe. For more information on why we don't ingest essential oils, check out this blog post.
Use caution when using borax as it can possibly cause irritation if inhaled or ingested.
"These statements have not been evaluated by the Food and Drug Administration. This product is not intended to diagnose, treat, cure, or prevent any disease."
DIY Surface Cleaner Recipe
Tea Tree and Lemon Surface Cleaner
Directions
In a bowl with hot distilled water, pour your Borax, and stir until it is fully dissolved.
Pour it in your aluminum spray bottle. It's important to use this kind of bottle as essential oils can corrode plastic bottles. Use a funnel to avoid spilling all over.
Add 2 teaspoons of White Vinegar.
Add 2 teaspoons of Rubbing Alcohol.
Then, add 10 drops of Tea Tree Essential Oil and 10 drops of Lemon Essential Oil.
To use, shake well before each use to disperse oils. Spray on countertops and other non-porous surfaces and wipe clean. This spray will help make your home clean and germ-free and smelling fresh, naturally.
 
Clean Your Home Without Toxins!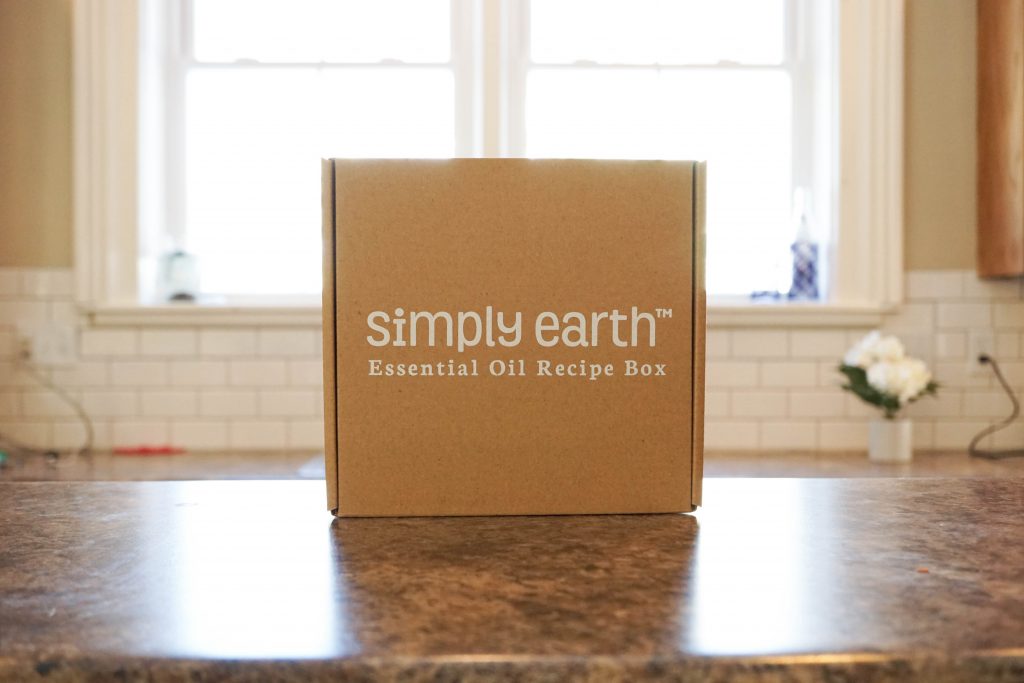 No more worrying about whats in your household cleaners. You know because you made them! Let us know when you use your DIY surface cleaner by commenting below or connecting with us on social media @fromsimplyearth!
Subscribe today to our Essential Oil Recipe Box. Each month, you can receive four full-size 100% pure essential oils, six natural recipes, plus the ingredients you need to make them in our Recipe Box.
With the box, you'll learn new ways to use essential oils, make more essential oil roll-on recipes, and have the peace of mind that you are making your home toxin-free. This month of April, we focus on Home Detox. This box is worth over $150 if priced from the Big Essential Oil Companies. You get all those goodies from Simply Earth for only $44.99. Go get it!