The holiday season can be stressful, filled with frantic shopping trips and crowded gatherings. But amidst the chaos lies the opportunity for much-needed relaxation and self-care. Enter homemade bath salt – the perfect addition to your holiday wellness routine. Bath salts add a luxurious touch to any bath, offering a calming and soothing experience for the mind and body. Plus, you can whip up a batch of your signature scent with just a few simple ingredients. So, take a break from the holiday hustle and treat yourself to a little indulgence – your body and mind will thank you.
Why We Love Homemade Bath Salt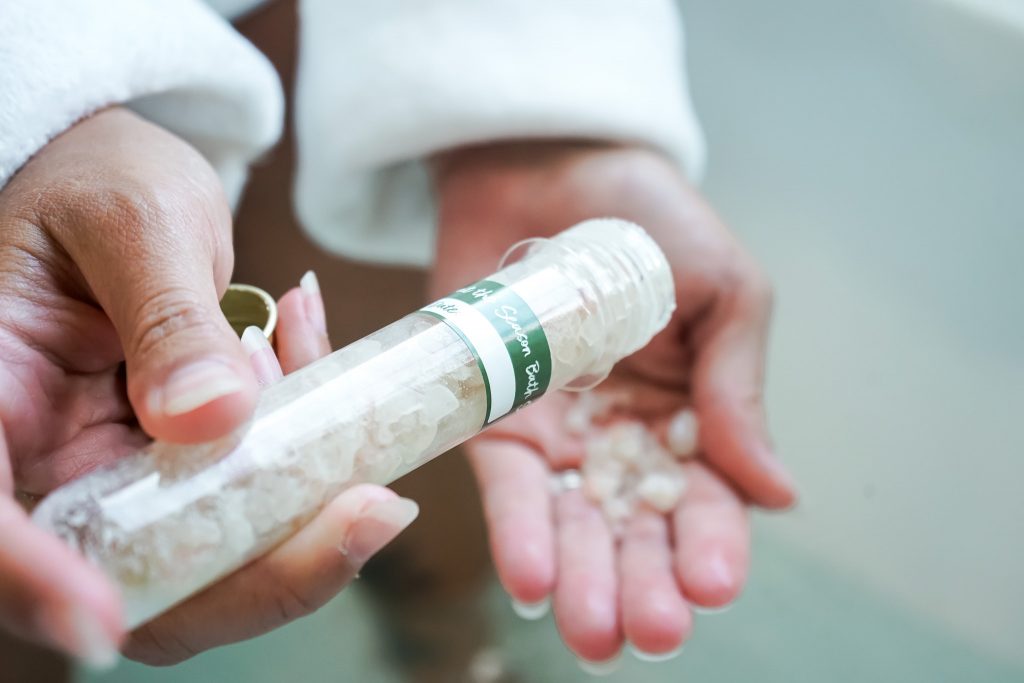 Customizable
One of the best things about homemade bath salts is that they are highly customizable. You can choose from a variety of ingredients and scents to create a unique blend that is tailored to your specific needs. For example, add Lavender Essential Oil or lavender buds to your mix if you want something calming and relaxing. If you need something more invigorating, add Peppermint or Eucalyptus Essential Oils. The possibilities are endless!
Cost-Effective
Making homemade natural bath salts is much more cost-effective than buying them from stores or online retailers. All you need are some basic ingredients found at most grocery stores or health food stores for relatively low prices compared to pre-made products today.
Natural Ingredients
Another great thing about homemade bath salts is that they are made with natural ingredients proven beneficial for your skin and overall health. Most store-bought varieties contain synthetic fragrances and other chemicals that can irritate the skin and even be harmful when absorbed through the skin over time. On the other hand, homemade bath salts use only natural ingredients that are safe for your skin and provide numerous health benefits.
Relaxing Aroma
When it comes to relaxation, nothing beats the calming scent of homemade bath salts! The combination of natural ingredients such as essential oils and herbs creates an aroma that will help you unwind after a long day or just relax during a hot summer day. The scent will fill your bathroom with a pleasant smell that will help you de-stress while enjoying a relaxing soak in the tub!
Simple Preparation
Making homemade bath salts is surprisingly easy! All you need is some basic kitchen supplies, and all you have to do is measure out the ingredients into a bowl, mix them together, and then transfer them into jars or containers – it doesn't get any easier than that!
What's in This Homemade Bath Salt?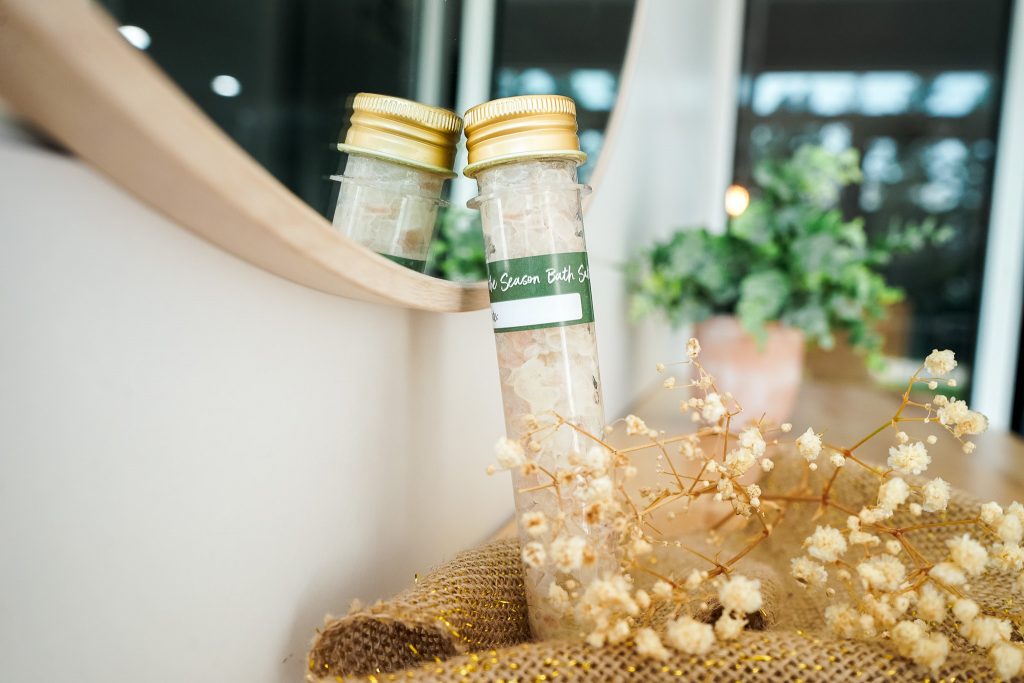 Bath Salt Blend (or other Mineral Salt)
Simply Earth's custom Bath Salt Blend is a blend of Epsom Salt, Pink Himalayan Salt, and Dead Sea Salt. These mineral-rich ingredients are known for their detoxifying properties and ability to revitalize tired, dull skin. Of course, if you prefer mixing things up, you can also experiment with other mineral salts to find your perfect blend.
Winter Spice Essential Oil Blend
To get into the season's spirit, try adding a Winter Spice Essential Oil Blend to your mix. With its spicy and uplifting aroma, this blend will create a wintery wonderland in your bathroom.
Lemon Essential Oil
Infused with Lemon Essential Oil, this bath salt is the perfect blend of sweet & citrusy aromas. Lemon Oil smells amazing and also cleans and uplifts the body. Imagine soaking in a warm bath, surrounded by the refreshing scent of lemon, feeling your worries slip away as your skin is purified and revitalized.
Nutmeg Essential Oil
Another addition to our bath salt ingredients is Nutmeg Essential Oil, with its spicy and nutty aroma that is both invigorating and comforting. It also has the added benefit of relaxing muscles and promoting a sense of calm.
Almond Oil
One important ingredient to consider is almond oil. Known for its ability to dilute essential oils, almond oil can also moisturize and nourish the skin. Adding this ingredient to your homemade bath salt can promote healthy, glowing skin while indulging in a little relaxation.
Natrasorb Bath Powder (optional)
Invigorate your bath experience with the exquisite and natural touch of Natrasorb Bath Powder. This proprietary powder is the perfect addition to your DIY bath products, as it prevents clumps in bath salts and beautifully disperses essential oils, carrier oils, and other oils throughout your bath. With Natrasorb, you can be sure that every inch of your tub is covered in silky, luxurious indulgence.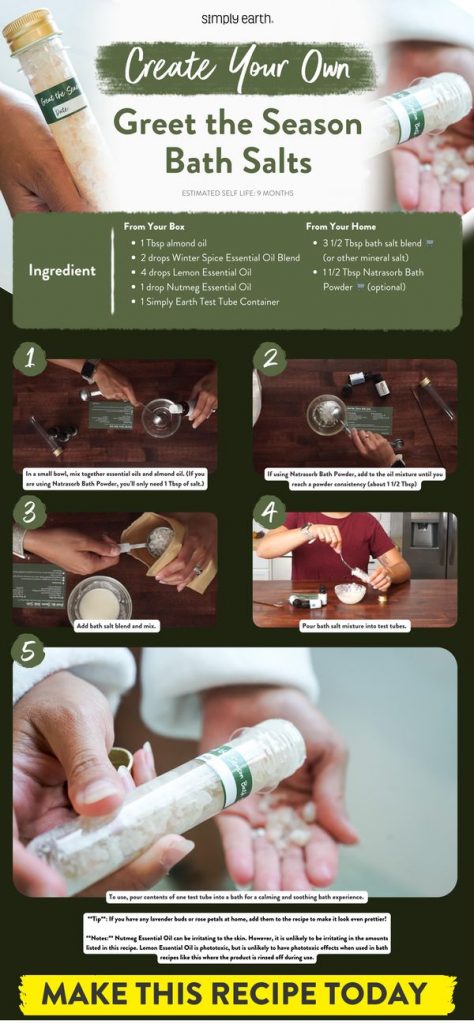 Things to Remember When Using This Recipe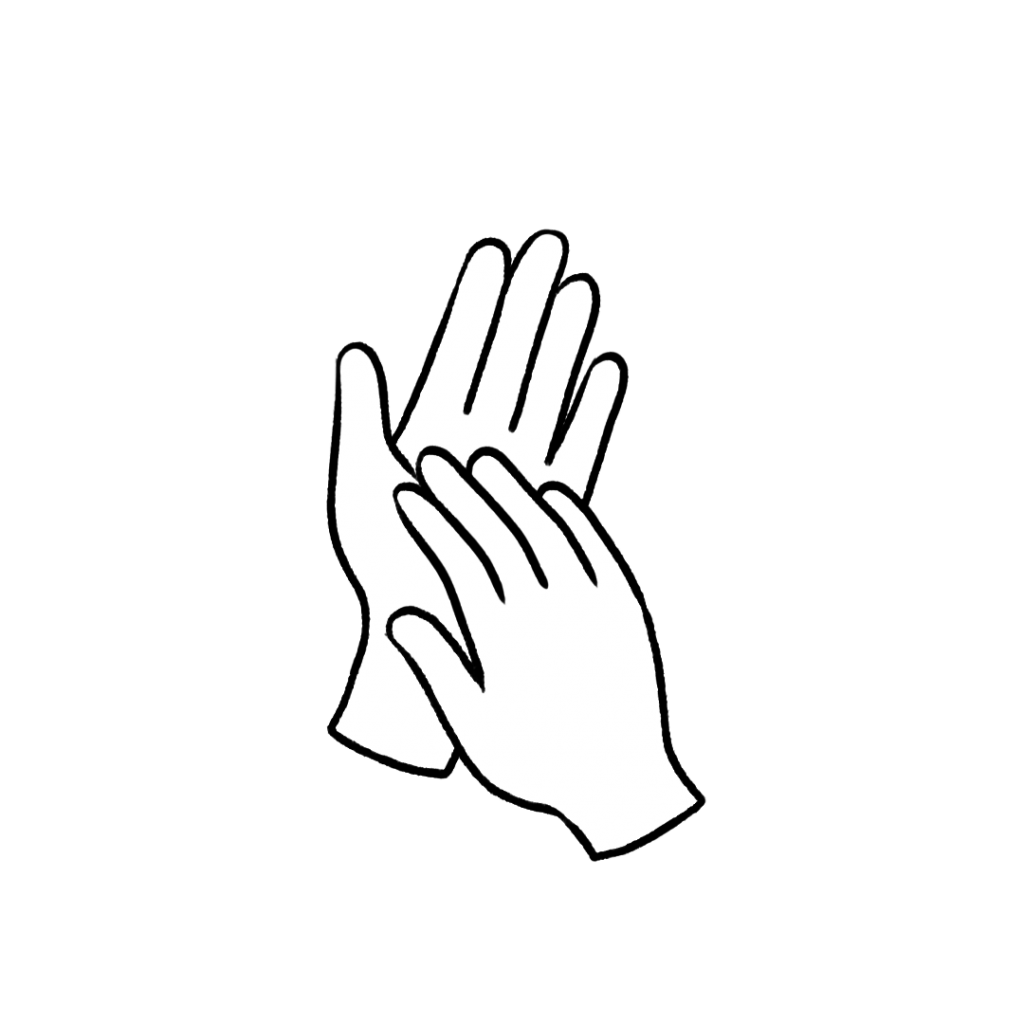 Always dilute an essential oil when using it on the skin. This essential oil recipe is unlikely to cause skin irritation when diluted properly. If the oil has been oxidized (left with the cap off for long periods of time) it is more likely to cause skin irritation. Check out this dilution chart for diluting this essential oil properly.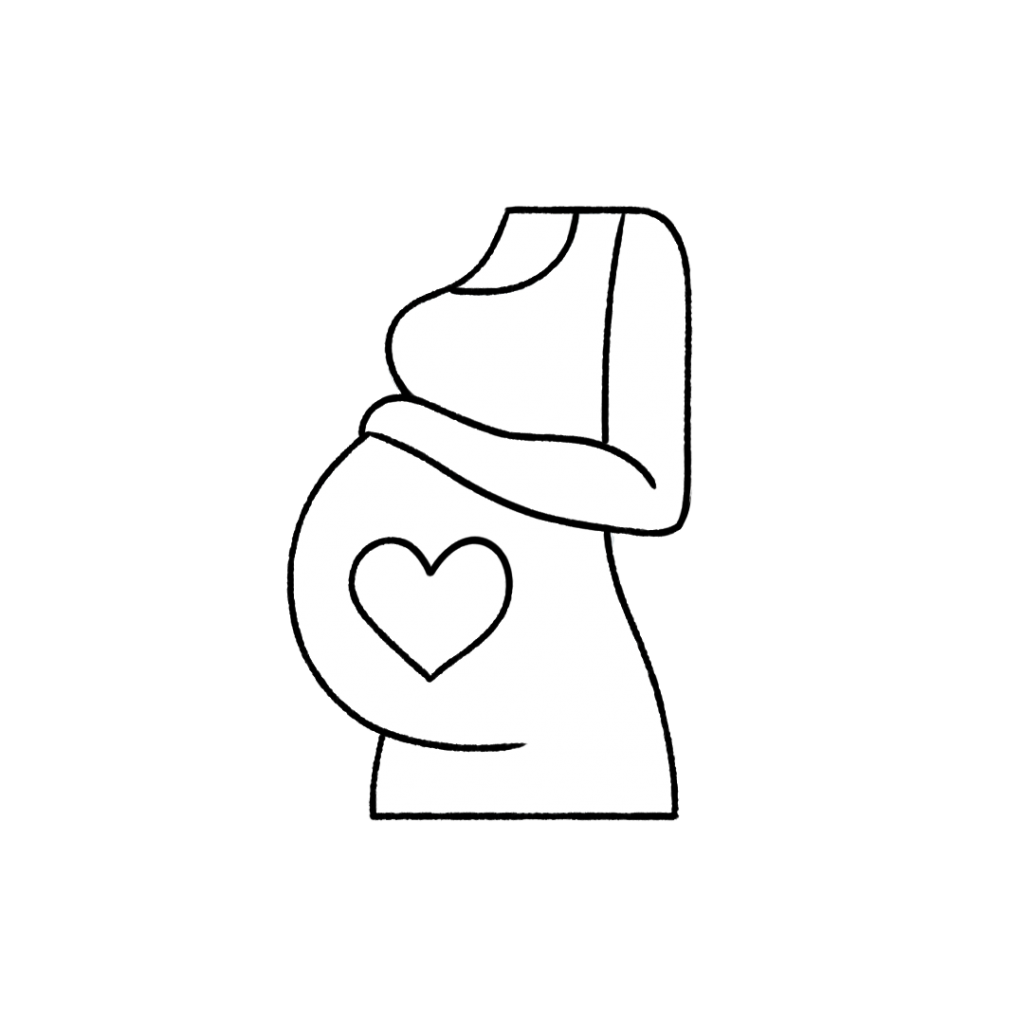 If you are pregnant, consult your doctor prior to use.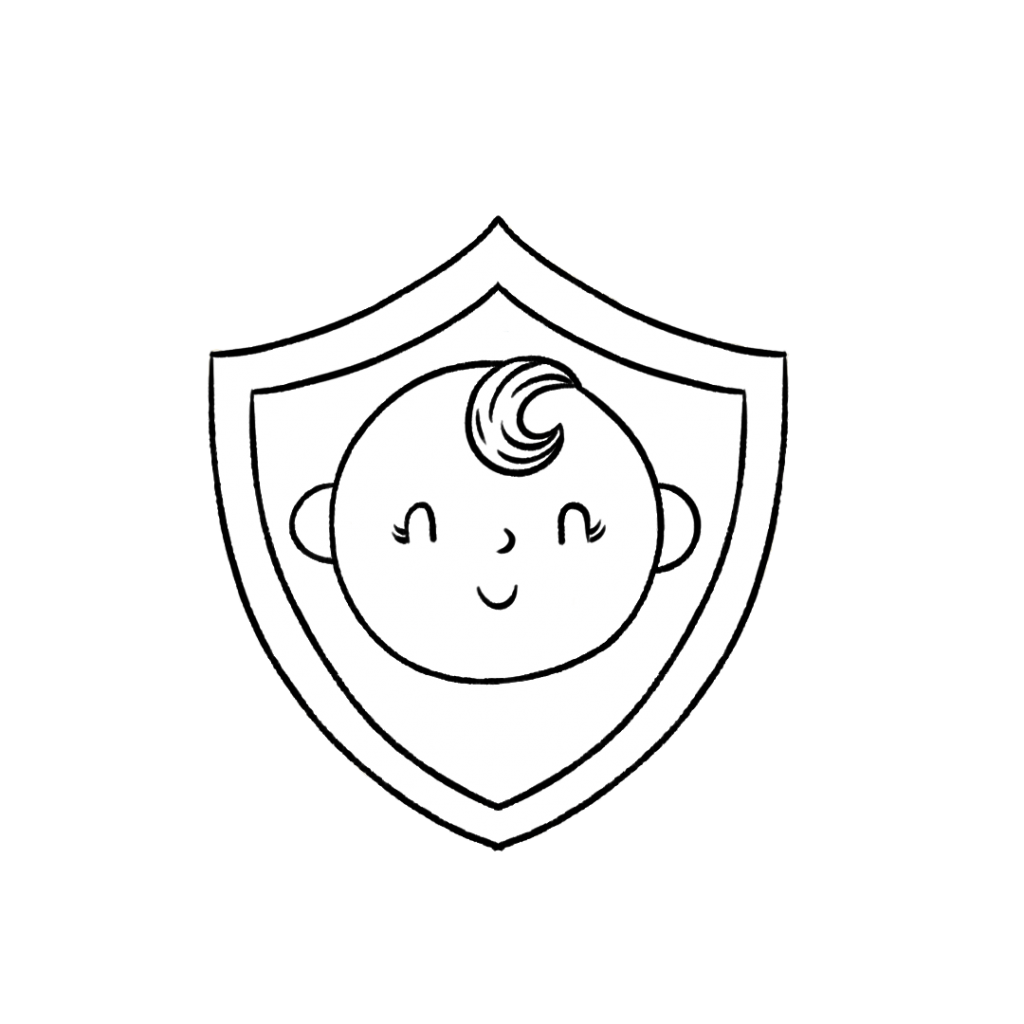 This essential oil recipe is safe to use with kids aged 10+.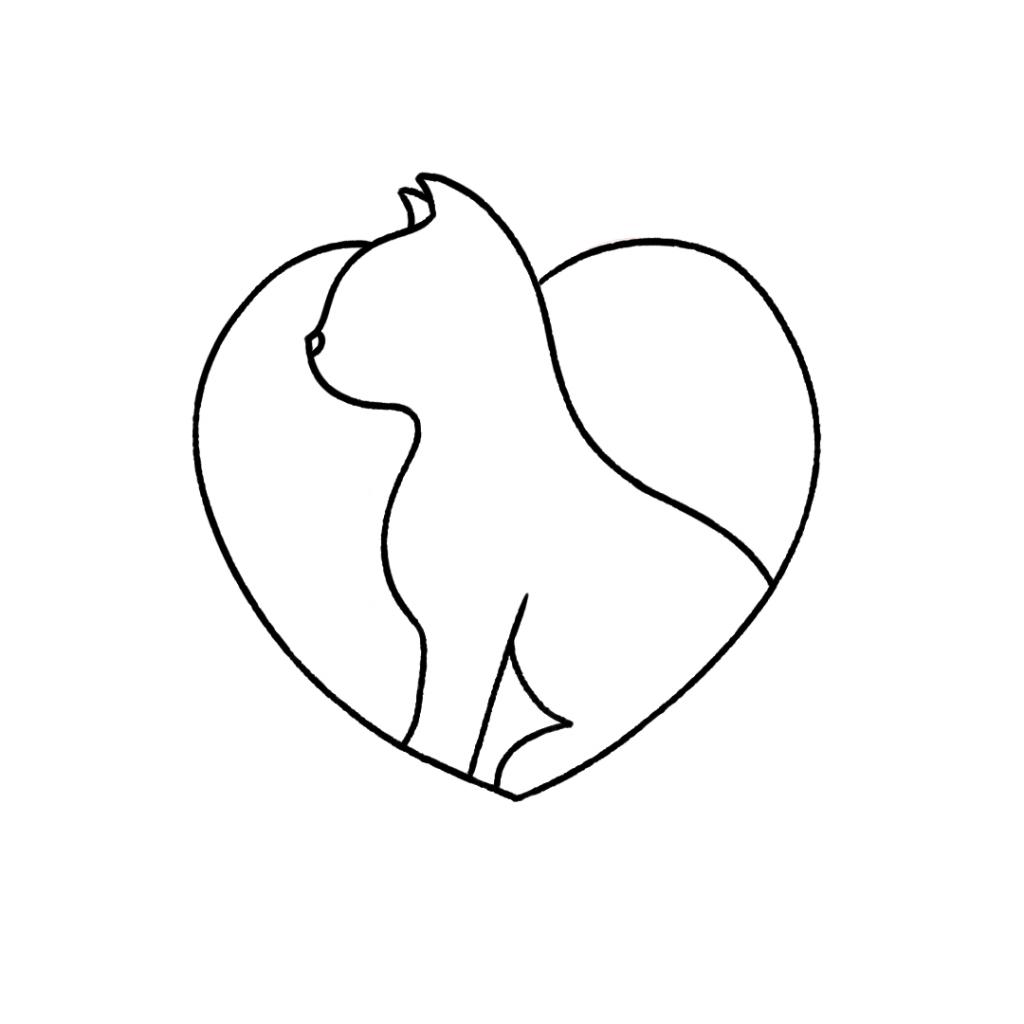 For more information on using essential oils with cats, check out this blog post.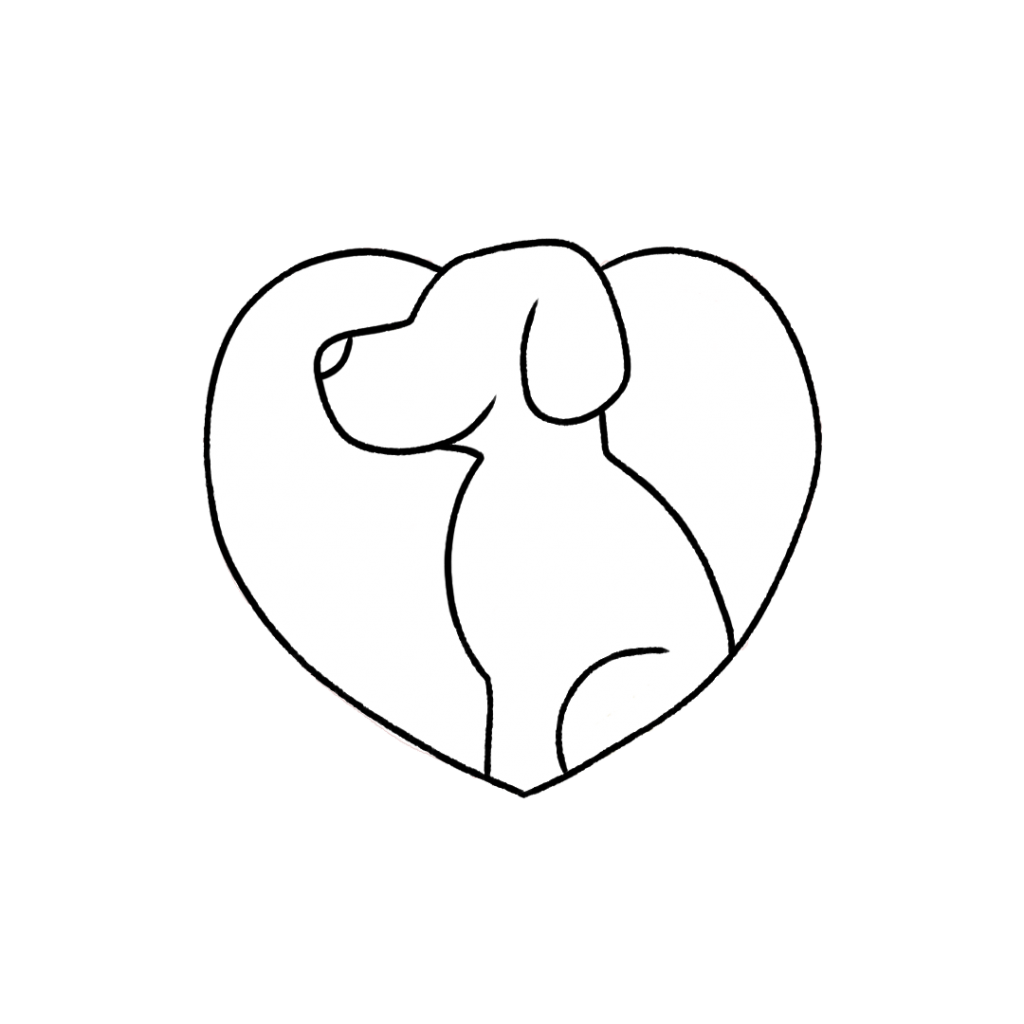 For more information on using essential oils with dogs, check out this blog post. 
We don't recommend ingesting essential oils unless under the direction of a doctor certified in aromatherapy. For more information on why we don't ingest essential oils check out this blog post.
Please note: This post is a compilation of suggestions made by those who have extensively used essential oils and has not been verified scientifically with clinical tests nor reviewed by medical experts. It is anecdotal information and should be treated as such. For serious medical concerns, please consult your doctor. The statements given in this blog post have not been verified by the FDA
Greet the Season Bath Salts Recipe
Greet the Season Bath Salts Recipe
Time: 5 minutes
Dilution Rate: 3%
Estimated Shelf Life: 1 year
Yield: 1 test tube
Ingredients
FROM YOUR BOX

1 Tbsp almond oil

2 drops Winter Spice Essential Oil Blend

4 drops Lemon Essential Oil

1 drop Nutmeg Essential Oil

1 Simply Earth test tube container

FROM YOUR HOME

3½ Tbsp bath salt blend (or other mineral salt)

1½ Tbsp Natrasorb Bath Powder (optional)
Directions
In a small bowl, mix together essential oils and almond oil. (If you are using Natrasorb Bath Powder, you'll only need 1 Tbsp of salt.)
If using Natrasorb Bath Powder, add to the oil mixture until you reach a powder consistency (about 1½ Tbsp)
Add bath salt blend and mix.
Pour bath salt mixture into test tubes.
Pour the contents of one test tube into a bath for a calming and soothing bath experience.

Notes
Tip: If you have any lavender buds or rose petals at home, add them to the recipe to make it look prettier!
Nutmeg Essential Oil can be irritating to the skin. However, it is unlikely to be irritating in the amounts listed in this recipe. Lemon Essential Oil is phototoxic but is unlikely to have phototoxic effects when used in bath recipes where the product is rinsed off during use.
Tip for Easy Clean-Up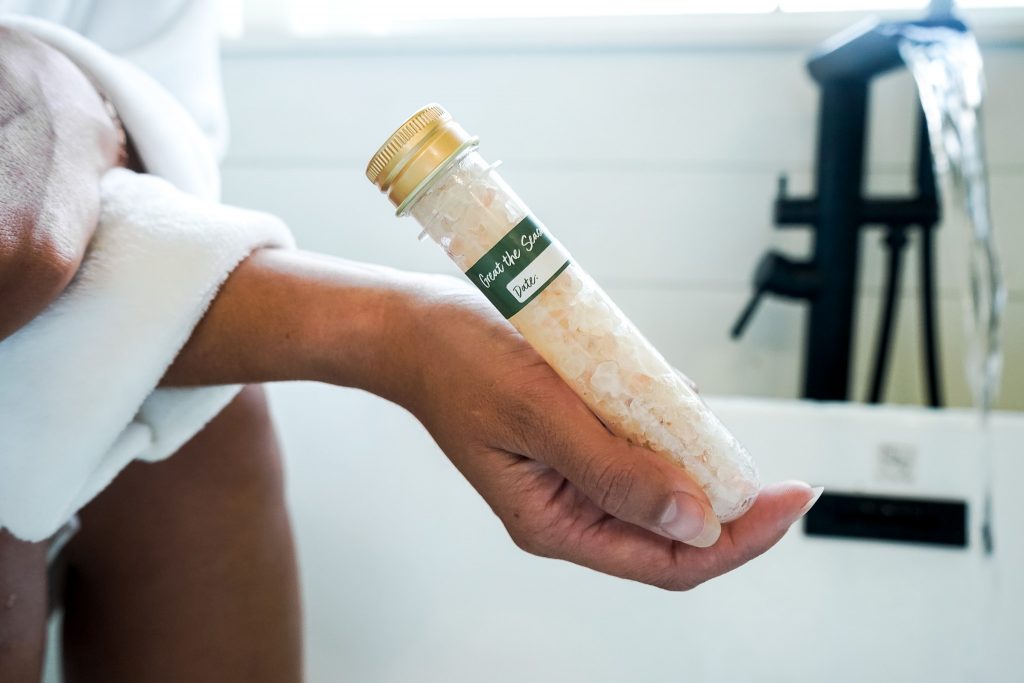 Once you're done with your soak, it's important to clean up immediately to avoid any messes or stains that could be difficult to remove later on. Start by wiping down any surfaces that came into contact with the bath salts, such as walls and floors around the tub area. Then rinse any remaining salt residue before drying off with a towel or cloth. Finally, dispose of any used bath salts in an appropriate trash can or bin so they don't end up clogging drains and pipes.