Got cold feet? Cold feet or hands, swelling in ankles, digestive issues and muscle cramps are all symptoms associated with poor circulation. This body butter recipe will help boost your circulation while moisturizing your skin.
What I Love About This Recipe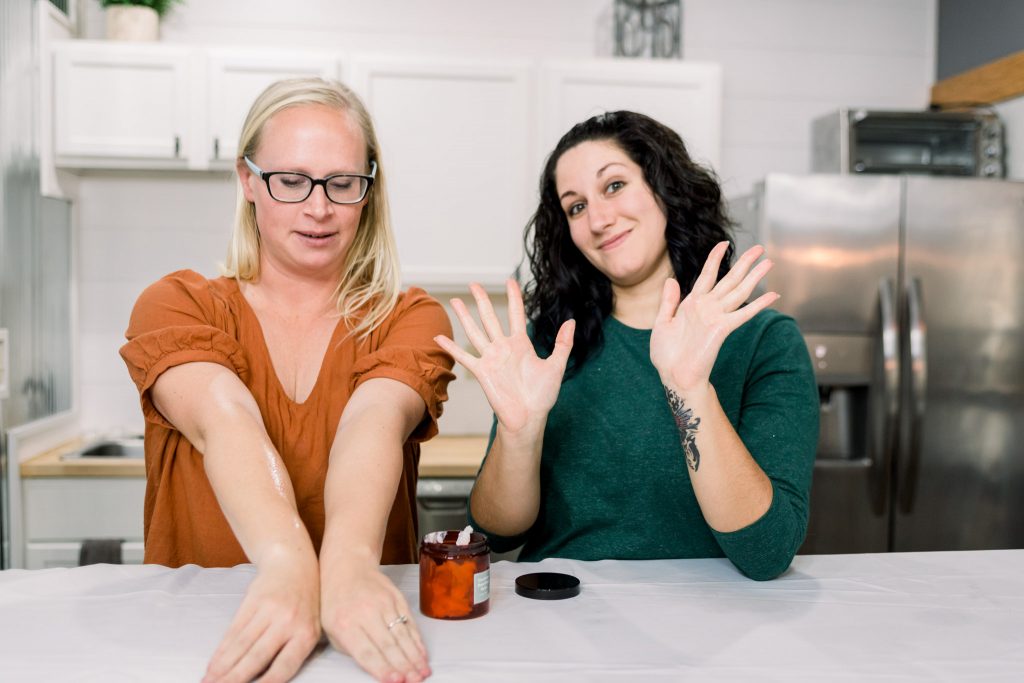 One possible side effect of pregnancy is varicose veins. Varicose veins are veins that are twisted and enlarged, which can happen during pregnancy to support your increased blood flow for your baby. Along with two pregnancies, varicose veins runs in my family, making my probability of varicose veins pretty high.
Sometimes these veins cause pain and other times they add some unwanted art to your legs. When you have poor circulation, varicose veins are more likely to cause pain and more dramatic leg art.
By supporting my circulation with proper diet, exercise, and this body butter, I'm lowering the possibility that varicose veins will cause me pain in my future.
Using body butter every day shouldn't be a problem. For dry skin, it's a good idea to use it daily. If you have normal or oily skin, you might use it as a weekly treatment or treat dry areas.
What's in the Circulation Body Butter Recipe?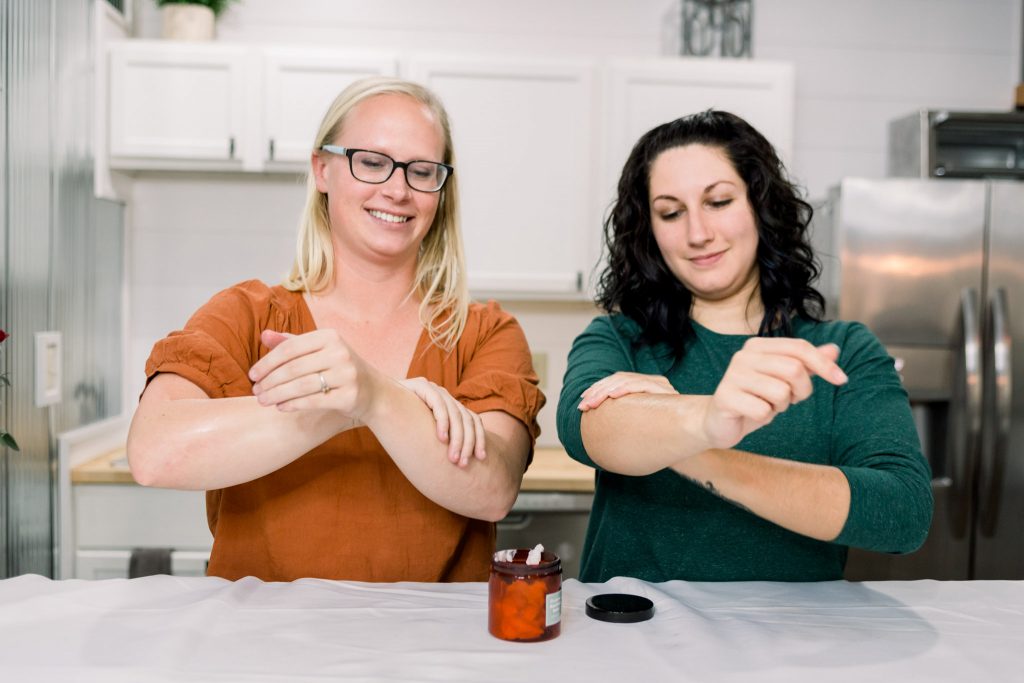 Coconut Oil and Beeswax
Coconut Oil and Beeswax are ingredients nourish your skin and bring our body butter to the right consistency.
Avocado Oil
Avocado Oil is rich in fatty acids which helps the skin to retain moisture and prevents it from drying. It also increases the skin cells' ability to absorb oxygen.
Clary Sage Essential Oil
Clary Sage Essential Oil – This oil is a new addition to the Simply Earth library. It supports circulation while relieving muscle cramps, making this a great oil to relieve menstruation.*
Ho Wood Essential Oil
Ho Wood Essential Oil – I love the aroma this oil brings to the blend. It supports focus and is calming. It's also skin healing, making this body butter useful in soothing irritated skin.
Lemon Essential Oil
Lemon Essential Oil – This oil helps supports your liver, making this oil helpful in it's natural detoxification process.*

Things to Remember When Using This Body Butter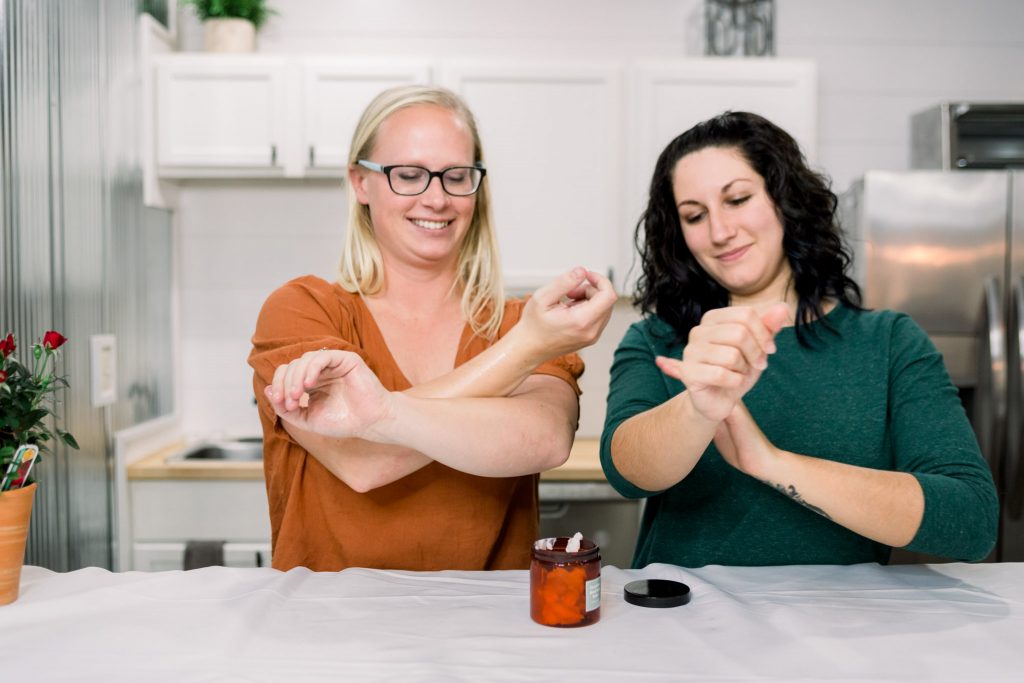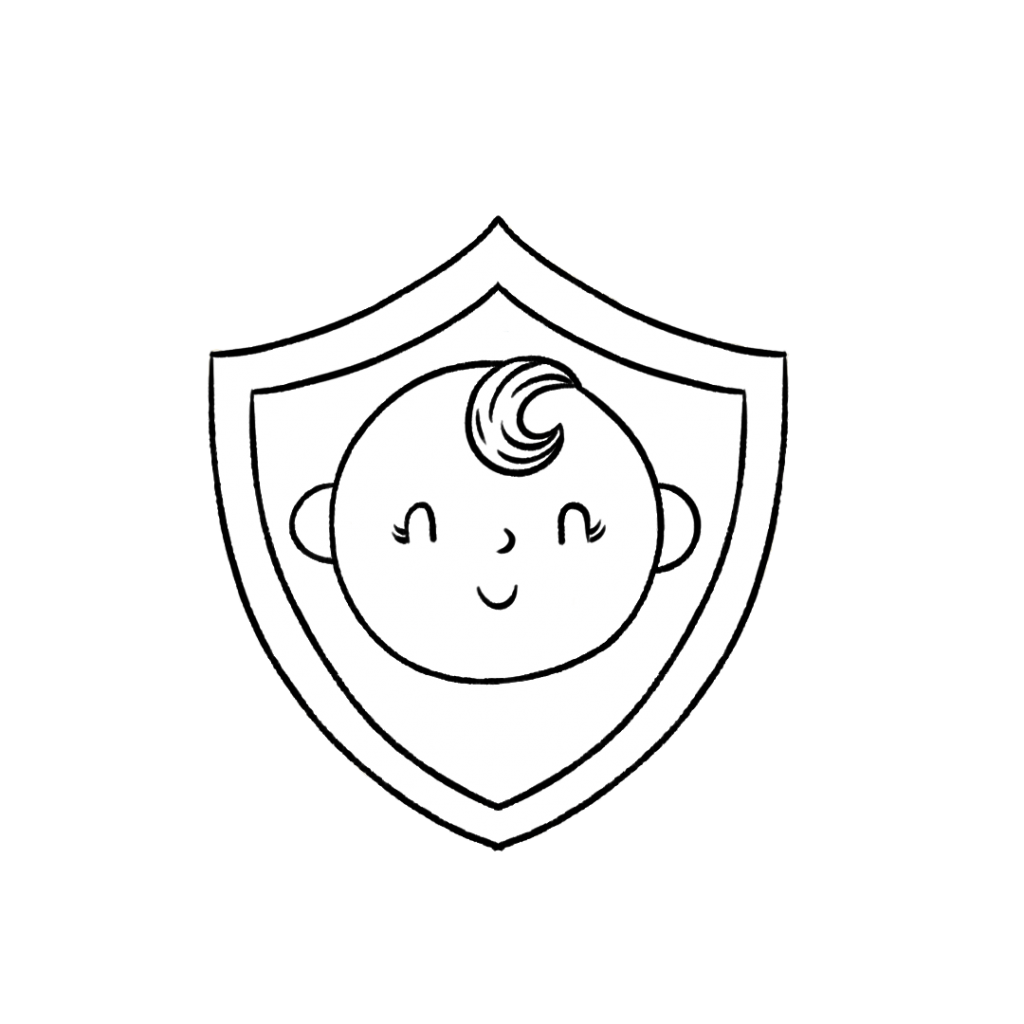 This body butter recipe is safe to use with kids age 2+.
The essential oils in this recipe are generally regarded as safe. There is a slight risk of phototoxicity when you use this recipe.
Never ingest any essential oil, even if it's generally regarded as safe. For more information on why we don't ingest essential oils, check out this blog post.
*These statements have not been evaluated by the Food and Drug Administration. This product is not intended to diagnose, treat, cure, or prevent any disease.
Circulation Boost Body Butter Recipe
Circulation Boost Body Butter
Ingredients
½ cup Coconut Oil (solid)

½ tsp Beeswax

2 tbsp Avocado Oil

25 drops Clary Sage Essential 

50 drops Ho Wood Essential Oil

30 drops Lemon Essential Oil

Small jar or sealable container
Directions
In a double boiler melt the coconut oil and beeswax together.
Once the mixture is just melted, remove from heat.
Add avocado oil and essential oils and stir for 30 seconds. 
Let the mixture cool for 5 minutes, then place it in the fridge for it to continue to cool until the mixture solidifies.
Use an electric mixer to whisk the mixture until stiff peaks form or until desired consistency. 
Pour mixture into a sealable container. To use, apply a small amount to moisturize and nourish your skin. 
Notes
Tip: How to thicken body butter? If the body butter loses it's consistency, whip it up again for fluffy body butter. 
---
What Results Are You Looking Forward To?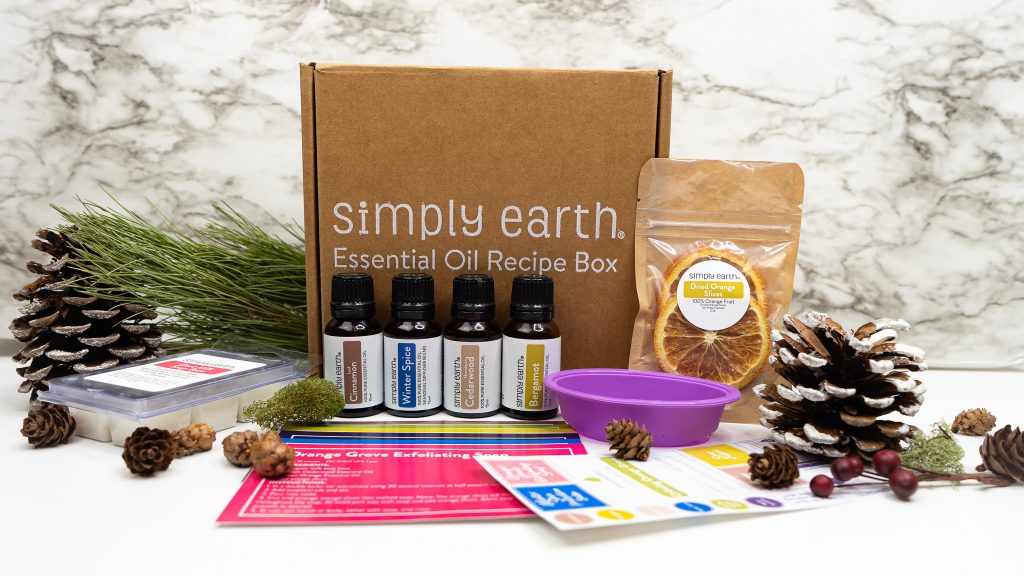 Is body butter good for you? YES! I'm excited that this body butter recipe is going to moisturize my skin while helping prevent problematic varicose veins. How will this body butter help you? Let us know by commenting below or connecting with us on social media @fromsimplyearth!
Subscribe today to our Essential Oil Recipe Box. Each month, you can receive four full-size 100% pure essential oils, six natural recipes, plus the ingredients you need to make them in our Recipe Box.
With the box, you'll learn new ways to use essential oils, make more essential oil roll-on recipes, and have the peace of mind that you are making your home toxin-free. This month of April, we focus on Home Detox. This box is worth over $150 if priced from the Big Essential Oil Companies. You get all those goodies from Simply Earth for only $44.99. Go get it!