Do you use essential oils when you travel?
Traveling is probably my only luxury. I save a portion of my salary every month to go to different adventures either alone, with my friends or my family. Whenever I go to a new city, I do research on what to do, where to go and what to eat. Sometimes, I revisit cities I've been through before but find a different route. I usually go for what locals would do, but of course, that depends on the place I'm going to.
When traveling, having an emergency kit of medicine is a must for me since I get migraines out of nowhere. After thorough research, I found out that the medicine I've been taking can cause severe damage to my kidneys. Good thing I found out that there are essential oils for traveling.am
Here are the essential oils I packed for my latest adventure:

What essential oils do you bring when you travel? Share it with us! 

click to tweet

How to Travel with Essential Oils
When you travel, your luggage does not get the royal treatment. They get tossed and thrown a lot, especially if you're traveling by air. If they were people, they'd be black and blue by the time they get to their destination.  Here are some tips on how you can safely travel with your essential oils.
Get a good carrying case. They don't need to be expensive. Find a size that fits right in your carry-on bag. You can bring them with you on a flight but be sure check with TSA's rules on how much liquids you can carry.
Have a roll-on version. Some brands have a smaller roll-on version of the big bottle and those are easier to travel with. They'll fit perfectly in your toiletry bag too.
Diffuse or no? Well, it depends. If you're staying for a long time, bringing your Simply Earth Diffuser is a good idea. But if you're only staying for a night or two, the better option is to leave it at home.
Don't forget to bring a carrier oil. Some essential oils are too harsh to put on topically on the skin and diluting them is a must. If you have a big bottle, you can get small bottles from the store and put them there.
Recipes
Clean as One Can Be Travel Wipes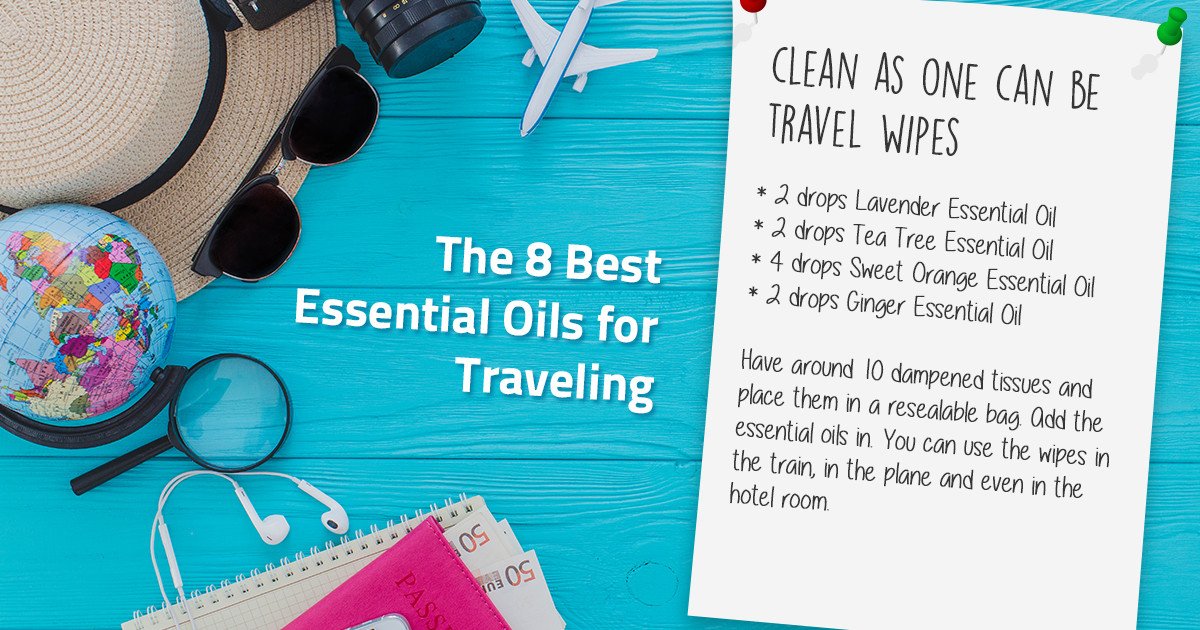 Acquiring infection from traveling is almost inevitable but it can be avoided. Getting sick is not an option when you're on vacation that's why wiping down everything you sit or touch is very important. It may seem too much but hey, the risk of getting a bad virus is way worse. Here's a great wipe recipe you can make before leaving.
2 drops Lavender Essential Oil
2 drops Tea Tree Essential Oil
4 drops Sweet Orange Essential Oil
2 drops Ginger Essential Oil
Have around 10 dampened tissues and place them in a resealable bag. Add the essential oils in. You can use the wipes in the train, in the plane and even in the hotel room.
Sweet Dreams Massage Oil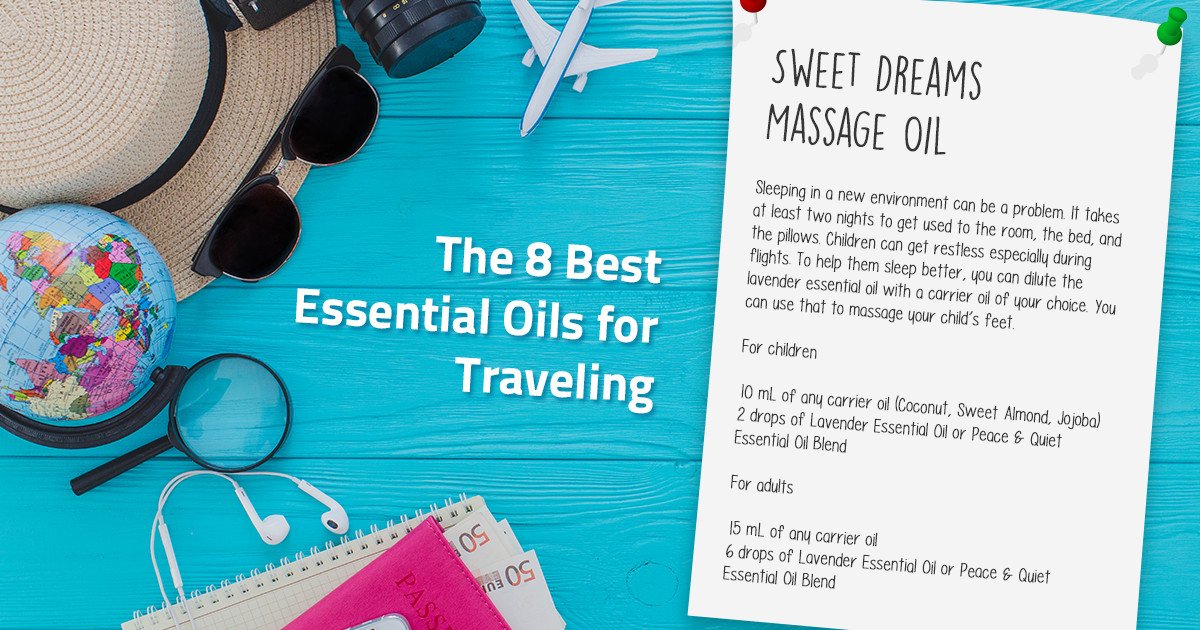 Sleeping in a new environment can be a problem. It takes at least two nights to get used to the room, the bed, and the pillows. Children can get restless especially during flights. To help them sleep better, you can dilute the lavender essential oil with a carrier oil of your choice. You can use that to massage your child's feet.
For children
10 mL of any carrier oil (Coconut, Sweet Almond, Jojoba)
2 drops of Lavender Essential Oil or Peace & Quiet Essential Oil Blend
For adults
15 mL of any carrier oil
6 drops of Lavender Essential Oil or Peace & Quiet Essential Oil Blend
After Sun Oil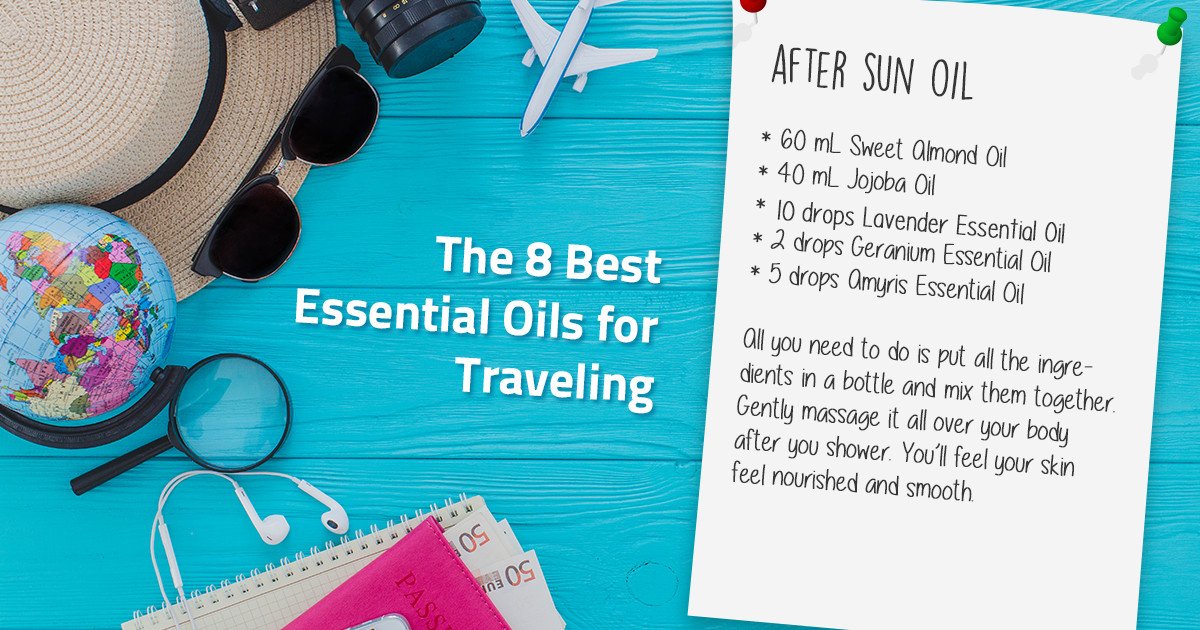 Staying under the sun for a long time, your skin suffers the most. Having fun makes you forget about the heat and you end up with a bad sunburn. That's why it's important to "return" the moisture to your skin. You can do this by making this simple yet very helpful after sun oil with only natural ingredients.
60 mL Sweet Almond Oil
40 mL Jojoba Oil
10 drops Lavender Essential Oil
2 drops Geranium Essential Oil
5 drops Amyris Essential Oil
All you need to do is put all the ingredients in a bottle and mix them together. Gently massage it all over your body after you shower. You'll feel your skin feel nourished and smooth.
Essential oils are great travel companions. Not only are they small and handy, but they are also versatile. One oil isn't just for one use. You can use them for different things. They're way better than the store bought products as these are all natural with no chemicals added. With essential oils, you'll know you're on the safe side.
Word of caution:
Always seek your physician's advice before using any essential oil. If you are allergic to citrus fruits, using the sweet orange essential oil and the Peace & Quiet blend might not be for you. Pregnant, nursing women and those under medication should also exercise caution before using the oils as they are potent and can interact with the medicine.