Geraniums are such beautiful flowers.
During the spring, summer, and early autumn months, the Geranium flower blooms everywhere, and its pleasant aroma and colors are widely admired by all. But, did you know that geraniums are great for more than just their beauty and fragrance? In this blog, I'll teach you how to use Geranium Essential Oil and explain why it is a worthy addition to your oil collection.
What I Love About This Oil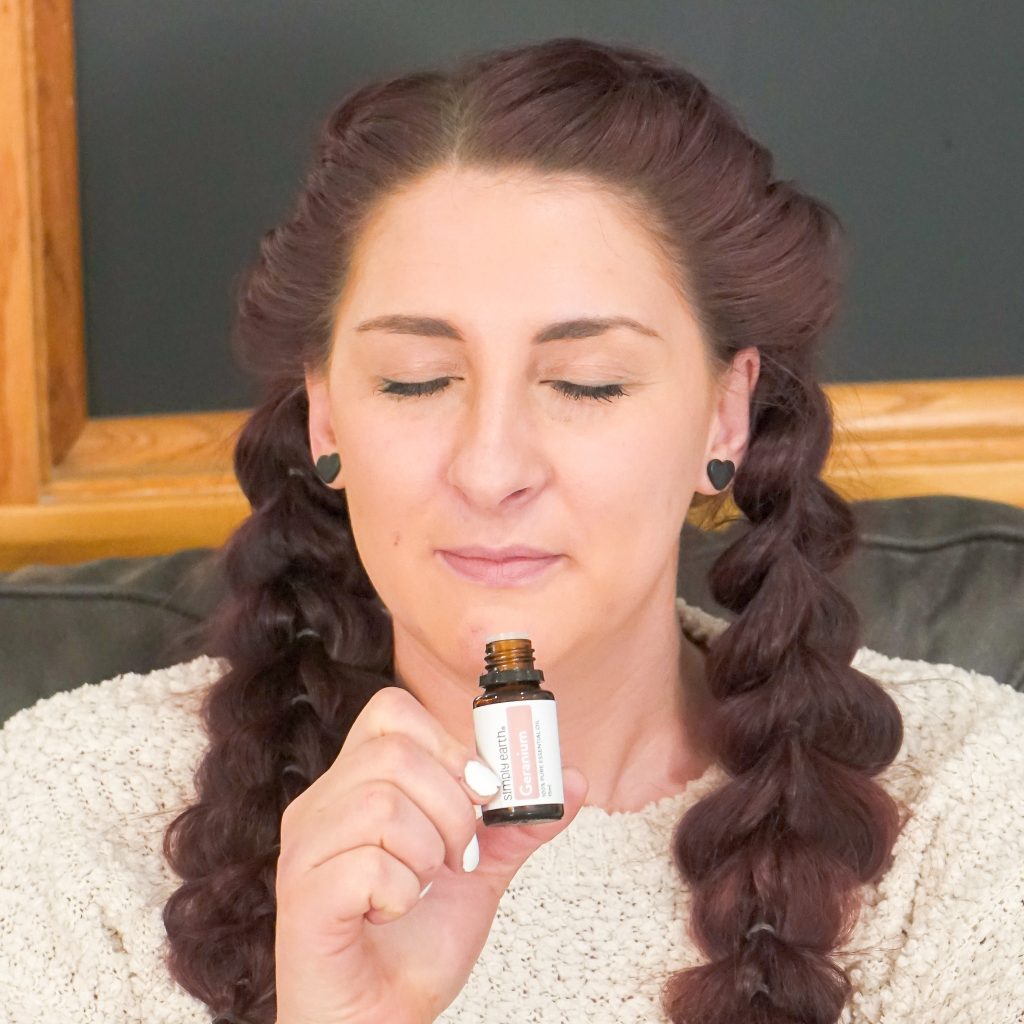 I love the many uses of the very well-rounded Geranium Essential Oil! I always double-check that I have Geranium Essential Oil nearby and store it in my essential oil storage box. The aroma is so calming, and it makes my home smell luxurious. Aside from that, I love adding it to many DIY recipes, and I know it works wonders!
Geranium Essential Oil Uses, Benefits, and Recipes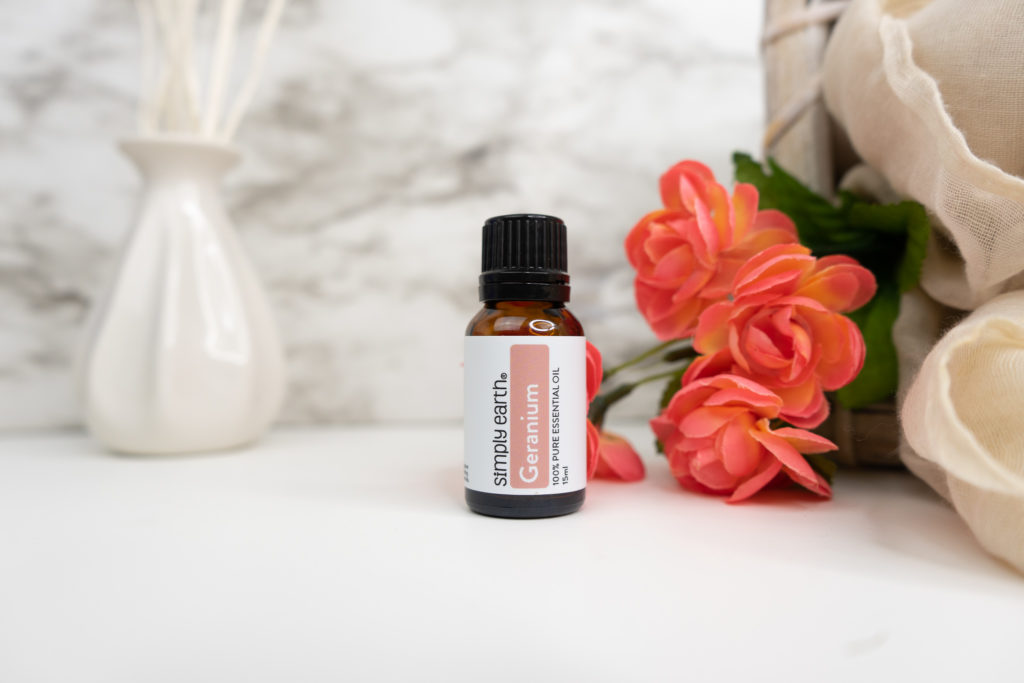 Promotes Youthful Skin
Geranium Essential Oil has great potential to promote a youthful glow, if it is applied topically. A study1 confirms that Geranium Essential Oil has the possibility to support your skin's natural glow and photoprotective effects.
Promotes Hormone Balance
Geranium Essential Oil has been used for centuries to help support women with menstrual and menopausal symptoms. When added to an aromatherapy massage, it decreased the physical and mental PMS symptoms, per this study2.
Detoxifies
According to another study3, Geranium Essential Oil may reduce oxidative damage – no wonder it is often used in skincare products! In addition, you could add it to a carrier oil or a natural lotion base for a detoxifying massage.
Minimizes Appearance of Redness
Geranium Essential Oil is a powerful asset in your skincare arsenal. Another study4 shows that Rose Geranium has significant anti-inflammatory activity that can help reduce and soothe acute and chronic inflammatory skin diseases.
Supports Heart Wellness
A recent study5 conducted on the effects of Geranium Essential Oil when inhaled showed that it significantly reduced blood pressure and heart rate, resulting in a more balanced mind-body connection.
Soothes Skin
Geranium Essential Oil is also a valuable addition to your essential oil first aid kit as it assists your natural healing ability on minor cuts, scrapes, or insect bites.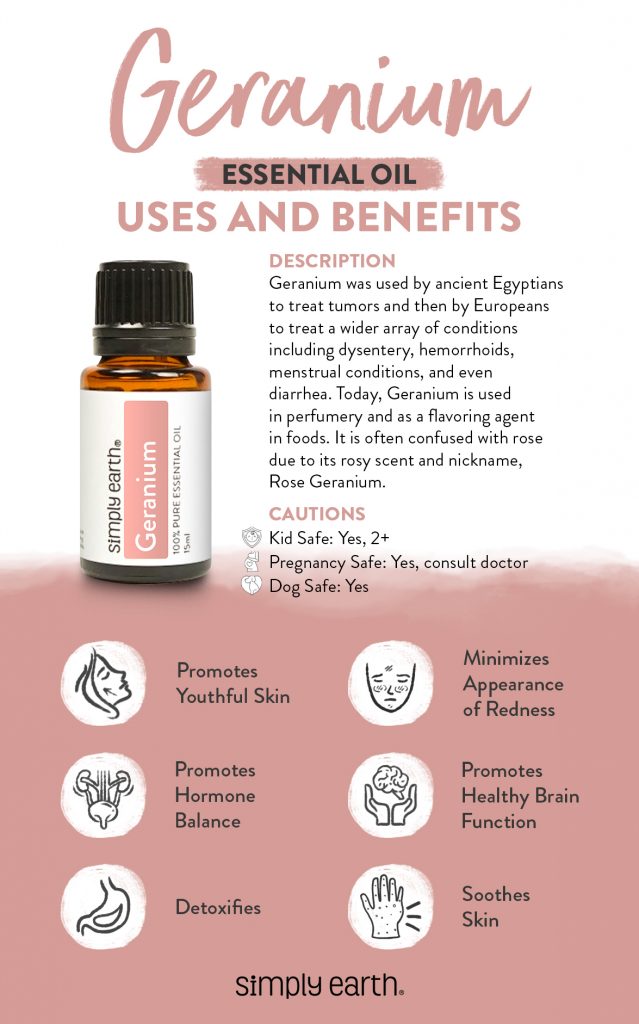 Geranium Essential Oil Blends Well With...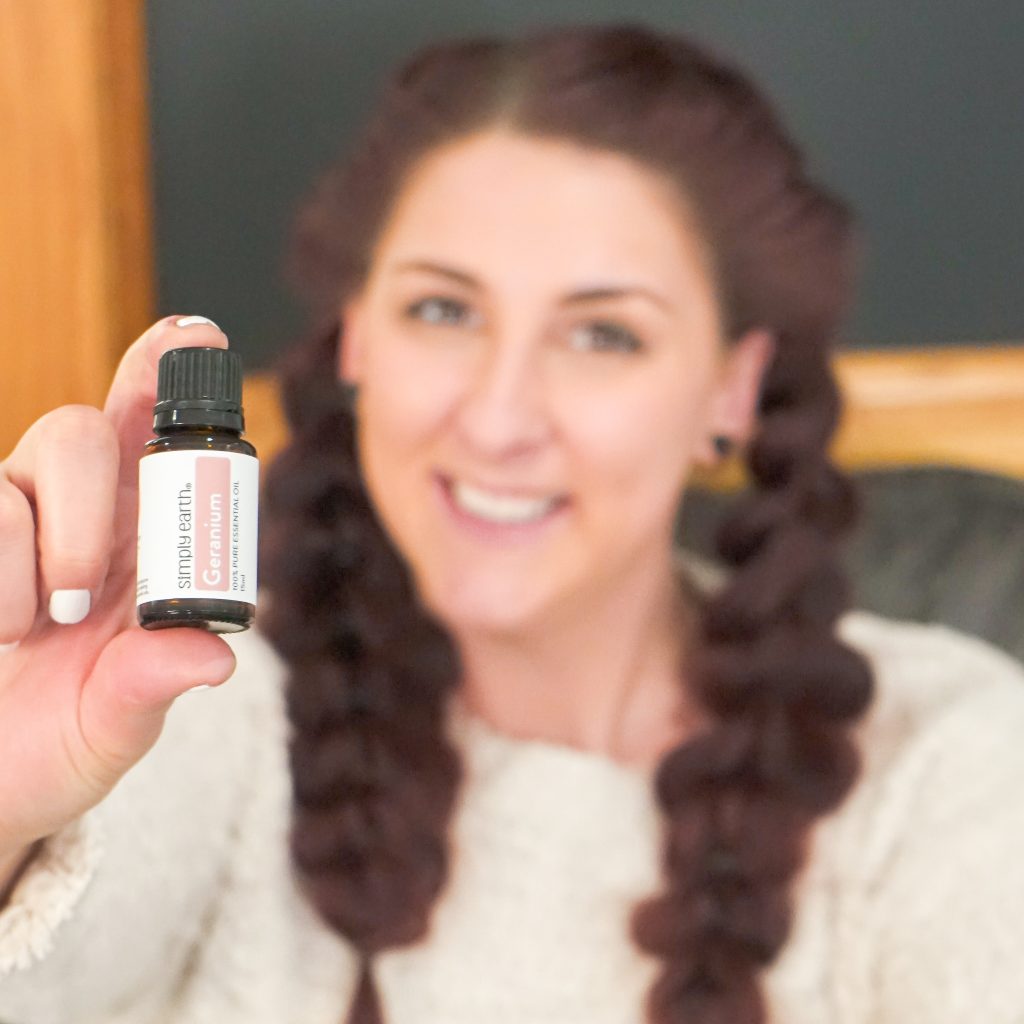 Due to the strong floral aroma of this oil, Geranium is commonly mistaken for Rose Essential Oil, which is distinctly different in both species and chemical components. Geranium is generally considered a middle note in aromatherapy blends.
It blends well with Basil, Bergamot, Citronella, Clary Sage, Fennel, Grapefruit, Jasmine, Juniper Berry, Lavender, Lemon, Lemongrass, Neroli, and Nutmeg Essential Oils.
Simply Earth Blends That Use This Oil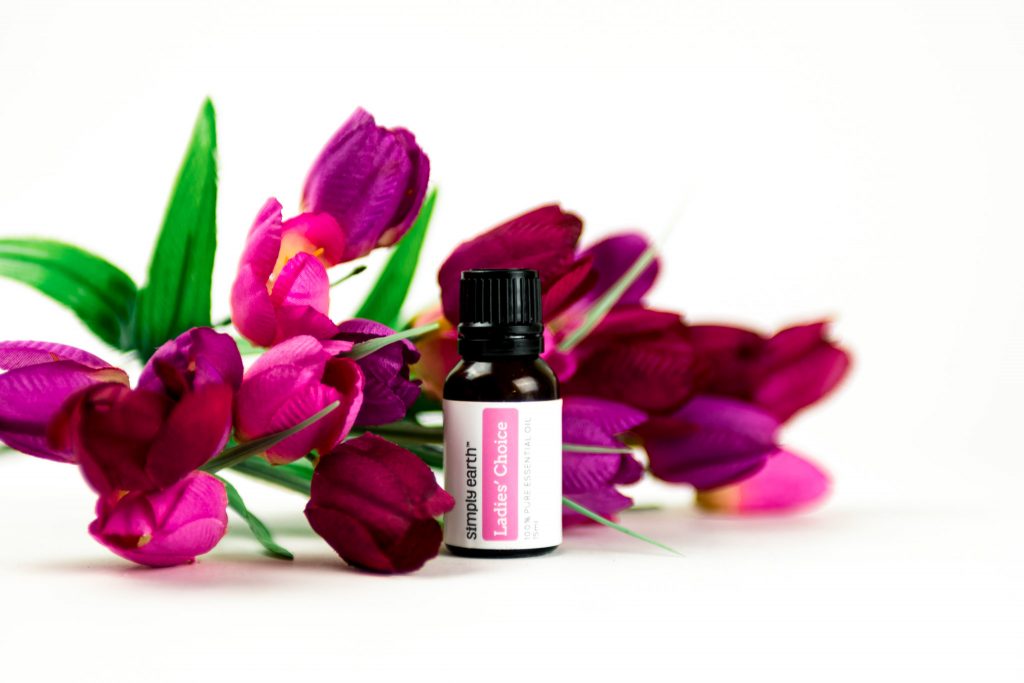 Good Vibes Blend
Blended with Clary Sage, Geranium, Lavender, Lemon, & Ho Wood Essential Oils, Good Vibes Essential Oil Blend supports hormonal wellness and positivity.
Happy Joy Blend
The fresh and sunny scent of Geranium, Sweet Orange, Grapefruit, and Ylang Ylang Essential Oils in Happy Joy Essential Oil Blend provides a boost of energy and promotes happy and joyful feelings.
Ladies' Choice Blend
Ladies' Choice Essential Oil Blend, with Clary Sage, Marjoram, Geranium, and Lavender Essential Oils, helps soothe monthly discomfort.
What's the Science Behind This Oil?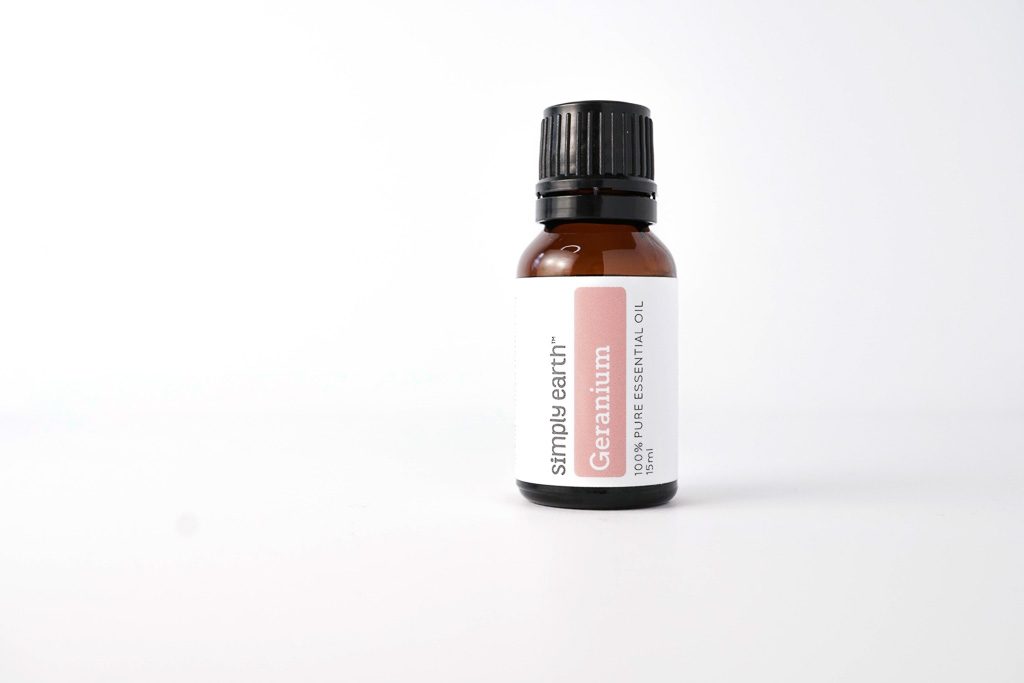 The main natural constituents of Geranium Essential Oil, to which its beneficial properties are greatly attributed, are Citronellol and Geraniol.
Citronellol: ~37%
Citronellol provides Geranium Essential Oil with its distinct rose-like aroma that is famous in perfumery. That same scent naturally helps repel insects3.
Geraniol: ~19%
According to a review article on Geraniol in essential oils4, Geraniol has antibacterial, antiseptic, and anti-inflammatory properties. Like Citronellol, this colorless oil also gives off a wonderful floral scent.
What Earthies Are Saying About Geranium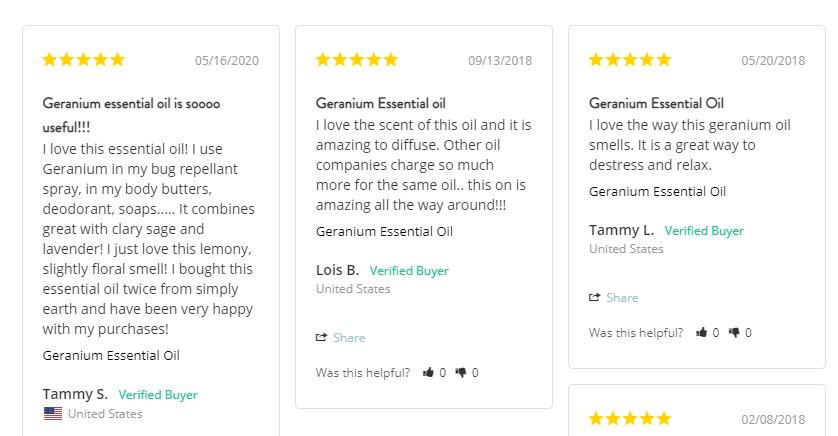 Things to Remember When Using This Oil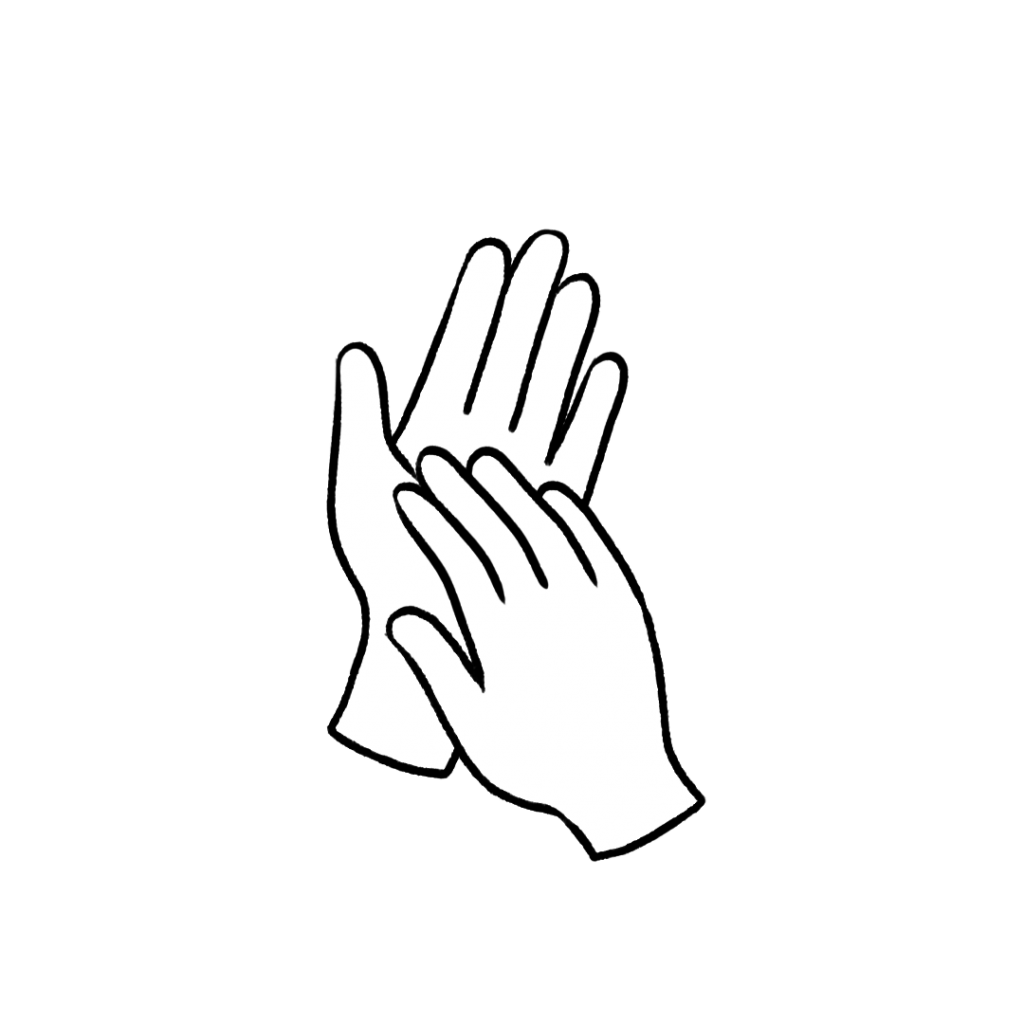 Geranium Essential Oil is unlikely to cause skin irritation when diluted properly. If the oil has been oxidized (left with the cap off for long periods of time), it is more likely to cause skin irritation. Check out this dilution chart for diluting essential oils properly.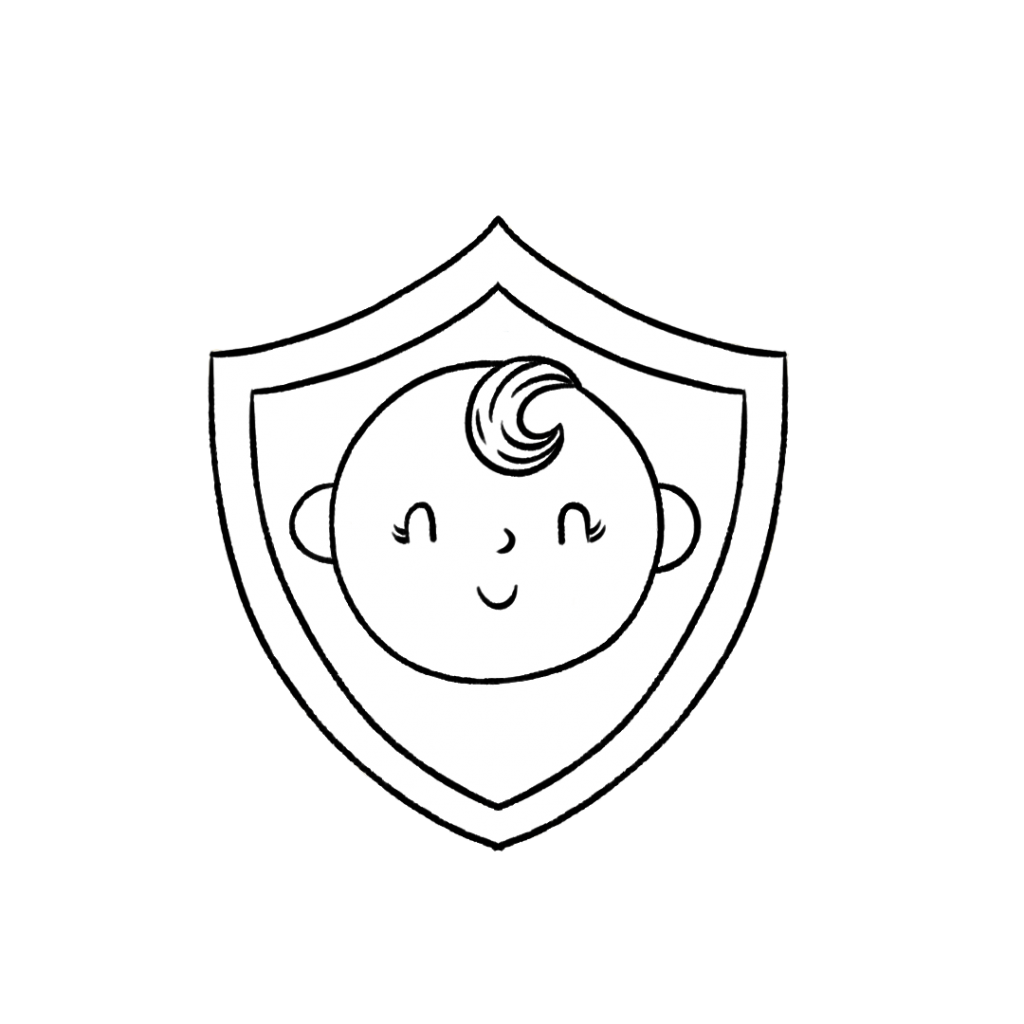 This oil is considered safe to use with kids age 2+.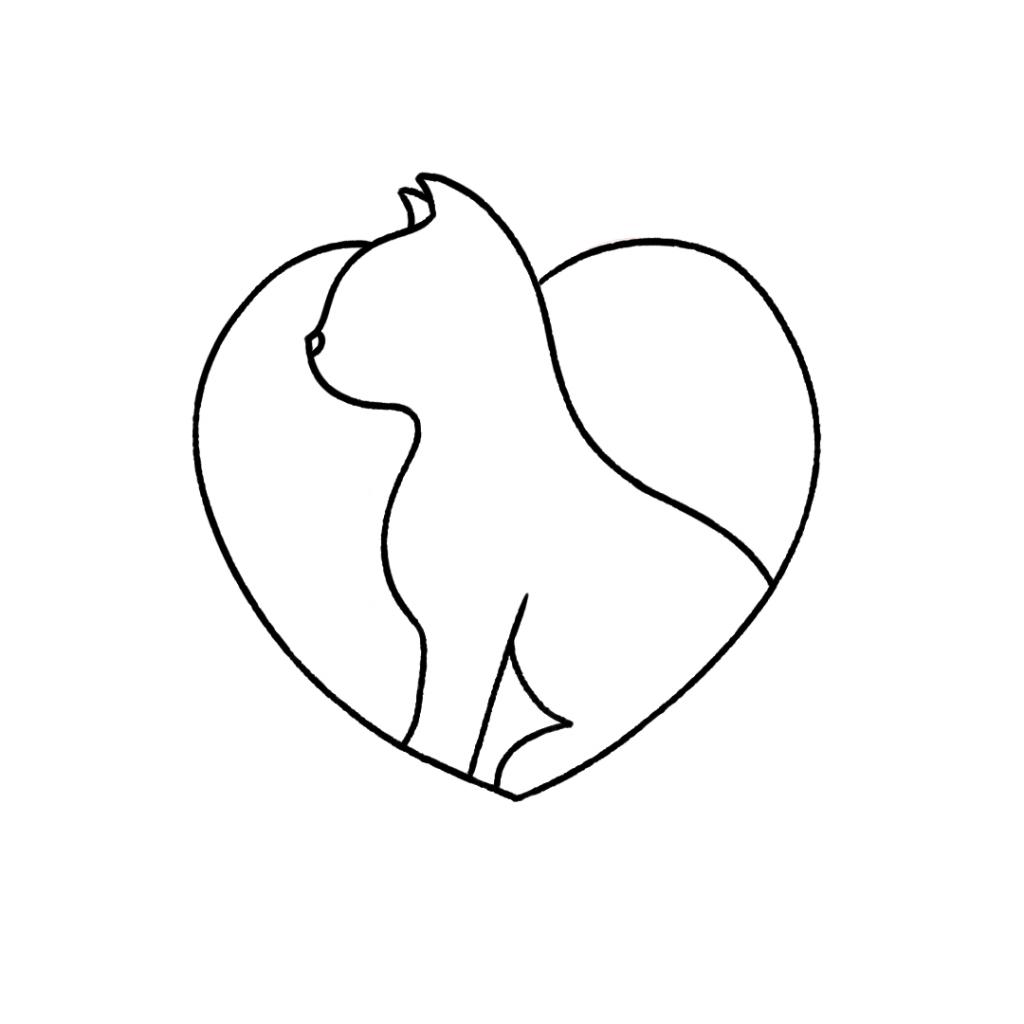 Cats may find this oil irritating. However, we do not expect your cat to be disturbed if you use this oil in recipes for yourself. Just be mindful of your pet's behavior. For more information on using essential oils with cats, check out this blog post.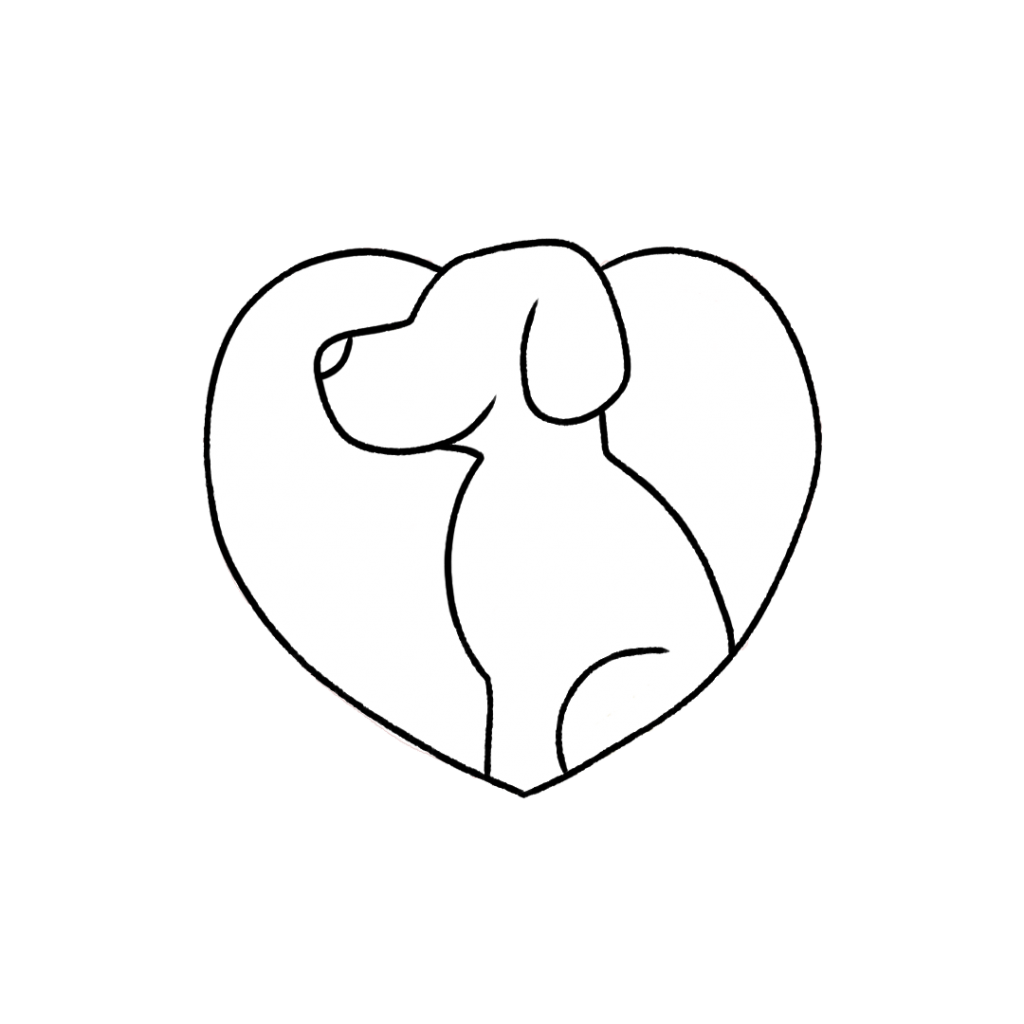 Geranium Essential Oil is generally safe to diffuse and use (highly diluted) topically on dogs. For more information on using essential oils with dogs, check out this blog post.
We do not recommend ingesting essential oils. For more information on why we don't ingest essential oils check out this blog post.
Please note: This post is a compilation of suggestions made by those that have extensively used essential oils and has not been verified scientifically with clinical tests nor reviewed by medical experts. It is anecdotal information and should be treated as such. For various medical concerns, please consult your doctor.
Use This Wonderful Oil Daily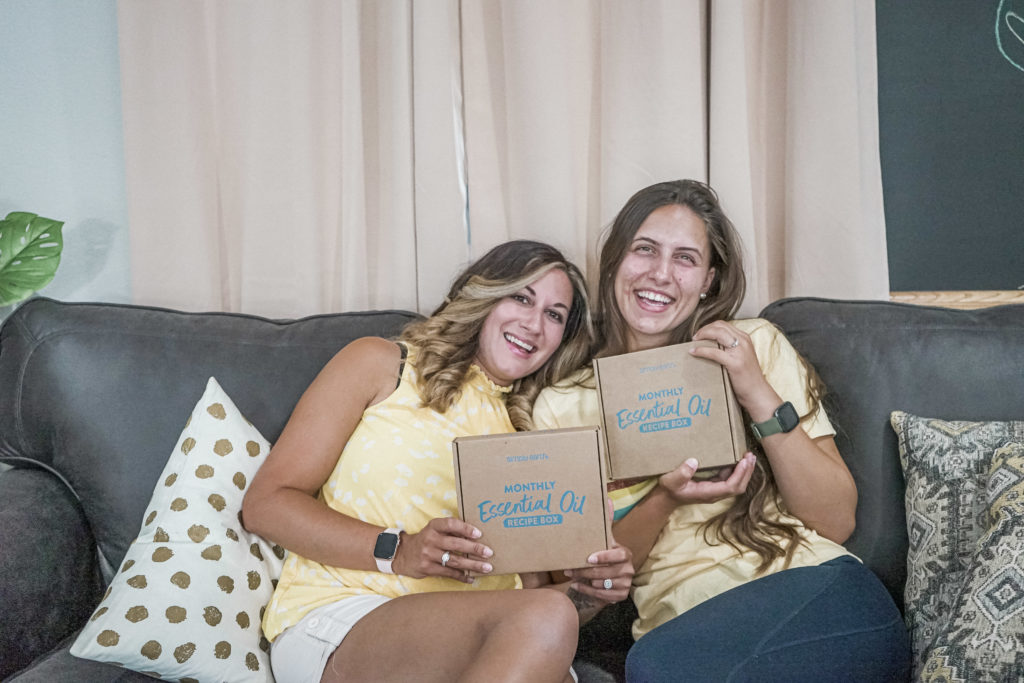 So far we've talked about the many benefits of Geranium Essential Oil and shared some recipes for using it. Are you ready to give this versatile oil a try? We'd love to hear about it on social media with @fromsimplyearth with #imadethis and in the comments below!
Are you ready to master essential oils? You get FREE access to our Hero Course if you subscribe to our Monthly Essential Oil Recipe Box. With it, you'll receive 4 Pure Essential Oils, 6 Aromatherapist-Created Recipes, and FREE Essential Oil Recipe Supplies for Life—all delivered directly to your door each month for just $44.99/month. Plus, we'll give you a FREE Big Bonus Box!
Don't miss out on the all-natural fun that comes with the Recipe Box; get yours today: Subscribe now to learn how to use essential oils!
---
References: