There's nothing quite like a hot bath after a long day. But, why settle for an ordinary bath when you can turn it into a luxurious spa experience? With our Snowstorm Mini Bath Bomb, you can accomplish exactly that!
These little bath bombs pack a big punch by infusing your bathwater with soothing essential oils and leaving your skin soft and silky. So, the next time you need to unwind, draw yourself a nice hot bath and drop in our Snowstorm Mini Bath Bombs. You'll be glad you did!
What I Love About This Mini Bath Bomb Recipe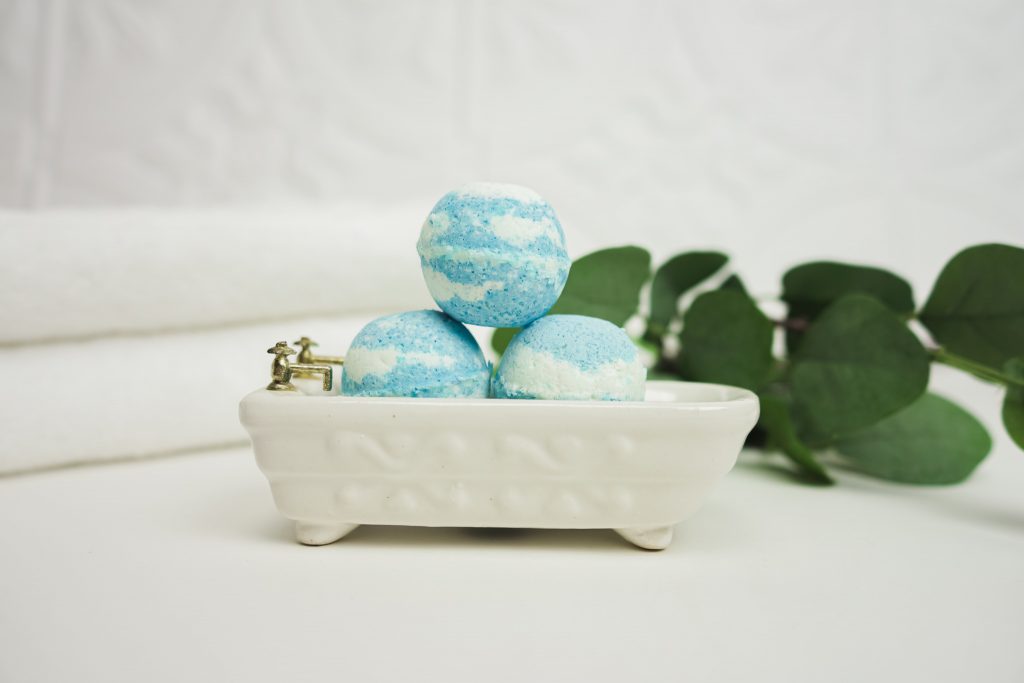 I love the smell of this bath bomb recipe, and they leave me feeling so relaxed. I lay back, let the warm water wash over my body, and feel all the tension melt away!
What's in This Snow Storm Mini Bath Bomb?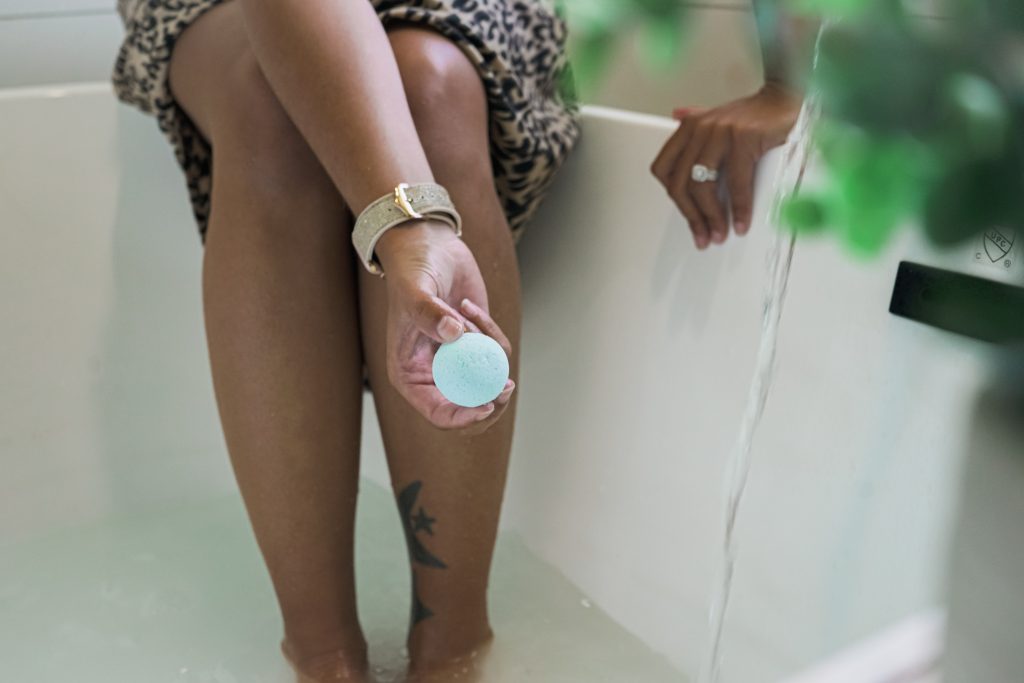 Citric Acid
Bath bombs contain citric acid, which gives them their fizzy quality. When added to water, citric acid reacts with the base ingredients to create carbon dioxide bubbles. In addition to creating bubbles, citric acid helps balance the pH of bath water.
Almond Oil
Almond oil is an excellent way to dilute essential oils and add a touch of luxury to your baths. It is full of vitamins and minerals that are beneficial for the skin. It's also a great emollient, meaning it helps to keep the skin soft and hydrated.
Geranium Essential Oil
Make your bathtub a bubbly oasis of relaxation by adding Geranium Essential Oil. Geranium Essential Oil has skin-loving benefits, including promoting youthful skin, minimizing the appearance of redness, and soothing irritations. Not to mention, its floral scent is uplifting.
Bumps & Boo-Boos Blend
Our Bumps and Boo-Boos Essential Oil Blend is the perfect addition to bath bombs. Not only does it smell amazing, but it also promotes rejuvenation, soothes skin, and minimizes the appearance of redness.
Blue Mica Powder
Looking for something to add a little extra pizzazz to your bath bombs? Try blue mica powder! This natural ingredient can give your bath bombs a beautiful blue color that will make your bath bombs look gorgeous.
Baking Soda
When combined with citric acid and water, baking soda creates a fizzy reaction that works to soften and smooth the skin. In addition, the alkaline nature of baking soda can help neutralize body odor and provide relief for itchiness and sunburn.
Corn Starch
The corn starch helps soften the water, making the whole experience more luxurious. It also helps keep the ingredients from clumping together so that the fizzing action can occur more evenly.
Isopropyl Alcohol Or Witch Hazel
Use 90% isopropyl alcohol or higher so you don't activate your citric acid and baking soda and cause a fizzing reaction while making your bath bombs (let's leave that in the bath). You can also use witch hazel instead.
Small Toy
If you've ever found yourself wondering what to do with those tiny toys that come in the bottom of your cereal box, consider this: bath bombs. That's right, those fizzy, fragrant spheres that turn your tub into a luxurious spa can also be filled with tiny surprises. It's the perfect way to add a little fun and excitement to your bathing routine.
Bath Bomb Mold
With this bath bomb mold, you can easily make perfect spheres of fizzy fun. Plus, the aluminum material ensures that your bombs will have a smooth, professional finish.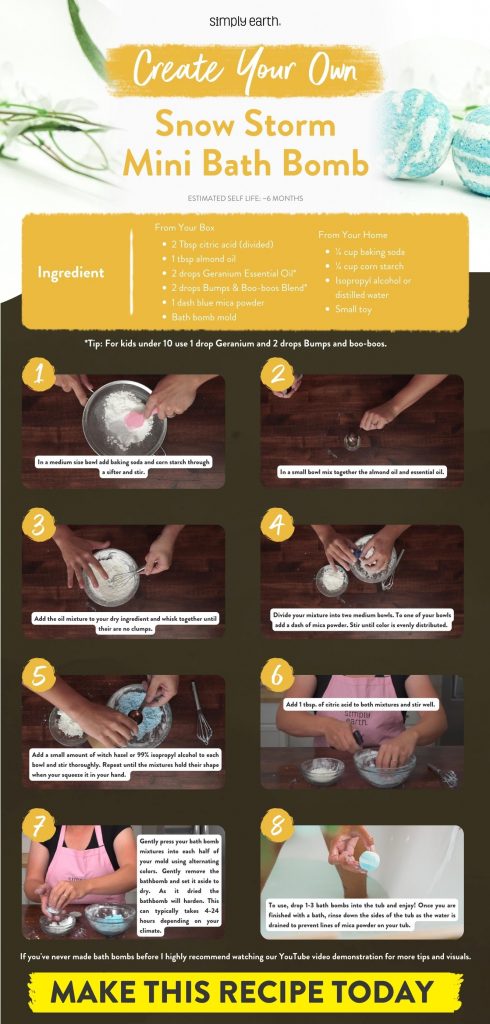 Things to Remember When Using This Recipe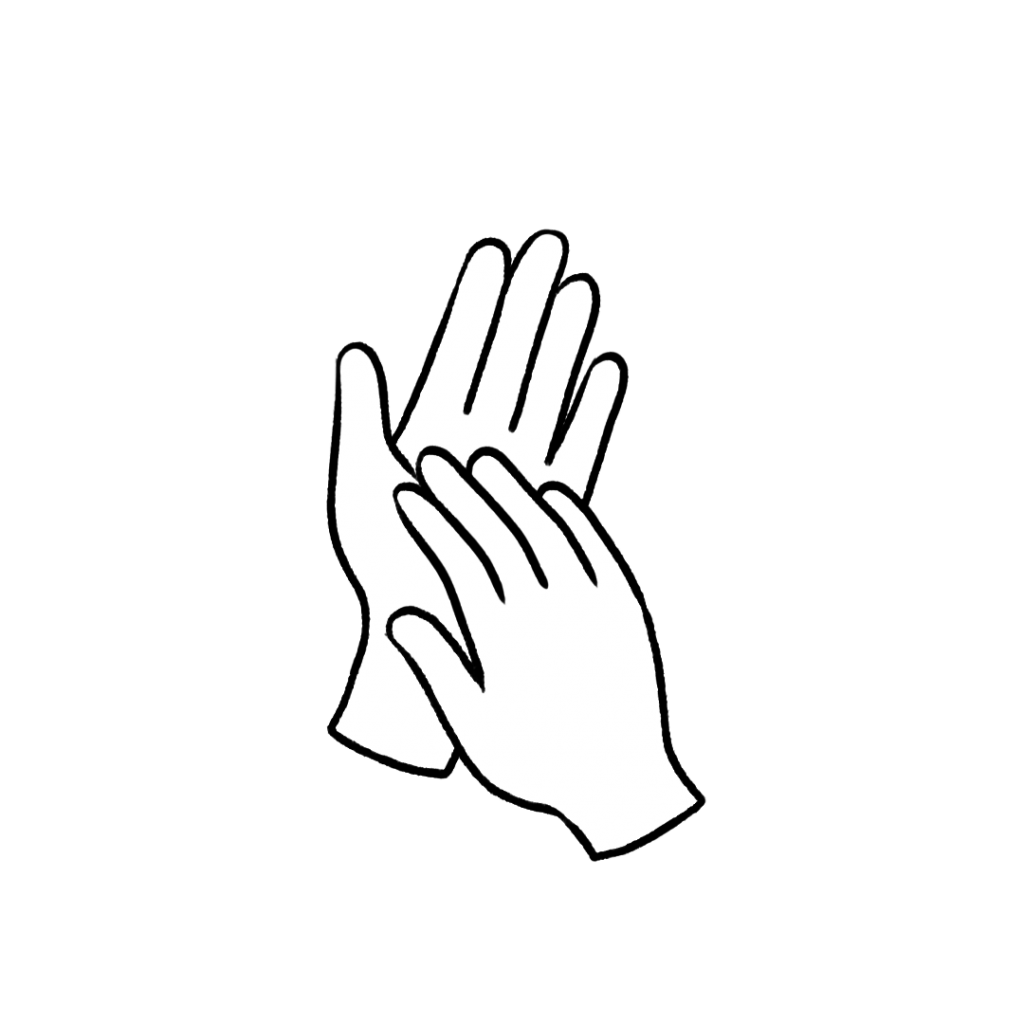 Always dilute an essential oil when using it on the skin. This essential oil recipe is unlikely to cause skin irritation when diluted properly. If the oil has been oxidized (left with the cap off for long periods of time) it is more likely to cause skin irritation. Check out this dilution chart for diluting this essential oil properly.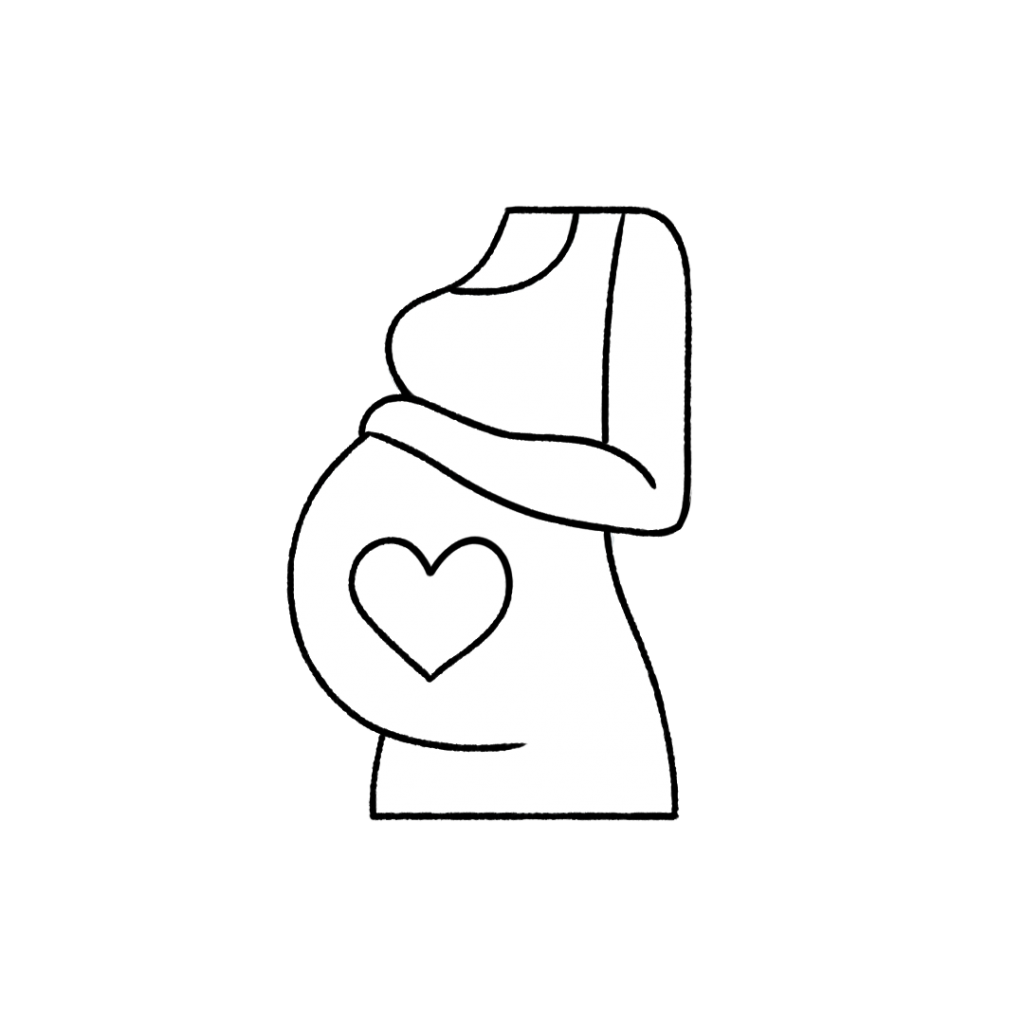 This recipe is generally safe to use if you are pregnant. Consult your doctor prior to use.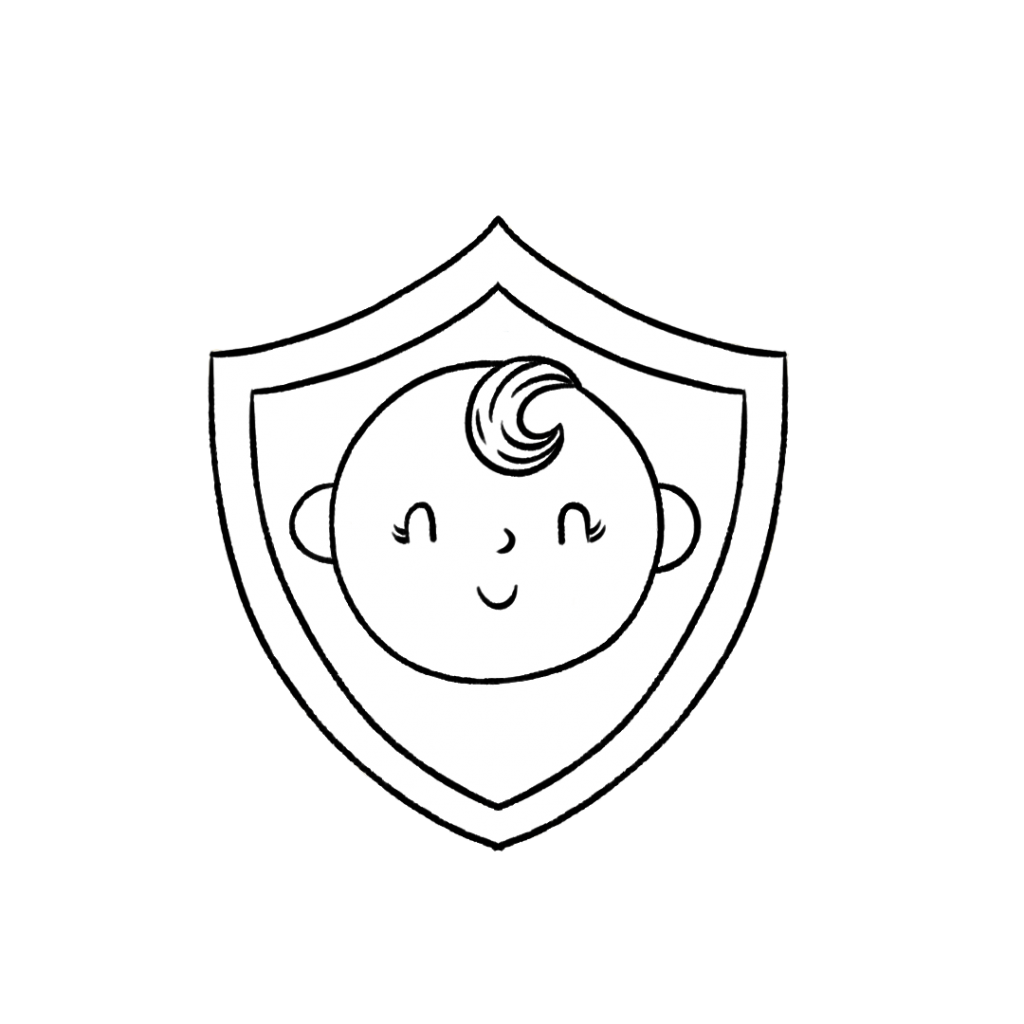 This recipe is safe to use with kids aged 2+.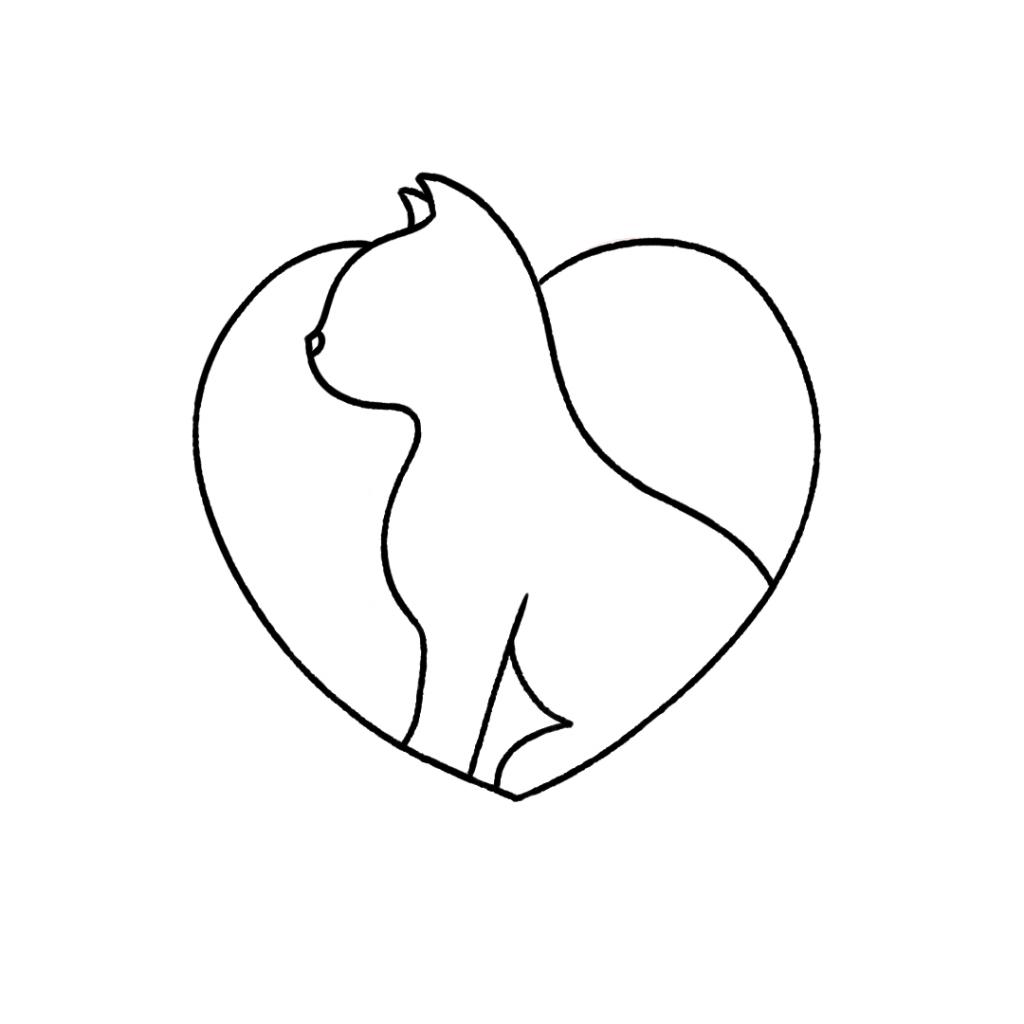 Cats may find the oils in this recipe irritating. However, we do not expect your cat to be disturbed if you use this recipe as directed. Just be mindful of your pet's behavior. For more information on using essential oils with cats, check out this blog post.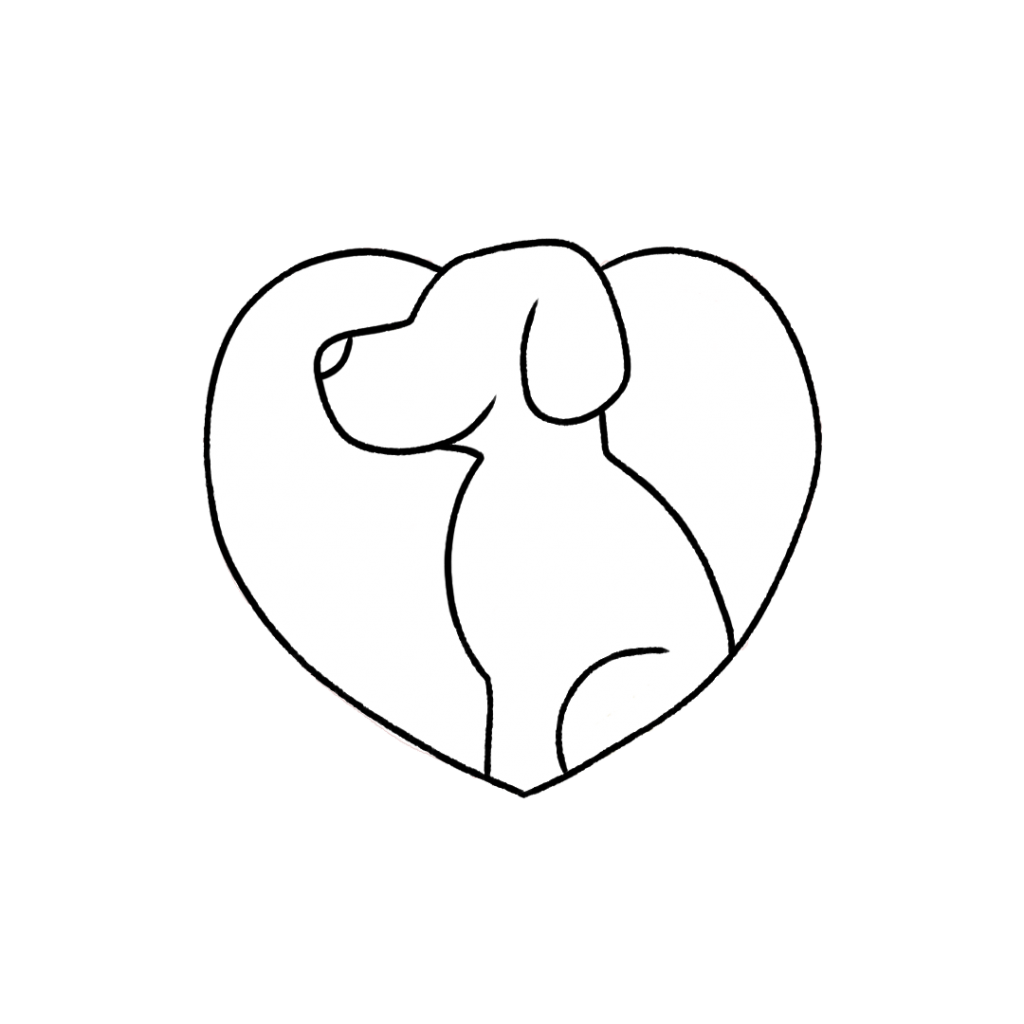 Dogs may find the oils in this recipe irritating. However, we do not expect your dog to be disturbed if you use this recipe as directed. Just be mindful of your pet's behavior. For more information on using essential oils with dogs, check out this blog post. 
We don't recommend ingesting essential oils unless under the direction of a doctor certified in aromatherapy. For more information on why we don't ingest essential oils check out this blog post.
*Please note: This post is a compilation of suggestions made by those that have extensively used essential oils and has not been verified scientifically with clinical tests nor reviewed by medical experts. It is anecdotal information and should be treated as such. For serious medical concerns, please consult your doctor. The statements given in this blog post have not been verified by the FDA
Snow Storm Mini Bath Bomb Recipe
Relaxing Snow Storm Mini Bath Bomb Recipe
Time: 10 minutes + dry time
Est. Shelf Life: ~6 months
Yield: 3 mini bath bombs
Dilution Rate: 2%
Ingredients
2 Tbsp citric acid (divided)

1 tbsp almond oil

2 drops Geranium Essential Oil*

2 drops Bumps & Boo-Boos Blend*

1 dash of blue mica powder

Bath bomb mold

¼ cup baking soda


¼ cup cornstarch

Isopropyl alcohol or distilled water

Small toy 
Directions
In a medium-sized bowl, add baking soda and cornstarch through a sifter and stir.
In a small bowl, mix together the almond oil and essential oil.
Add the oil mixture to your dry ingredient mixture and whisk together until there are no clumps.
Divide your mixture into two medium bowls. To one of your bowls add a dash of mica powder. Stir until the color is evenly distributed.
Add a small amount of witch hazel or 99% isopropyl alcohol to each bowl and stir thoroughly. Repeat until the mixtures hold their shape when you squeeze them in your hand.
Add 1 Tbsp of citric acid to both mixtures and stir well.
Gently press your bath bomb mixtures into each half of your mold using alternating colors. Gently remove the bath bomb and set it aside to dry. As it dries, the bath bomb will harden. This can typically take 4-24 hours, depending on your climate.
To use, drop 1-3 bath bombs into the tub and enjoy! Once you are finished with a bath, rinse down the sides of the tub as the water is drained to prevent lines of mica powder on your tub.
Notes
If you've never made bath bombs before I highly recommend watching our Youtube video demonstration for more tips and visuals.
*Tip: For kids under 10 use 1 drop of Geranium and 2 drops of Bumps and boo-boos.
A Unique, Fun Gift That Will Help Someone Relax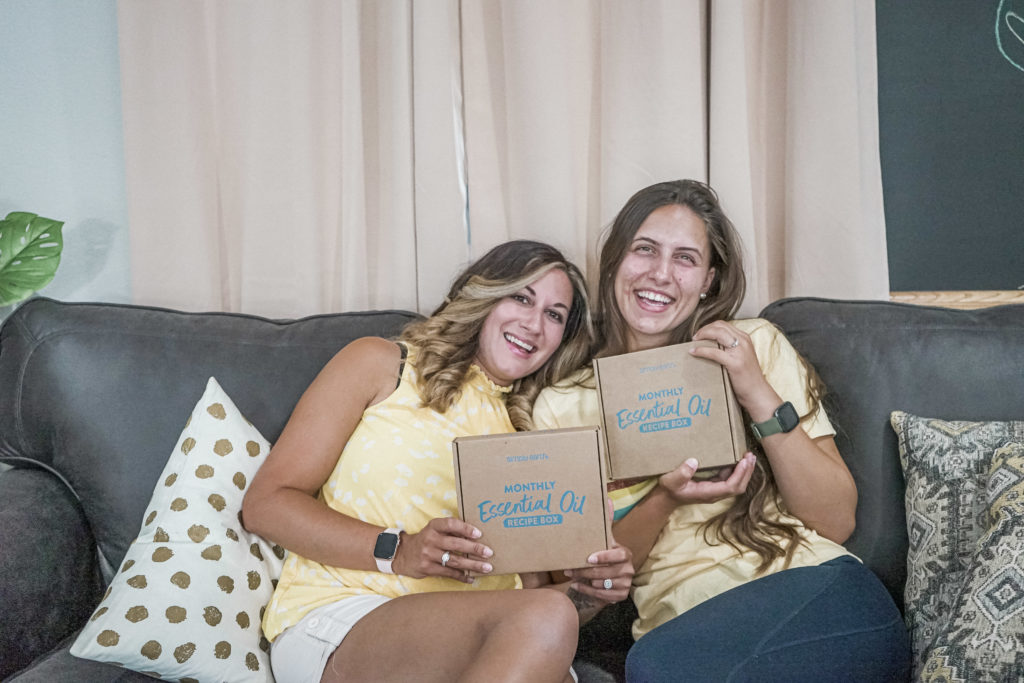 So there you have it, everything you need to know about our Snow Storm Mini Bath Bombs! They make for a relaxing bath and come with a surprise toy – perfect for both kids and adults. They also make great gifts! If you're looking for something fun, relaxing, and unique, then look no further than our Snow Storm Mini Bath Bombs. How many of these mini bath bombs will you make? We'd love to hear about it on social media with @fromsimplyearth with #imadethis and in the comments below!
Are you ready to master essential oils? You get FREE access to our Hero Course if you subscribe to our Monthly Essential Oil Recipe Box. With it, you'll receive 4 Pure Essential Oils, 6 Aromatherapist-Created Recipes, and FREE Essential Oil Recipe Supplies for Life—all delivered directly to your door each month for just $44.99/month. Plus, we'll give you a FREE Big Bonus Box!
Don't miss out on the all-natural fun that comes with the Recipe Box; get yours today: Subscribe now to learn how to use essential oils!