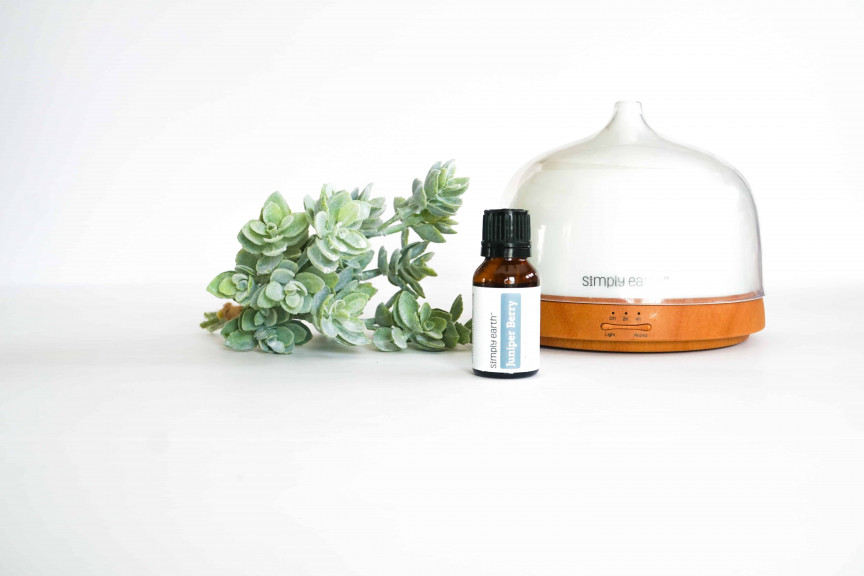 I love a good snowy winter. With freshly fallen snow, the world becomes a wonderland. There's magic behind every frosted tree. In Wisconsin, if you take a walk in the woods, you might spot a deer bounding over snow drifts or a squirrel searching for an acorn. In this scene, I always enjoy coming across the bright blue of the Juniper tree berries.
One of the things I love about essential oils is that you are bringing nature into your home. When I pull out my Juniper Berry Essential Oil for my aches and pains, skin care, and natural insect repellent, it takes me back to those winter walks of white, brown, and evergreen sprinkled with bright blue.
Simple & Effective Uses of Juniper Berry Essential Oil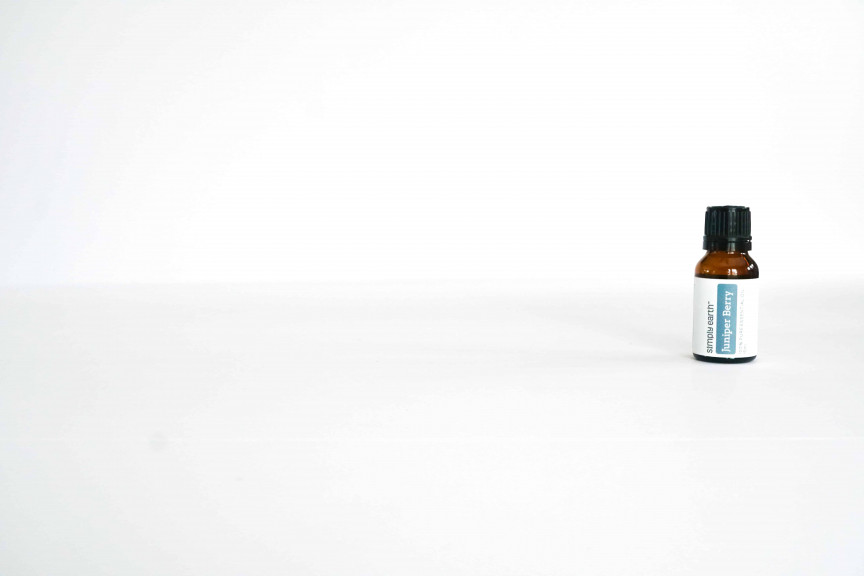 Topical:

When used topically, Juniper Berry Essential Oil helps treat skin problems such as psoriasis, dermatitis, dandruff, eczema, oily skin, pimples/acne, and other skin infections. To use against acne, create a roll on using 6 drops of Juniper Berry Essential Oil and 10 ml of Almond Oil in a 10 ml roll-on bottle and apply to affected areas to help fight acne.
Aromatherapy:

Use it in a vaporizer or diffuser to inhale the aroma that relieves stress. It calms you from emotional and physical stress, nervousness, fear, and fatigue. The vapor also helps clean the air you breathe indoors. Try creating your own blend by combining 2 drops of Juniper Berry with a citrus or conifer oil.
Bath/Soak:

It effectively relieves arthritis, gout, rheumatic pains, muscle cramps, and fatigue. Also, it promotes complete relaxation after a soak. Try adding 3 drops of Juniper Berry Essential Oil with 7 drops of Lavender Essential Oil diluted in 1 oz of Fractionated Coconut Oil with 1 cup of Epsom Salt to create a relaxing and pain relieving bath.
Massage:

Juniper Berry Essential Oil is known to penetrate the skin well, making it a great oil to use in massage for aches, pains, and stress. Make a massage blend using 5 drops Juniper Berry Essential Oil and 10 drops Sweet Orange Essential Oil in 2 oz of fractionated coconut oil to create an uplifting pain relief massage oil.
Goodnight Oil:

The aroma can help ease your cares of the day! Before bed, try applying it under your feet, chest and any part of the body you want. It helps you fall asleep – and have a really good night rest. Check out this recipe for

Sleepy Time Hydration Balm

to add to your nighttime routine.

Natural Insect Repellent: Like Tea Tree and Basil Sweet Essential Oils, Juniper Essential Oil works as a repellent that keeps mosquitos, bugs, fleas, ticks, and flies at bay. Apply diluted Juniper Berry Essential Oil on the skin or make a spray to protect your family from these insects' bites.
Health Benefits You Can Expect from Juniper Berry Essential Oil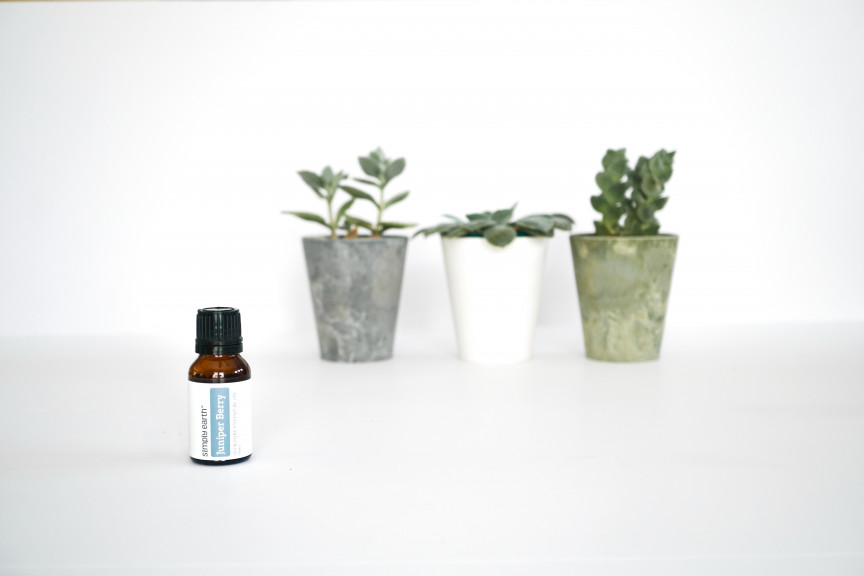 Antioxidant:

Juniper berries and their essential oil are good antioxidants. Antioxidants help balance the damage done by free radicals. Lower levels of antioxidants than that of free radicals in the body may lead to everything from premature aging, heart disease, diabetes, Alzheimers, and other diseases of body organs and systems.
Detoxifying Agent: Juniper Berry Essential Oil helps inadequate urination; therefore, toxins and other wastes are more likely carried out of the body. You can inhale the aroma of this oil a few times a day to induce relaxation to help prevent a buildup of harmful chemicals in the body systems.
Stress Reliever:

This oil has been shown to help alleviate stress and feelings of being overwhelmed for emotional health.
Muscle Pain/Inflammation:

Using Juniper Berry essential oil on muscle pains, inflamed arthritis, rheumatism, and wounds is a fast way to get relief.

Antibacterial & Antifungal:

Juniper Berry Essential Oil also acts as a natural antibacterial and antifungal making it a great part of your skin care regimen.
Juniper Berry Essential Oil is Pet-Friendly!
It's hard to predict how an animal will react to an essential oil, but in general, Juniper Berry is pet-friendly. Before you dive in using Juniper Berry Essential Oil with your pet, be sure to introduce the oil in small amounts. Diffuse a few drops or put some on a towel and allow your pet to smell it. If they react negatively, skip using this oil with your pet. However, most pets do not have a problem with Juniper Berry Essential Oil. Check out these great recipes featuring Juniper Berry Essential Oil.
Tick and Mosquito Collar

– use Juniper Berry's like a natural insect repellent to protect your furry friend from ticks and mosquitos.
Paw Balm –

relieve pain and heal minor damage to your furry friend's paws with this recipe!
Anti Anxiety Diffuser –

does your pet get separation anxiety, or worry during thunderstorms? Try this diffuser blend to help calm them.
Itchy Skin Roll On –

 does your pet get patches of itchy skin? Try this roll-on to help relieve it.
Science and Constituents
Sometimes essential oils come across as a magical, cure-all without any evidence. The reason essential oils can be useful is because of the natural chemicals that make them up. We call these the oil's chemical constituents. In every batch of essential oil, a certain range of chemical constituents must exist for the oil to be determined as pure. Below are the most prevalent organic chemical families we expect to see in Juniper Berry Essential Oil and their known properties.
Monoterpenes

: Juniper Berry's main constituents are monoterpenes. Oils that are rich in monoterpenes are known to have an antiseptic effect, improve circulation, relieve pain, be antibacterial, and purify the air. Some essential oils, like Juniper Berry, are also suspected to be antiviral.

Sesquiterpenes:

This family of chemicals, also known to be rich in Juniper Berry Essential Oil, make this oil antibacterial, antiseptic, muscle spasms relieving, and pain relieving.
What I love about this oil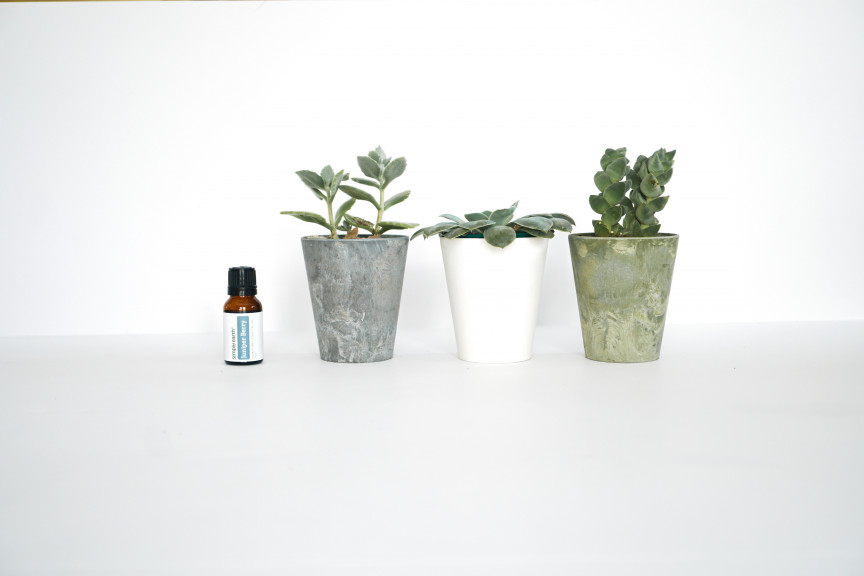 Besides one of my favorite winter plants, there's a lot to love about this oil.
It's considered safe to use on pets (Check out this blog post on other pet-friendly oils!)

Great to one to have handy when I need pain relief, fast.

I like that it combines well with citrus oils to make a more masculine scent for blends.

It has the ability to uplift my mood and make me feel like I'm walking in the woods.   
Safety and Disclaimer
Juniper Berry Essential Oil

is an effective stimulant and may stimulate the uterine muscles; should not be used by pregnant and breastfeeding women; and children below 3 years old.
It is also advised to those suffering from kidney and liver diseases to avoid using this essential oil continuously for long periods. Why? It is the 'sabinene' in it that may cause harmful effects to the kidneys.
This oil (and all other essential oils) should never be ingested in pure form. Always consult an essential oil professional before using it internally even if it is considered generally safe to use topically.
Please note: This post is a compilation of suggestions made by those that have extensively used essential oils and has not been verified scientifically with clinical tests nor reviewed by medical experts. It is anecdotal information and should be treated as such. For serious medical concerns, please consult your doctor.
What's your favorite thing about Juniper Berry Essential Oil? Share how you're using it and tag us on social media with @fromsimplyearth so we can see!