We love to find ways to make our homes beautiful and smell great at the same time. Typically, we opt for scented candles and cool mist diffusers, but we sometimes run into problems. Candles require babysitting – you can't just leave an open flame in your house day in and day out – and buying a cool-mist diffuser for every room can get expensive. That's where the DIY Reed Diffuser comes in. Reed diffusers are a great, inexpensive way to enjoy your favorite scents to your home without worrying that something will get burned.
Reed oil diffusers are available in most stores, but they're full of artificial fragrances and chemicals – plus, they cost a lot. We made an easy guide on how to create your own reed diffuser using your favorite blend of pure essential oils to get their benefits while you freshen up your home naturally.
What I Love About This Recipe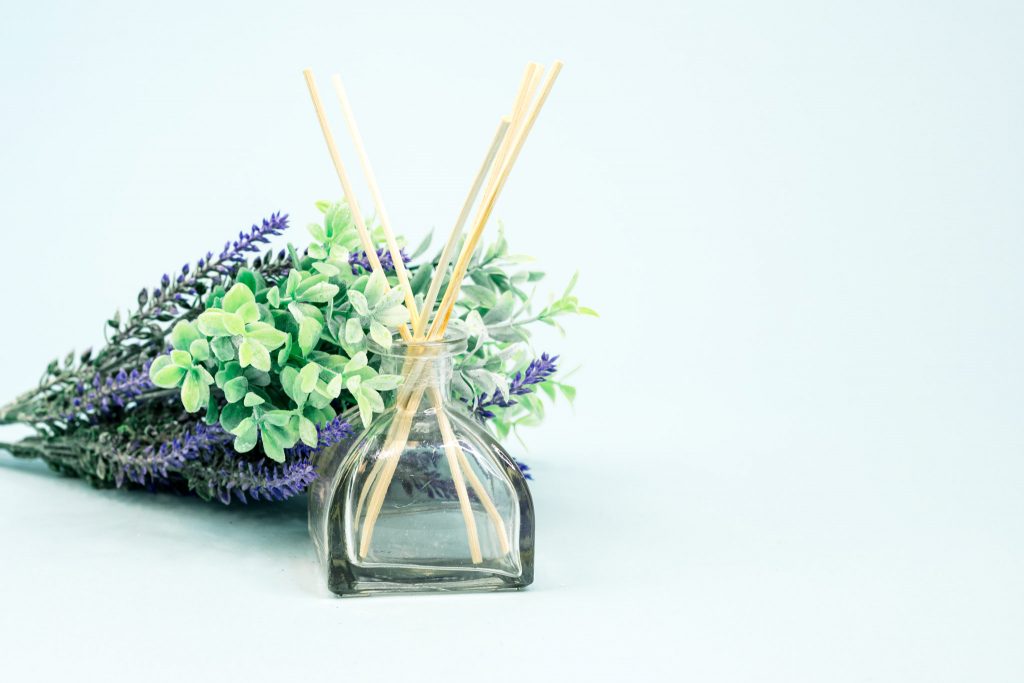 Katie here, I'm a Certified Aromatherapist for Simply Earth. I plan our subscription recipe box. I create the recipes you'll find on this blog and use them.
A fun thing about this recipe aside from it being easy to make is that you can pick the jar you make it in. You can use a simple clear jar, a more decorative one, or decorate the jar by yourself. The options are limitless! This also makes a great gift for your friends.
What's in This Recipe
Reeds
This is the main item you will use to diffuse oils. The reeds available at Simply Earth are 6 inches. For best results, your reeds should stick up out of the jar by at least 2 inches.
Witch Hazel, Vodka, or Rubbing Alcohol
Is homemade reed diffuser with water better than with alcohol? Alcohol or witch hazel helps dilute essential oils so they can travel up the reeds more easily. If you used water alone, you may find the scent doesn't diffuse well.
We like using witch hazel, but between the alcohol options, vodka works best. If you use rubbing alcohol, you may notice a rubbing alcohol aroma until that evaporates.
Essential Oil
You can choose or make your own blend from the oils included in our March Recipe Box, or search the blog for more ideas!
For the essential oil blend, our Recipe Box subscribers are getting a total of four diffuser recipes, any of which would work well for this recipe. Whatever the recipe you're using, you may need to multiply it to get about 25 total drops of essential oil.

Things to Remember When Using This Recipe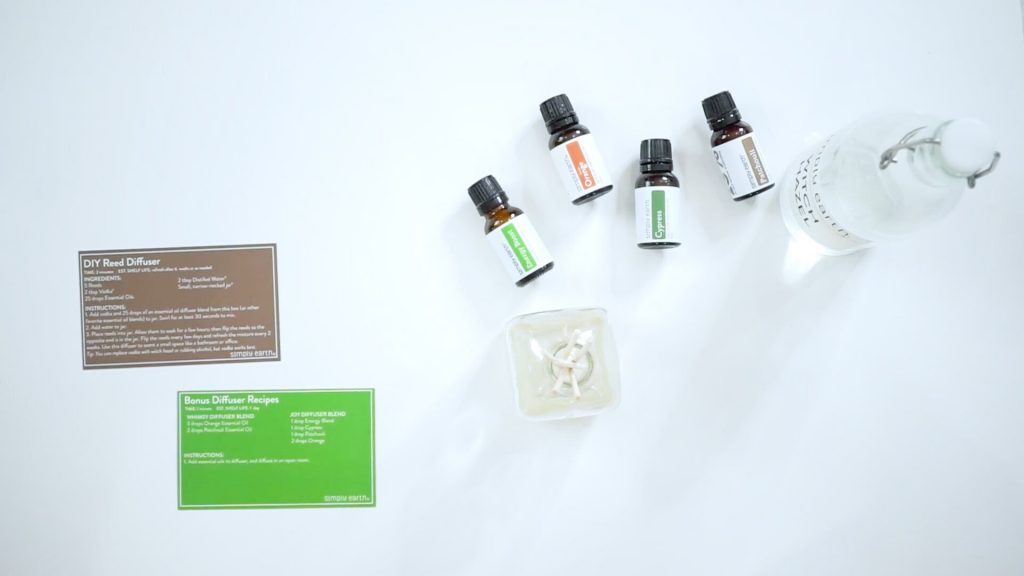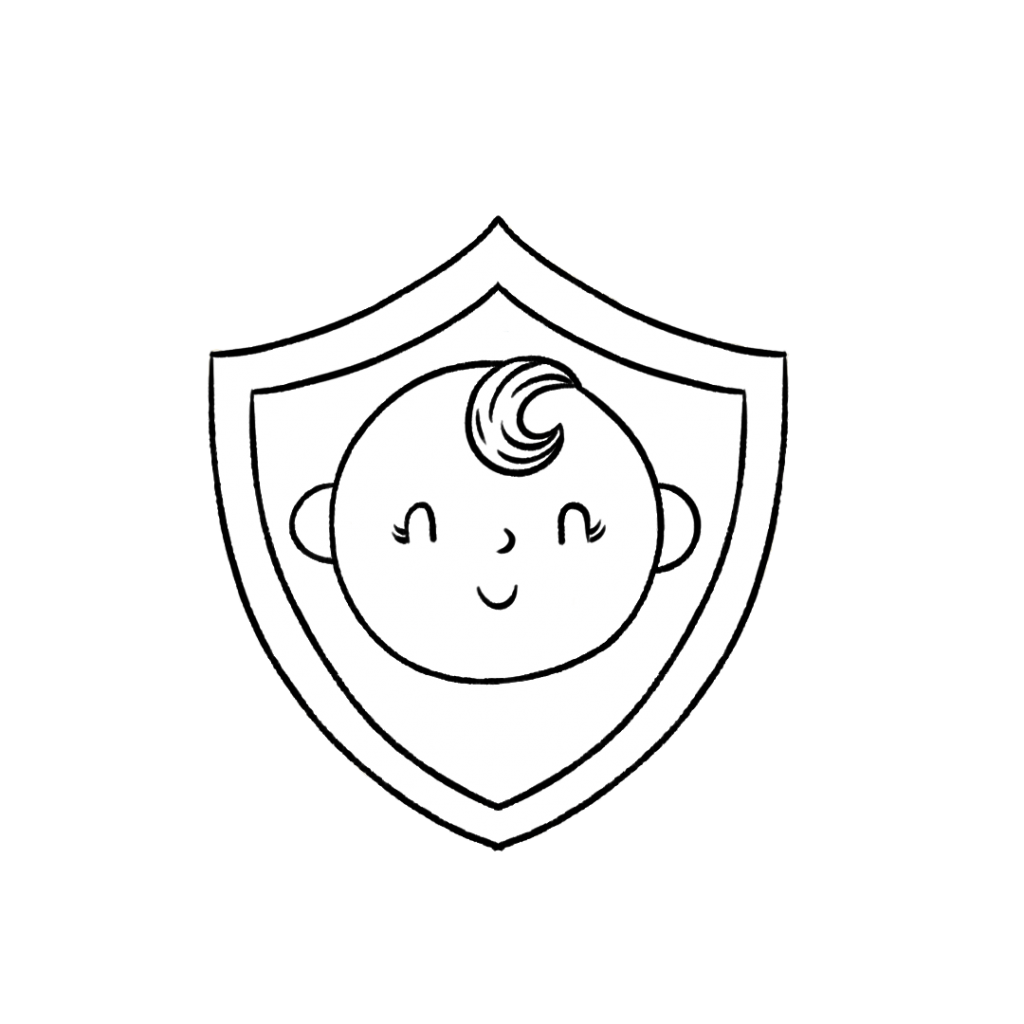 Check the information on each oil you use to see if your blend is safe to use with kids.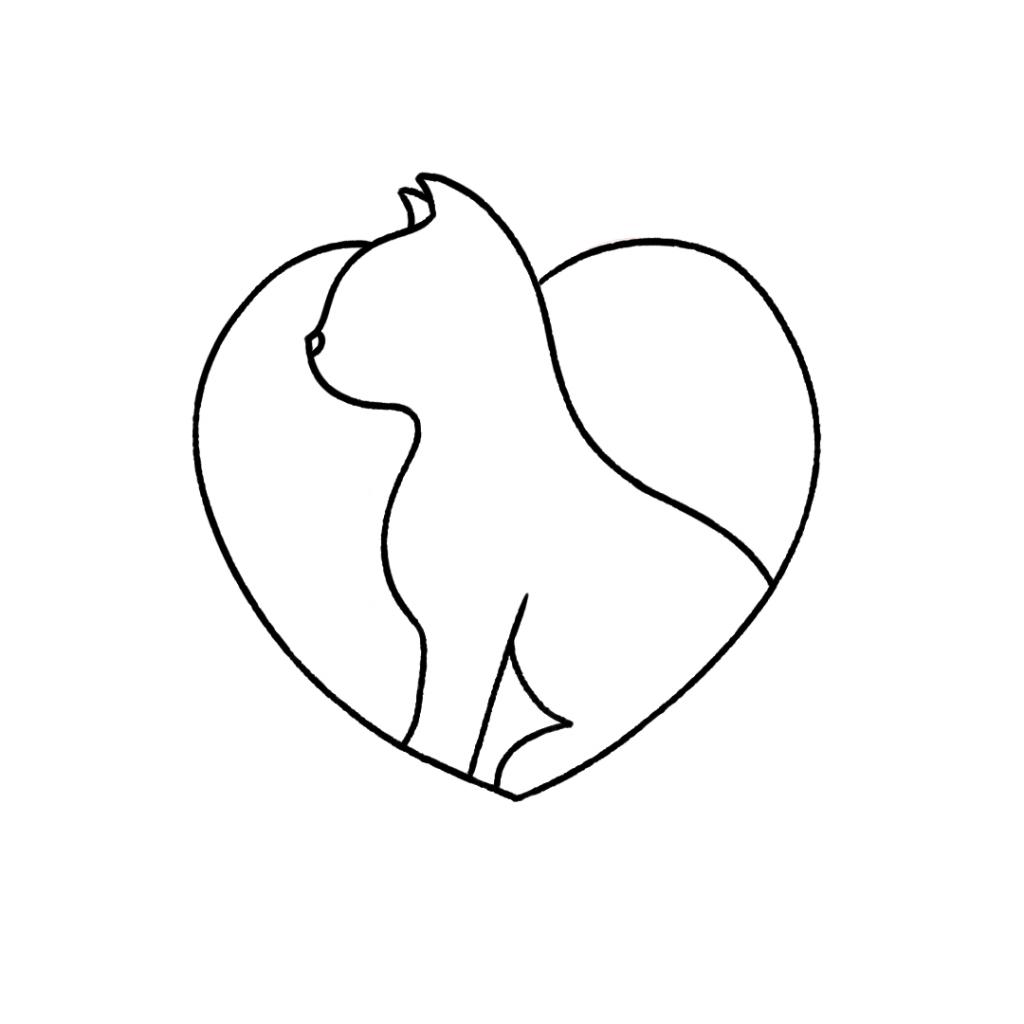 Not all essential oils are safe to diffuse around cats. For more information on using essential oils with cats, check out this blog post.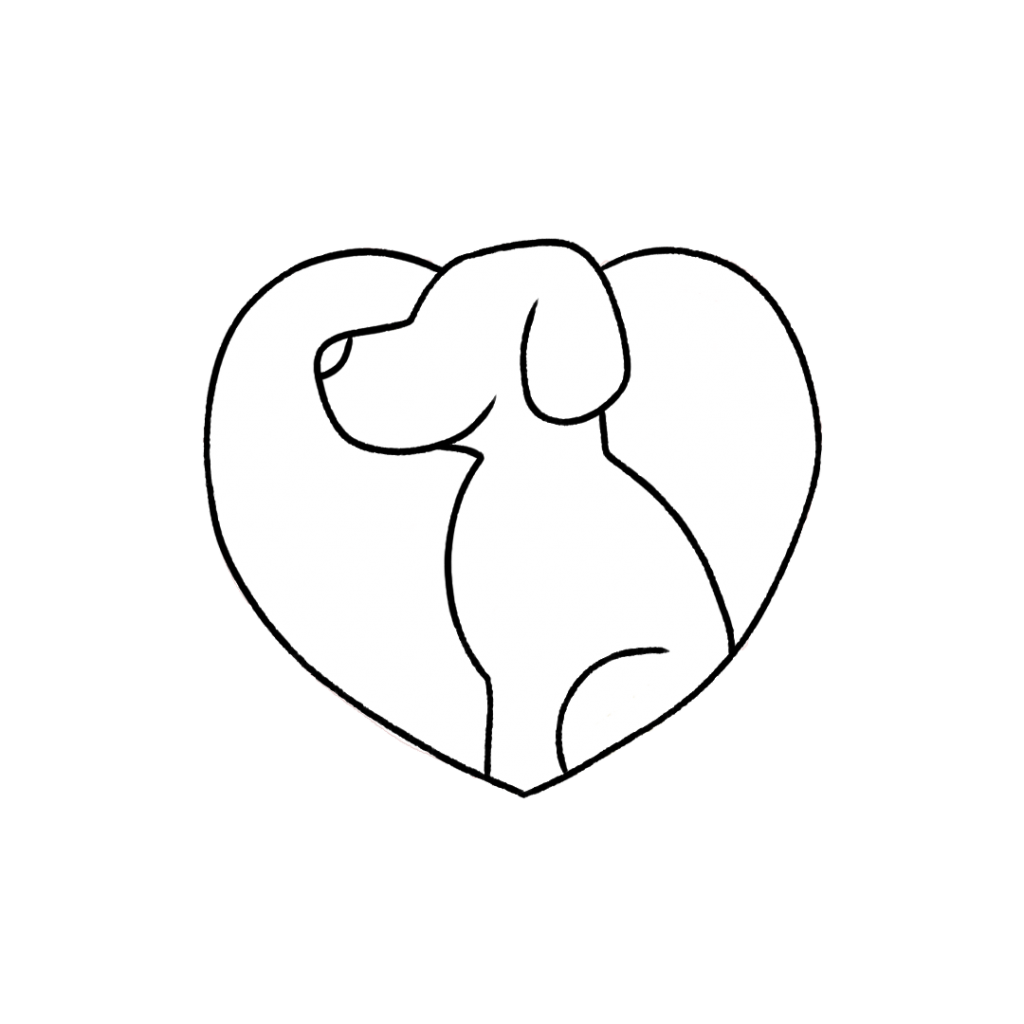 Not all essential oils are safe to diffuse around dogs. For more information on using essential oils with dogs, check out this blog post.
Never ingest any essential oil even if it's regarded as safe. For more information on why we don't ingest essential oils check out this blog post.
These statements have not been evaluated by the Food and Drug Administration. This product is not intended to diagnose, treat, cure, or prevent any disease.
DIY Reed Diffuser Recipe
DIY Reed Diffuser
Ingredients
5 Reeds

2 tbsp Vodka

25 drops Essential Oils

2 tbsp Distilled Water

Small, narrow-necked jar*
Directions
Add vodka and your favorite essential oil blend to a jar. Swirl for at least 30 seconds to mix.
Add water to the jar.
Place reeds into a jar. Allow them to soak for a few hours, then flip the reeds so the opposite end is in the jar. Flip the reeds every few days and refresh the mixture every 2 weeks. Use this diffuser to scent a small space like a bathroom or office. 
Notes
You can use vodka, witch hazel, or rubbing alcohol in this recipe. These ingredients will slightly dilute the oils into the water so that the oils can travel up the reed to diffuse. Vodka works best, but they all will work. 
---
Are You Ready To Make Your Reed Diffuser?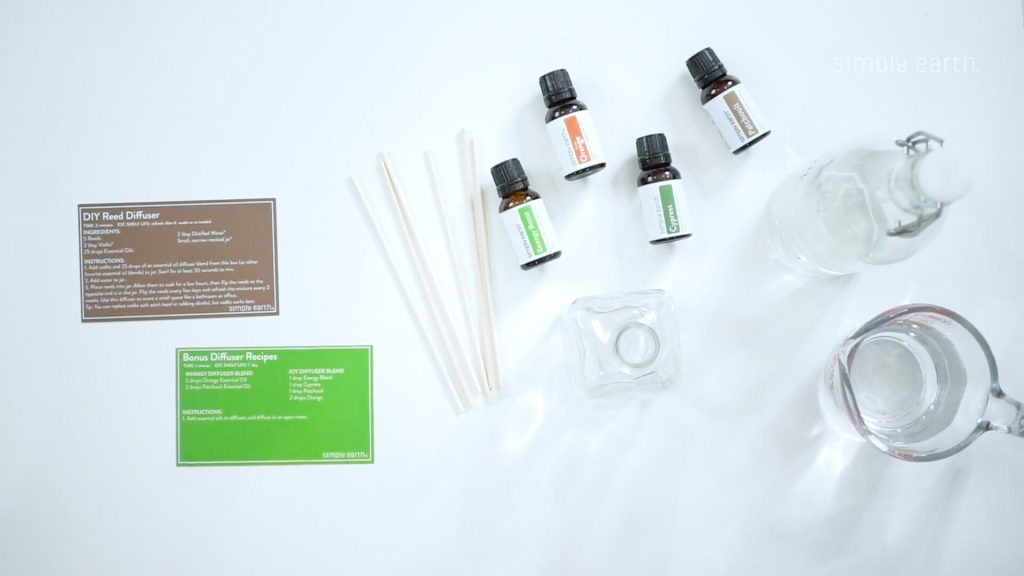 Easy to make, right? What's your favorite blend to use with your DIY reed diffuser? Let us know in the comments!