Have you ever added Amyris Essential Oil to massage oils to lessen stress or to a cold compress to soothe a bruise after a bad fall? These are simple ways to naturally soothe without commercial medications.
Simply Earth provides pure grade essential oils that can improve wellness. People choose essential oils because they are a natural, simple, safe, fast, and effective method of natural treatment.
Throughout history, Amyris wood has been used for torches and candles since its thick, rich oil renders it highly combustible with a long-lasting flame that emits a lovely aroma. In addition, Amyris Essential Oil has been used throughout history to include cleaning wounds, relieving diarrhea, soothing influenza, and supporting the respiratory system, as well as providing fragrance.
What I Love About This Oil
The calming and wonderful aroma is what makes me want to use Amyris Essential Oil in blends and various other recipes. Even if the recipe I want to make is for skincare, adding Amyris Essential Oil gives the product an added relaxing effect. I love to use this oil and its recipes, especially at night when I want a laid back atmosphere.
Amyris Essential Oil Benefits, Uses, and Recipes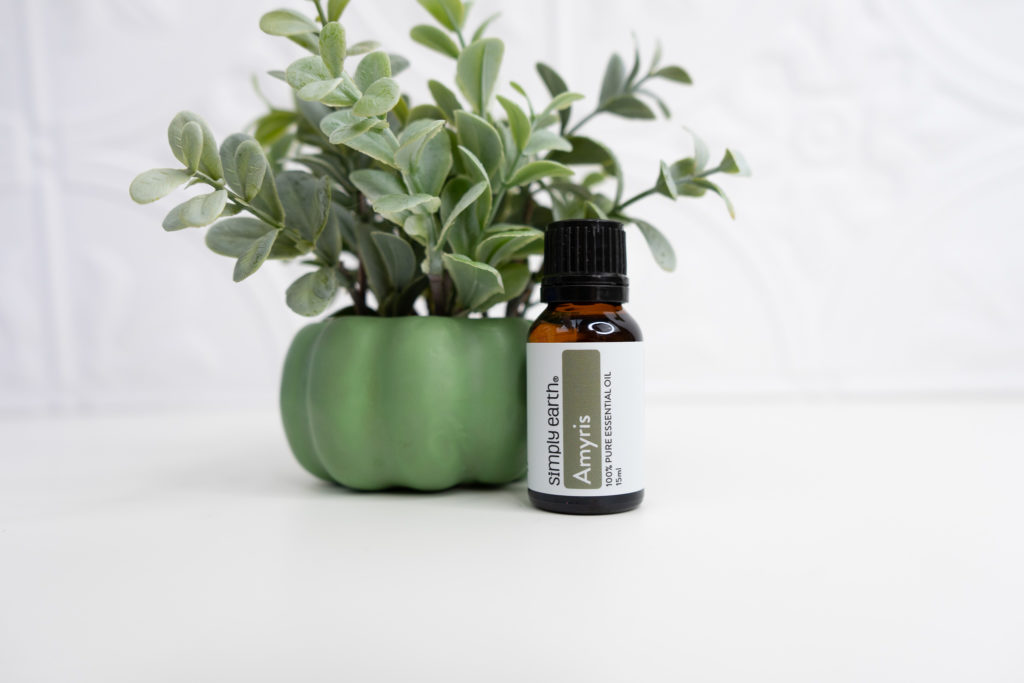 Calming and Relaxing
Amyris Essential Oil has benefits to those who want to sleep well. It can also be used with other oils in a diffuser to create a calming and relaxing atmosphere1. It is generally safe and non-irritating to the skin and to those with respiratory difficulties.
DIY Pink Lip Gloss
Beautiful Day Diffuser Blend
Antiseptic
Amyris Essential Oil is, above all, a good antiseptic agent2. Like antiseptic drugs, you can apply it to the affected skin or wounds for its anti-infective effect which inhibits or prevents the growth of microbes after diluting it with a carrier oil.
Supports the Immune System
There are several essential oils that can be used to aid in digestion, coughs, colds, nervousness, and stress, and Amyris is certainly one of them. It can also support healthy blood pressure when used in aromatherapy. In addition, it also promotes feelings of relaxation and lessens stress and anxiety1.
Antispasmodic
As an antispasmodic, Amyris helps with muscle cramps and spasms in the involuntary muscles of the stomach3. Therefore, you can topically apply diluted Amyris Essential Oil to the aching area or as a hot compress.
Incense
If you want to enhance your concentration and focus1, Amyris Essential Oil also works great as incense since it helps promote concentration and awareness. In short, you achieve a sharp, but quiet mind! It's the aroma that provides the creative energy and the relaxing atmosphere conducive to work, study, or meditation.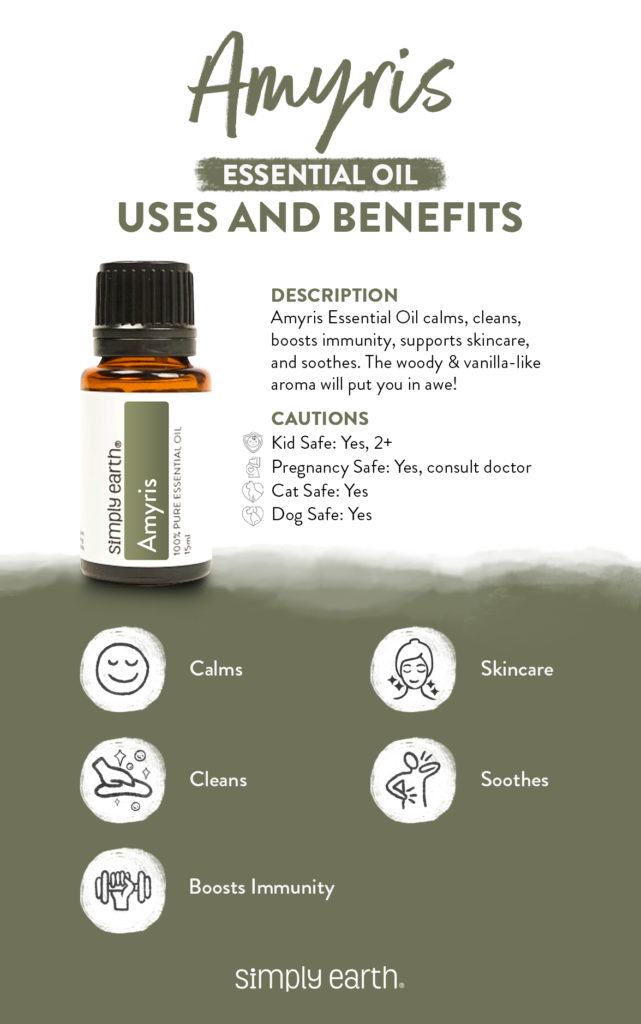 Amyris Essential Oil Blends Well With
Amyris Essential Oil is famous for its gentle woody, sweet balsamic fragrance with a slight vanilla-like touch. It blends well with Cedarwood, Lavender, Geranium, Ylang-ylang Essential Oils and other woody fragrances.
Simply Earth Blends That Use This Oil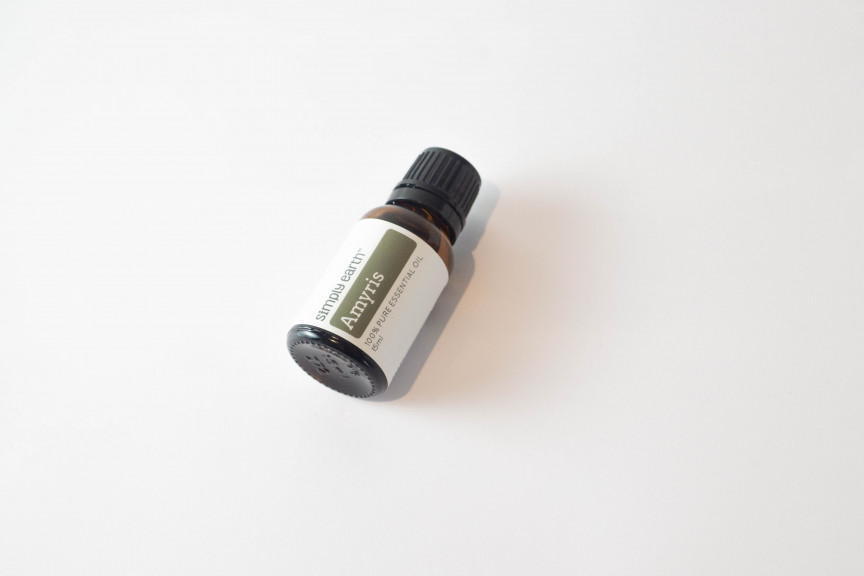 Love Essential Oil Blend
One of the most loved Simply Earth blends is Love Essential Oil Blend, infused with Amyris, Bergamot, Sweet Orange, and Ylang-Ylang Essential Oils. Together, the oils create a sensual blend that's sure to add a little romance to your life.
Tranquility Essential Oil Blend
Tranquility Essential Oil Blend with Lemon, Patchouli, Sweet Orange, Amyris, and Ylang-Ylang Essential Oils is a calming blend that promotes feelings of contentment, composure, and reassurance when feeling anxious.
What's the Science Behind This Oil?
Major compounds found in Amyris Essential Oil are Valerianol 25.31%; beta-Eudesmol 15.56%; and Elemol 9.11%.
What Earthies Are Saying About It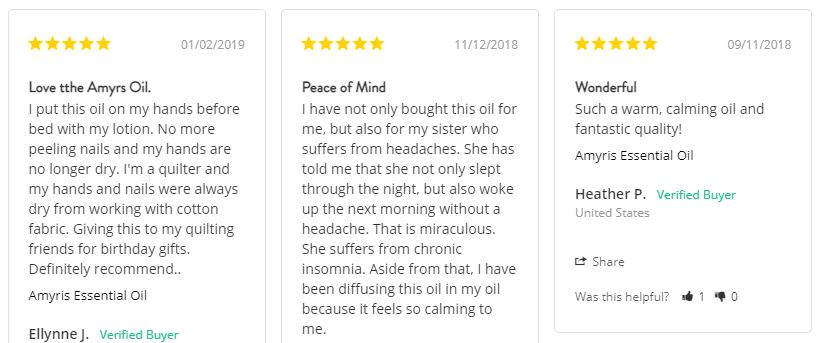 Things to Remember When Using This Oil
The consistency of Amyris Essential Oil is so thick that it is not efficient to use a euro dropper cap dispenser like that of thin oils. Therefore, we recommend using a glass dropper. But, it is not advisable to use the glass dropper with its rubber head-pump as an essential oil lid/cover. Instead, store your oil with the screw-type cap that comes with the bottle. Clean your glass dropper with alcohol. Consider designating a separate glass dropper for every thick essential oil.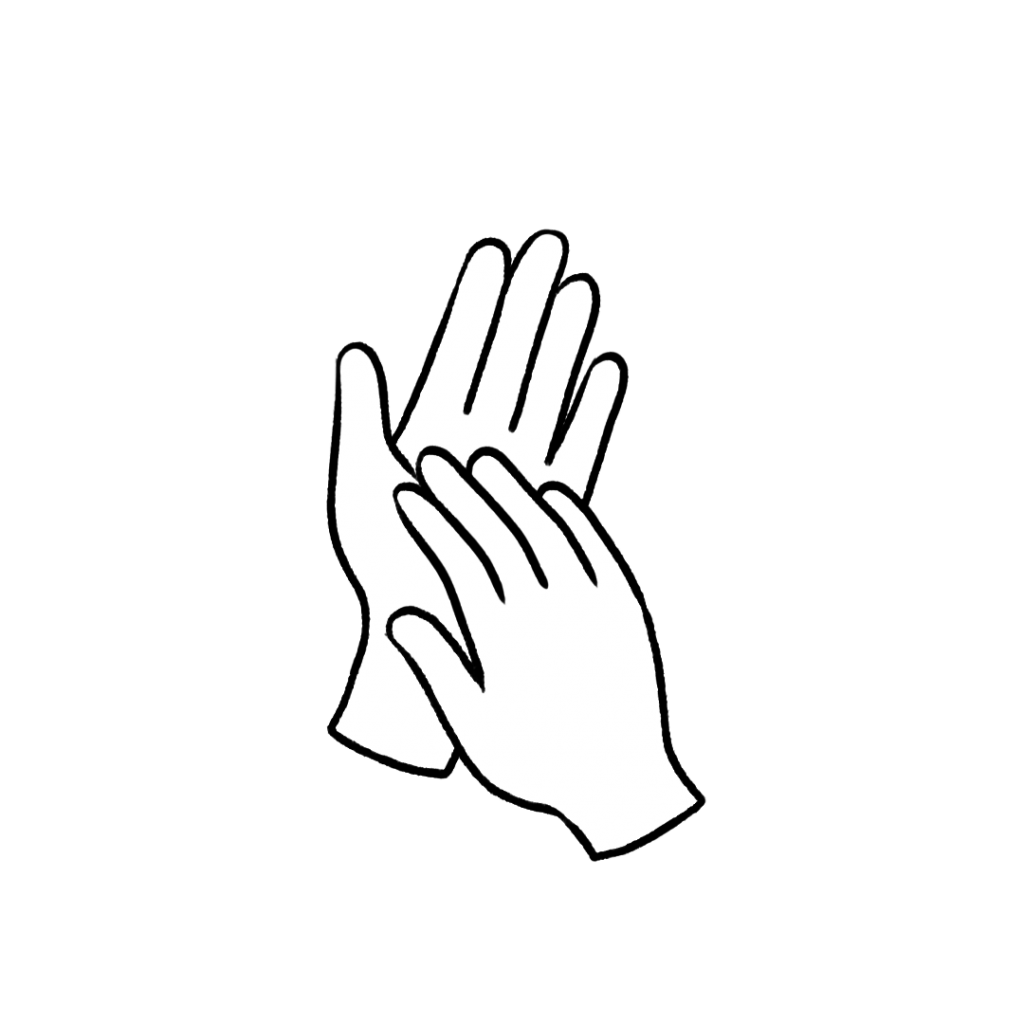 Always dilute an essential oil when using on the skin. This essential oil is unlikely to cause skin irritation when diluted properly. Check out this dilution chart for diluting this essential oil properly.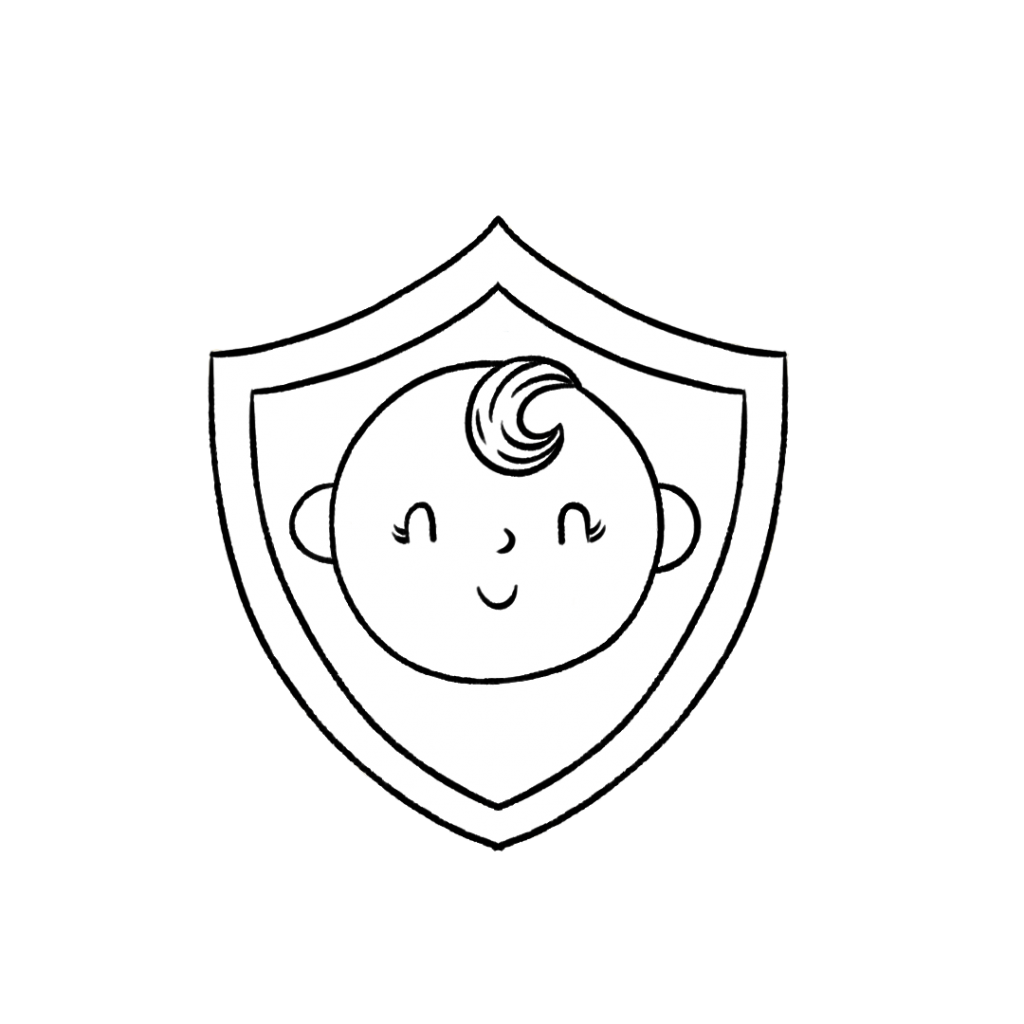 This essential oil is safe to use with kids age 2+.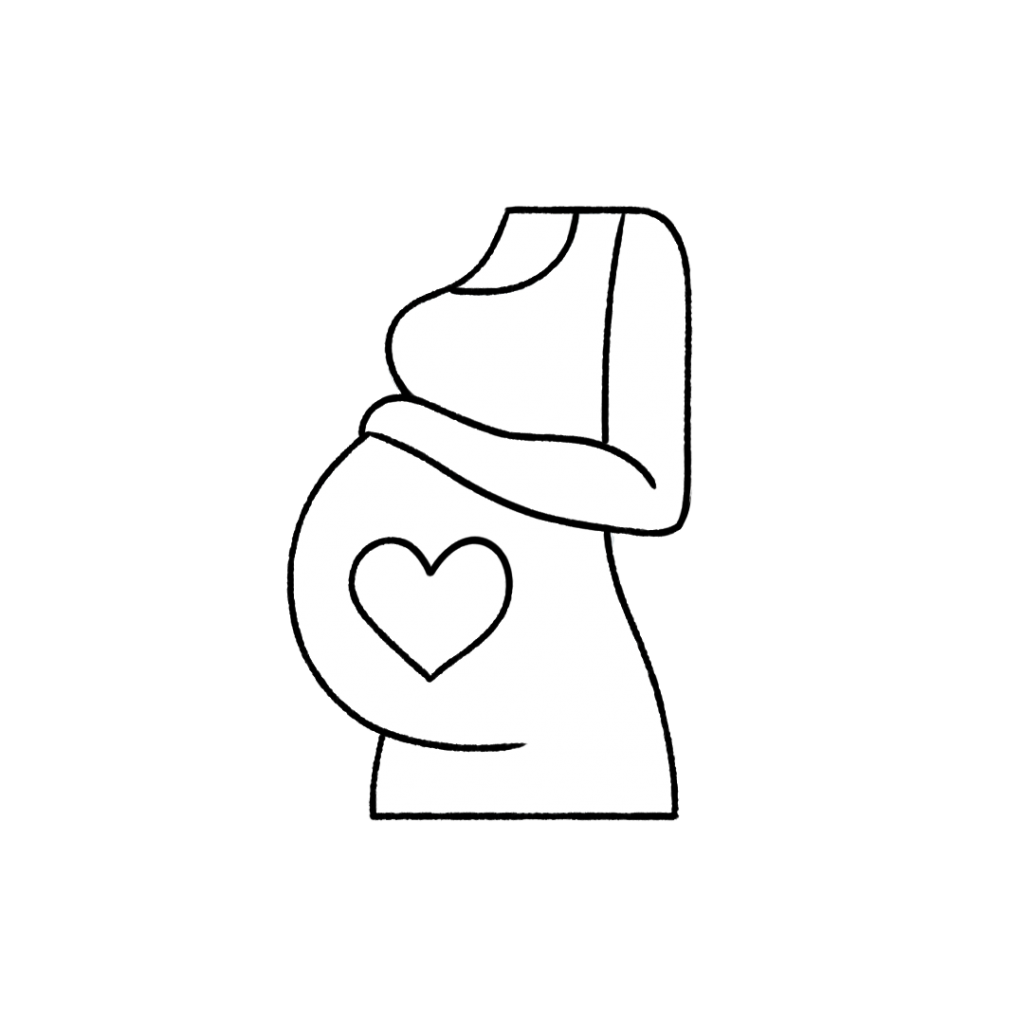 This blend is generally safe to use if you are pregnant. Consult your doctor prior to use.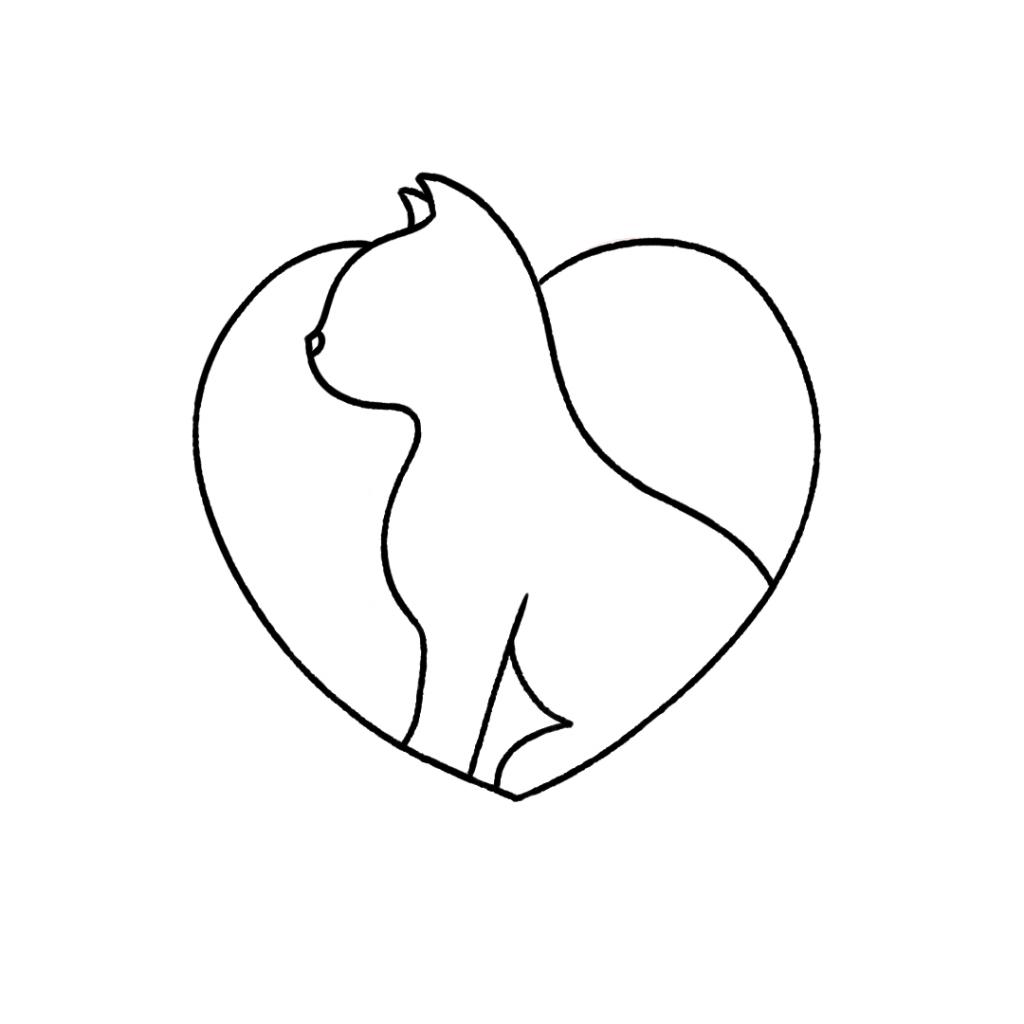 Amyris Essential Oil is generally safe to use around cats. For more information on using essential oils with cats, check out this blog post.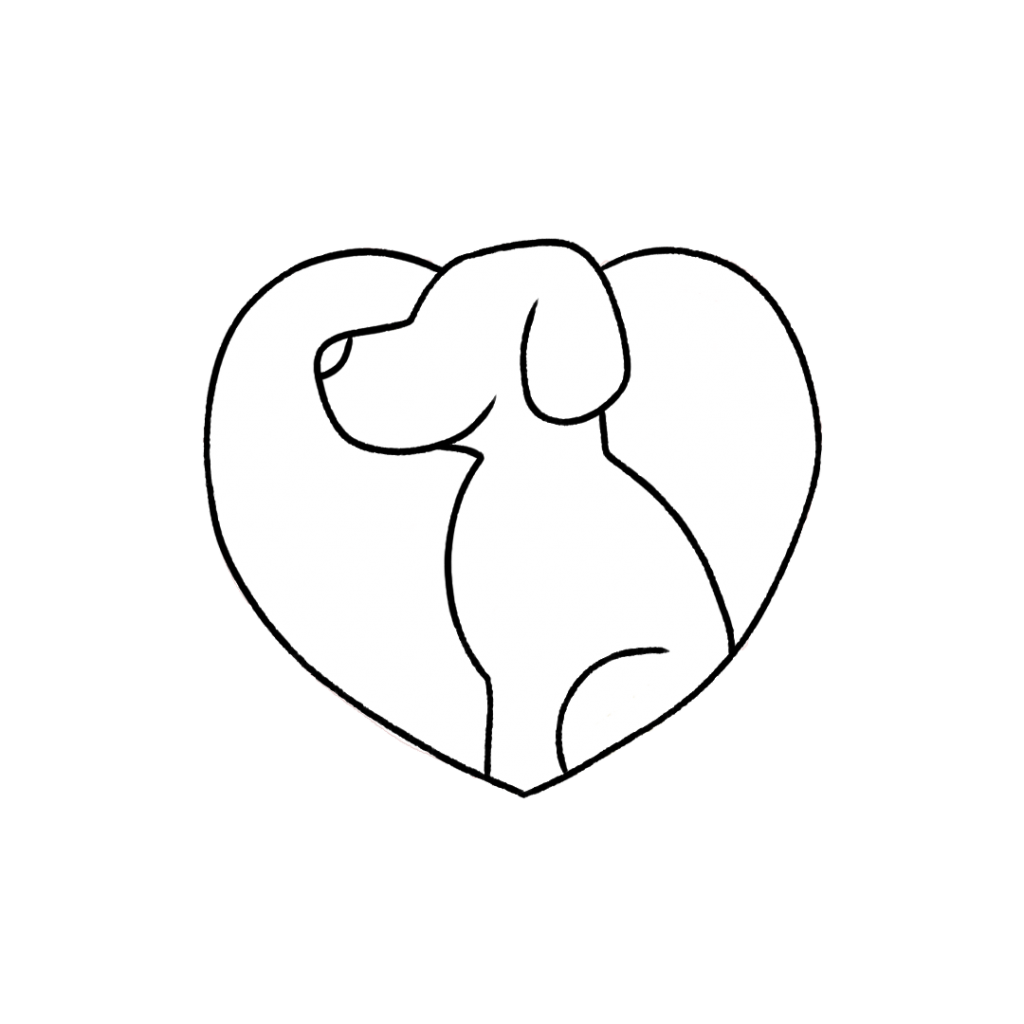 Amyris Essential Oil is generally safe to use around dogs. For more information on using essential oils with dogs, check out this blog post.

We don't recommend ingesting essential oils unless under the direction of a doctor certified in aromatherapy. For more information on why we don't ingest essential oils check out this blog post.
"These statements have not been evaluated by the Food and Drug Administration. This product is not intended to diagnose, treat, cure, or prevent any disease."
Level Up Your Relaxation With Amyris Essential Oil!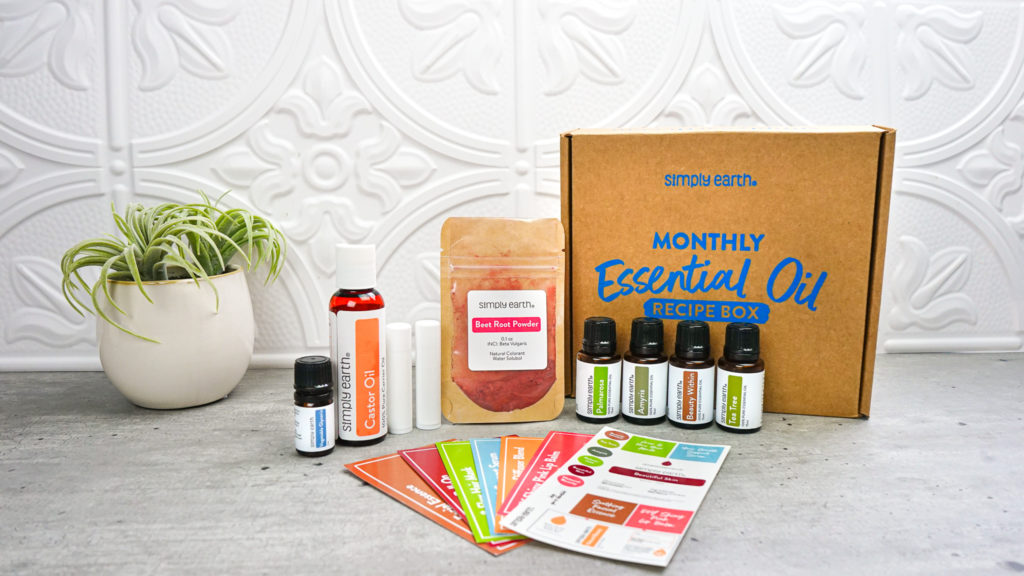 I added Amyris Essential Oil to our March 2021 Recipe Box to up the ante of your skincare! Now your natural beauty routine will not only improve your skin but will also help you destress and relax after a long day.
If you haven't subscribed yet, this is the best time to do it! This box is worth over $150 (if priced from the Big Essential Oil Companies), plus with your first box, you'll get a Big Bonus Box absolutely FREE!
You get all these goodies from Simply Earth for only $39! Subscribe today!
---
Resources: