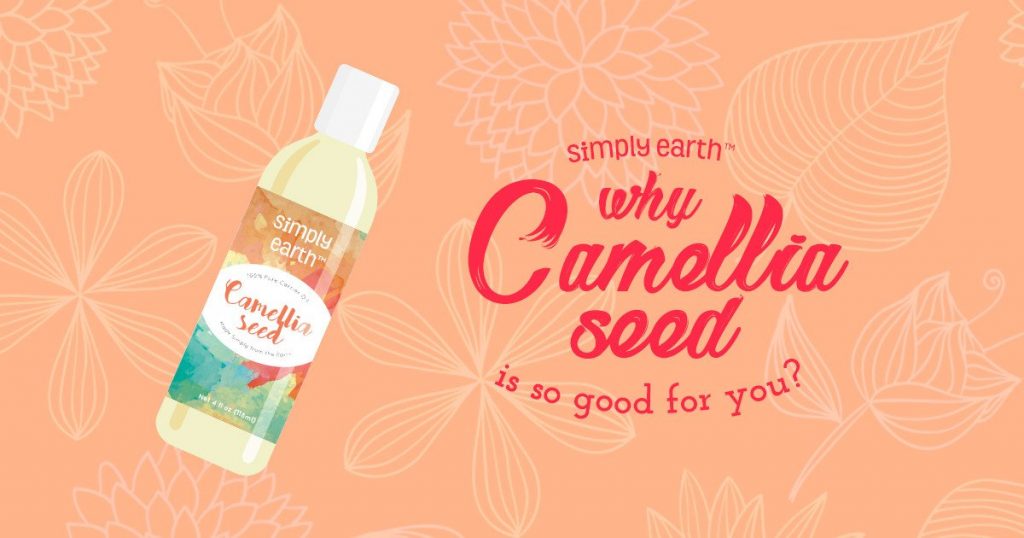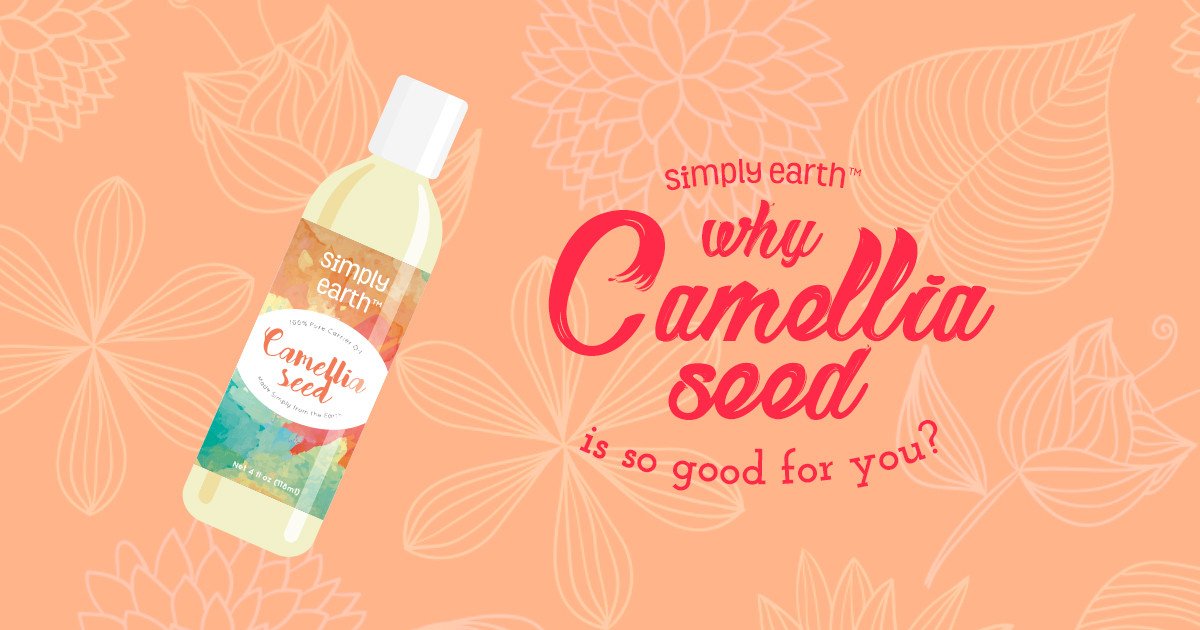 Camellia seed oil, or more commonly known as tea seed oil, is a carrier oil commonly used to dilute essential oil blends. Unlike most carrier oils, however, this one has a shelf life of only one to two years, is not greasy, and is more rapidly absorbed by the skin. Camellia seed oil, while mostly used as a cooking oil by the Chinese, is actually full of health benefits when used topically, too.
What I Love About This Oil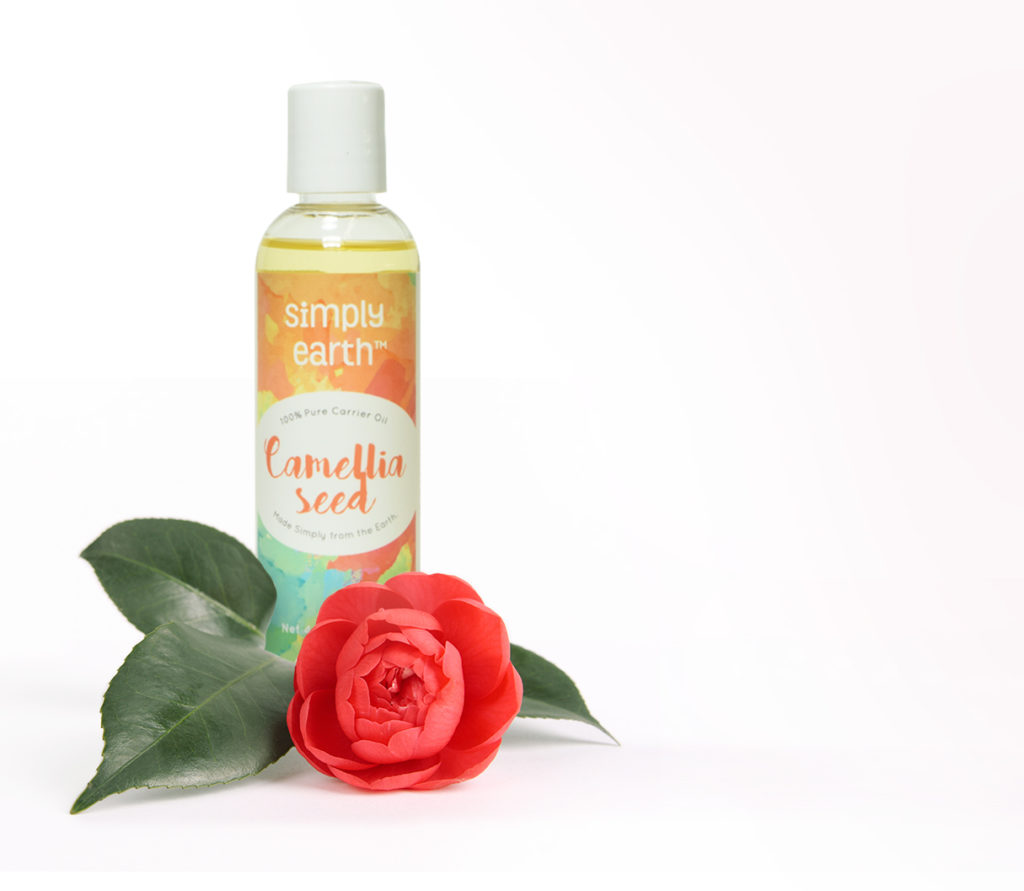 I love that this carrier oil absorbs into my skin so quickly and provides amazing benefits for the appearance of my skin and hair! The aroma of tea tree oil is perceived differently. Some say it smells lightly of green tea; others say that it smells a bit like balsamic vinegar. While these may be true, the aroma is very light, making it ideal for blending.
Recipes, Uses, and Benefits of Camellia Seed Oil
Skin and Hair
Camellia seed oil is high in antioxidants, oleic acid (omega-3 fats), and vitamins A, B, C, D, and E, making it ideal for skin and hair. It adds moisture to both and rapidly absorbs into skin and hair follicles without the grease. Antioxidants also help protect skin from environmental pollutants, keeping skin healthy, soft, and supple.
Anti-Aging
This oil contains a high amount of squalene, a component lacking in aging skin. Camellia seed oil can restore missing squalene in skin, fighting premature aging and wrinkles.
Immunity
While we do not recommend ingesting our oils, it is said that daily intake of camellia seed oil is said to boost immunity due to the high antioxidant content.
Heart Health
The daily intake of this oil can also help lower cholesterol and blood pressure due to the high concentration of monounsaturated fats and oleic acid.


What Camellia Seed Oil Blends Well With…
Because camellia seed oil is considered a carrier oil, it can be blended with any other essential oil! By doing so, you actually make the whole concoction safe to apply to your skin! It quickly absorbs into the skin too, so you can start receiving these benefits fast!
Science, History, and Background of Camellia Seed Oil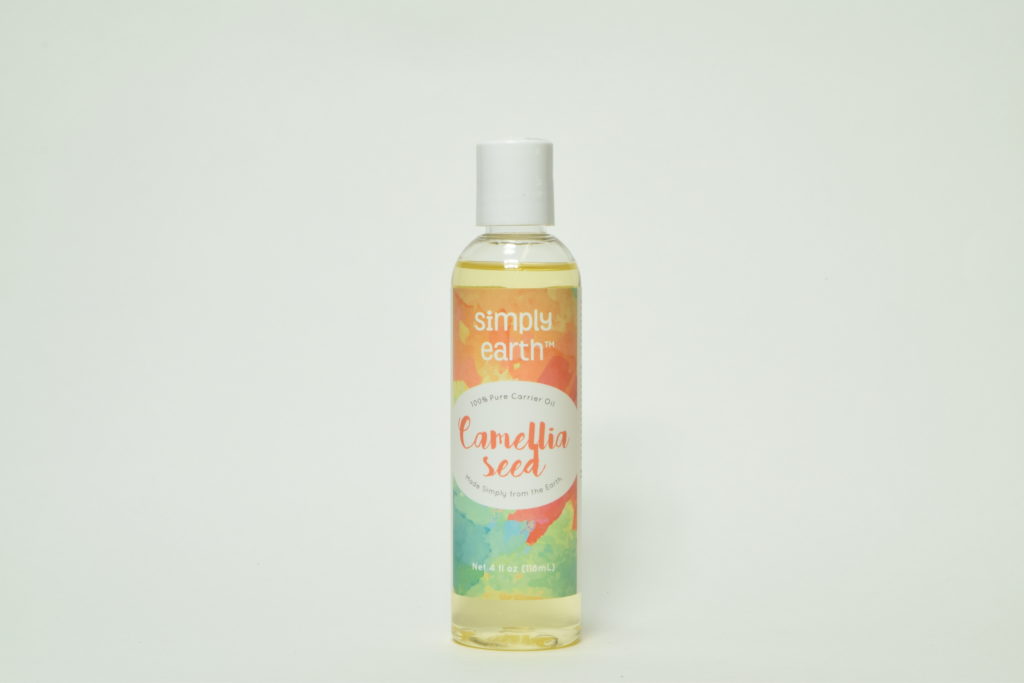 History
The first evidence of camellia seed cultivation was unearthed in China. It is believed to be around 3,500-5,000 years old. Camellia was first cultivated as tea, and little is known about when the oil was first cultivated. Black, white, and green teas, which all come from the same plant, were highly regarded among the Chinese as medicinal and drank commonly throughout history. In Europe, it was first introduced in Portugal around the 16th century. When it spread to England, it was said that the climate was not favorable for cultivation – so they built greenhouses, hoping to cultivate camellia plants for their royalty.
Plant Description
Camellia Oleifera and Camellia sinensis trees produce camellia seed oil as we know it – however, they also produce black, white, and green teas which are commonly sold throughout the world. The tea seed oil plant is a tree with long, evergreen leaves and flowers that bloom in pink and white. Tea trees grow primarily in Southeast Asia, and are extensively cultivated there.
The oil produced is a pale yellow or golden amber color, with medium viscosity.
What Earthies are Saying About This Oil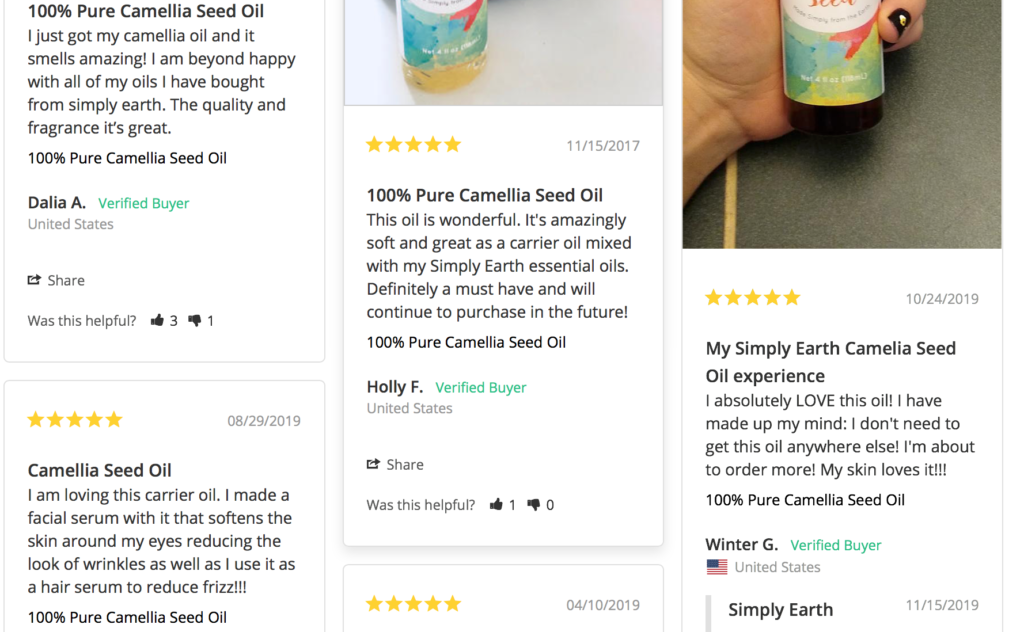 Things to Remember When Using This Oil
Very few safety concerns exist, although this oil can commonly be confused with Tea Tree oil, or Melaleuca alternafolia. The two are NOT the same, as tea tree oil is highly volatile in large doses. Use caution when purchasing.
Never ingest any essential oil, even if it's generally regarded as safe. For more information on why we don't ingest essential oils, check out this blog post.
"These statements have not been evaluated by the Food and Drug Administration. This product is not intended to diagnose, treat, cure, or prevent any disease."
Where Will You Begin With This Oil?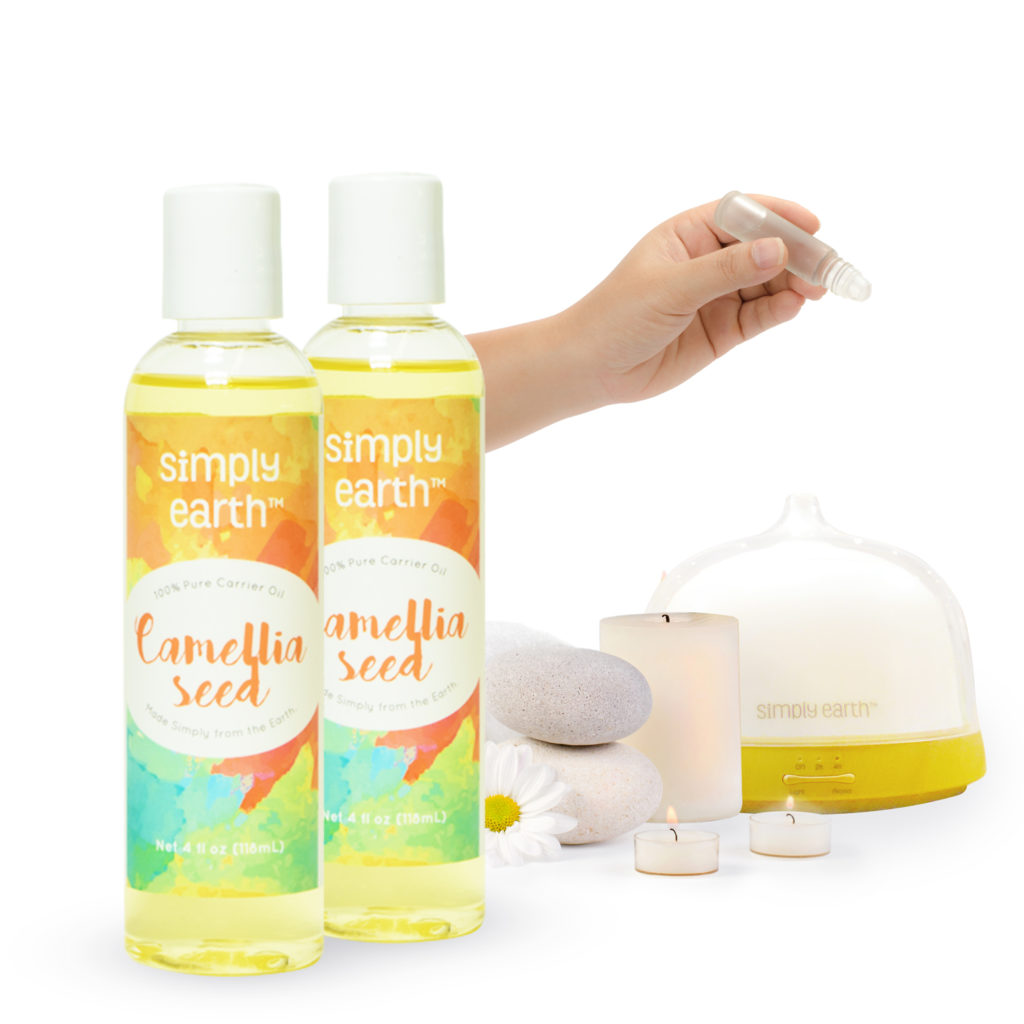 There are so many benefits from this oil alone, and pairing it with other essential oils can be amazing! Let us know what you create with this oil by commenting below or connecting with us on social media @fromsimplyearth!
Subscribe today to our Essential Oil Recipe Box. Each month, you can receive four full-size 100% pure essential oils, six natural recipes, plus the ingredients you need to make them in our Recipe Box.
With the box, you'll learn new ways to use essential oils, make more essential oil roll-on recipes, and have the peace of mind that you are making your home toxin-free. This month of April, we focus on Home Detox. This box is worth over $150 if priced from the Big Essential Oil Companies. You get all those goodies from Simply Earth for only $39. Go get it!
---
Resources:
http://www.eco-beauty.com/camellia-seed-oil-info.html
https://www.aromaweb.com/vegetableoils/camelliaseedoil.asp