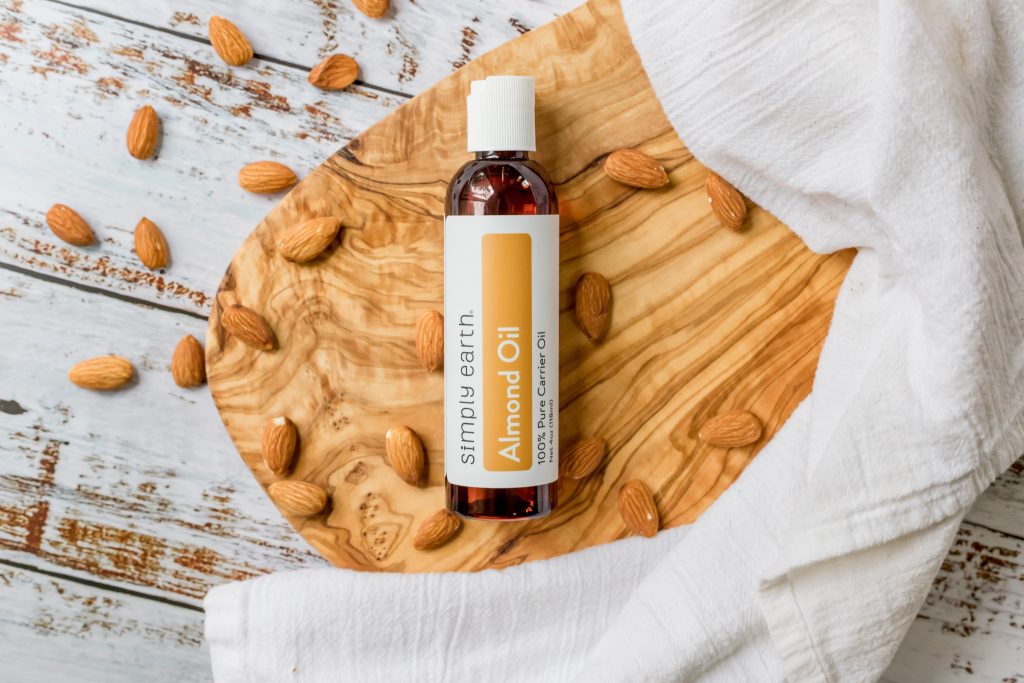 Almond oil is a popular carrier oil used in many different blends, but almond oil has some amazing benefits on it's own, too! When used correctly in blending,  sweet almond oil can enhance the therapeutic benefits of your essential oil blends significantly. Let's take a look at sweet almond oil and some ways to use it effectively.
What I Love About Sweet Almond Oil
I love that sweet almond oil absorbs into my skin super quickly and provides me with the benefits I want. It is also super safe to use around kids!!
Benefits and Uses of Sweet Almond Oil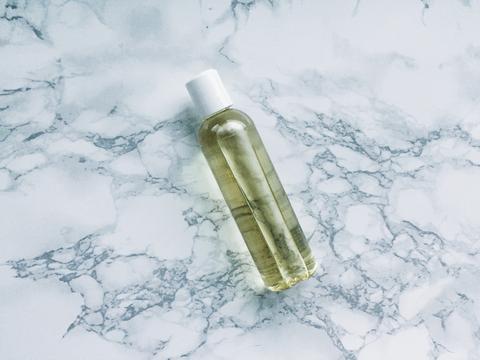 Uses
Skin Moisturizer
Sweet almond oil is used in a variety of commercial lotions due to it's naturally high vitamin A content. It has been known to enhance absorption of the moisturizer into the skin as well. Almond oil does not clog pores, so it is safe for use on oily and acne prone skin. Use it on everything, from eczema to chapped lips!
Hair Care
Make dry. itchy scalp and dandruff a thing of the past with sweet almond oil! This natural remedy, when blended with oils that have similar properties, can pack a powerful punch against dandruff and keep your scalp moisturized due to it's natural emollient content. Almond oil can also help mend split ends.
Earaches
Sweet almond oil can also be a natural earache remedy, especially in children. Where ear infections are common in infants and children, natural earache remedies are a great way to soothe their eardrums without the use of over-the-counter drugs that contain potentially dangerous side effects.
Laxative
Use of almond oil in small amounts can promote digestive health, particularly in the colon. It can also relieve constipation.
Eye Makeup Remover
You can remove eye makeup with sweet almond oil by placing a few drops on a cotton ball or applicator, and wiping away!
Benefits
Reduces Heart Disease Risk
Much like eating a handful of almonds daily, cooking for almond oil can also help reduce heart disease risk! Almonds are naturally high in omega-3 fats, which help reduce unhealthy cholesterol levels.
Anti-inflammatory
Sweet almond oil can help reduce inflammation when ingested or applied topically.
Scar Healing
Almond oil can been used to help heal scars and stretch marks.
Digestive health
Consuming a few tablespoons of warm almond oil daily can improve colon and digestive health.
Increase Blood Flow
Almond oil contains a high amount of vitamin E, which helps your body make and produce red blood cells. Red blood cells deliver oxygen to various parts of the body, therefore almond oil helps keep the body healthy by helping with red blood cell production.

Background and Make-Up of Sweet Almond Oil
History
The almond originated in southeast Asia and the Middle East, about as far as Pakistan. You can actually find references to the almond in the Bible. The Bible's Book of Numbers tells the story of Aaron's rod that blossomed and bore almonds, giving the almond the symbolism of divine approval. Almonds were also a prized ingredient served to Egyptian pharaohs over 3,000 years ago. Explorers ate the almonds and soon, their trees were sprouting all over Europe, particularly in the Mediterranean. Eventually, almonds made their way to North America, namely to the state of California's fertile Central Valley.
Plant Description
Did you know that the almond is not a nut at all, but a fruit? While it is commonly classified as a tree nut, the almond actually is a type of drupe. The English word "almond" is derived from the French amande, which in turn is a derivative of the old Latin word for almond, "amygdalus", meaning "tonsil plum." Almonds are grown in trees, which can grow as high as ten meters tall and produce beautiful white and pale pink flowers. Almonds are usually mature in the fall, and are ready to be harvested around seven to eight months after being planted. While almond trees grow in the wild in various parts of the world, California's Central Valley is the only place where almond trees are grown commercially. The oil is derived from the almond species Prunus dulcis, aka, "sweet almonds". This oil is also a very pale yellow in color.
Aroma
While almonds are generally very sweet smelling, sweet almond oil has only a faintly sweet, nutty aroma. When consumed, it is very sweet, so use sparingly!
What Earthies are Saying About This Oil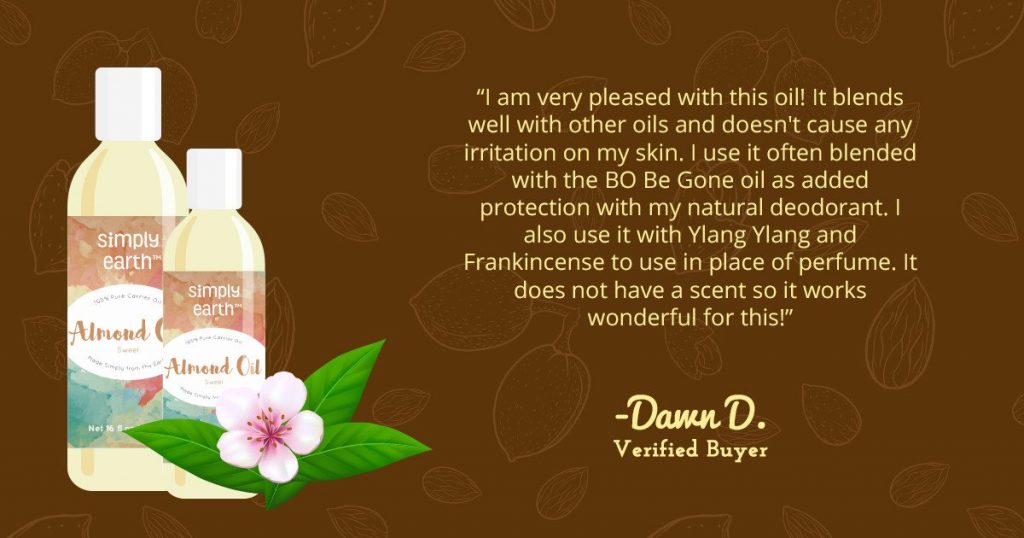 Things to Remember When Using Sweet Almond Oil
THOSE WITH NUT ALLERGIES SHOULD NOT USE ALMOND OIL. 
Never ingest any essential oil, even if it's generally regarded as safe. For more information on why we don't ingest essential oils, check out this blog post.
These statements have not been evaluated by the Food and Drug Administration. This product is not intended to diagnose, treat, cure, or prevent any disease.
What are Your Favorite Benefits of Sweet Almond Oil?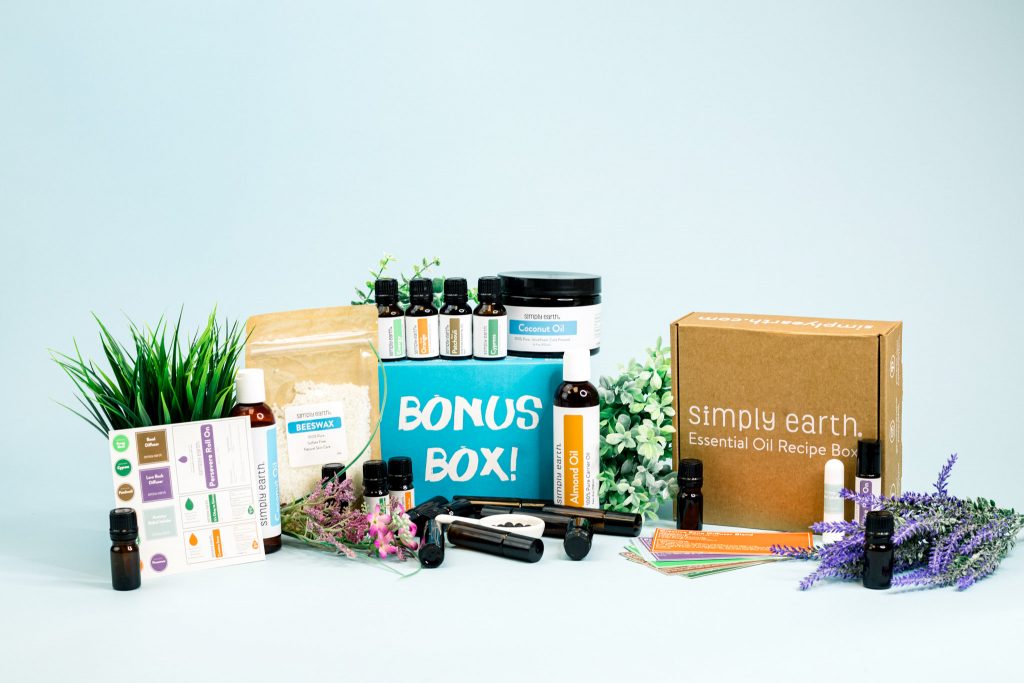 This oil has so many benefits, and it can be combined with essential oils to make it even better, WHAT?! How will you use this amazing oil in your life? Let us know by commenting below or connecting with us on social media @fromsimplyearth!
Subscribe today to our Essential Oil Recipe Box. Each month, you can receive four full-size 100% pure essential oils, six natural recipes, plus the ingredients you need to make them in our Recipe Box.
With the box, you'll learn new ways to use essential oils, make more essential oil roll-on recipes, and have the peace of mind that you are making your home toxin-free. This month of April, we focus on Home Detox. This box is worth over $150 if priced from the Big Essential Oil Companies. You get all those goodies from Simply Earth for only $39. Go get it!
Resources:
https://www.justalmonds.com/About_Almonds_s/21.htm
http://oilhealthbenefits.com/almond-oil/
https://www.drugs.com/npp/almond-almond-oil.html
http://www.nutsforalmonds.com/history.htm
http://www.livestrong.com/article/119876-health-benefits-sweet-almond-oil/