Today, we use myrrh for its various health benefits; in aromatherapy, in diffusers, as a liniment or a salve, as well as a topical remedy for different kinds of pain and health concerns. Myrrh can be found in many parts of the world; Somalia myrrh trees are the source of Simply Earth's all-natural essential oil. Read this post for Myrrh's most beneficial uses and properties.
What I Love About This Oil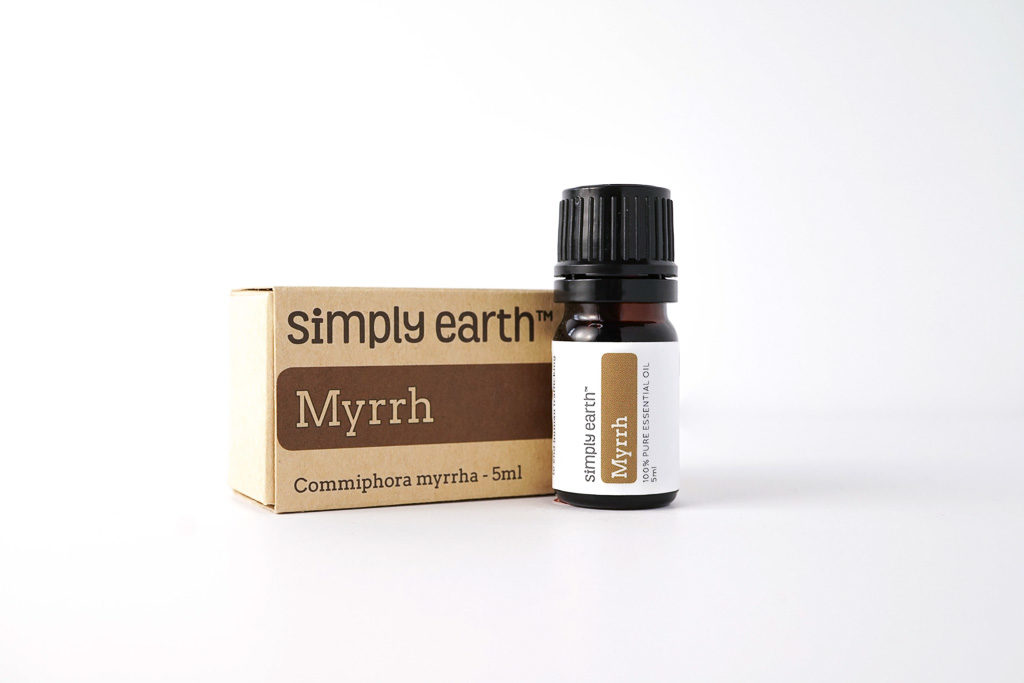 It's something that I remember reading about when I was younger in Bible stories, and now I get to work hands-on with it! It has so many amazing benefits, it's no wonder the wise men brought this to Jesus when he was born!
Recipes, Benefits, and Uses of Myrrh Essential Oil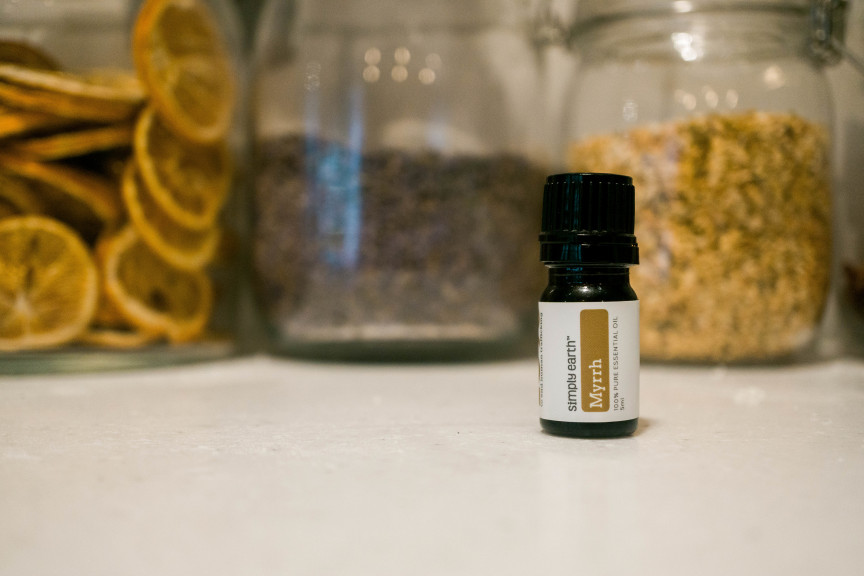 Supports Skin Healing
The Myrrh oil has various anti-bacterial benefits which make it helpful in fighting all kinds of bacteria*. Other than killing bacteria on the skin, it can also help promote healthier skin by soothing and moisturizing cracked and flakey skin.
This healing skin oil can help promote better healing in damaged skin or even scars.
Healing Skin Oil
Ingredients:
Directions:
Blend the essential oils in carrier oils.
Apply gently to damaged skin or scars 5-6 times daily over 2-3 months.
The skin on our scalp can often get overlooked, but it's very important to keep it nourished as well other than the usual shampooing and conditioning.
Nourishing Bald Head Balm
Ingredients:
Directions:
Add essential oils and Jojoba Oil to the bottle, shake well.
Massage a few drops into clean, slightly damp scalp once a day.
Best used at night to avoid any photosensitivity possibilities.
For dry skin all over the body, body butters are always a good idea! They keep my skin feeling soft and smooth throughout the night.
Dry Skin Butter
Ingredients:
Directions:
1. Add to .75 ounce Shea Butter mixed with .25 ounce Jojoba Oil.
2. Apply at night before bed
Calms the Mind
Similar to most essential oils, the Myrrh Essential Oil has calming properties which makes it very popular in aromatherapy. It is also used as a massage oil or in lotions because of its distinct and aromatic smell. This inhaler recipe is perfect for those constantly on the go.
Relax Personal Inhaler
Add to a personal inhaler and inhale as needed.
Anti-Fungal
As aforementioned, this essential oil has anti-bacterial* and other skin-nourishing properties. It is also anti-fungal and can help with minor fungal problems such as athlete's foot, ringworms, or bad breath*. This toenail cream recipe is easy, cheaper than drugstore-bought ointments, and is all-natural.
Toenail Cream
Mix all ingredients well; store in an airtight container. Apply on the affected area 2-3 times daily or as needed.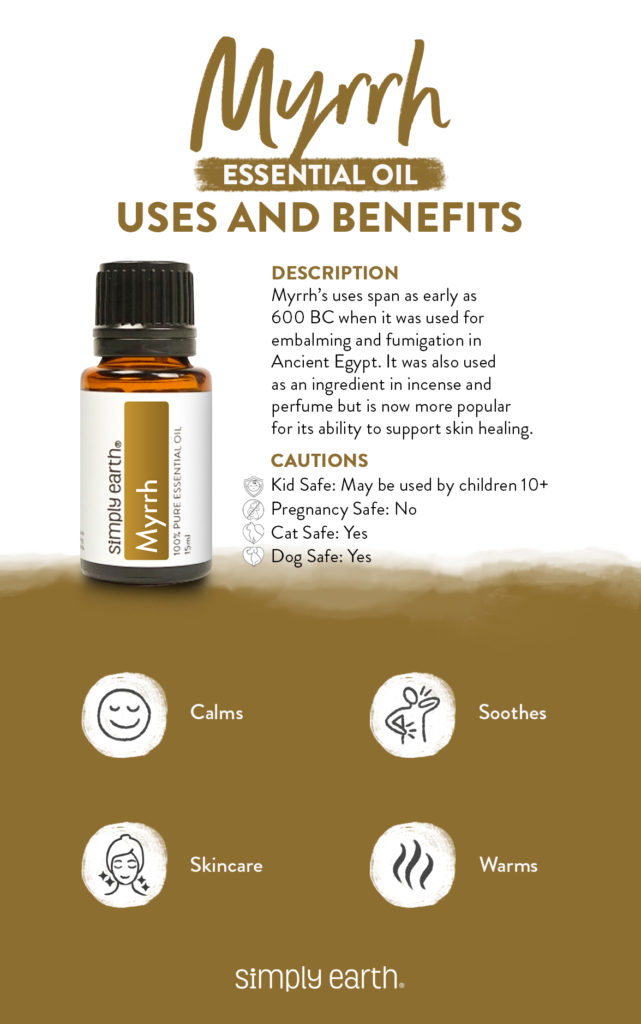 Myrrh Essential Oil Blends Well With…
Myrrh blends well with Bergamot, Copaiba Balsam, Cypress, Frankincense, Geranium, Grapefruit, Juniper Berry, Patchouli, Pine, and Sandalwood essential oils.
Science, History, and Background of This Oil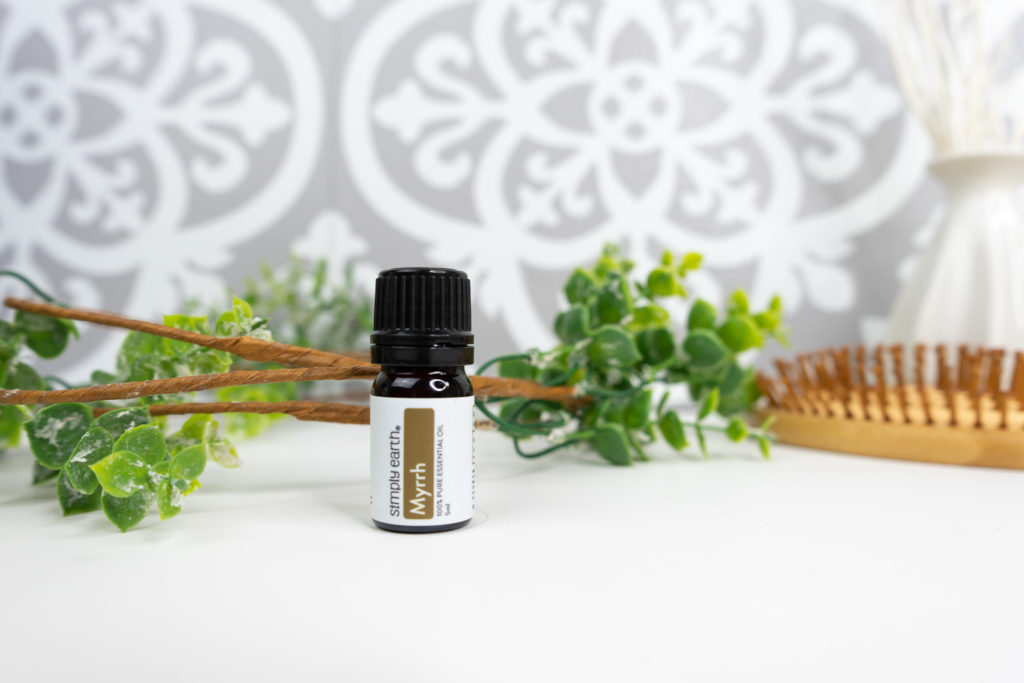 Countless holy historic events are attached to Myrrh Essential Oil, the exodus of Moses, a gift of the magi, and the crucifixion to name a few. Myrrh is believed to have been mixed with wine and given to people awaiting execution to reduce pain. It's possible it was given to Jesus mixed with the wine mentioned in Matthew 27:34 Some translations verses say 'gall' some say 'myrrh'.
Its main constituents are as follows: Furanoeudesma 1, 3-diene, curzerene.
What Earthies are Saying About This Oil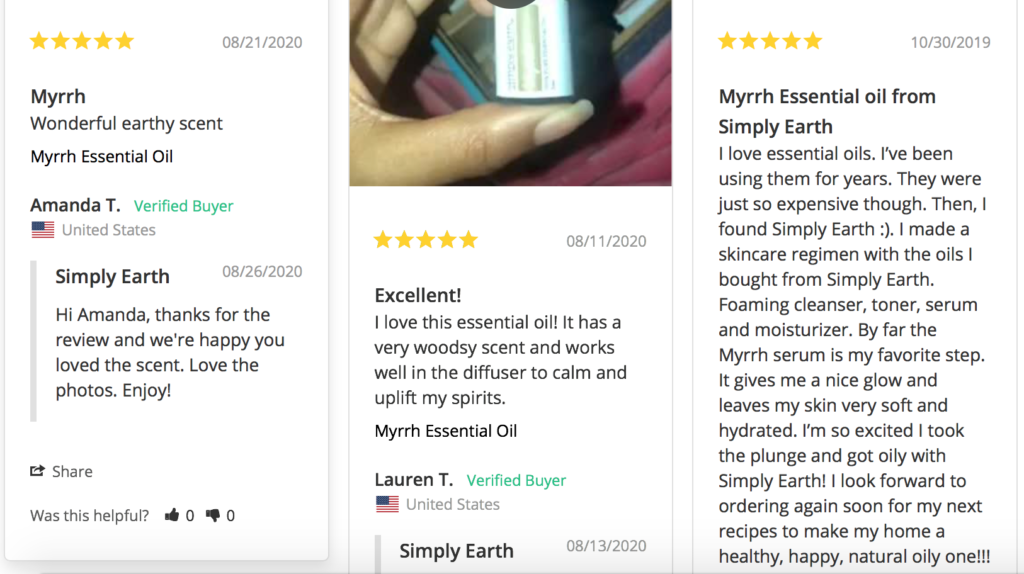 Things to Remember When Using This Oil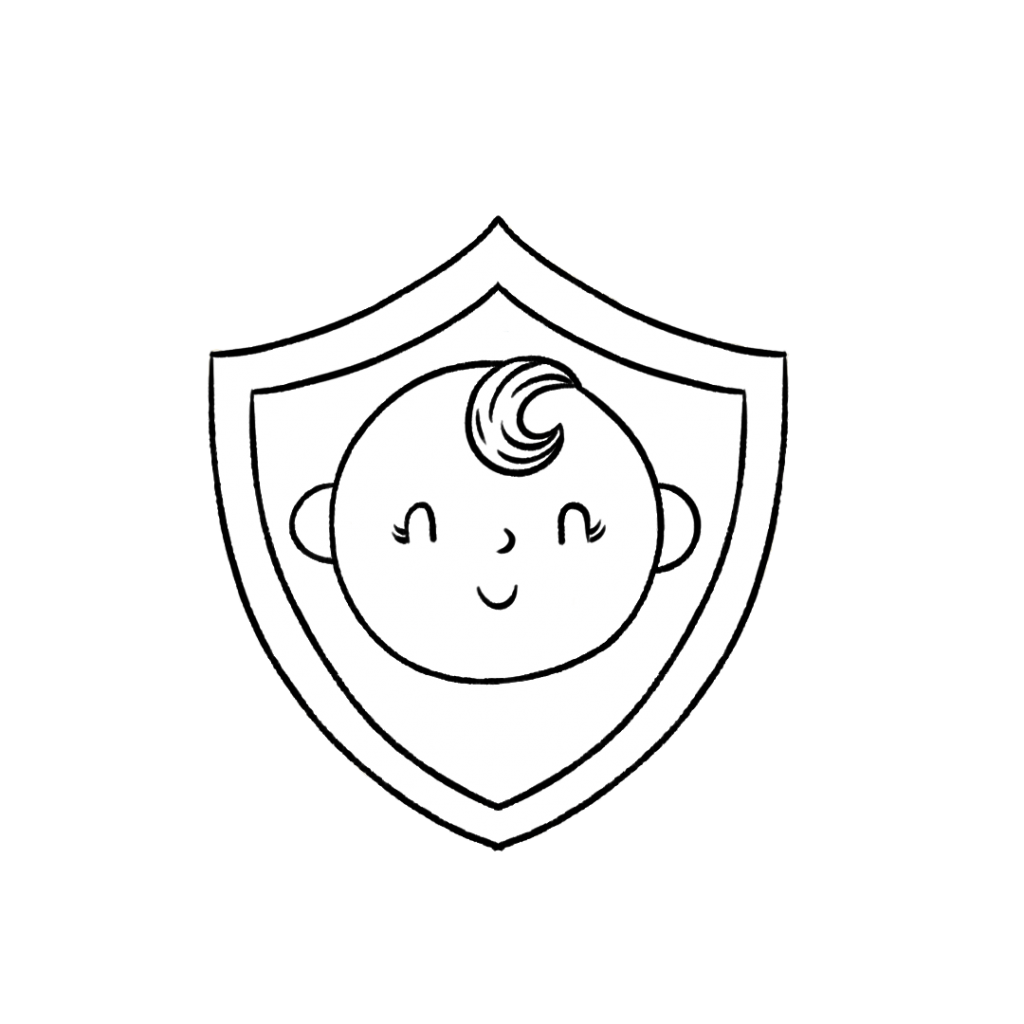 This oil is safe to use with children ages 10+.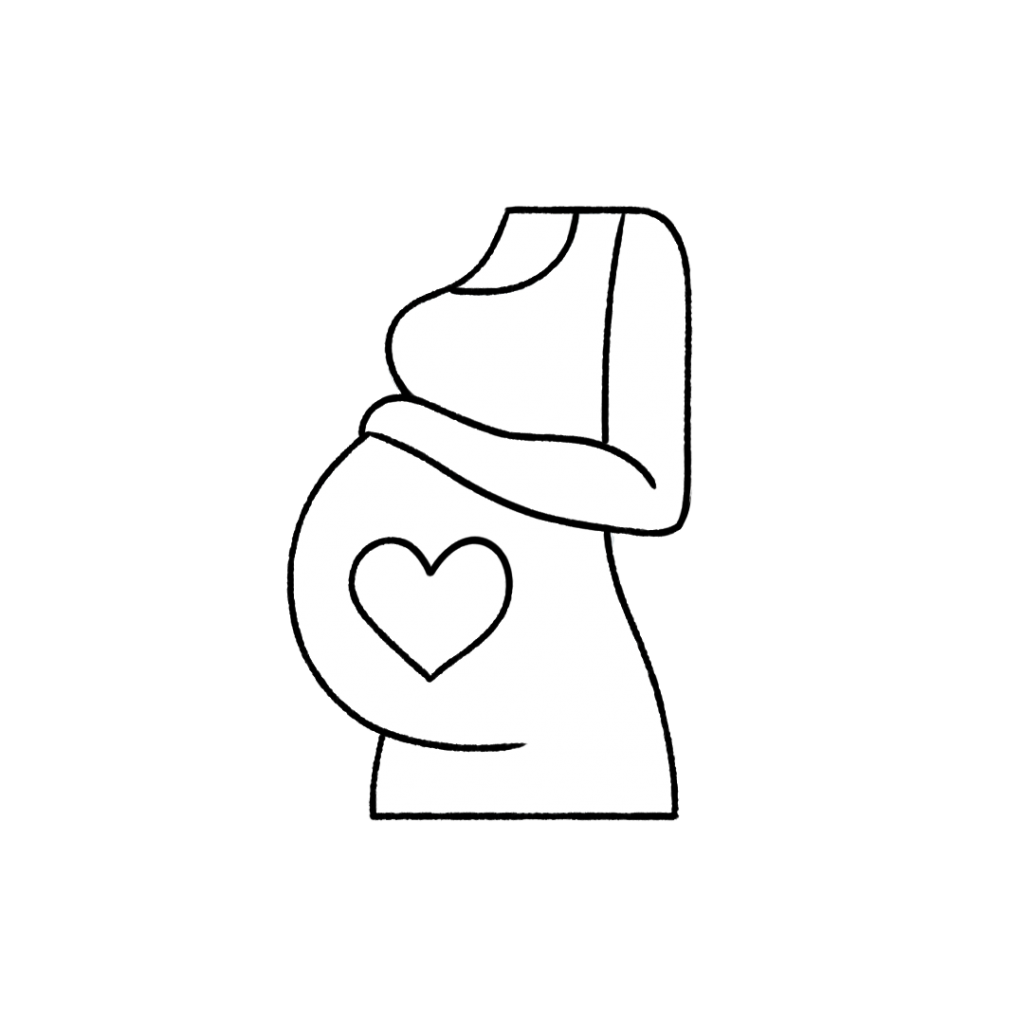 Do not use this oil while pregnant or breastfeeding. Always consult your doctor before use.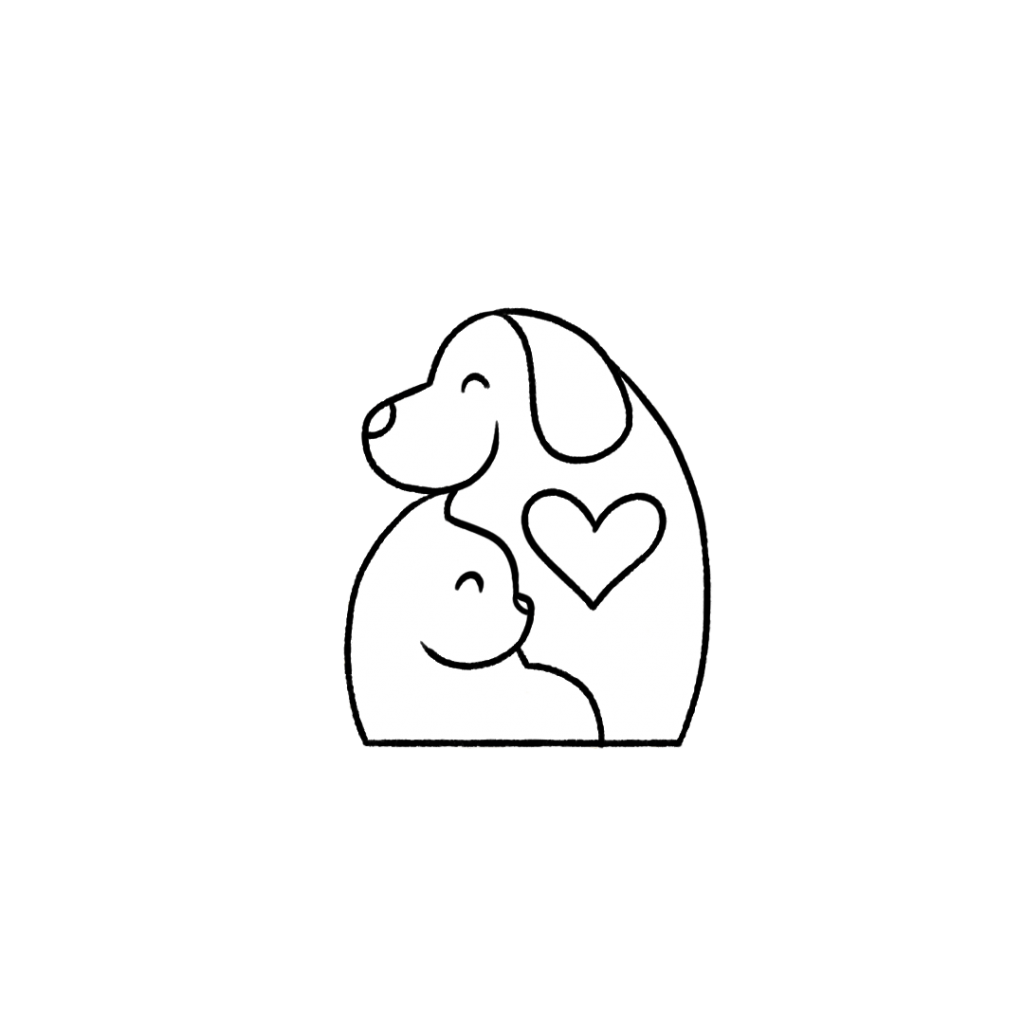 This oil is generally safe to use with dogs and cats. Always make sure they have a way to escape if the oil starts to irritate them.
Never ingest any essential oil, even if it's generally regarded as safe. For more information on why we don't ingest essential oils, check out this blog post.
*These statements have not been evaluated by the Food and Drug Administration. This product is not intended to diagnose, treat, cure, or prevent any disease.
What Will You Make First?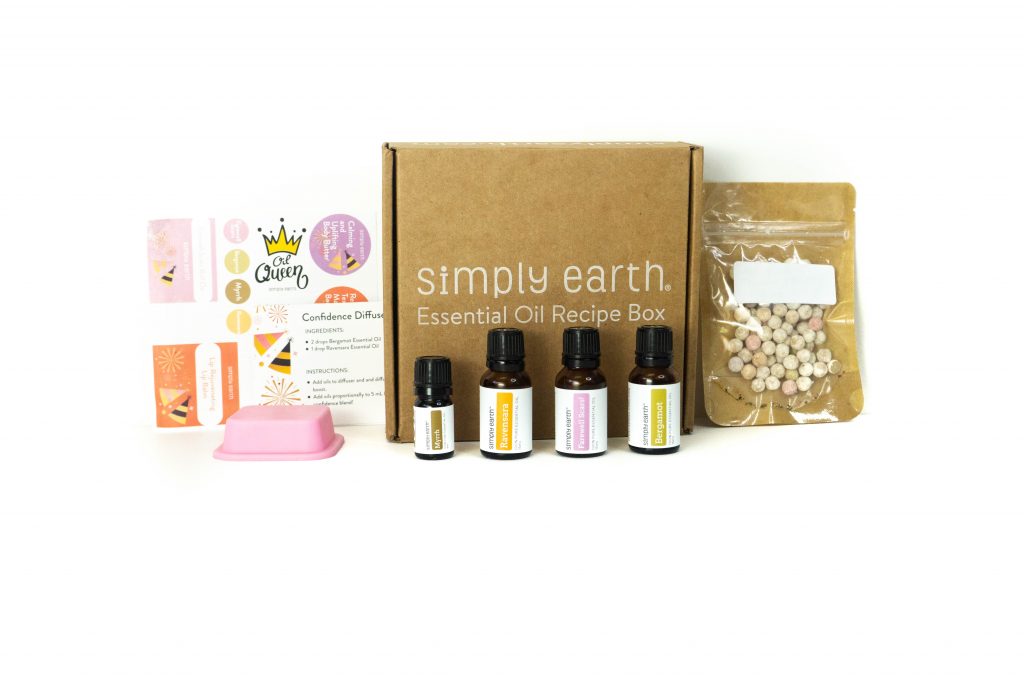 With so many benefits and uses of Myrrh Essential Oil, you can have a wide variety of new things added to your collection! Let us know what you make first my commenting below or connecting with us on social media @fromsimplyearth!
Subscribe today to our Essential Oil Recipe Box. Each month, you can receive four full-size 100% pure essential oils, six natural recipes, plus the ingredients you need to make them in our Recipe Box.
With the box, you'll learn new ways to use essential oils, make more essential oil roll-on recipes, and have the peace of mind that you are making your home toxin-free. This month of April, we focus on Home Detox. This box is worth over $150 if priced from the Big Essential Oil Companies. You get all those goodies from Simply Earth for only $39. Go get it!