Are you a DIY enthusiast? Then, you will surely love this new recipe!
Carrier oils are a big thing in the DIY world. Most all-natural recipes need a carrier oil as a base or to dilute the essential oils. After years spent doing so many toxin-free recipes, I think I have used most if not all of the carrier oils. Now, let's literally "SPICE" our DIY recipes up a bit by using turmeric-infused oil.
Through turmeric infusion, we can have another carrier oil to use in our all-natural recipes like a massage blend, face mask, and more. This recipe is especially great to use as a carrier oil for skin recipes as turmeric has many wonderful properties that can make the skin look good and feel good.
You can also check out Calendula Infusion and Peppermint Infusion for more fun ways to make your own carrier oil.
What I Love About This Infusion Recipe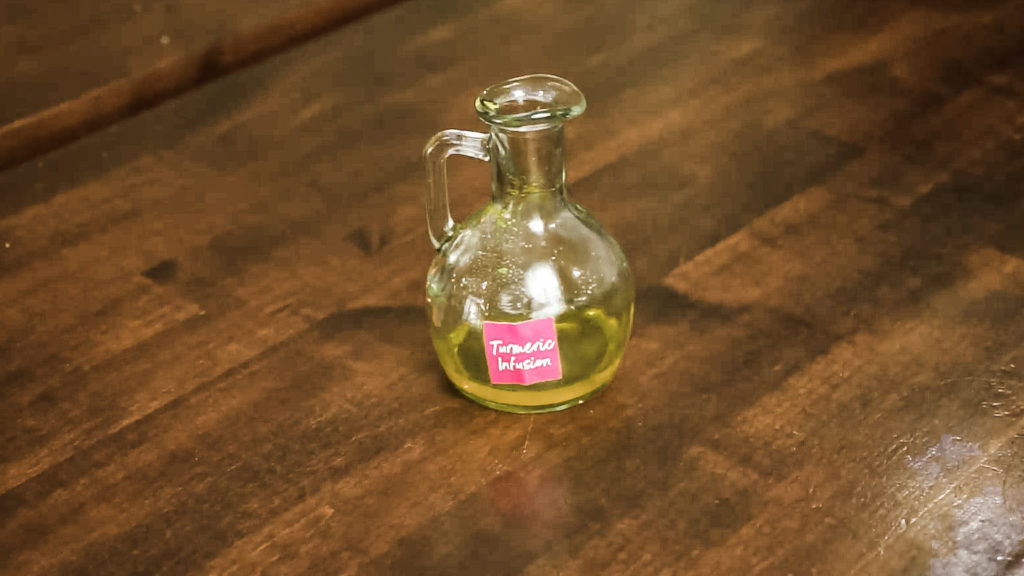 I love the versatility of this recipe. It combines the benefits of almond oil and turmeric in one. It really makes any recipe a little bit MORE than what it is intended to do.
Unlikely to Stain Your Skin
The first time I tried turmeric in a recipe I used it as a natural colorant for soap. When I went to test the recipe, the turmeric had turned my hands bright yellow! I was able to wash most of it off so that my yellow tinted hands weren't that noticeable, but when we're trying to use the benefits of Turmeric for beautiful skin stained yellow skin is not ideal!
When we infuse it with an oil like we do with this recipe, you can get the amazing benefits from the spice without staining your skin!
Of course, it's best to do a patch test to make sure this turmeric infusion won't stain your skin.
Benefits of Turmeric in Skin Care
Turmeric has been shown to help improve the appearance of skin with these benefits
Brightening the skin
Helps even skin tone
Naturally cleanses the skin
Boosts your skin's natural rejuvenation process
In short, your skin is going to love this turmeric infusion!
What's in This Turmeric Infusion Recipe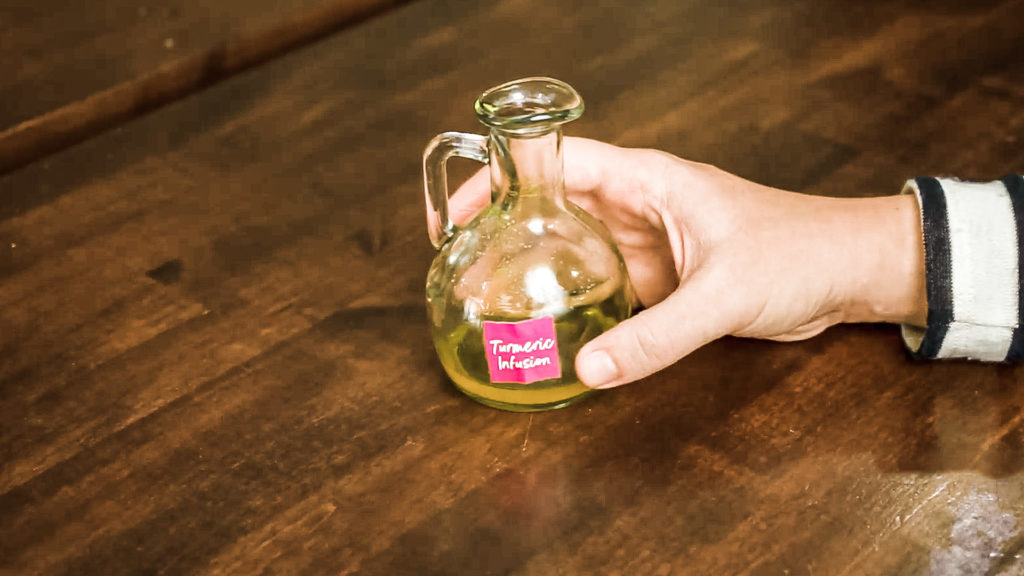 Turmeric
Turmeric is a common culinary spice, but it is useful way beyond the kitchen. It is well-known to be an amazing ingredient for the skin, thanks to its ability to fight free radicals. Turmeric is also a soother, which makes this recipe great for massage blends.1
Almond Oil
Almond oil is our carrier oil of choice for this recipe. Since turmeric-infused oil recipes are mostly used topically, we chose a light oil for the skin.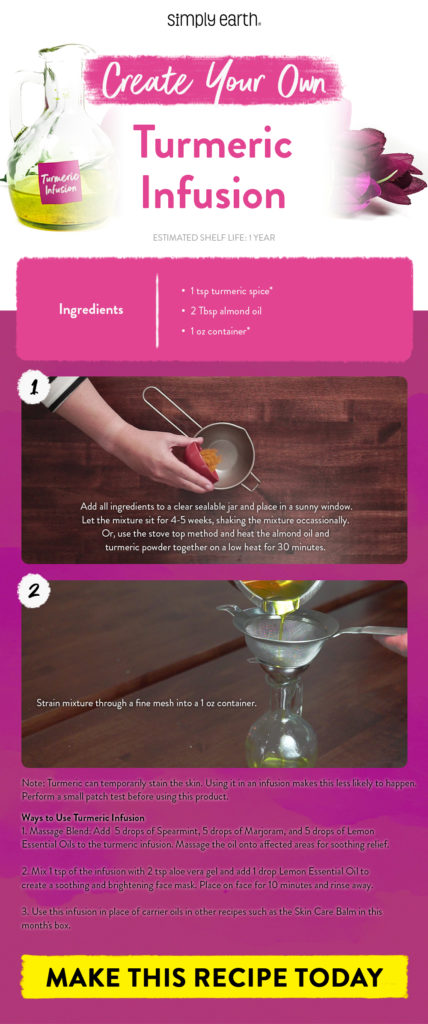 Things to Remember When Using This Recipe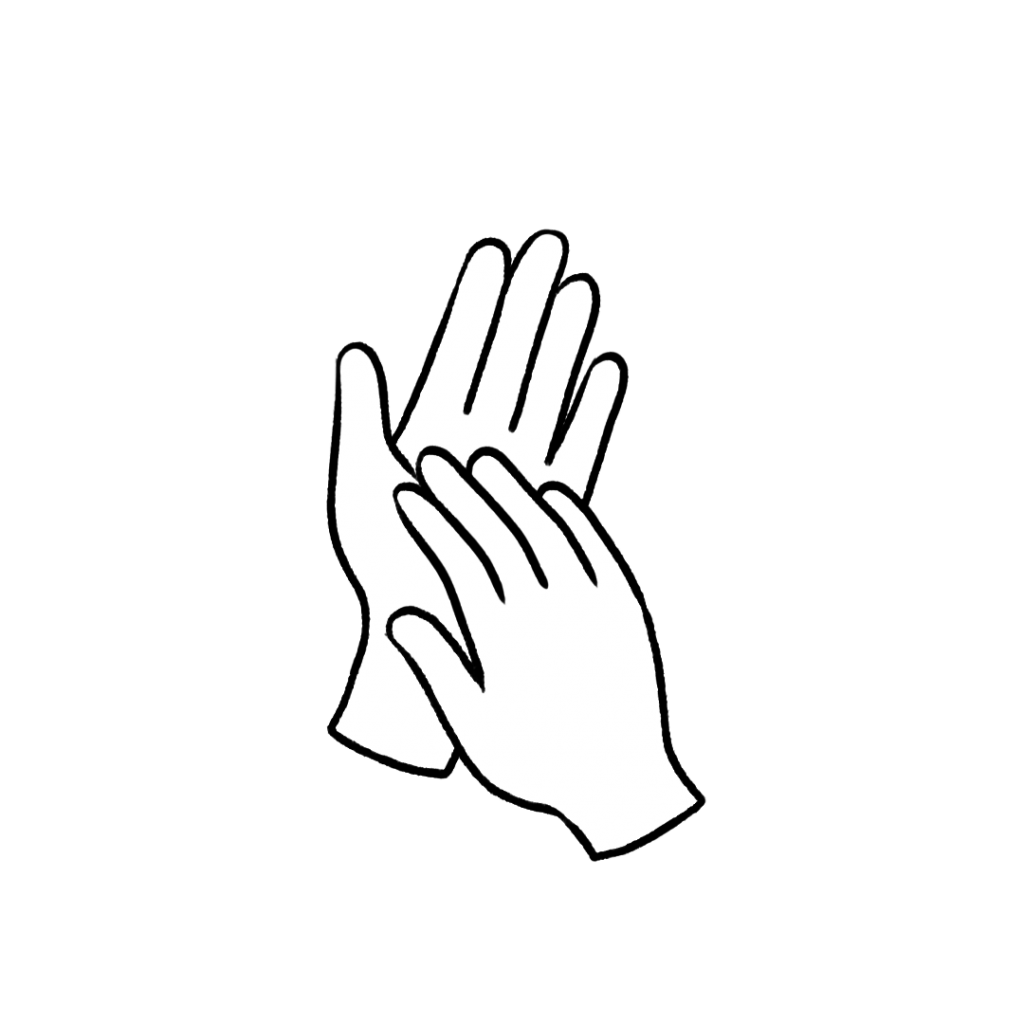 Always dilute an essential oil when using it on the skin. This essential oil recipe is unlikely to cause skin irritation when diluted properly. If the oil has been oxidized (left with the cap off for long periods of time) it is more likely to cause skin irritation. Check out this dilution chart for diluting this essential oil properly.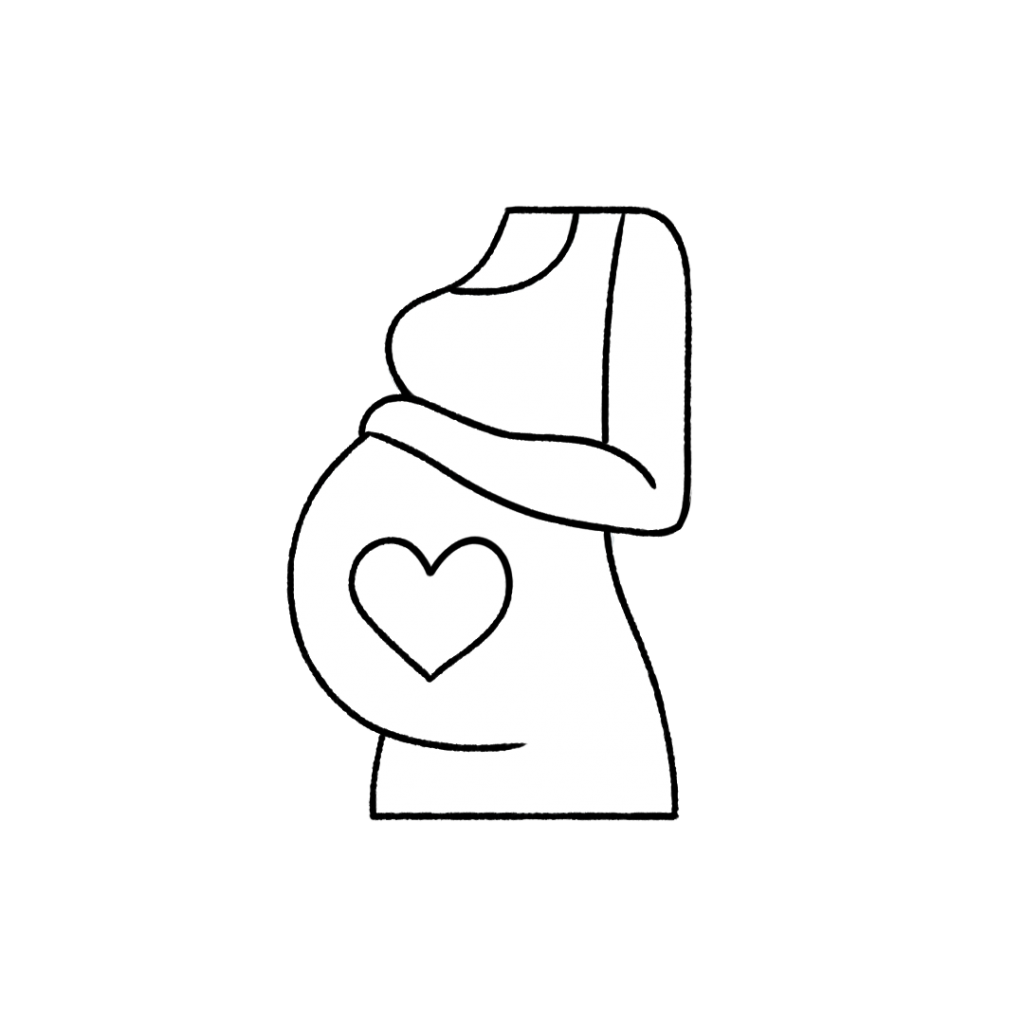 This recipe is generally safe to use if you are pregnant. Consult your doctor prior to use.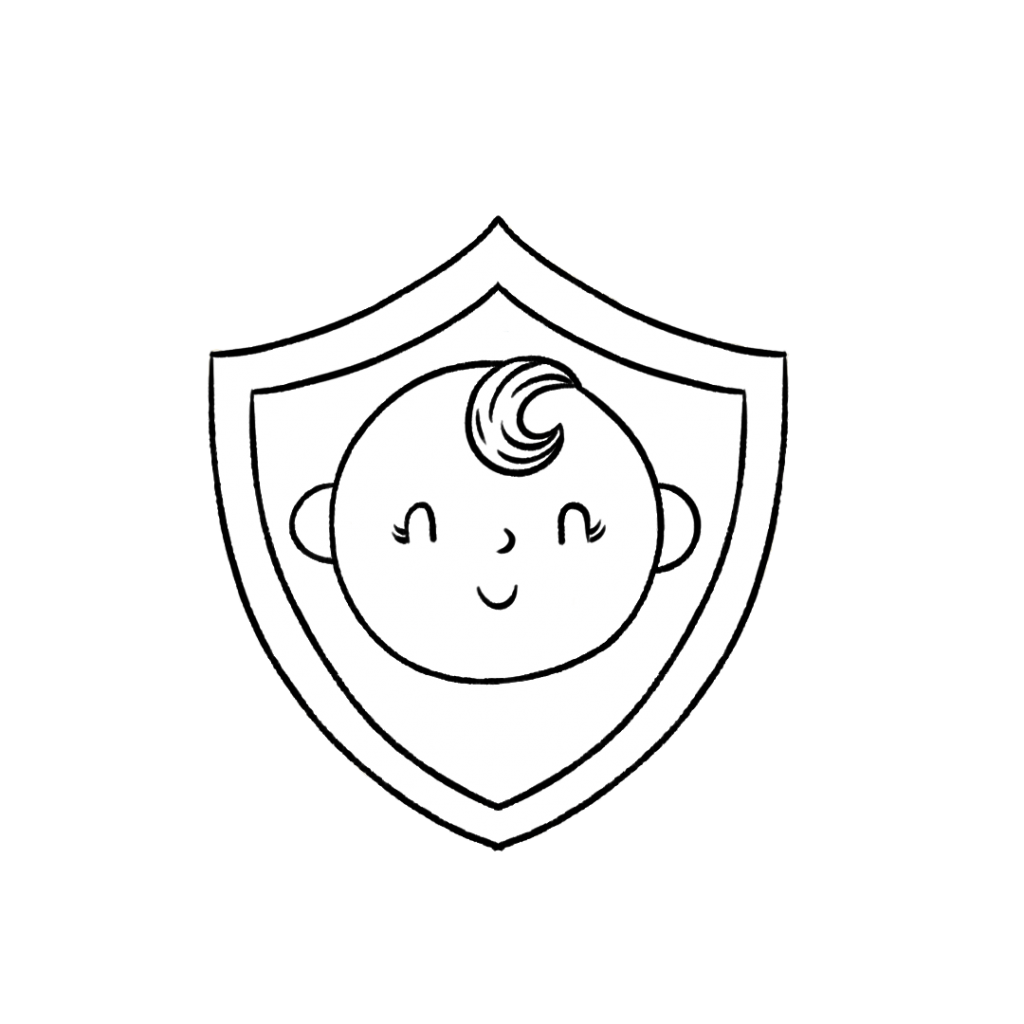 This essential oil recipe is safe to use with kids aged 10+.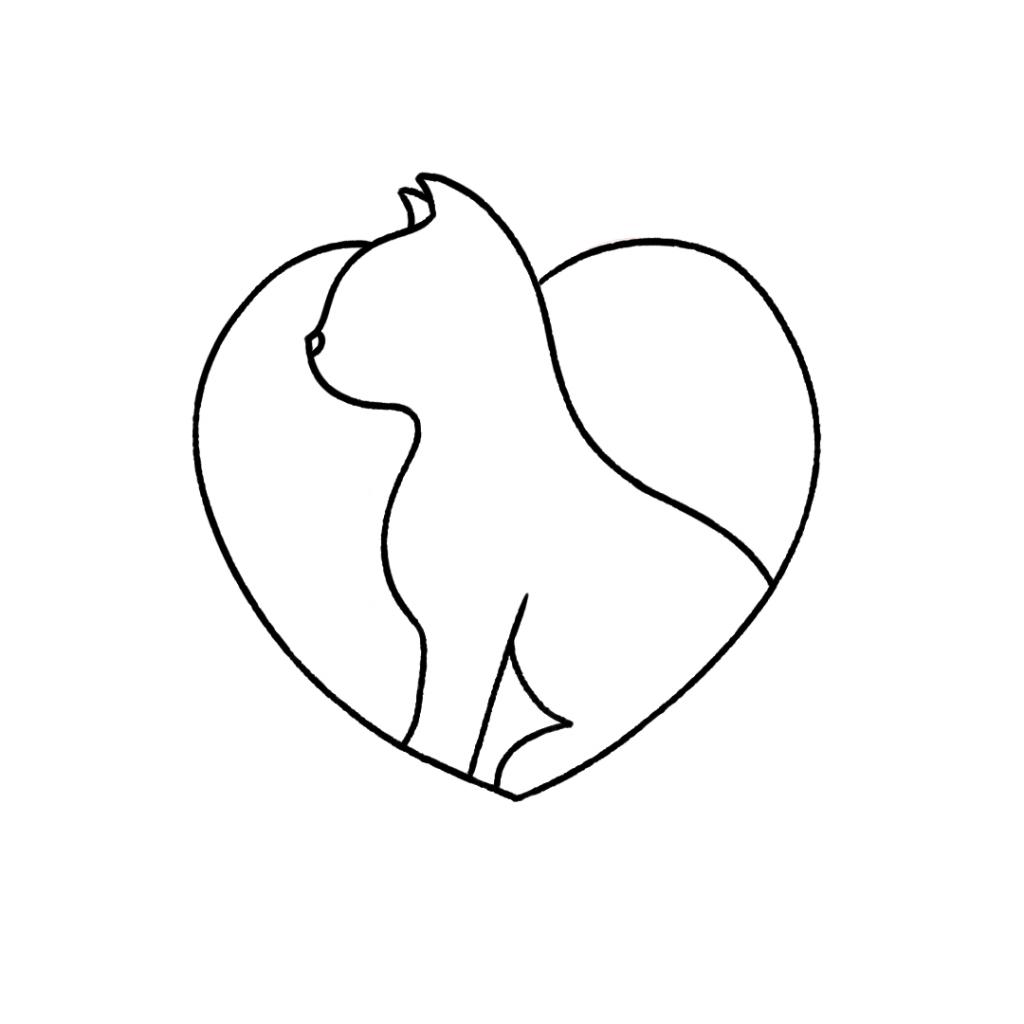 This essential oil recipe is generally safe to use around cats. For more information on using essential oils with cats, check out this blog post.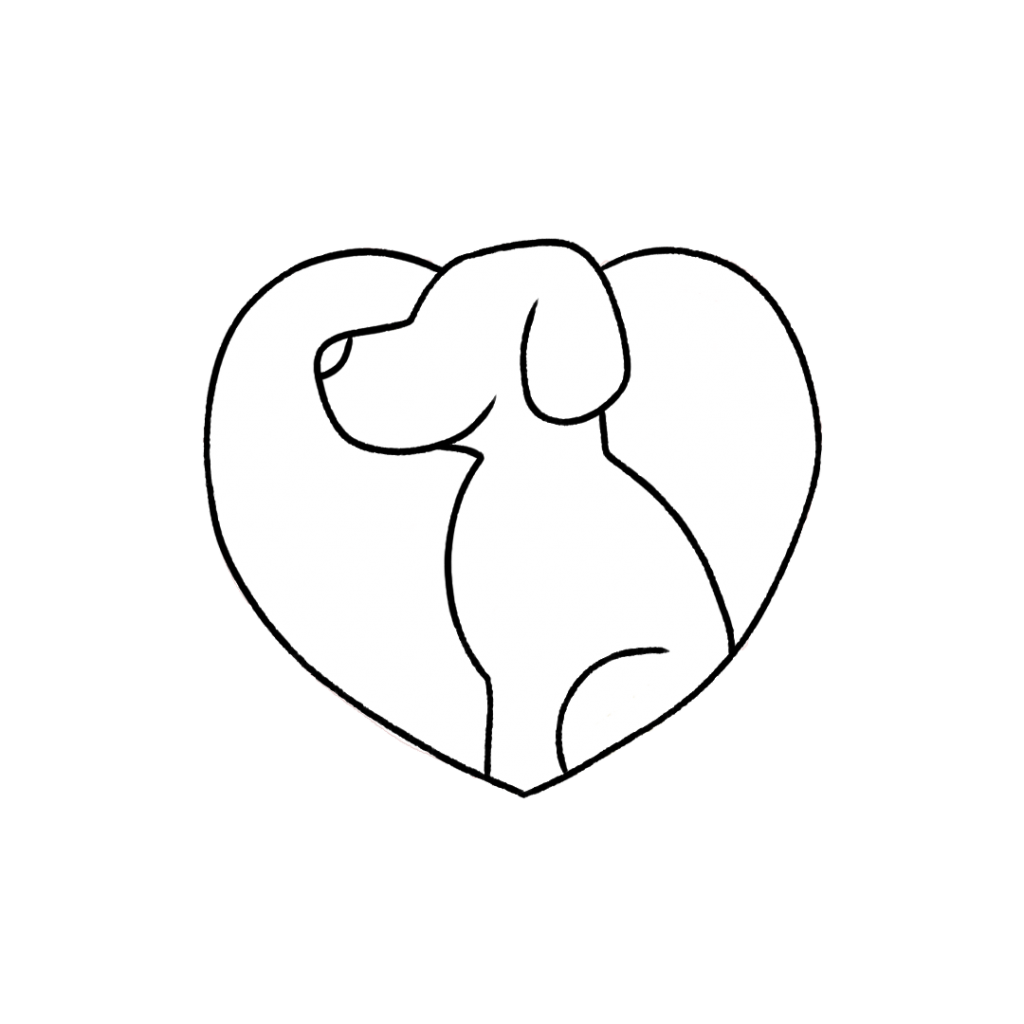 This essential oil recipe is generally safe to use around dogs. For more information on using essential oils with dogs, check out this blog post. 
We don't recommend ingesting this recipe unless under the direction of a doctor certified in aromatherapy. For more information on why we don't ingest essential oils check out this blog post.
*Please note: This post is a compilation of suggestions made by those that have extensively used essential oils and has not been verified scientifically with clinical tests nor reviewed by medical experts. It is anecdotal information and should be treated as such. For serious medical concerns, please consult your doctor. The statements given in this blog post have not been verified by the FDA
Turmeric Infusion Recipe
Turmeric Infusion: A Versatile Oil for Various Recipes
Time: 30 minutes or 4-5 weeks
Est. Shelf Life: 1 year
Yield: 1 oz
Ingredients
1 tsp turmeric spice*

2 Tbsp almond oil

1 oz container*
Directions
Add all ingredients to a clear sealable jar and place in a sunny window. Let the mixture sit for 4-5 weeks, shaking the mixture occasionally. Or, use the stove top method and heat the almond oil and turmeric powder together on a low heat for 30 minutes.
Strain mixture through a coffee filter into a 1 oz container.
Ways to Use Turmeric Infusion:
Massage Blend: Add  5 drops of spearmint, 5 drops of Marjoram, and 5 drops of Lemon essential oils to the turmeric infusion. Massage the oil onto affected areas for soothing relief. 
Face Mask: Mix 1 tsp of the infusion with 2 tsp aloe vera gel and add 1 drop Lemon Essential Oil to create a soothing and brightening face mask. Place on your face for 10 minutes and rinse away.
Carrier Oil: Use this infusion in place of carrier oils in other recipes such as the Skin Care Balm in this month's box.
Notes
Note: Turmeric can temporarily stain the skin. Using it in an infusion makes this less likely to happen. Perform a small patch test before using this product.
A Wonder Spice Indeed!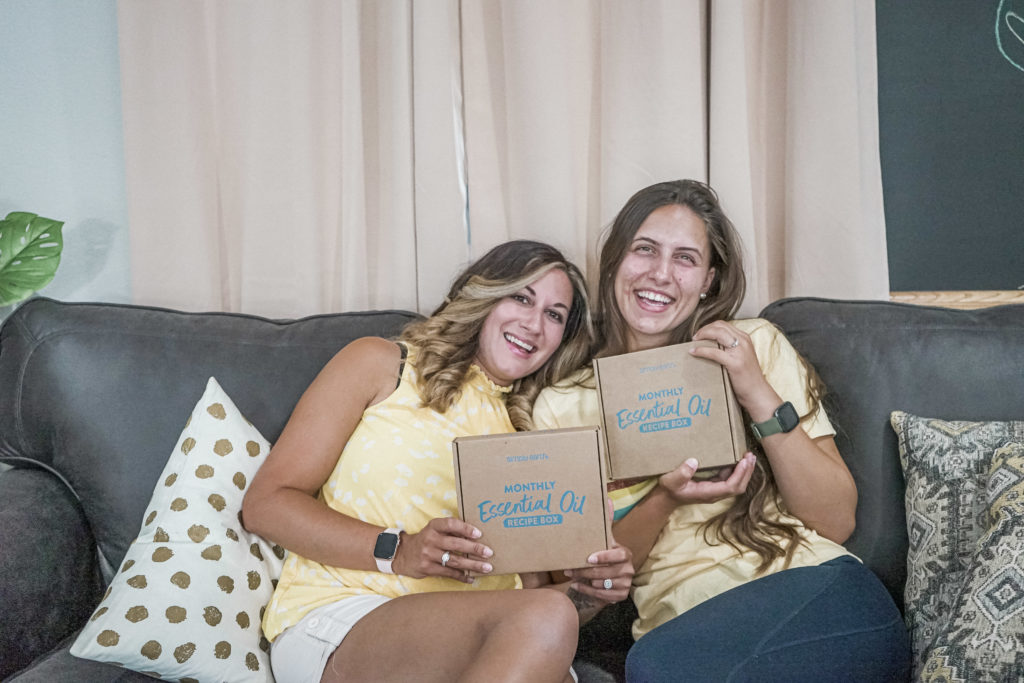 If you are creative enough, there are a lot more ingredients right in your cupboard that can be used for DIY all-natural recipes. What is your favorite spice as a DIY ingredient? We'd love to hear about it on social media with @fromsimplyearth and in the comments below!
Are you ready to master essential oils? You get FREE access to our Hero Course if you subscribe to our Monthly Essential Oil Recipe Box. With it, you'll receive 4 pure essential oils, 6 aromatherapist-created recipes, and more—all delivered directly to your door each month for just $44.99/month. Plus, we'll give you a FREE Big Bonus Box!
Don't miss out on the all-natural fun that comes with the Recipe Box; get yours today: Subscribe now to learn how to use essential oils!
---
References:
Menon VP, Sudheer AR. Antioxidant and anti-inflammatory properties of curcumin. 2007