If you have been following Simply Earth recipes, you'll know how we love doing recipes for baths! Our lovely aromatherapists just can't get enough, and this time they formulated a natural bath salts recipe with a fun twist!
This is not your ordinary bath soak. For this recipe, we combined salts and clay to form a fun striped color product that works great as a gift! It not only looks great, but it also works effectively in promoting relaxation and maintaining healthy skin. You and anyone you'll give this recipe to will surely love it!
Here's everything you need to know about this recipe, and more.
What I Love About Natural Bath Salts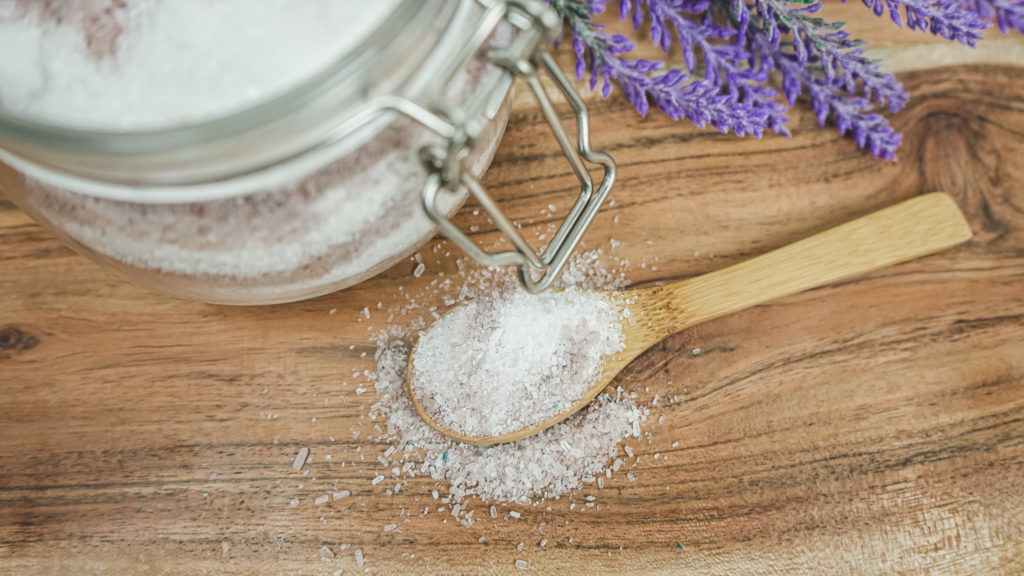 I love the combined benefits of the Epsom Salt and the Purple Brazilian Clay for my skin. They are both really soothing and work really well for bath salts. I always look forward to taking long relaxing baths with this recipe.
What's in This Purple Striped Bath Salt Recipe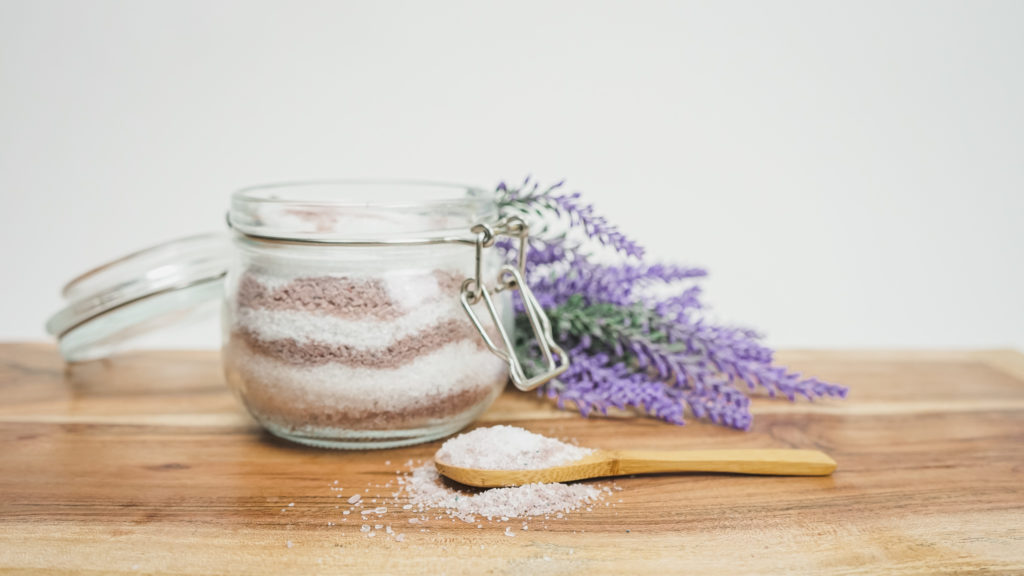 Epsom Salt
Epsom Salt is most popularly used in baths because of its soothing properties. Many people find Epsom Salt to soothe various symptoms including minor aches, tired muscles, and even swelling1.
Fractionated Coconut Oil
We used fractionated coconut oil as a carrier oil for this recipe to dilute the essential oils and make it safe for topical use. Essential oils are potent in nature and must not touch your skin undiluted. You can also use other carrier oils if you prefer so.
Purple Brazillian Clay
To add color to this recipe, we opted to use Purple Brazilian Clay. This doesn't contain any artificial dyes or pigments but is naturally colored from minerals native to Brazil. Aside from the fact that it has exfoliating and cleansing properties, it also helps anchor the scent of the essential oils to the product.
Lavender Essential Oil
Lavender Essential Oil is undoubtedly a wonderful oil for the skin. It has anti-inflammatory, antiseptic, antibacterial, antifungal, and antimicrobial properties that can help maintain and improve skin health. Its calming aroma also eases anxiety and emotional stress and helps improve sleep according to a study.2
Sage Essential Oil
Used for the skin, Sage Essential Oil eliminates toxins, soothes minor skin abrasions, sores and swelling, and reduces the appearance of blemishes and stretch marks. It also has moisturizing and conditioning properties that help soothe dryness and irritation. Its herbaceous scent is both calming and uplifting.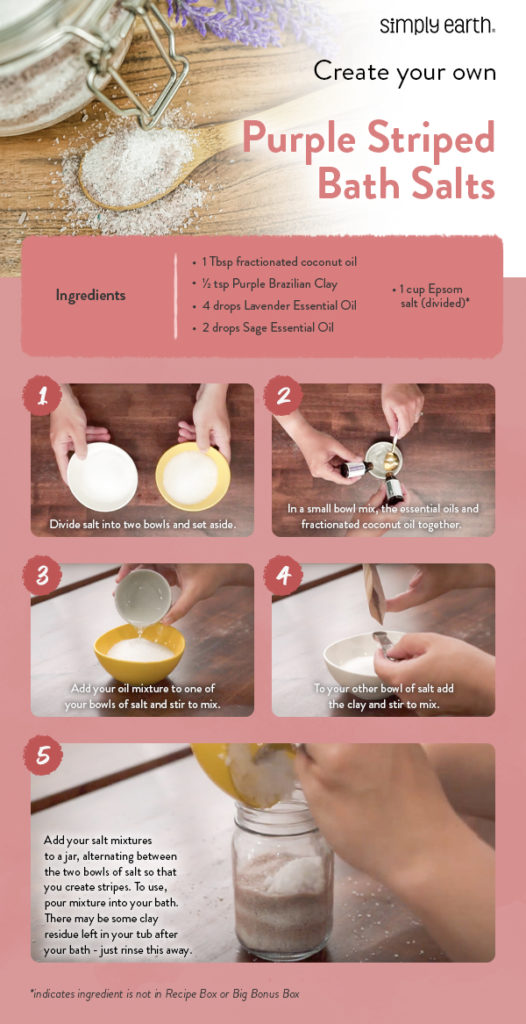 Things to Remember When Using This Recipe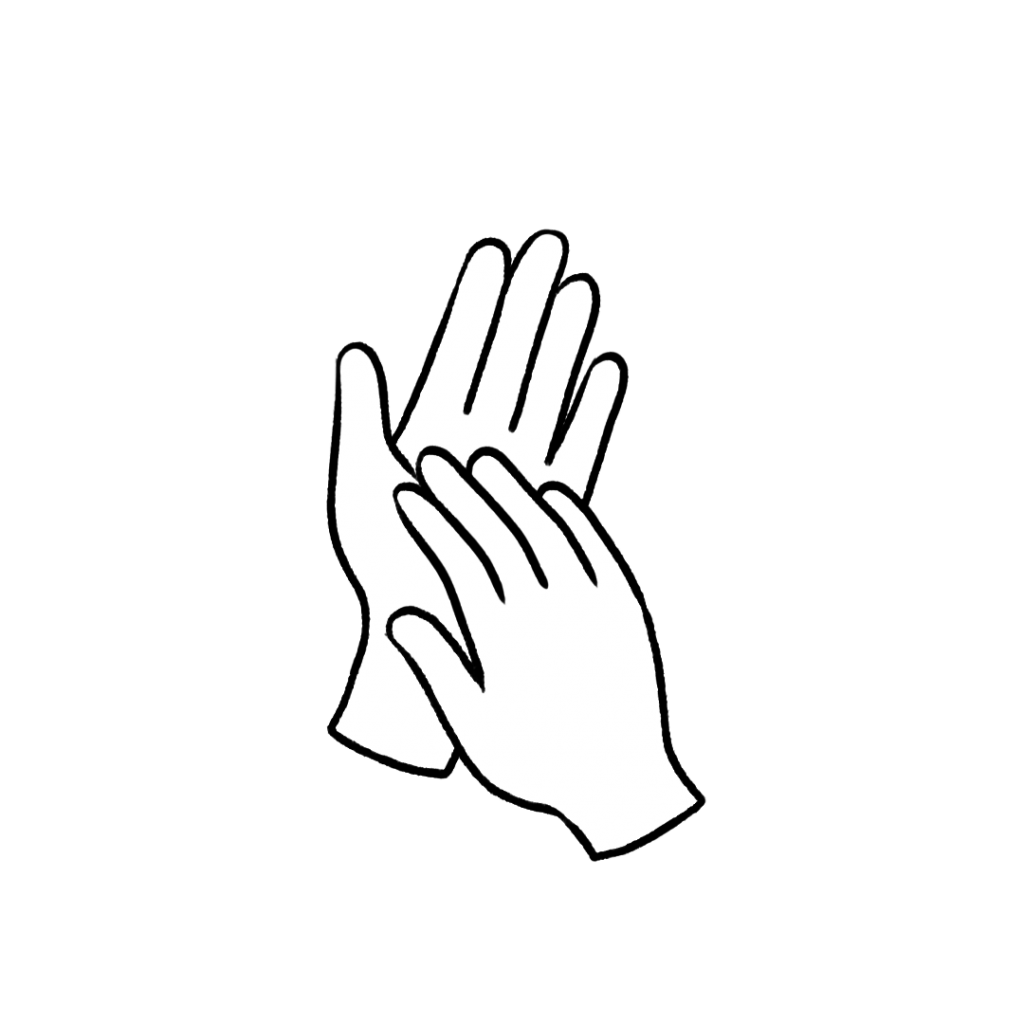 Always dilute an essential oil when using it on the skin. This essential oil recipe is unlikely to cause skin irritation when diluted properly. If the oil has been oxidized (left with the cap off for long periods of time) it is more likely to cause skin irritation. Check out this dilution chart for diluting this essential oil properly.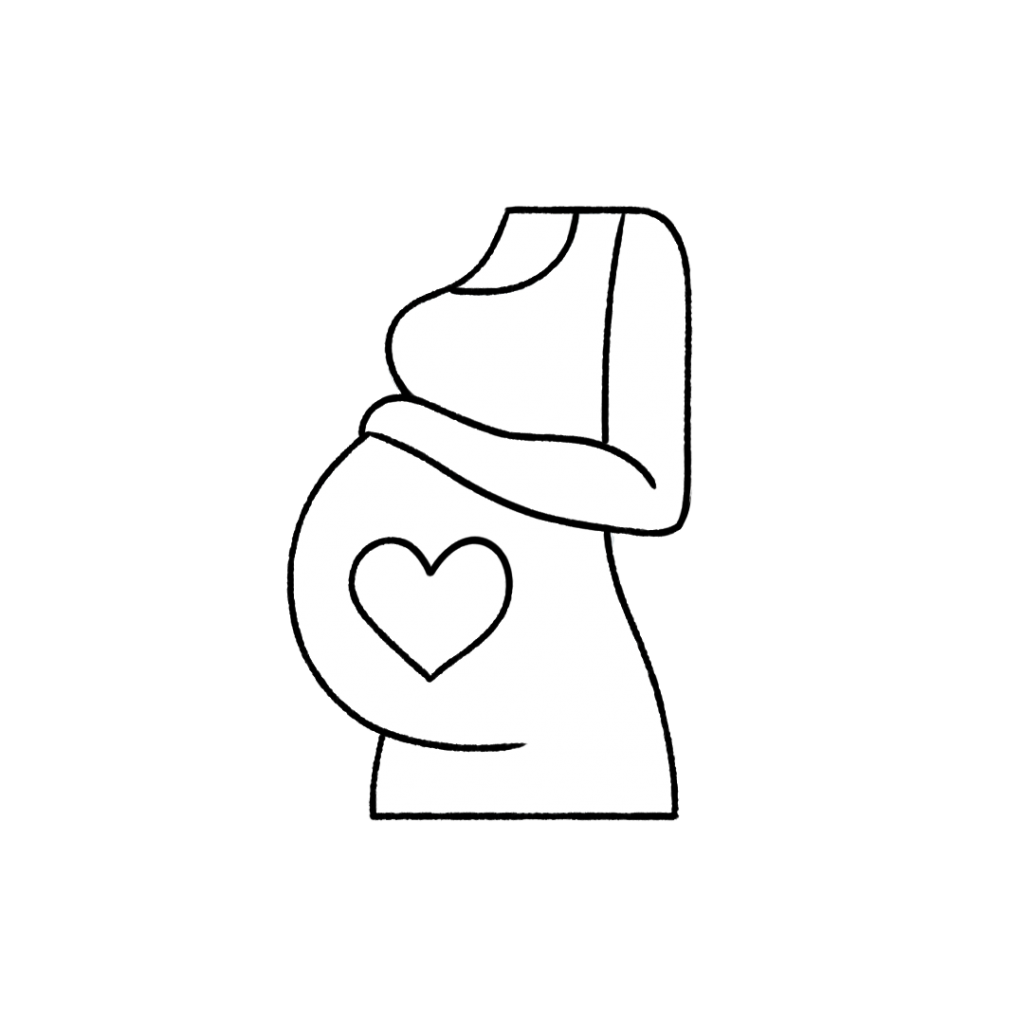 This recipe is not generally safe to use if you are pregnant. Consult your doctor prior to use.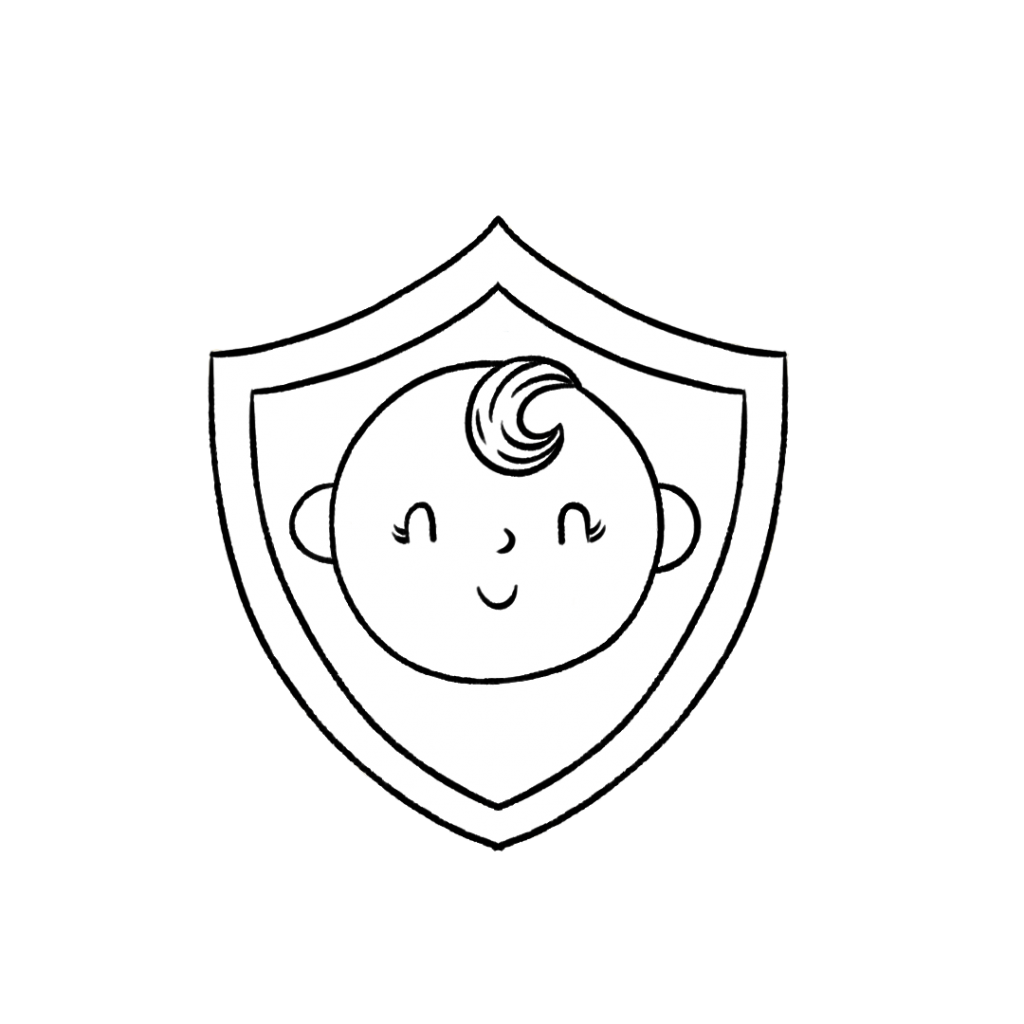 This essential oil recipe is safe to use with kids aged 10+.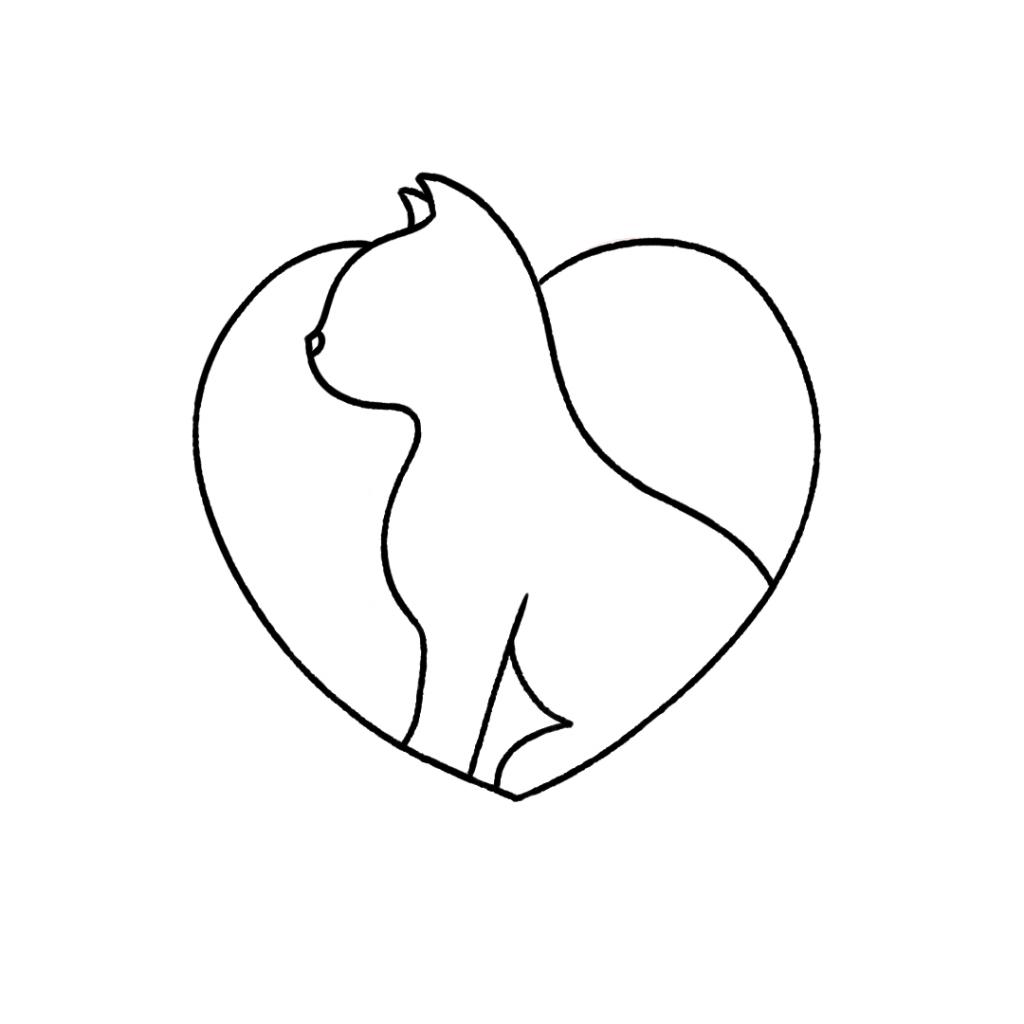 For more information on using essential oils with cats, check out this blog post.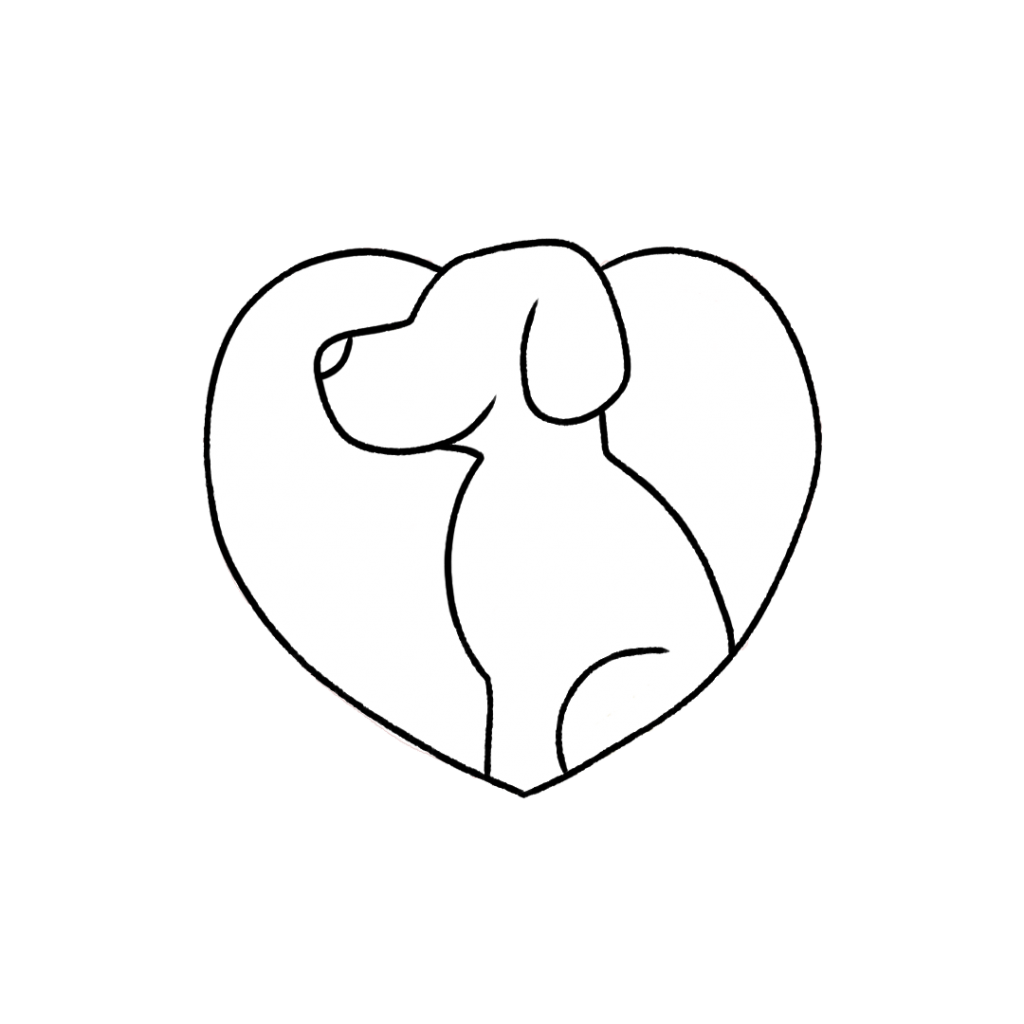 For more information on using essential oils with dogs, check out this blog post. 
We don't recommend ingesting essential oils unless under the direction of a doctor certified in aromatherapy. For more information on why we don't ingest essential oils check out this blog post.
*Please note: This post is a compilation of suggestions made by those that have extensively used essential oils and has not been verified scientifically with clinical tests nor reviewed by medical experts. It is anecdotal information and should be treated as such. For serious medical concerns, please consult your doctor. The statements given in this blog post have not been verified by the FDA
Purple Striped Bath Salts Recipe
Purple Striped Natural Bath Salts Recipe
Ingredients
1 cup Epsom Salt (divided)*

1 Tbsp fractionated coconut oil

1/2 tsp Purple Brazillian Clay

4 drops Lavender Essential Oil

2 drops Sage Essential Oil
Directions
Divide salt into two bowls and set aside.
In a small bowl, mix the essential oils and fractionated coconut oil together.
Add your oil mixture to one of your bowls of salt and stir to mix.
To your other bowl of salt, add the clay and stir to mix.
Add your salt mixtures to a jar, alternating between the two bowls of salt so that you create stripes.
To use, pour mixture into your bath. There may be some clay residue left in your tub after your bath – just rinse this away.
Soak Your Troubles Away!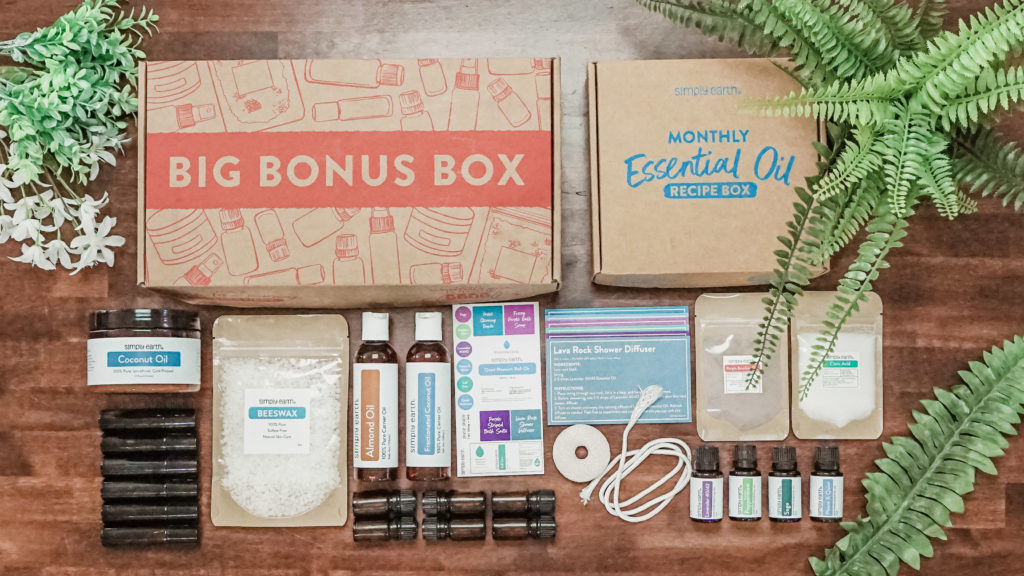 Because baths should also be extra! Take your bath time to a whole new level with our Purple Striped Bath Salts. What other bath products do you want us to develop? We'd love to hear about it on social media with @fromsimplyearth and in the comments below!
To learn more about how to use essential oils, check out our Simply Earth Essential Oil Recipe Box. When you subscribe, we'll ship you a monthly supply of four 100% pure essential oils, six natural recipes like this natural bath salts recipe, and all the quality ingredients you'll need to make your own wonderful products for just $44.99/month. All of these goodies have over $100 value, plus we'll give you a FREE Big Bonus Box when you subscribe. 
Subscribe today to learn how to use essential oils!
---
References:
Whelan C. The What, Why, and How of Epsom Salt Baths, 2020 Apr
Hilaris, ISSN: 2472-0992: Journal of Pharmacognosy & Natural Products