Addicted to lip balm? So are we! We created an all-natural tinted lip balm that will soon become your go-to.
Instead of the typical aromatherapy lip balm we have come out with in the past, we decided to take it up a notch and made a tinted one! Our Pink Tinted Lip Balm provides subtle color to your lips, perfect for daily use.
It's also important to keep our lips hydrated which is why we chose all-natural, lip-moisturizing ingredients to go with this recipe. We also added essential oils for a fresh aroma.
What I Love About This DIY Tinted Lip Balm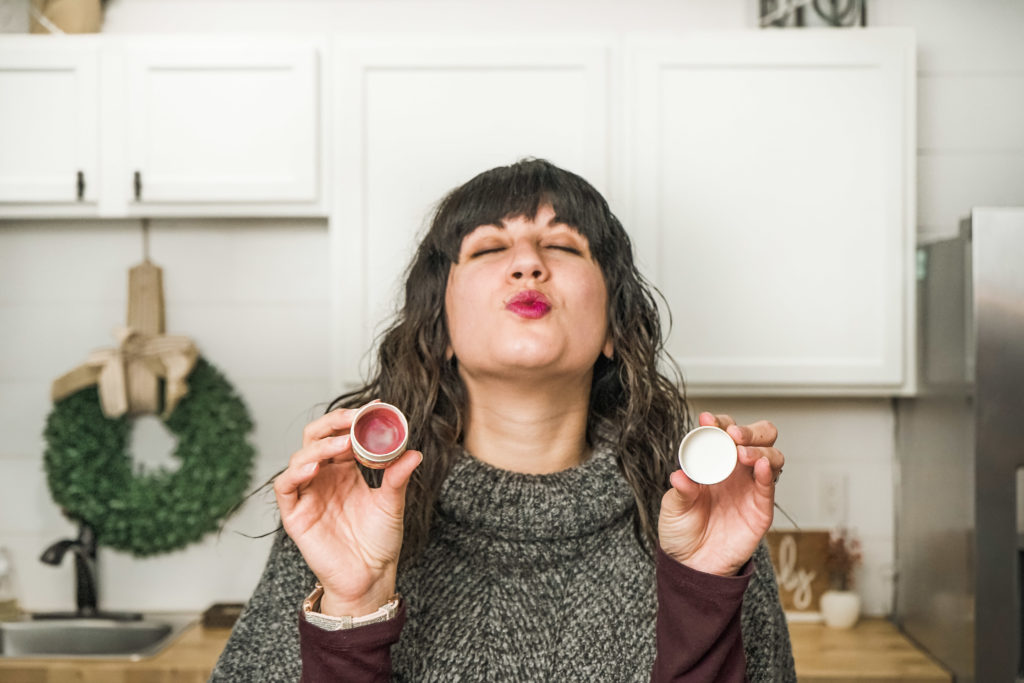 I tend to gravitate towards subtle colors for my lips. This balm gives a natural color that makes my lips look and feel amazing and healthy!
What's in This Pink Tinted Lip Balm Recipe?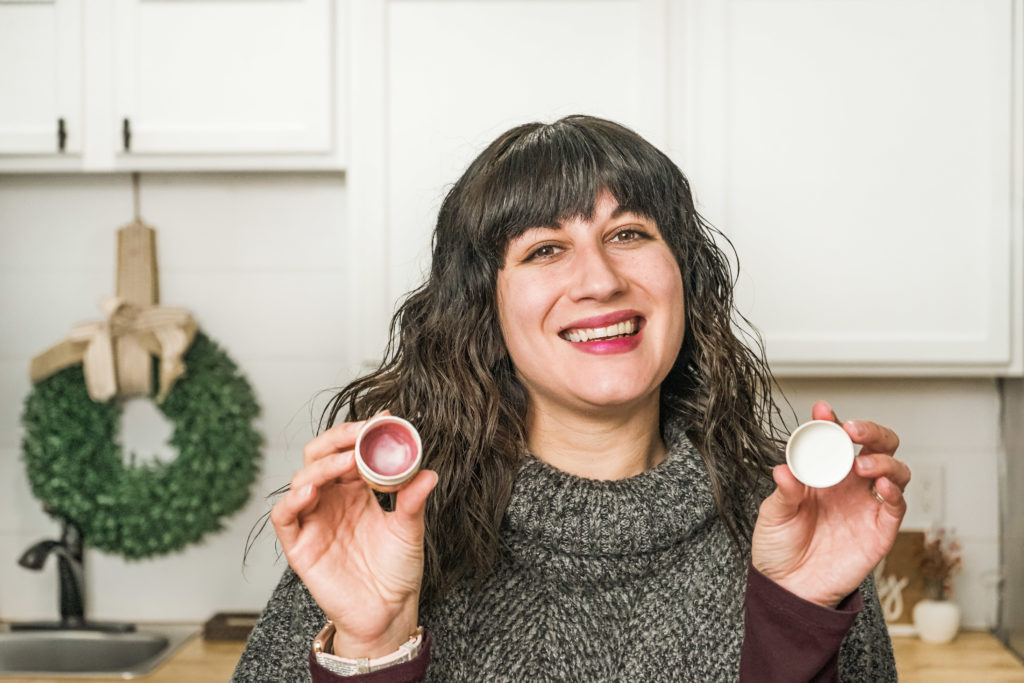 Beeswax
We use beeswax to achieve a more solid consistency for our lip balm recipes. Also, beeswax is great for the lips. It is incredibly nourishing and a very safe alternative to commercial waxes like paraffin.
Coconut Oil (Solid)
Solid Coconut Oil is a treat to the lips. It locks in moisture leaving lips soft and smooth and can also soothe dry and chapped lips. That's why we chose coconut oil as the base of our lip balm recipe.
Almond Oil
Of course, we want a moisturizing lip balm that glides easily, so we added more nourishing oils into the mix. Almond Oil is a great addition as it is a very light oil. It neutralizes the thickness of the beeswax and coconut oil. Like the other ingredients, it is also full of nutrients and is gentle and moisturizing on the lips.
Mica Powder
We provided a bright, natural, and ethically sourced mica powder to beautifully color your lip balm. Use less powder for a more subtle color, and use more for a darker color.
Grapefruit Essential Oil
Grapefruit Essential Oil is a skin saver. It is packed with tons of properties that can help soothe chapped lips. Its sweet, citrusy, and fruity aroma will also uplift you.
Head Soothing Essential Oil Blend
Head Soothing Essential Oil Blend has a fresh and floral scent that provides calming benefits. When you're having a tension headache, use this lip balm to soothe you.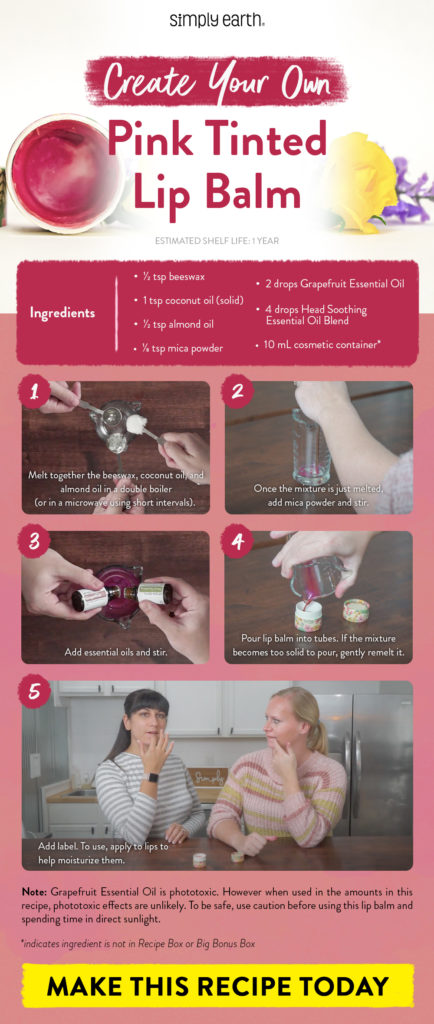 Things to Remember When Using This Recipe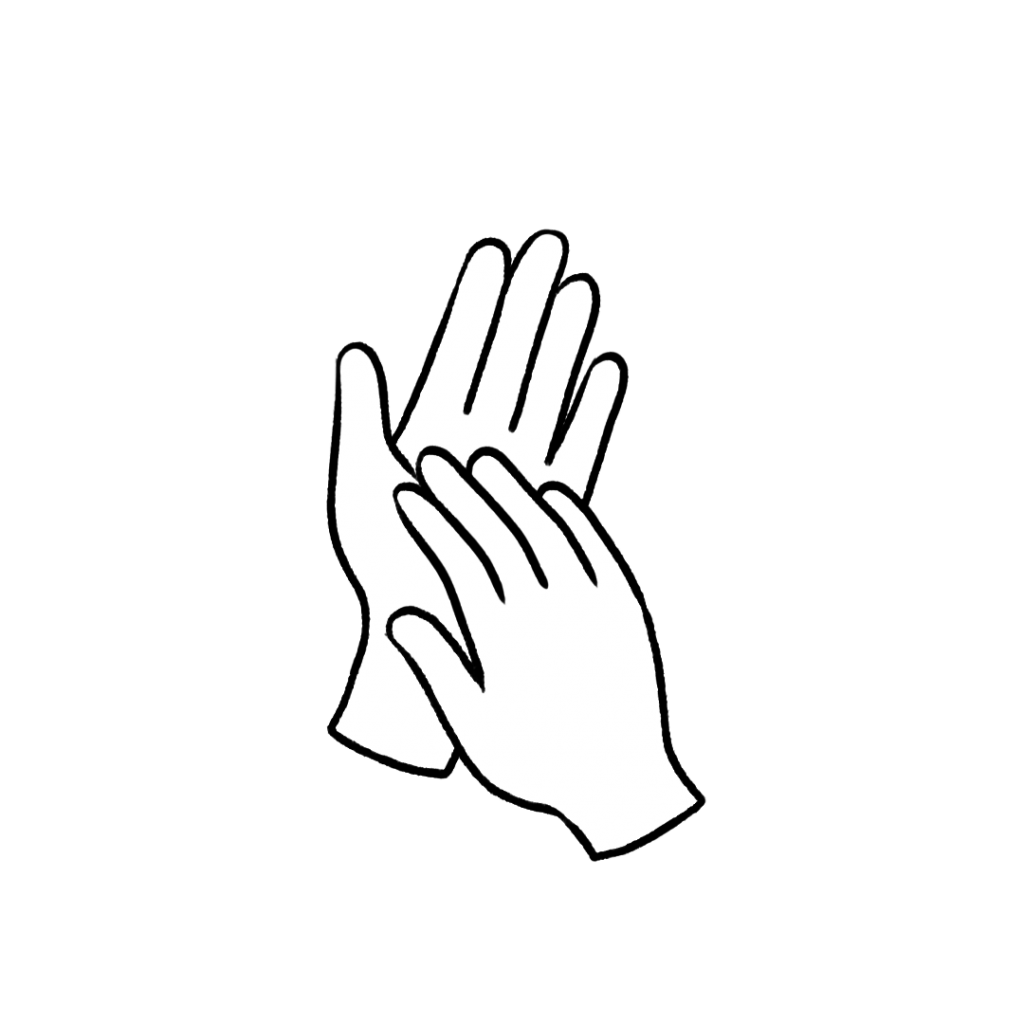 Always dilute an essential oil when using it on the skin. This essential oil recipe is unlikely to cause skin irritation when diluted properly. If the oil has been oxidized (left with the cap off for long periods of time) it is more likely to cause skin irritation. Check out this dilution chart for diluting this essential oil properly.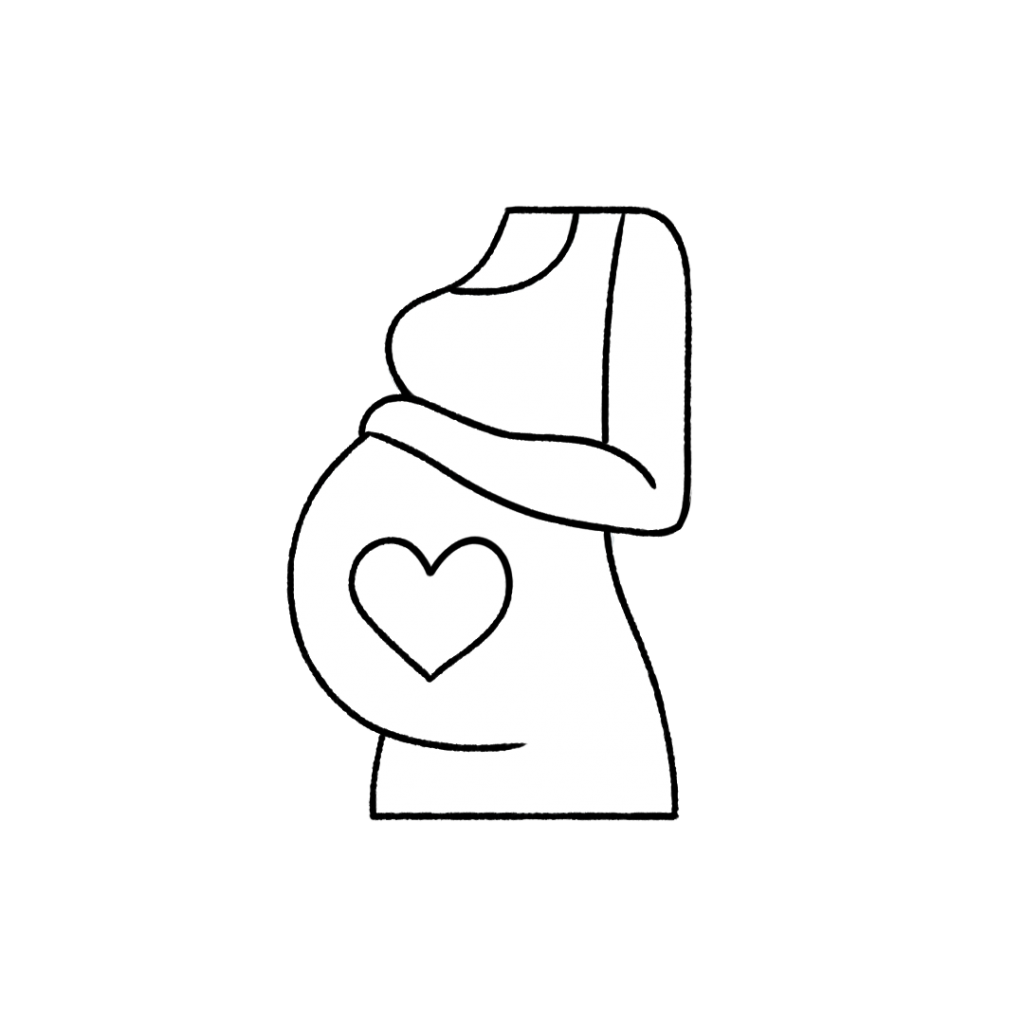 If you are pregnant, consult your doctor prior to use.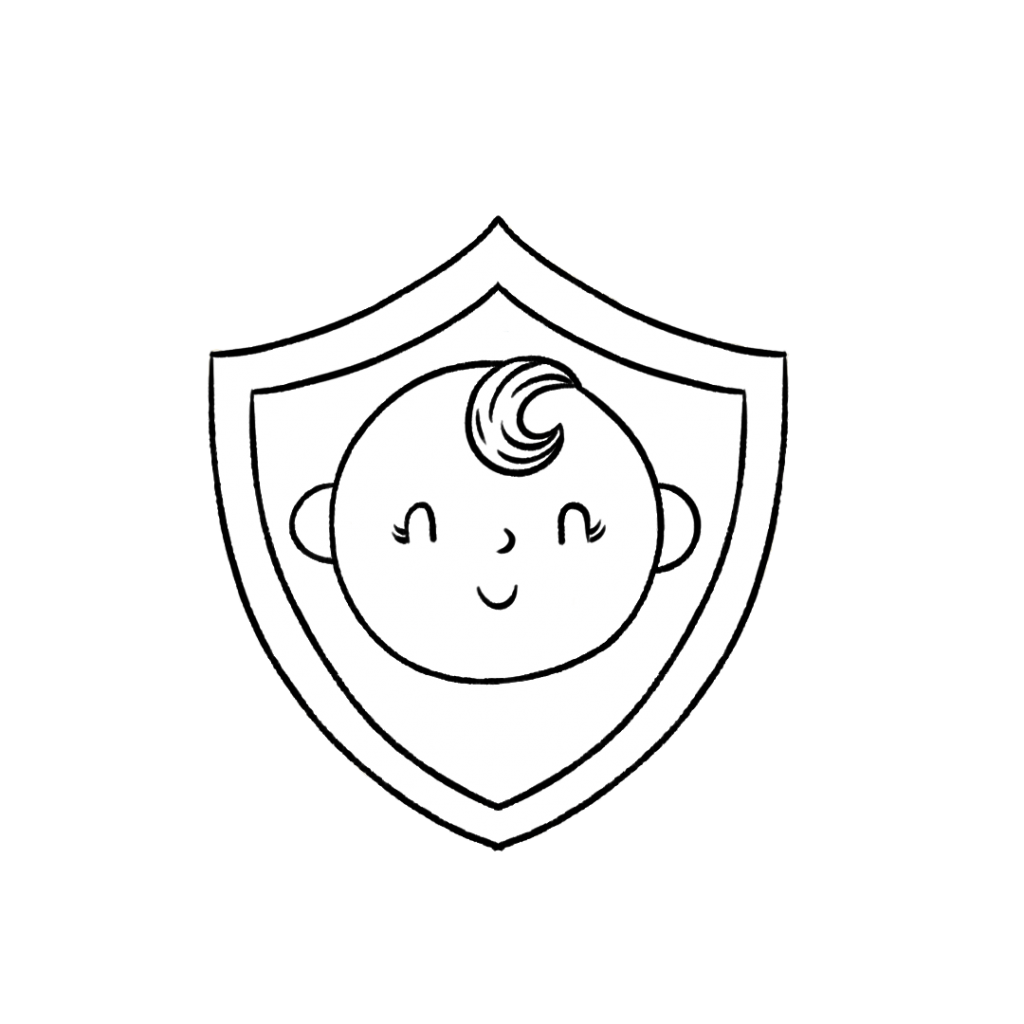 This recipe is safe to use with kids aged 2+.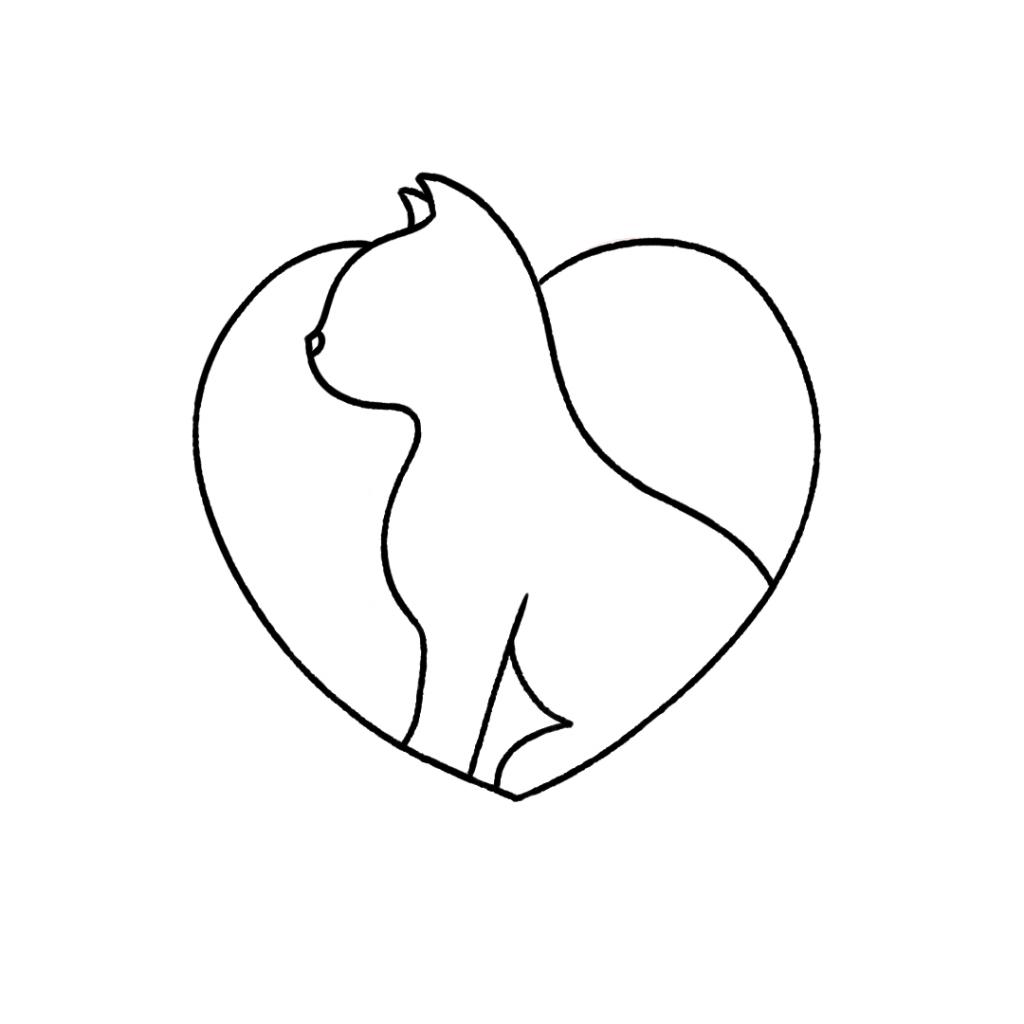 For more information on using essential oils with cats, check out this blog post.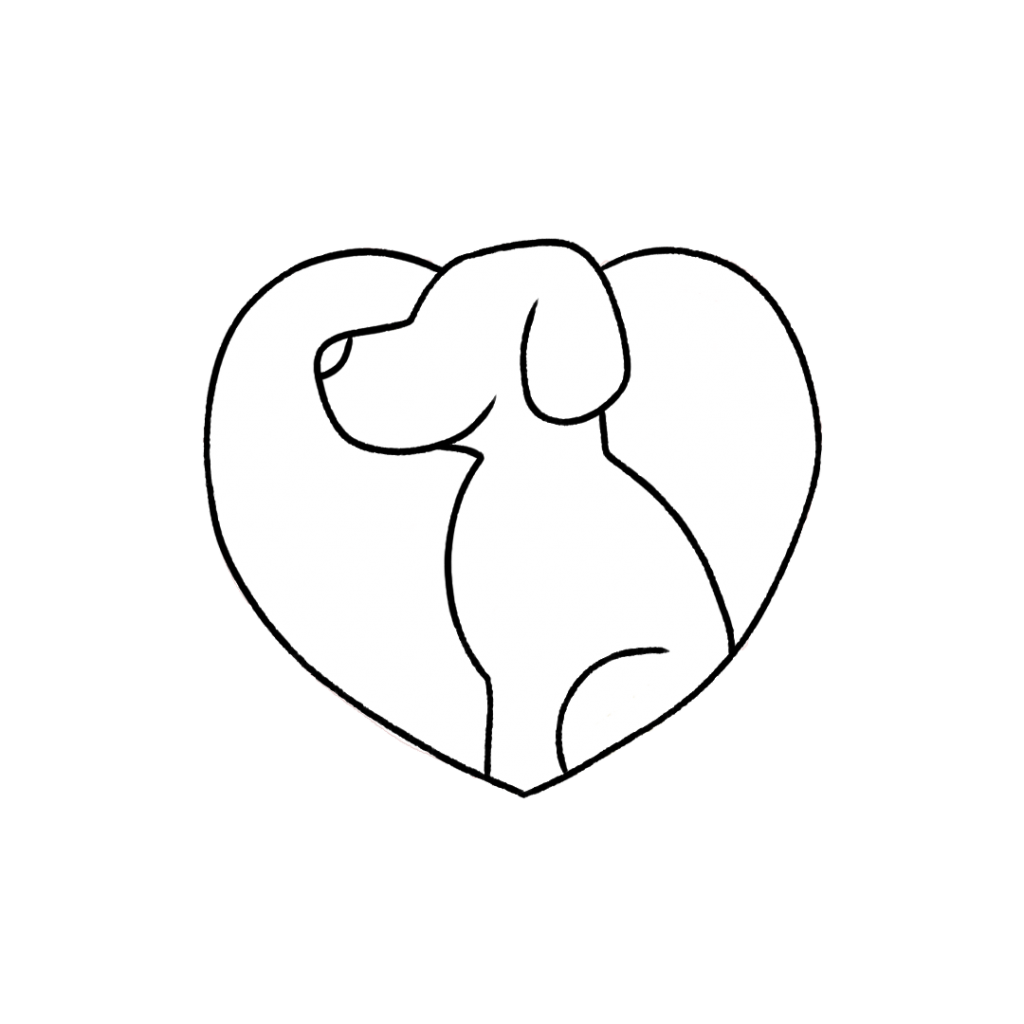 This essential oil recipe is generally safe to use around dogs. For more information on using essential oils with dogs, check out this blog post. 
We don't recommend ingesting essential oils unless under the direction of a doctor certified in aromatherapy. For more information on why we don't ingest essential oils check out this blog post.
*Please note: This post is a compilation of suggestions made by those that have extensively used essential oils and has not been verified scientifically with clinical tests nor reviewed by medical experts. It is anecdotal information and should be treated as such. For serious medical concerns, please consult your doctor. The statements given in this blog post have not been verified by the FDA
Pink Tinted Lip Balm Recipe
Pink DIY Tinted Lip Balm with Essential Oils
Time: 10 minutes
Est. Shelf Life: 1 year
Yield: ~10 mL
Dilution Rate: ~2.5%
Ingredients
1/2 tsp beeswax

1 tsp coconut oil (solid)

1/2 tsp almond oil

1/8 tsp mica powder

2 drops Grapefruit Essential Oil†

4 drops Head Soothing Essential Oil Blend

10 mL cosmetic container*
Directions
Melt together the beeswax, coconut oil, and almond oil in a double boiler (or in a microwave using short intervals).
Once the mixture is just melted, add mica powder and stir. Add essential oils and stir.
Pour lip balm into tubes. If the mixture becomes too solid to pour, gently remelt it.
Add a label. To use, apply to lips to help moisturize them.
Notes
† Grapefruit Essential Oil is phototoxic. However, when used in the amounts in this recipe, phototoxic effects are unlikely. To be safe, use caution before using this lip balm and spending time in direct sunlight.
Take Care of Your Lips Naturally!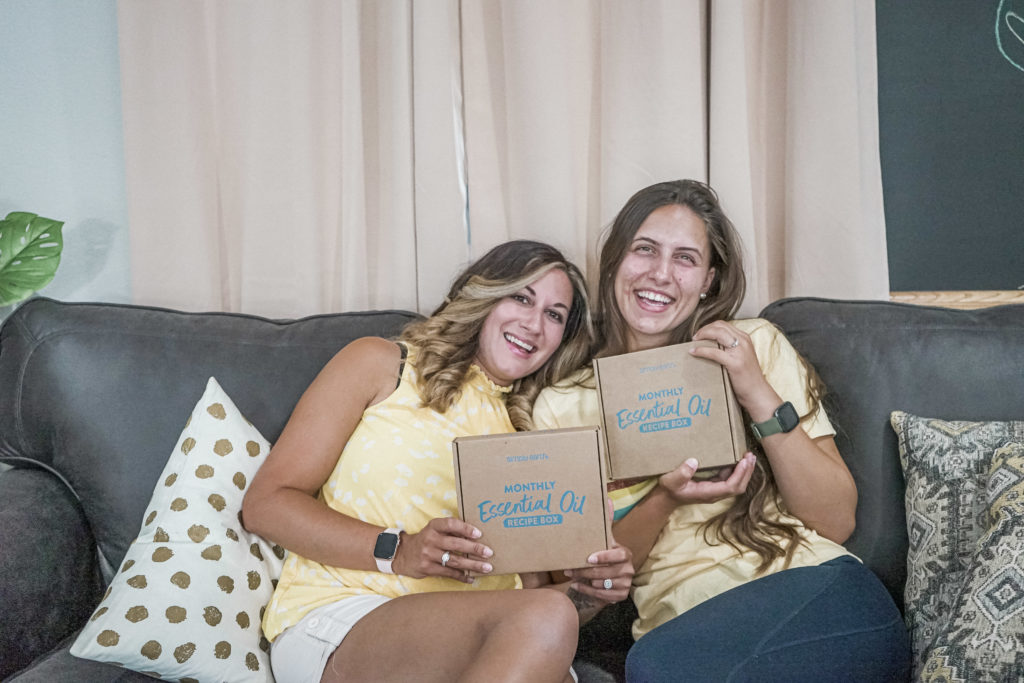 No icky or hidden ingredients! Experience the difference of using truly natural ingredients that you can feel good about. Are you going to customize this recipe using different essential oils or a different amount of mica powder? Show us your final results on social media with @fromsimplyearth and in the comments below!
Are you ready to master essential oils? You get FREE access to our Hero Course if you subscribe to our Monthly Essential Oil Recipe Box. With it, you'll receive 4 pure essential oils, 6 aromatherapist-created recipes, and more—all delivered directly to your door each month for just $44.99/month. Plus, we'll give you a FREE Big Bonus Box!
Don't miss out on the all-natural fun that comes with the Recipe Box; get yours today: Subscribe now to learn how to use essential oils!