If you were to sit down and do one of those "spot the difference" games featuring a comparison between my kitchen garbage can this time of year and a compost bin, you'd be annoyed. There're hardly any differences.

The abundance of fresh harvested food during this time of year is wonderful, but its organic-smelling scraps that end up in my garbage make me realize two things:
I need to stop procrastinating building a compost bin in the backyard.
Something needs to be done to spare my kitchen from its garbage's fumes.
While they can't really help me with my first issue, essential oils can be used to naturally deodorize all sorts of reeky spaces. The yucky kitchen trash? Clean. The stagnant cleaning closet? Fresh. The scuzzy toilet? Dare I say sweet? Each of these transformations have one thing in common: DIY deodorizing disks. With the help of essential oils, this No Stink Disk DIY odor eliminator recipe creates a simple and effective natural deodorizer for home use that's actually fun to create (hey, I had a good time making mine)!
What I Love About This DIY Deodorizing Disk Recipe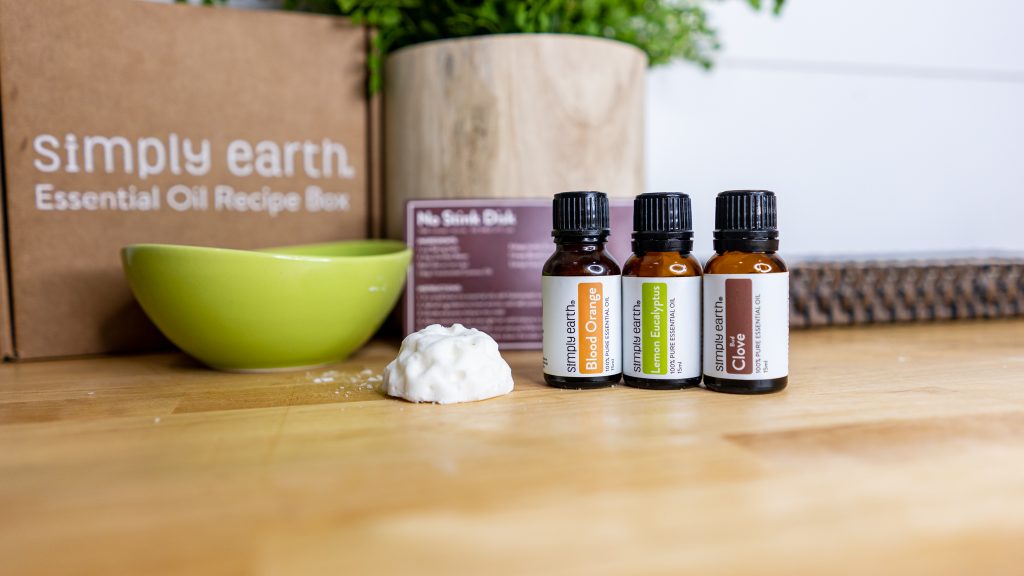 Hi! Katie here, certified aromatherapist and creator of our Essential Oil Recipe Box, which includes this recipe this month.
What I love about this DIY odor eliminator is it's super versatile. You can use it as a cute decoration to deodorize a space or drop it into the garbage or sink to defeat the reek.
What's in These Natural Deodorizing Disks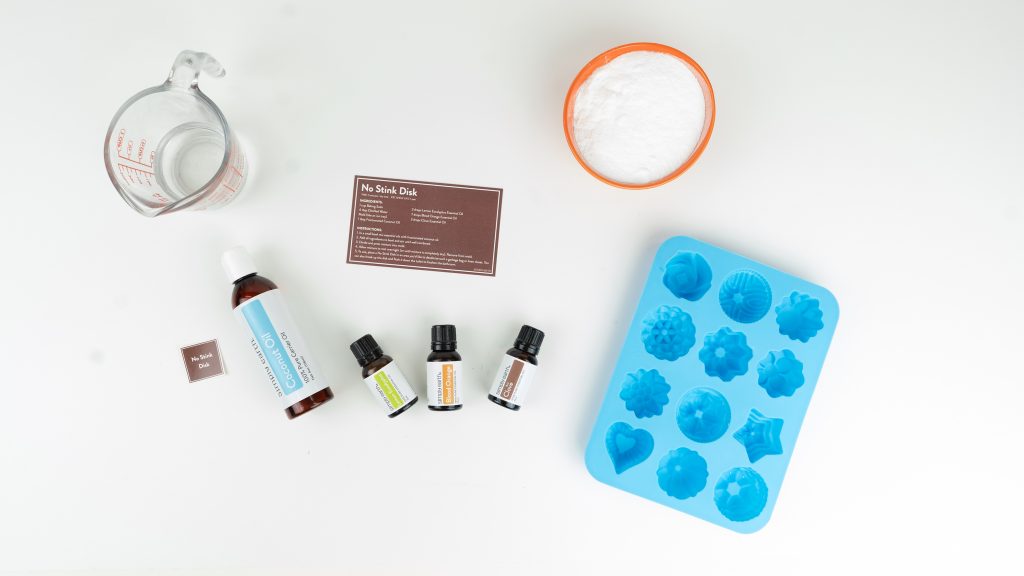 Baking Soda
While baking soda has long been used in deodorizing products, my favorite part about baking soda in this recipe is the texture it gives the deodorizing disks. Because of baking soda's consistency, your No Stink Disks can double as a toilet bowl scrub if you break them apart and sprinkle them in your toilet bowl!
Fractionated Coconut Oil
Fractionated coconut oil, or any carrier oil of your choice, helps you properly dilute and distribute the essential oils in your deodorizing disk recipe.
Lemon Eucalyptus Essential Oil
There's something about the fresh, lemony scent of Lemon Eucalyptus Essential Oil that seems to naturally overpower all sorts of odor. Plus, this oil contains antifungal[i] properties that can help knock out any stinky fungus that may be to blame.
Blood Orange Essential Oil
This sweetness of Blood Orange Essential Oil's aroma rounds out the overall citrus scent of your deodorizing disks once it's coupled with your Lemon Eucalyptus Essential Oil. Limonene, this oils' main component, also happens to be a renown natural solvent[ii], which again makes your deodorizing disk useful as a toilet scrub.
Clove Essential Oil
Because we all know that fall smells are a blessing in and of themselves, we couldn't help but include Clove Essential Oil in this recipe. This oil basically encapsulates fall baking and cuddles in a bottle, it's no big deal. With all of your essential oils combined, your citrus and spice will have everything smelling nice.
Distilled Water
Distilled water makes your mixture runny enough to be effectively placed into its mold when you first create your deodorizer disks. Once this water evaporates and your mixture hardens, your disks are ready for use!

Things to Remember While Using Your DIY Odor Eliminator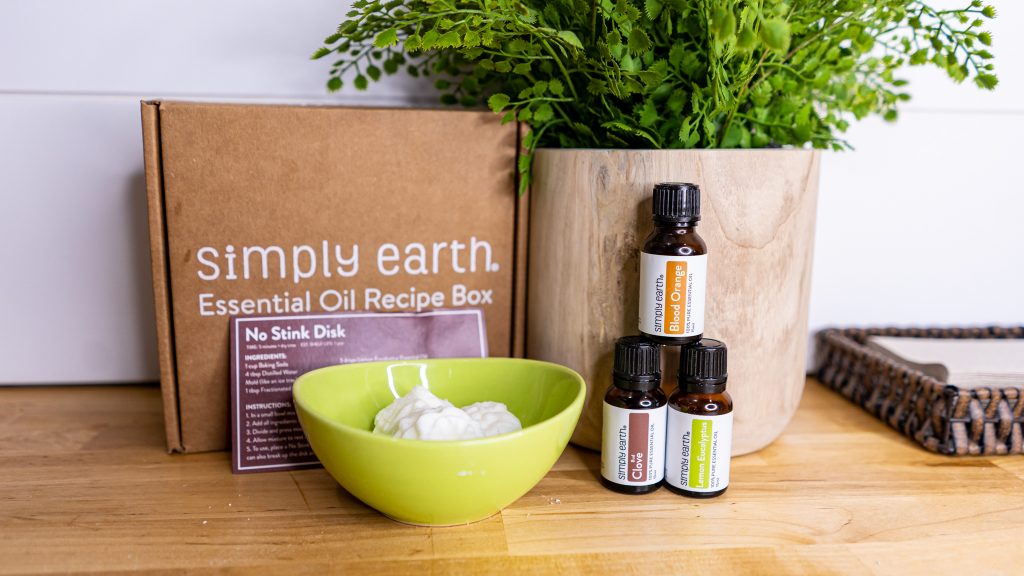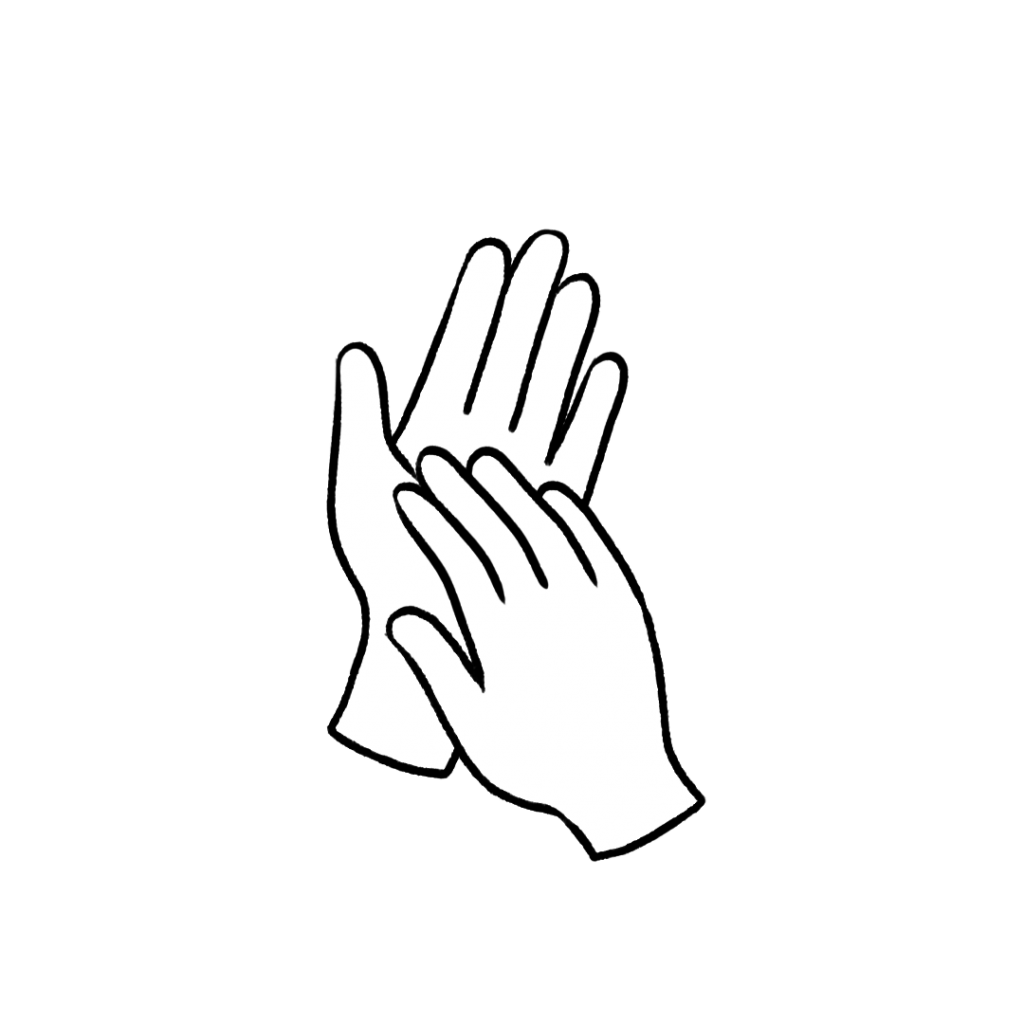 This recipe is safe to use if you have sensitive skin, but be sure to avoid directly touching the undiluted oils as they may cause skin irritation.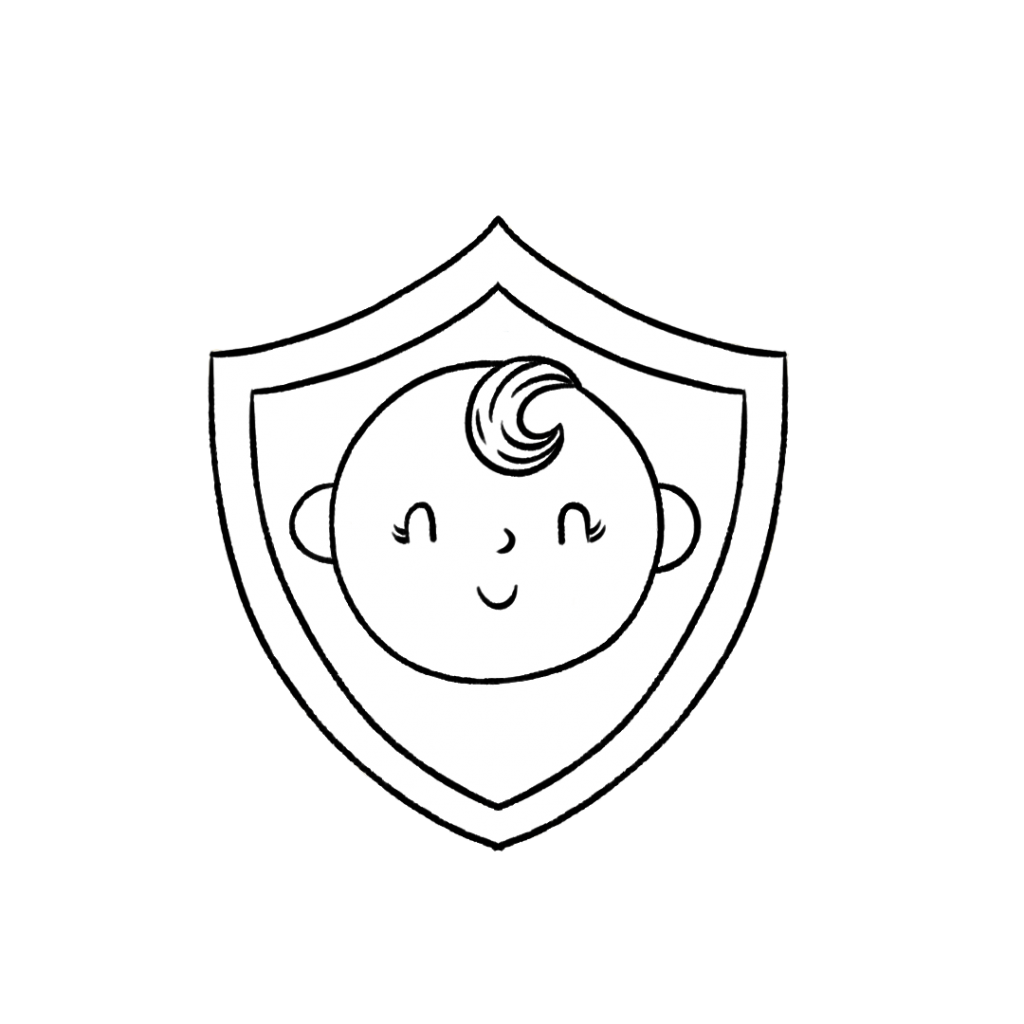 This recipe is safe to use around kids over the age of 10.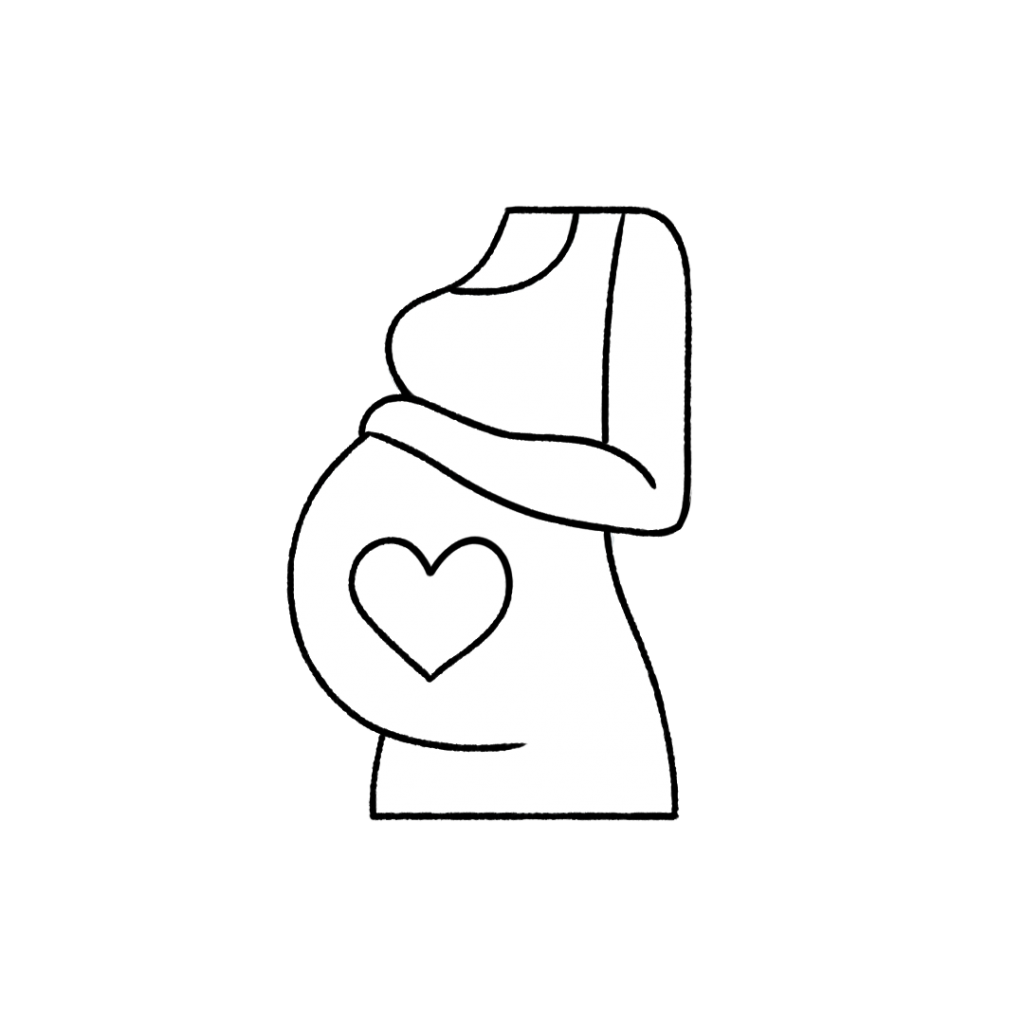 Be extra careful to avoid coming in contact with this recipe's clove essential oil if you are pregnant.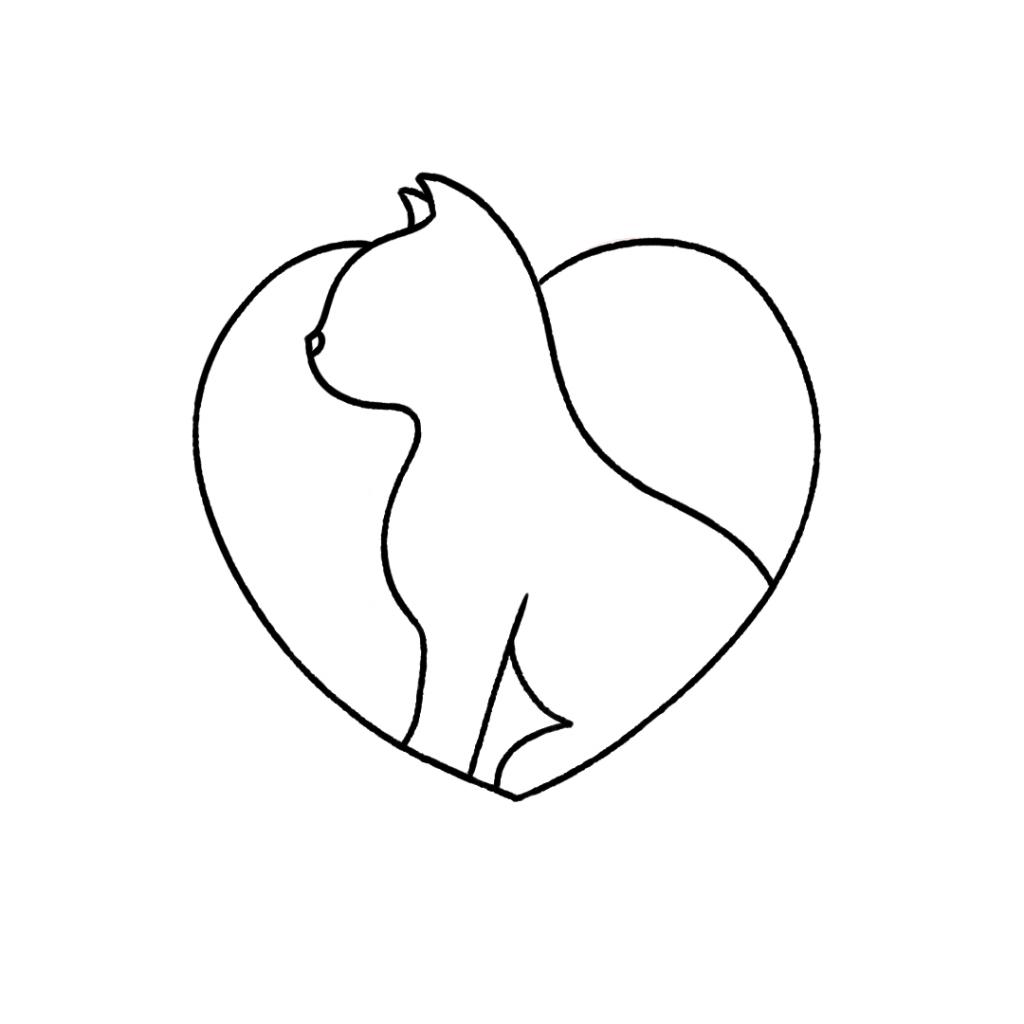 Avoid using your deodorizer disks in close proximity to cats as their oils may cause irritation. For more information on using essential oils with cats, check out this blog post.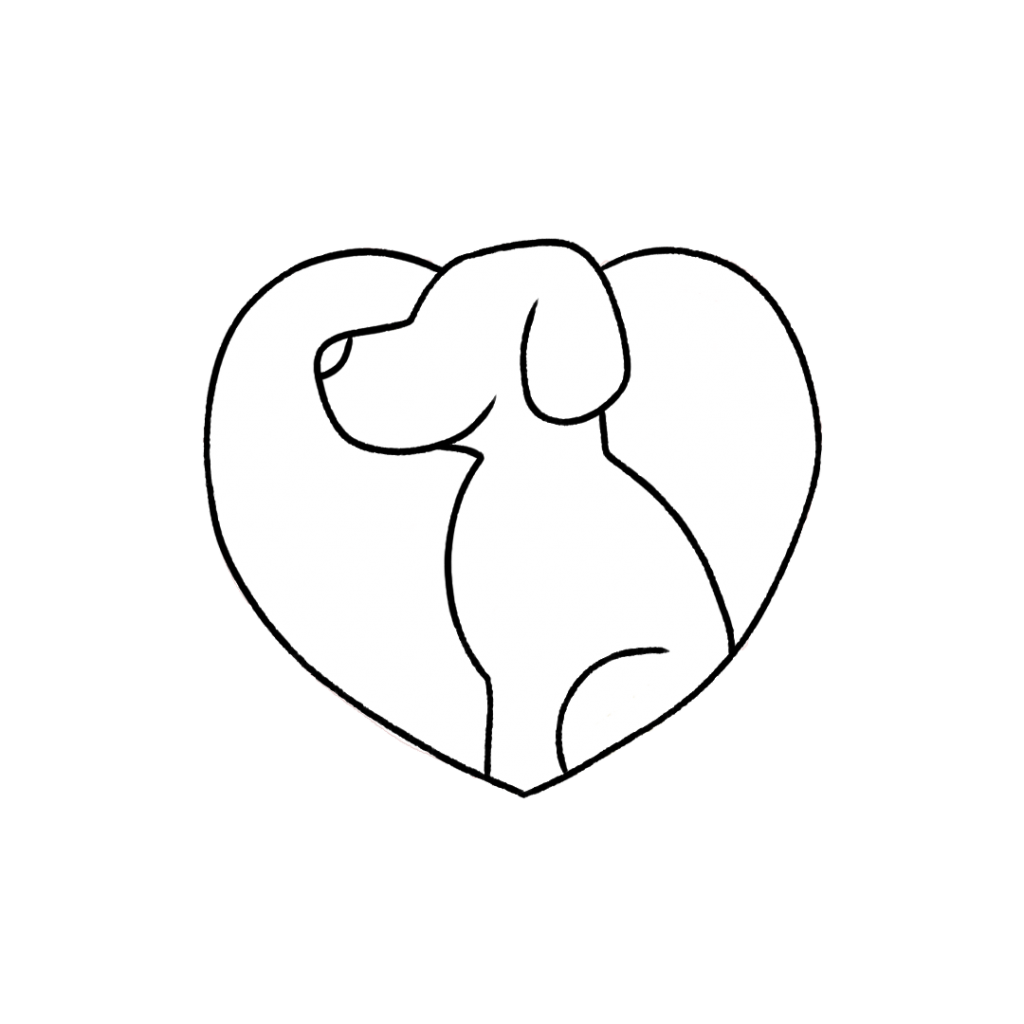 Avoid using your deodorizer disks around dogs as their clove essential oil may cause irritation. For more information on using essential oils with dogs, check out this blog post.

The clove essential oil in this recipe may irritate mucous membranes.
Because it contains lemon eucalyptus essential oil, avoid using this recipe if you have high blood pressure or epilepsy.
Never ingest any essential oil, even if it's generally regarded as safe. For more information on why we don't ingest essential oils, check out this blog post.
Please note: These statements have not been evaluated by the Food and Drug Administration. This product is not intended to diagnose, treat, cure, or prevent any disease.
No Stink Disk Recipe
No Stink Disk
Ingredients
1 cup baking soda

4 tbsp distilled water

1 tbsp fractionated Coconut Oil

3 drops Lemon Eucalyptus Essential Oil

7 drops Blood Orange Essential Oil

3 drops Clove Essential Oil

Mold (like an ice tray, lined cupcake tin, or silicone baking mold)
Directions
In a small bowl mix essential oils with fractionated coconut oil.
Add all ingredients to a bowl and stir until well combined.
Divide and press the mixture into the mold. 
Allow mixture to rest overnight (or until mixture is completely dry). Remove from mold. 
To use, place a No Stink Disk in an area you'd like to deodorize such a garbage bag or linen closet. You can also break up the disk and flush it down the toilet to freshen the bathroom. 
---
What's Your Favorite Way to Use This DIY Odor Eliminator Recipe?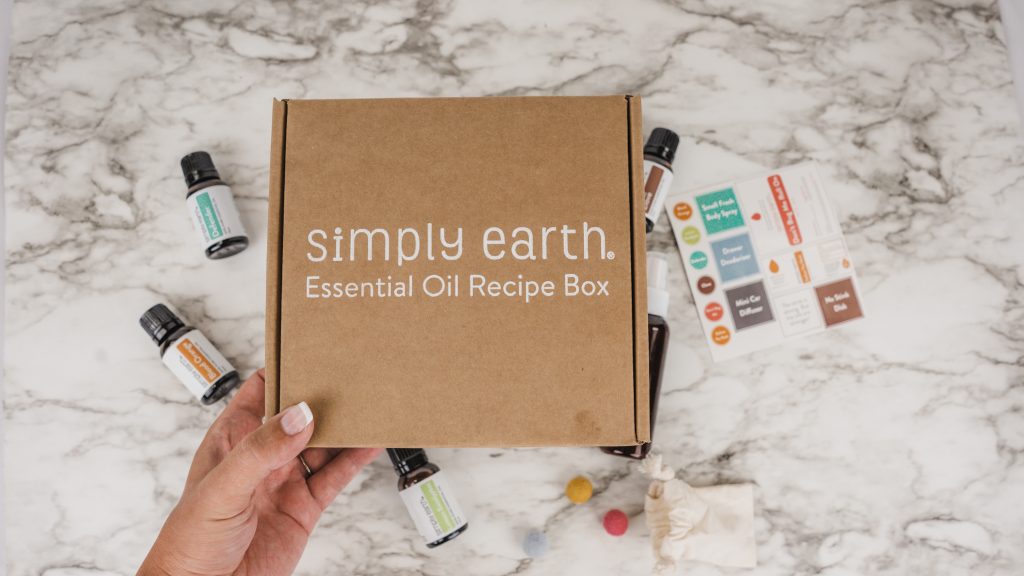 My favorite part about these No Stink Disks is their ability to make my garbage not smell like death. Which use is your favorite? Do you prefer a use that we didn't mention? Do you think this is the best homemade odor eliminator you found? Let us know on social media with @fromsimplyearth and comment below!
Curious about all-natural home hacks? Check out our Simple Earth Essential Oil Recipe Box for even more natural recipes. When you subscribe, we'll ship you a monthly supply of four 100% pure essential oils, six natural recipes like this DIY odor eliminator, and all the quality ingredients you'll need to make your own wonderful products for just $44.99/month.All of these goodies have over a $100 dollar value, plus we'll give you a FREE Big Bonus Box when you subscribe. 
Subscribe today to create your own natural home.

---
[i]Fumigant Antifungal Activity of Corymbia citriodora and Cymbopogon nardus Essential Oils and Citronellal against Three Fungal Species
[ii]Washing effects of limonene on pesticide residues in green peppers