Let's make your skin beautiful, naturally…and keep that price tag down, shall we?
That's why I love Simply Earth. We're making it possible to have a natural home at an affordable price. Today, we're throwing out chemically filled (and sometimes plastic containing) Exfoliating Facial Scrub, for a natural alternative, and you are going to love the price tag!
What I Love About This Recipe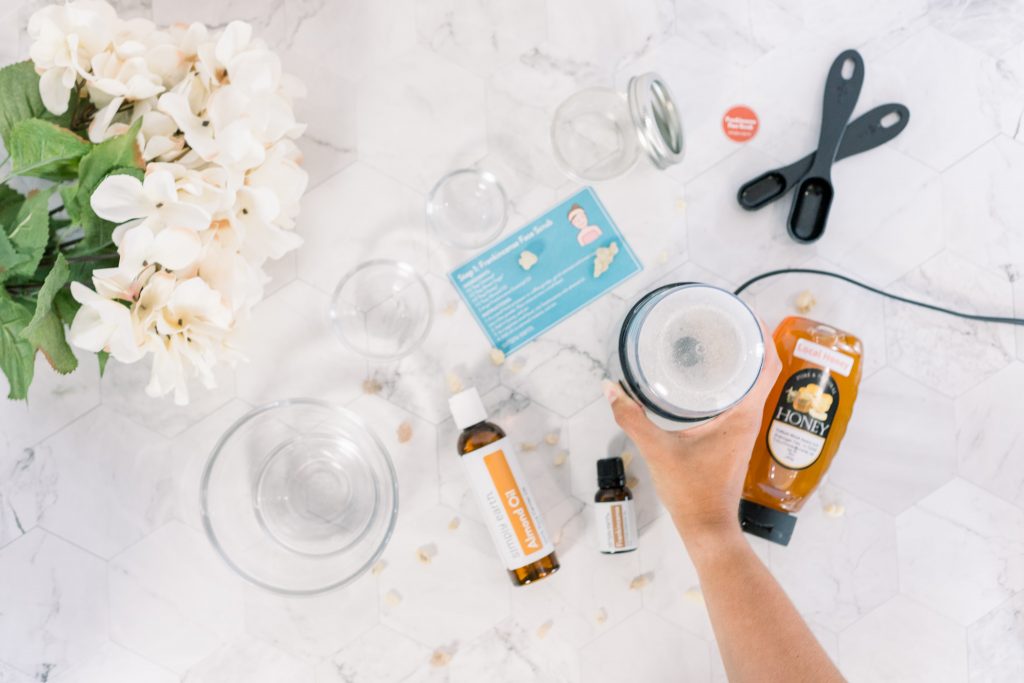 Hello, glowing skin! What more is there to say? I'm removing dead skin cells naturally and treating my skin to some essential oil love. Exfoliants will do great things for your skin!
Why use an exfoliant?
Great question! Exfoliators clean away dead skin cells leaving your face clean, soft, and glowing! This exfoliant recipe is amazing by itself, but it's also the first step in our 6 Steps to Natural Skincare Routine, which will help prepare your face for a whole routine of natural goodness!
What's in the Exfoliating Facial Scrub Recipe?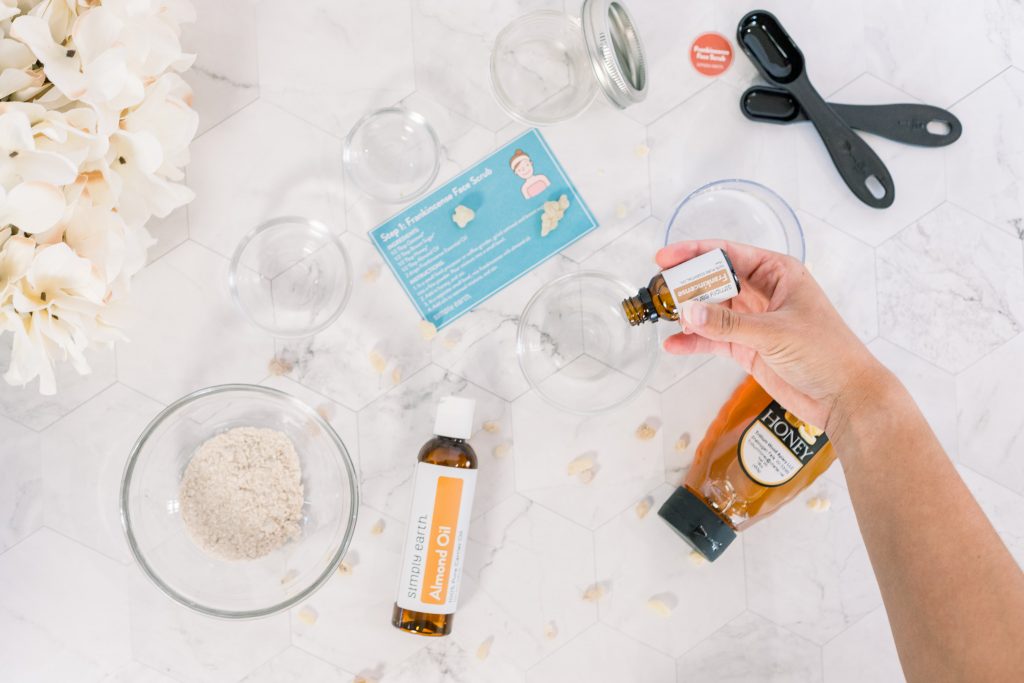 Oatmeal
Oatmeal will help exfoliate your skin, but will still be gentle on your face.
Brown Sugar
Brown sugar is also a gentle exfoliator.
Honey
Honey is moisturizing, soothing, and helps create a glow as well as being antibacterial and antioxidant.
Almond Oil
Almond Oil is a carrier oil that will make the exfoliant safe to use Frankincense Essential Oil on your skin. It's also moisturizing and nourishing and doesn't make your skin feel greasy. Jojoba is another good carrier oil to use in this recipe.
Frankincense Essential Oil
Frankincense Essential Oil has anti-inflammatory properties, and has antioxidant and antibacterial properties* – to learn about even more uses for this oil, check out this blog post.

Things to Remember When Using This Recipe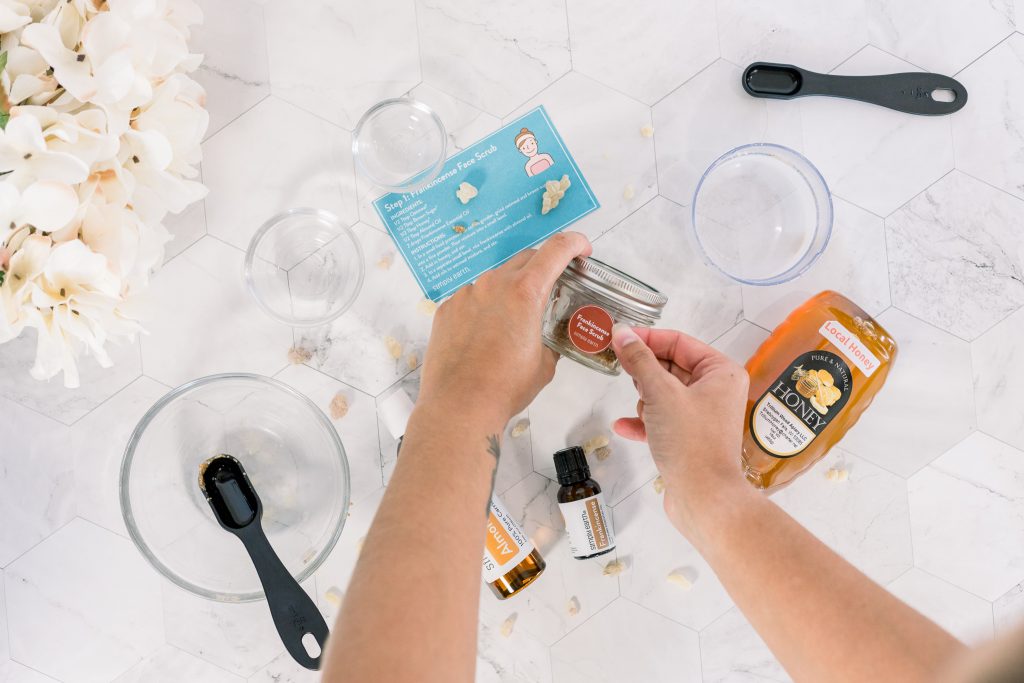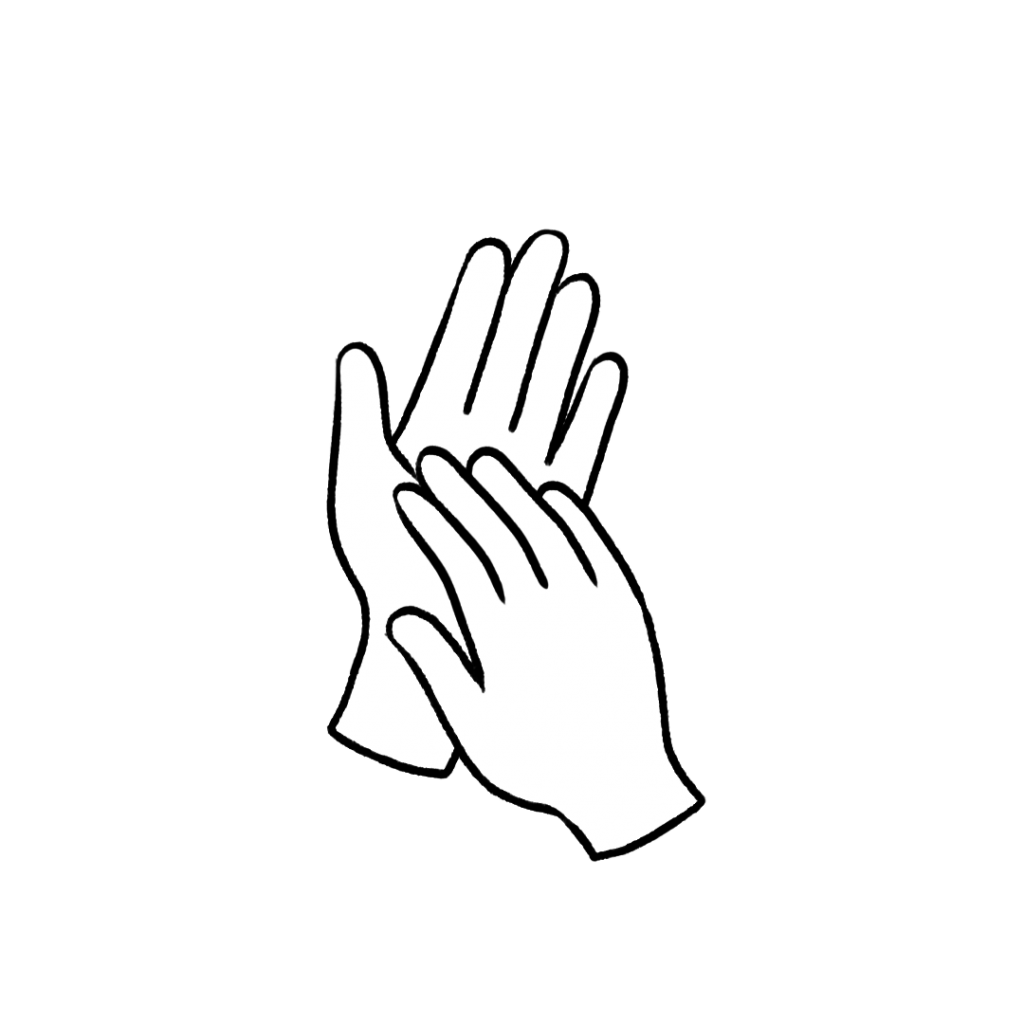 Always dilute essential oils before using them topically. Failing to do so can cause irritation. We've already diluted this recipe, but you can check out this handy dilution chart we created for topical use.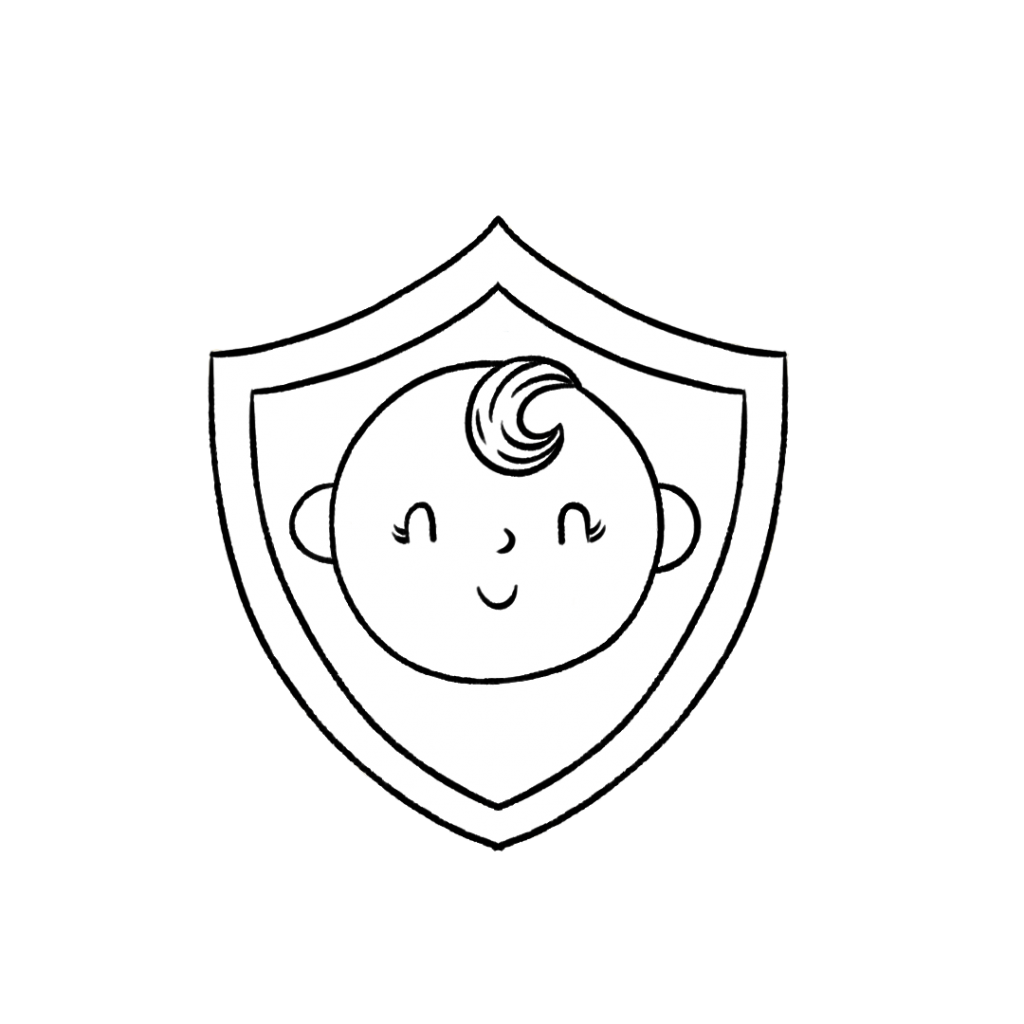 This recipe is safe to use around children 2+.
Never ingest any essential oil, even if it's generally regarded as safe. For more information on why we don't ingest essential oils, check out this blog post.
*These statements have not been evaluated by the Food and Drug Administration. This product is not intended to diagnose, treat, cure, or prevent any disease.
Frankincense Face Scrub Recipe
Exfoliating Facial Scrub with Frankincense Oil
Directions
In a small food processor or coffee grinder, grind oatmeal and brown sugar into a fine powder. 
Once they are ground, put them in a small sealable container, add in honey, and stir.
In a separate small bowl, mix frankincense and almond oil.
Add oils to oatmeal mixture, and stir. 
To use, wet face with warm water. Apply a small amount of facial scrub in circular motions to your face. Rinse with warm water, and pat dry. 
Store this recipe in a sealable container and use it once weekly. As with any exfoliator on the face, if you use it too often your skin will become irritated; that's why we recommend using this recipe once weekly. 
Scrub Away That Dry Skin!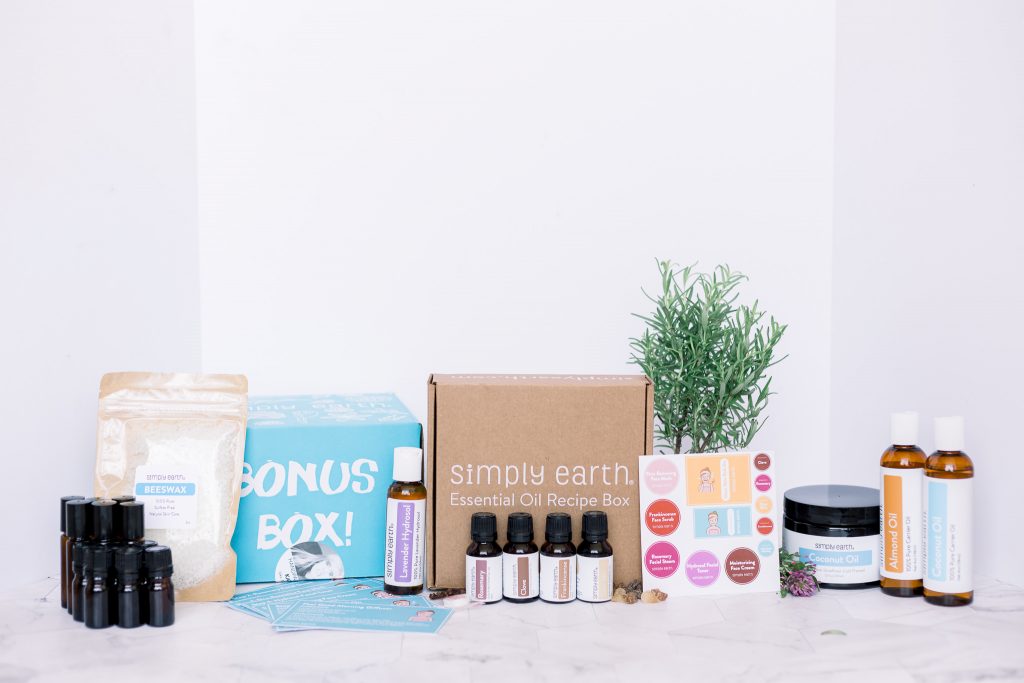 This exfoliating facial scrub will make your face feel brand new! Let us know what you think about this recipe by commenting below or connecting with us on social media @fromsimplyearth!
Subscribe today to our Essential Oil Recipe Box. Each month, you can receive four full-size 100% pure essential oils, six natural recipes, plus the ingredients you need to make them in our Recipe Box.
With the box, you'll learn new ways to use essential oils, make more essential oil roll-on recipes, and have the peace of mind that you are making your home toxin-free. This month of April, we focus on Home Detox. This box is worth over $150 if priced from the Big Essential Oil Companies. You get all those goodies from Simply Earth for only $44.99. Go get it!