Fun fact: when you live in the southwest, your skin and the outdoors around you start to twin pretty hard over time. They're both deserts desperate for some moisture.
While the "dry heat" in Arizona is one of the few things that make the area's blazing temperatures kinda tolerable-ish, it's this same dryness that sucks nearly every bit of hydration right out of my naturally dry skin. At the same time, slicking my skin full of super heavy moisturizers isn't ideal when I'm trying to battle an already glistening, sweaty complexion. After all, I'm not looking for skin so glossy that it outshines the sun.
This is where this Natural Hydrating Body Spray comes into play. While using refreshing essential oils, the lightweight ingredients in this DIY moisturizing body spray manage to hydrate your skin without making you feel like a shiny greasy ball. How quickly this body spray with essential oils soaks into and revives my skin is ridiculously convenient and I appreciate that its scent gives my skin a subtle, clean aroma. Overall, this natural body spray is so discrete and effective that no one will know that you hydrate on the go!
What I Love About This Homemade Body Oil Spray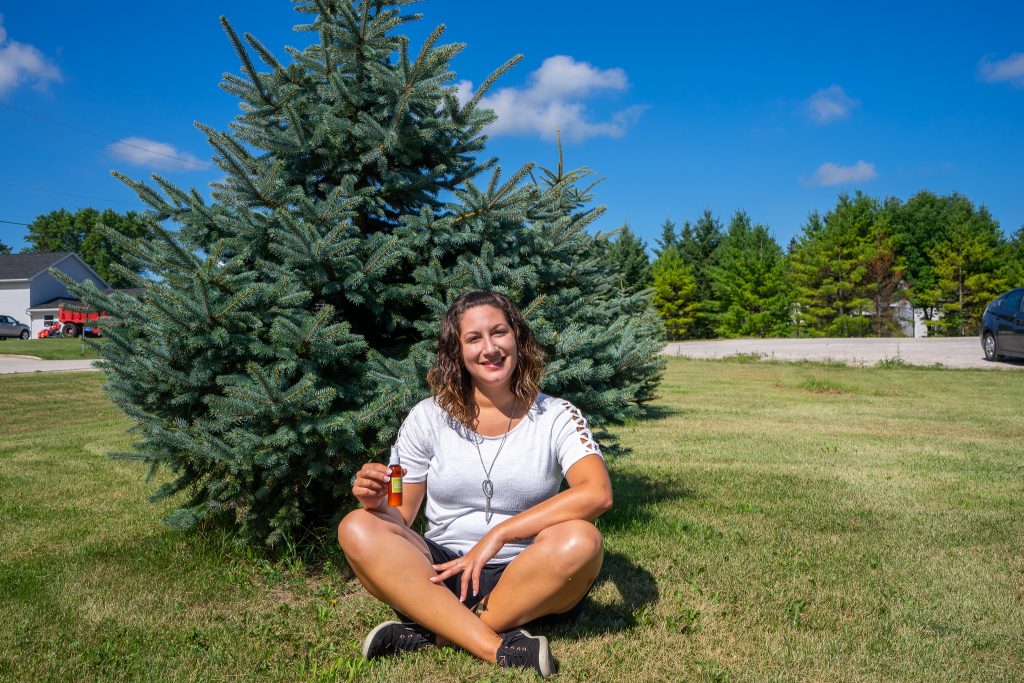 I'm kind of dumbfounded as to how quickly and subtly DIY body sprays with essential oils like this one boost my skin's hydration. I never worry about using this body spray before running into work because it doesn't give off an overpowering smell or create a shiny layer on my skin that'll draw unwanted attention.
What's in This DIY Natural Body Spray?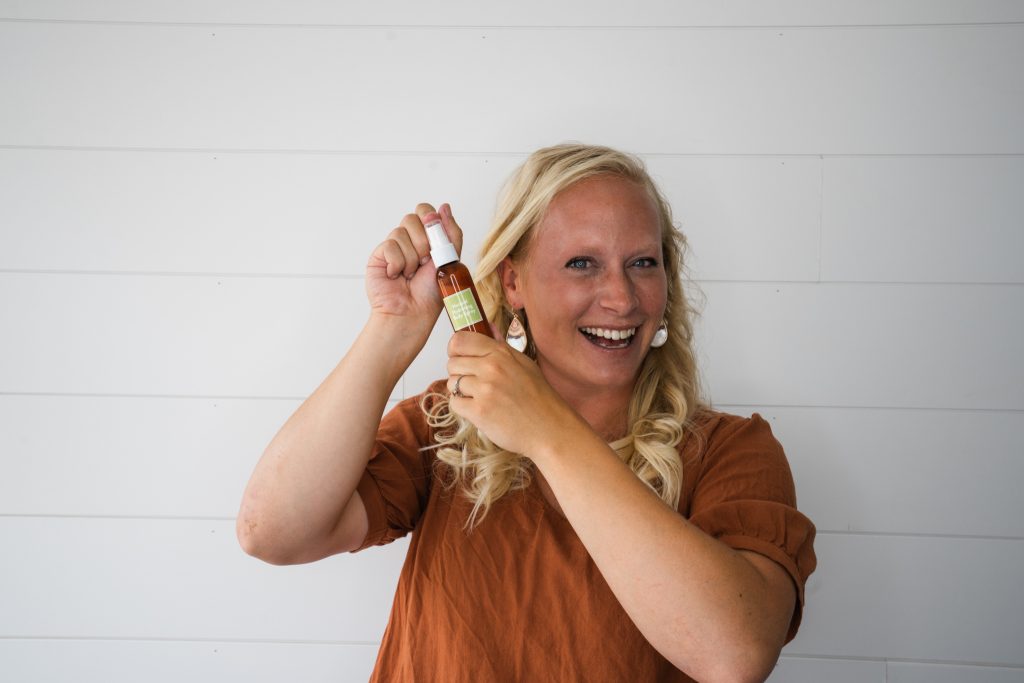 Vegetable Glycerin
Because all effective moisturizers require a hydration component, this natural body spray recipe includes vegetable glycerin, a natural humectant[i]. Humectants hydrate your skin by attracting moisture and drawing said moisture into skin cells. In other words, your hydrating body spray will not only help your skin better lock in moisture but also up the moisture content in your skin itself.
Almond Oil
Next up we have almond oil, a natural emollient moisturizer that fills in gaps in your skin cells that release the moisture your skin needs to stay soft and supple[ii]. As if its ability to do this wasn't cool enough, this oil is also full of nourishing A, B, and E vitamins. With this ingredient in your body spray recipe, you're asking for soft and healthy skin. Just thought I'd warn you.
Emulsifying Wax
One of the few things that I remember from middle school science classes is that water and oil do not mix. That's why this DIY body spray with essential oils calls for emulsifying wax: it acts as a bridge between oil and water so your recipe has an even consistency.
Breathe Easy Essential Oil Blend
The Breathe Easy Essential Oil Blend has a pretty classy aroma if you ask me. It reminds me of a relaxing stroll through a pine forest. This scent is not only energizing though; its light aroma leaves your person smelling refreshed without blasting those around you with an over-the-top fragrance.
Distilled Water
Your body spray's main ingredient is water, which both safely dilutes your essential oils and keeps your hydrating spray from feeling heavy on your skin. Within just a few minutes, thanks to the water, this spray soaks right into the skin without leaving a trace of shine or grease. Using distilled water, as opposed to regular water, also helps preserve the ingredients in this recipe.

Things to Remember While Using This DIY Body Spray without Alcohol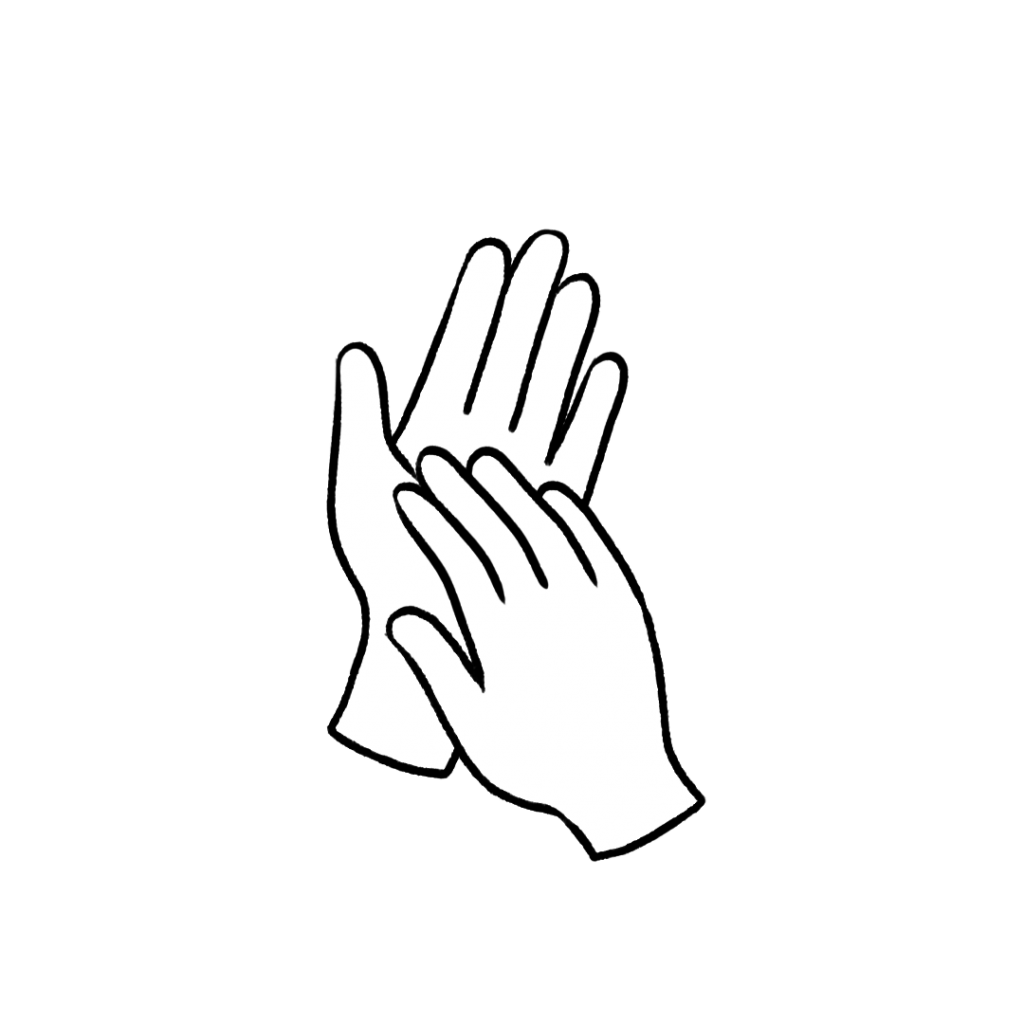 When properly diluted, this DIY body spray with essential oils is generally safe to use if you have sensitive skin.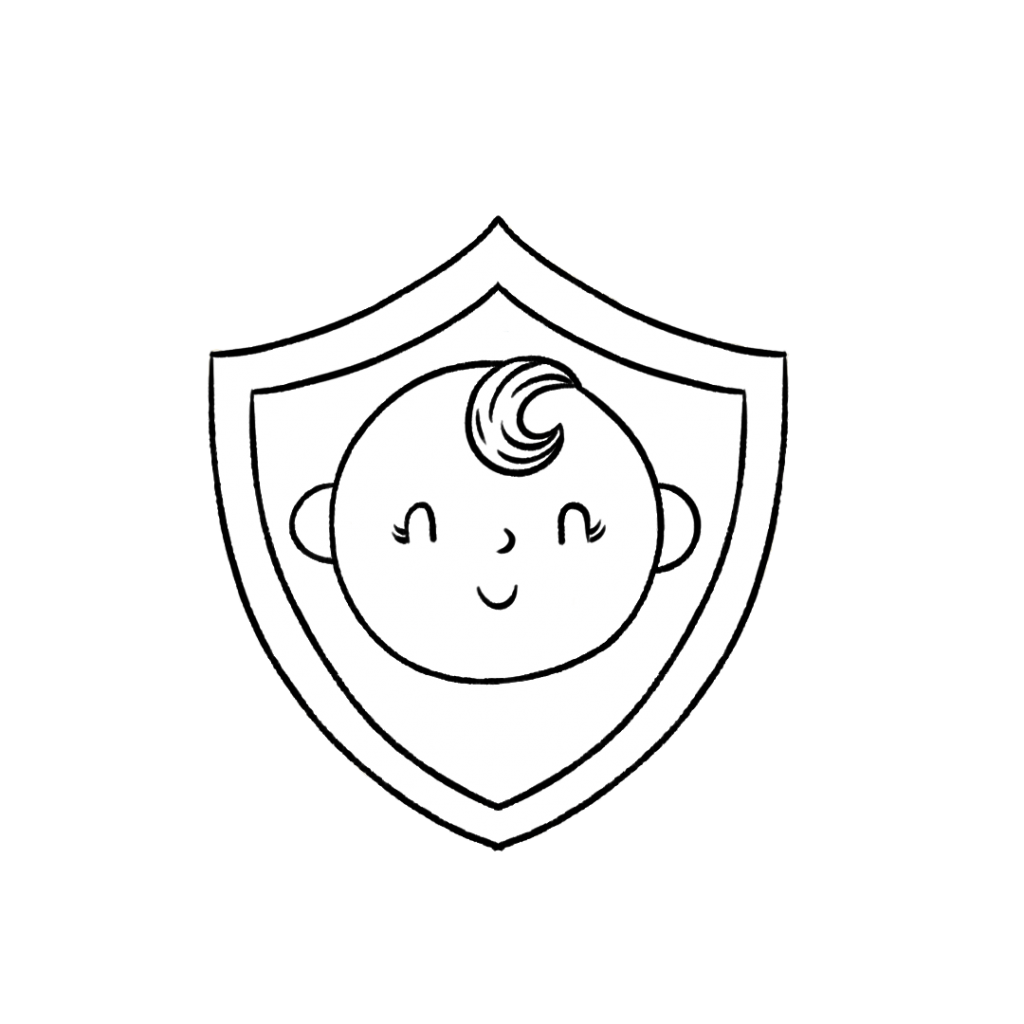 Your body spray is generally safe to use around children over the age of 10.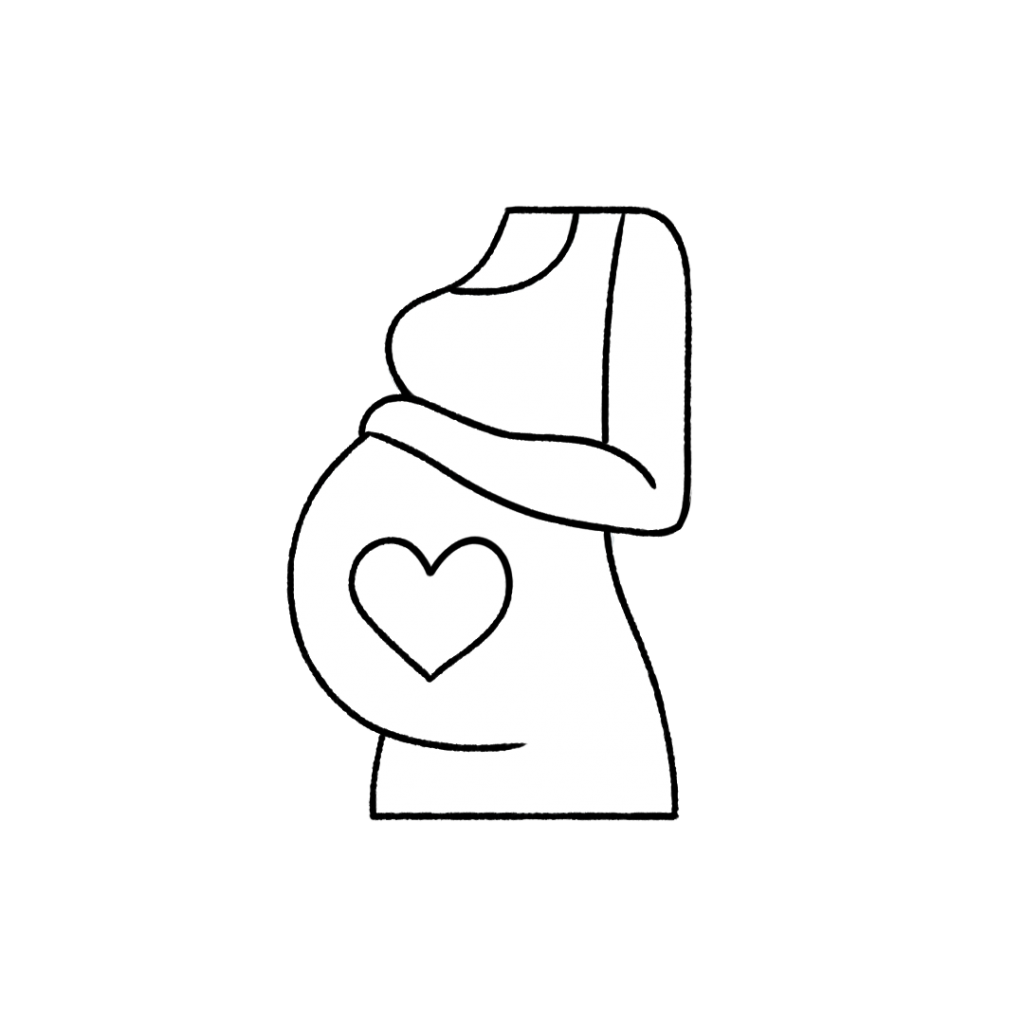 Using this recipe is not recommended if you are pregnant. Consult your doctor prior to use.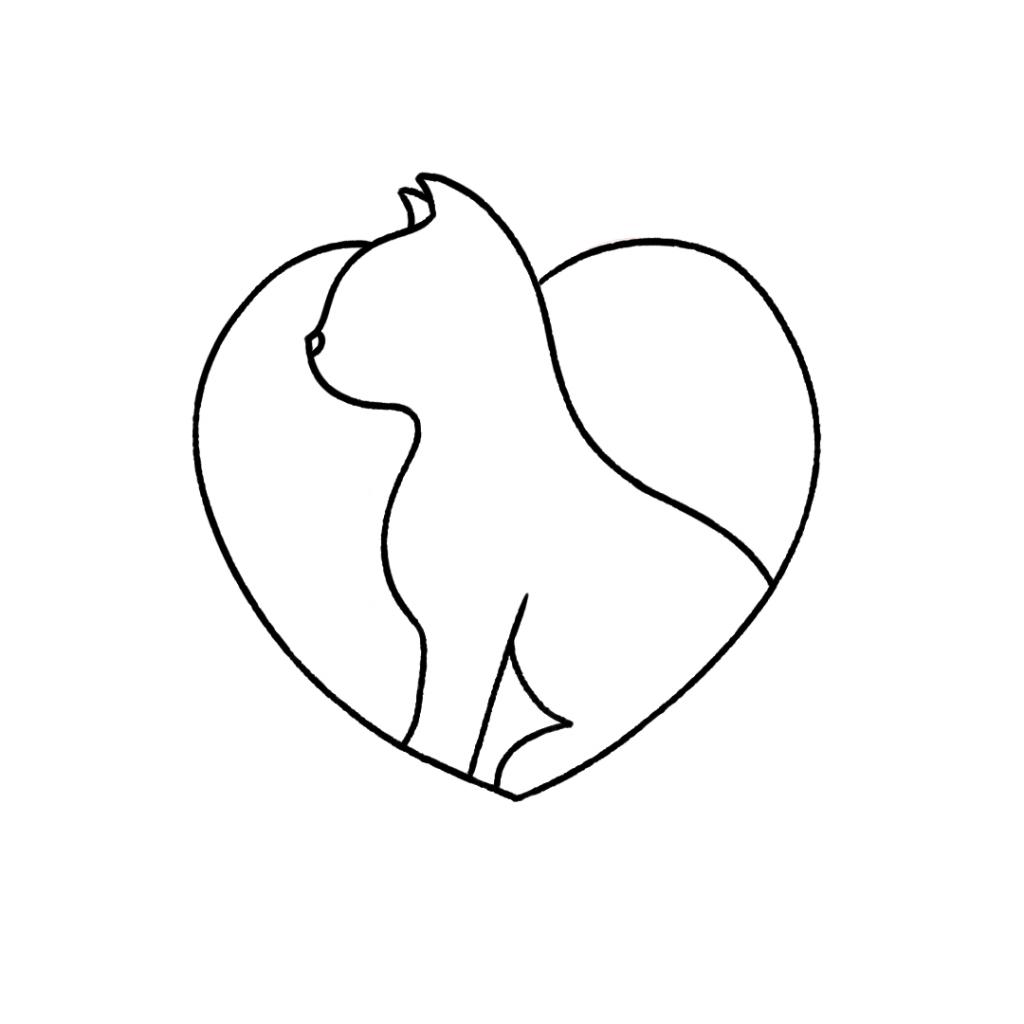 Avoid using this DIY body spray around cats as its oils may be irritating. For more information on using essential oils with cats, check out this blog post.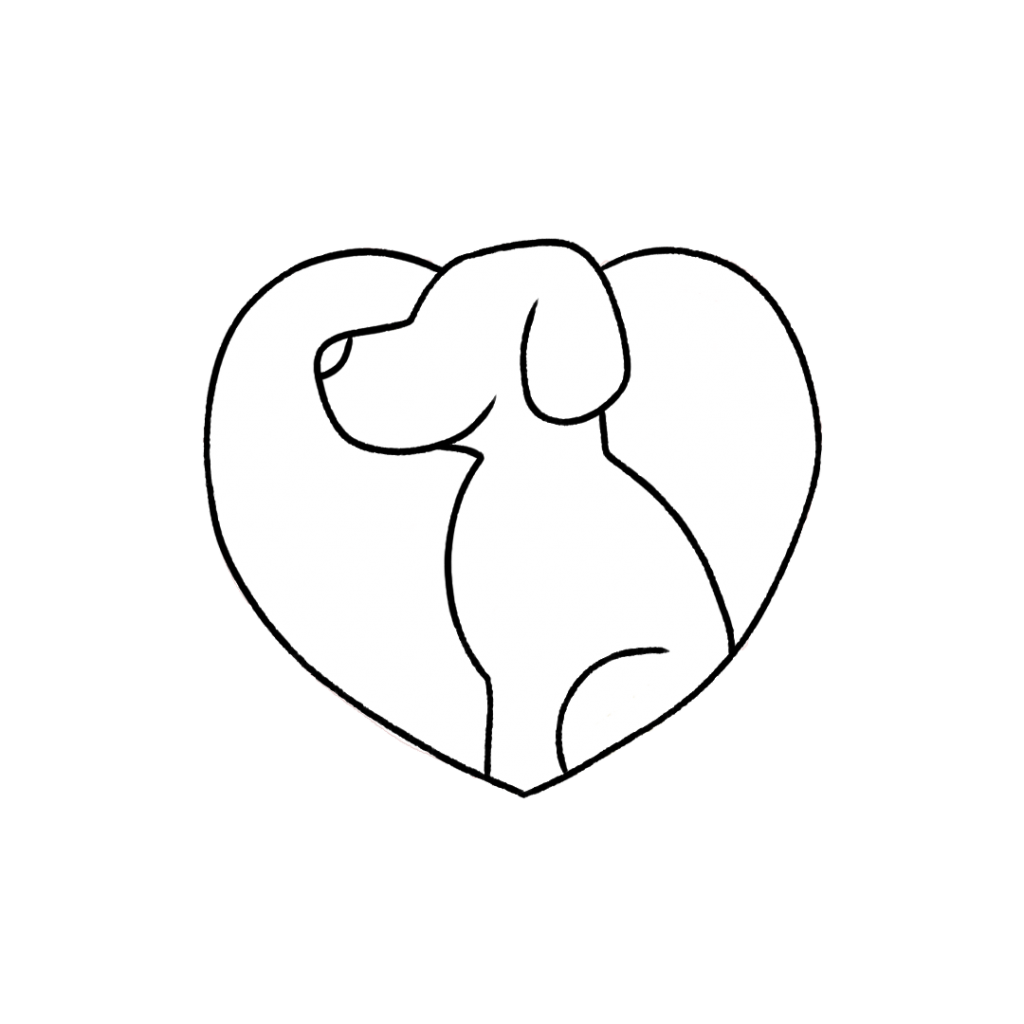 This natural body spray is not recommended for use around dogs as its oil may be irritating. For more information on using essential oils with dogs, check out this blog post.
Because the Breathe Easy Essential Oil Blend contains Frankincense Essential Oil, consult your doctor before use if you have a bleeding disorder.
Never ingest any essential oil, even if it's generally regarded as safe. For more information on why we don't ingest essential oils, check out this blog post.
"These statements have not been evaluated by the Food and Drug Administration. This product is not intended to diagnose, treat, cure, or prevent any disease."
Please note: This post is a compilation of suggestions made by those that have extensively used essential oils and has not been verified scientifically with clinical tests nor reviewed by medical experts. It is anecdotal information and should be treated as such. For serious medical concerns, please consult your doctor.
Natural Hydrating Body Spray Recipe
Hydrate Your Skin Naturally Using Our DIY Body Spray
Ingredients
¼ cup distilled water

¼ tsp vegetable glycerin

1 tsp almond oil

¼ tsp emulsifying wax

5 drops Breathe Easy Essential Oil Blend

Small blender or stick blender

Food thermometer

Spray bottle
Directions
In a double boiler, stir distilled water and vegetable glycerin together.
In a separate double boiler (or a jar resting in a pan with 2 inches of water) combine almond oil and emulsifying wax. 
At the same time, heat both mixtures until they reach 150 °F. Both mixtures need to be that temperature in order to mix. 
Once both mixtures have reached the same temperature, take them off the heat. Pour water mixture into a bowl (if using a stick blender) or into a blender. Turn on the blender so that a vortex forms. Slowly add wax mixture and blend for 5-7 minutes until it is thoroughly blended. 
Allow to cool. 
Add essential oils and blend to incorporate. 
Pour into a spray bottle and label. To use, spray onto skin and gently rub in to nourish the skin. 
When Do You Need a Quick Hydrating Boost?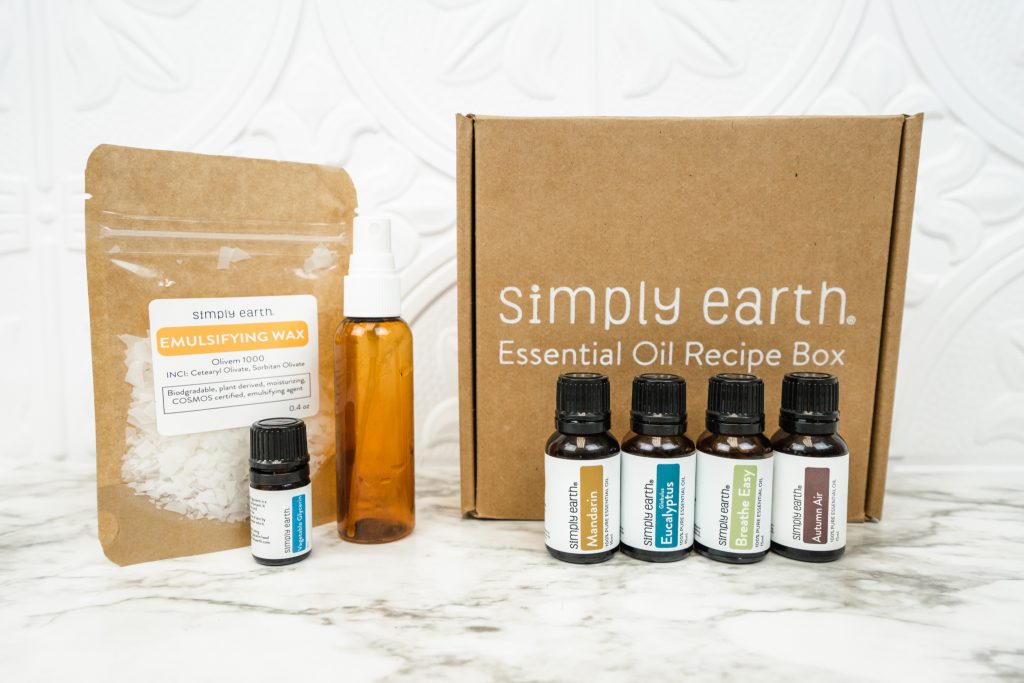 As I said, I generally use a few spritz of this body spray on my way to work. I also like to quickly use this after a long day outside to help my skin recover from sun and wind. Let us know how this recipe helps you sneak in some extra moisture on social media with @fromsimplyearth and comment below!
To learn more about using essential oils to create natural products, check out our Simply Earth Essential Oil Recipe Box. When you subscribe, we'll ship you a monthly supply of four 100% pure essential oils, six natural recipes like this odor eliminator diffuser recipe, and all the quality ingredients you'll need to make your own wonderful products for just $44.99/month.All of these goodies have over a $100 value, plus we'll give you a FREE Big Bonus Box when you subscribe. 
Subscribe to create a natural home this season.

---
References