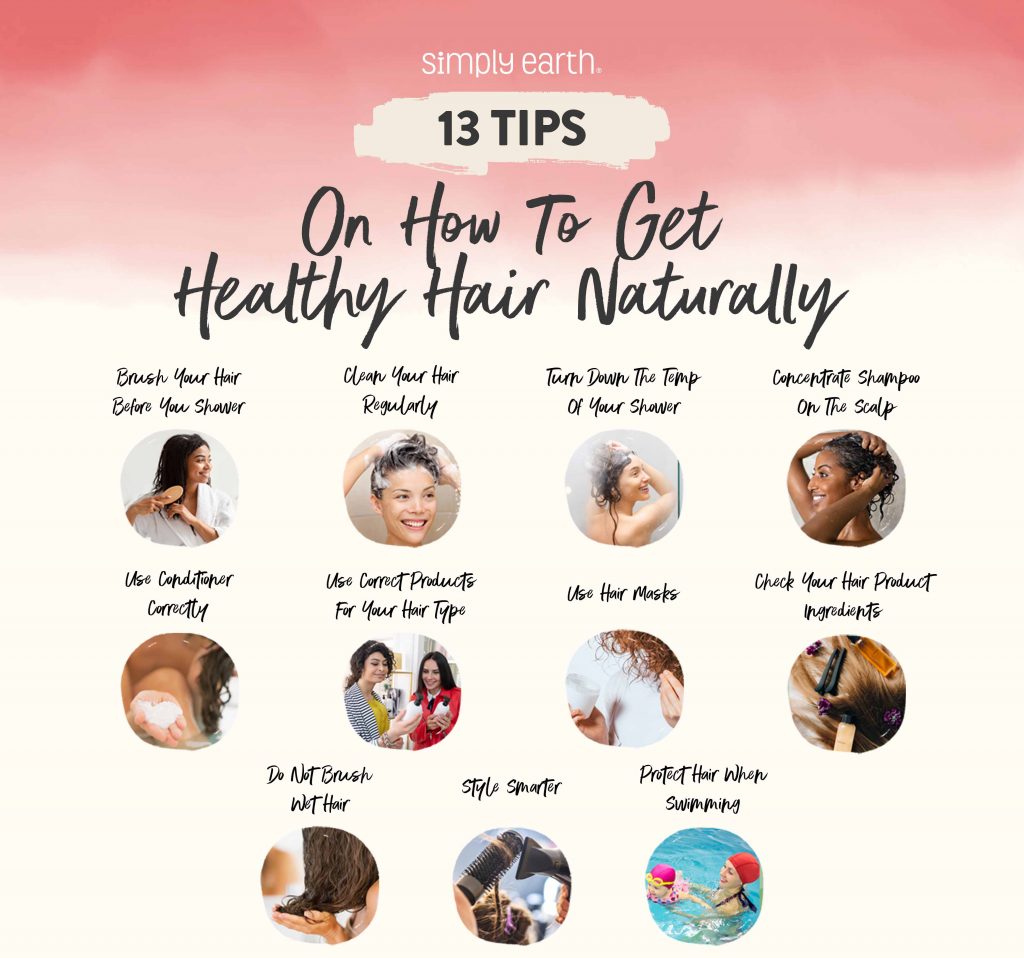 Healthy, lustrous hair is something everyone wants, but it doesn't have to be complicated! It's amazing what a few simple lifestyle changes and natural products can do for your locks. Through these 13 tips on how to get healthy hair naturally, you can give yourself the mane of your dreams without those harsh chemicals found in commercial products. There are plenty of natural remedies that can help you get back on track with healthy hair. So let's dive into these natural methods to get beautiful!
1. Brush Your Hair Before You Shower
Brushing your hair is a significant component of healthy hair maintenance. Before you jump in the shower, take the time to give your hair a good brush. Not only will it help detangle any knots and help drive oil from the scalp to nourish strands down the length of your hair, but there's something special about giving yourself that extra attention in your beauty routine – it can be therapeutic!
2. Clean Your Hair Regularly
Be sure to clean your hair regularly. This doesn't have to mean shampooing daily; natural oils nourish the scalp and hair and are necessary for overall health. That said, scheduling regular (every 2-3 days) washes helps balance the oils, ensuring your hair isn't excessively dirty but maintains enough resilience. Note that if you have naturally oily hair, you may need to wash it more often.
3. Take Colder Showers
Another not-so-known tip is to lower the temperature when you jump in the shower each day. Hot showers may feel like a little bit of heaven, but they tend to dry out your hair, damaging those precious strands. Lowering the temp just a notch can help keep your hair hydrated without applying load after a load of products.
4. Concentrate Shampoo on the Scalp
Getting quality hair can be as simple as just focusing on one thing: your scalp's health. By simply ensuring you rinse thoroughly and concentrating your lathering up to the roots, you give your poor scalps a much-needed break from dirt build-up and reduce the number of times oils get clogged in there!
5. Use Conditioner Correctly
One of the most important components of any good hair routine is conditioner. When used correctly, the conditioner rehydrates hair and helps to lock in moisture and shine. However, when using conditioner, you shouldn't just slather it onto your scalp; instead, you should focus on the length and ends of your hair, where the cuticles are the driest. Also, remember that less is more; too much conditioner can make your scalp greasy.
6. Use Correct Products for Your Hair Type
Knowing your hair type is the best place to start when caring for your hair. Using the wrong products can take a toll on your hair's health, but you can cultivate luscious-looking locks with the right formula tailored to you and your hair. Whether you are dealing with dryness or oiliness, there are products specifically designed to deal with each issue head-on.
7. Use Hair Masks
One way to give your hair lasting nourishment is by regularly using hair masks. These are amazing in improving your hair's softness, strength, and overall texture, as they can add much-needed moisture and protein back into weakened strands. And you don't need an expensive trip to the salon, either; there are plenty of ways to make DIY masks with essential oils using ingredients that you probably already have!
8. Check Your Hair Product Ingredients
Walking into the hair care aisle at the store is like entering a maze of mystery ingredients. Fear not, though! I started researching what I was putting on my hair to stay healthy and shiny. It turns out tons of not-so-safe chemicals lurk in everyday shampoos, conditioners, and leave-in treatments. So for good hair and overall health, pay attention to labels and avoid sulfates, silicones, and parabens.
To know more, check out this blog about the Benefits of Using Non-Toxic Personal Care Products.
9. Don't Brush Wet Hair
When wet, your delicate strands are more prone to breakage and damage when brushed, leading to unhealthy split ends. So instead, wait until your hair is mostly dry before brushing it out – or better yet, detangle them with a wide-toothed comb before hopping in the shower (tip number 1)!
10. Style Smarter
Choose hairstyles that don't zap away moisture and nourishment. Try air-drying your hair instead of blow-drying, which can damage your locks. Stay away from tight ponytails and updos — these require too much teasing, resulting in rough ends and breakage. Play with different protective styling techniques, such as braids and buns, to allow your hair time to rest and recuperate naturally.
11. Protect Hair When Swimming
Whether you take a dip in the pool or wade in the ocean, chlorine and salt water can make a real mess of your hair. So make sure to protect it! If you're swimming in chlorinated water, try wetting your hair with clean water before jumping in (it will be less likely to absorb the chemical). Or wear a swim cap so your hair is completely sealed from the weather elements. Finally, use a deep-conditioning treatment afterward to give your hair some much-needed TLC.
12. Use Silk Pillowcases
The softness of silk helps keep your strands in good condition. It can also help preserve the style of a blow-out or twist-out longer while also decreasing tangles and split ends.
13. Trim Hair Regularly
One universal tip everyone can benefit from: Trim your hair regularly. Not only do regular trims keep split ends at bay, but it also helps prevent lackluster dry-looking locks.