Oh, what can coconut oil not do?
When I was young, I can still vividly remember how my grandmother made coconut oil from scratch and put it on my hair. It made my hair incredibly shiny and healthy. Today, we'll take this old recipe to a whole new level using aloe vera and essential oils. Presenting our newest recipe, a Moisturizing Hair Mask that will help revitalize your hair.
So, why use a hair mask when you already have a shampoo and a conditioner in place? Well, a hair mask contains more conditioning agents than your regular conditioner.
Do you experience split ends or breakage with your hair? This hair will help promotes more intense hair repair and hydration to protect your hair.
If you have damaged, coarse hair, spare 5 minutes of your time and whip up this hair mask recipe. This might just be what you are looking for.
What I Love About This Hair Mask Recipe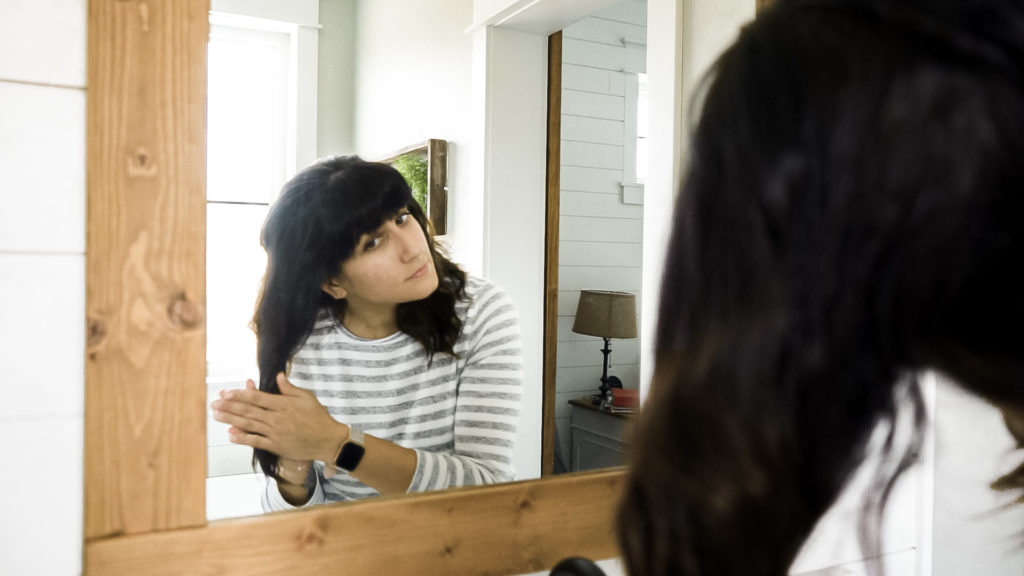 This recipe and simple and effective. Just like my grandmother, I love to use this all-natural hair mask recipe to my kids to make their hair shiny and healthy all the time.
What's in This Moisturizing Hair Mask Recipe?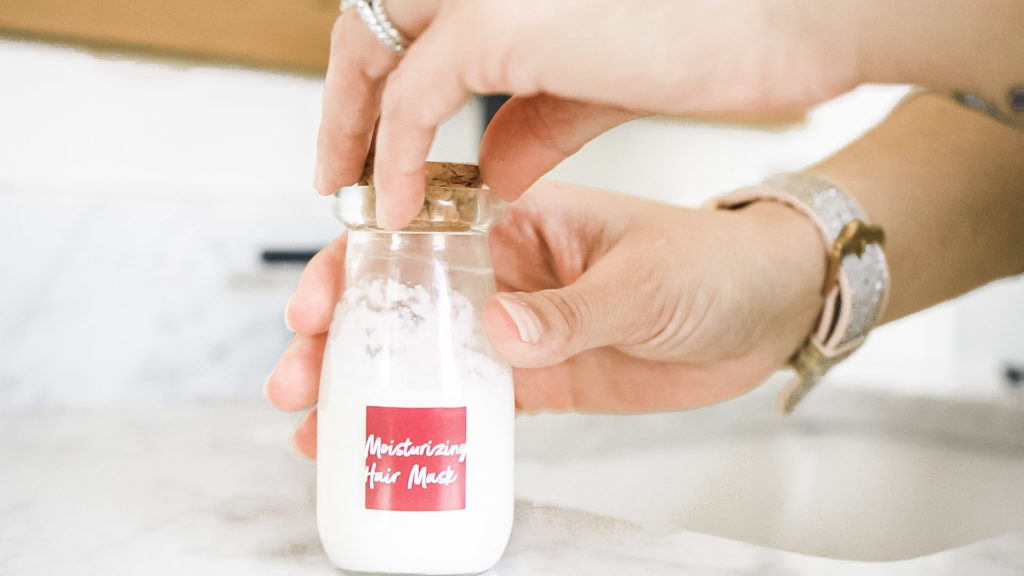 Aloe Vera
Aloe Vera Gel conditions and shines the hair. It also contains helpful enzymes that repair cells and soothe the scalp. It also helps reduce hair breakage and even dandruff.
Coconut Oil (Solid)
Of course, the great Coconut Oil is always a lifesaver in different recipes. For the hair, it helps make it feel softer and shinier. With the texture now nourished and hydrated, you can expect less frizzy hair in no time.
Marjoram Essential Oil
We added Marjoram Essential Oil for a soothing aromatic touch to your hair. Marjoram oil has a calming, sweet, and herbaceous aroma that eases stress.
Corn Starch
Corn starch is not only an ingredient to use in the kitchen. It is also great for various DIY recipes like this moisturizing hair mask because of it can help thicken recipes in a natural and safe way.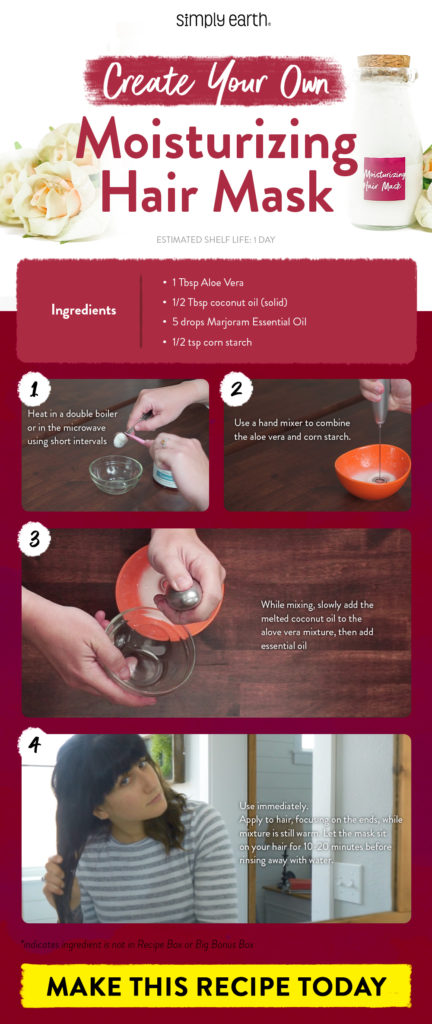 Things to Remember When Using This Recipe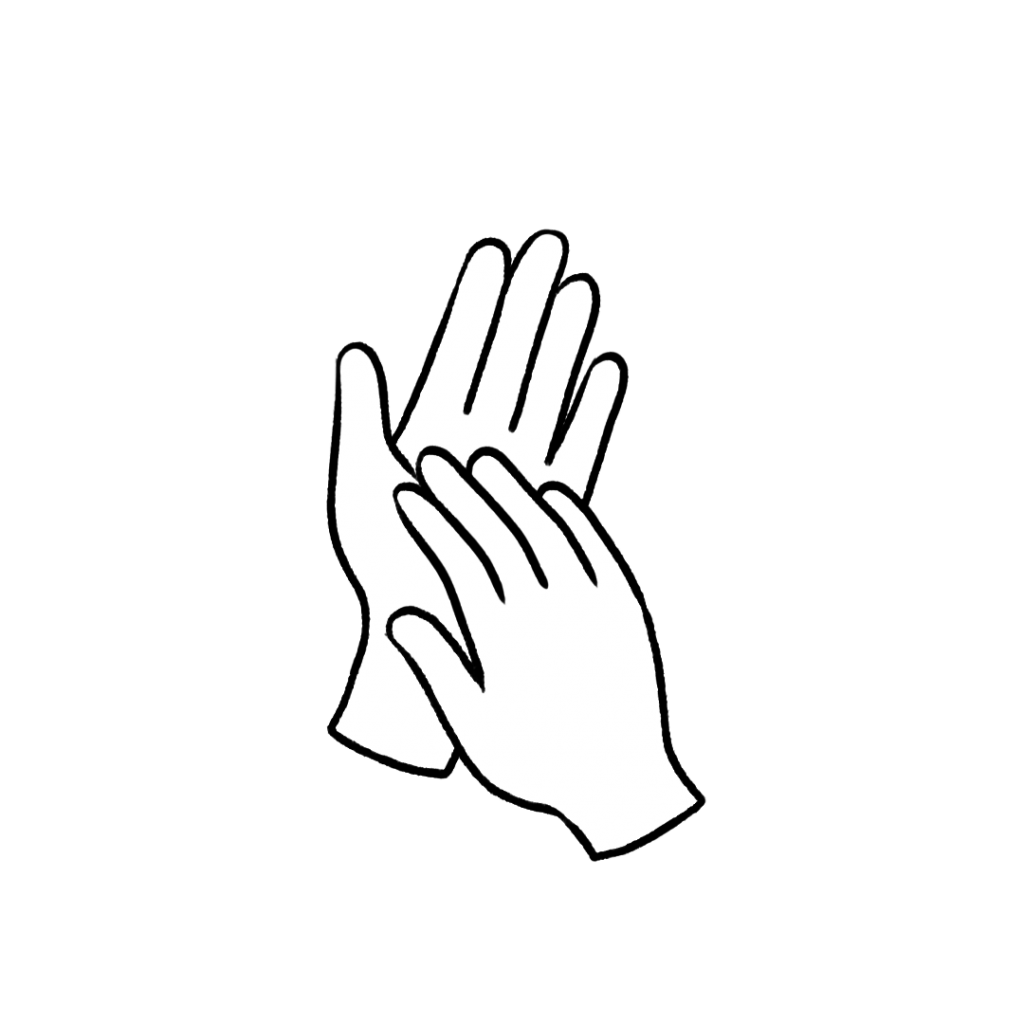 Always dilute an essential oil when using it on the skin. This essential oil recipe is unlikely to cause skin irritation when diluted properly. If the oil has been oxidized (left with the cap off for long periods of time) it is more likely to cause skin irritation. Check out this dilution chart for diluting this essential oil properly.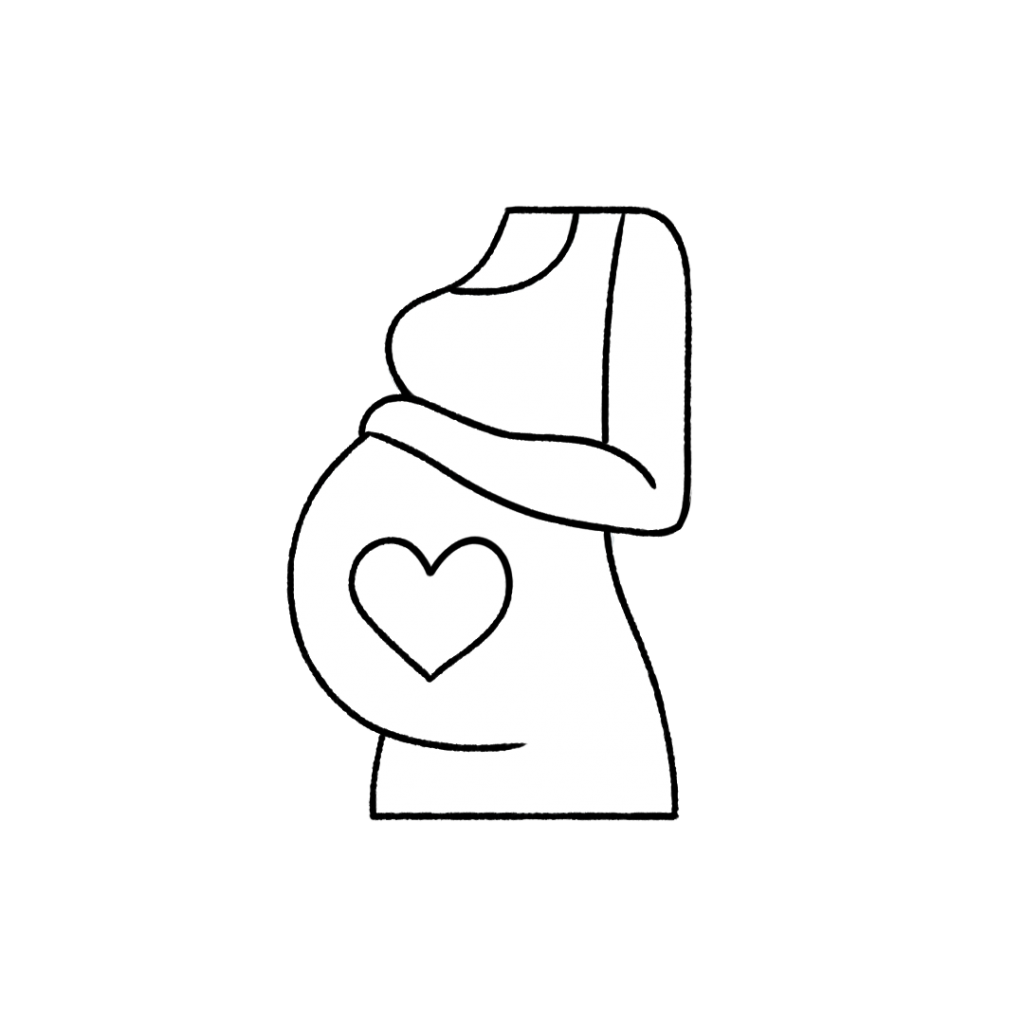 This recipe is generally safe to use if you are pregnant. Consult your doctor prior to use.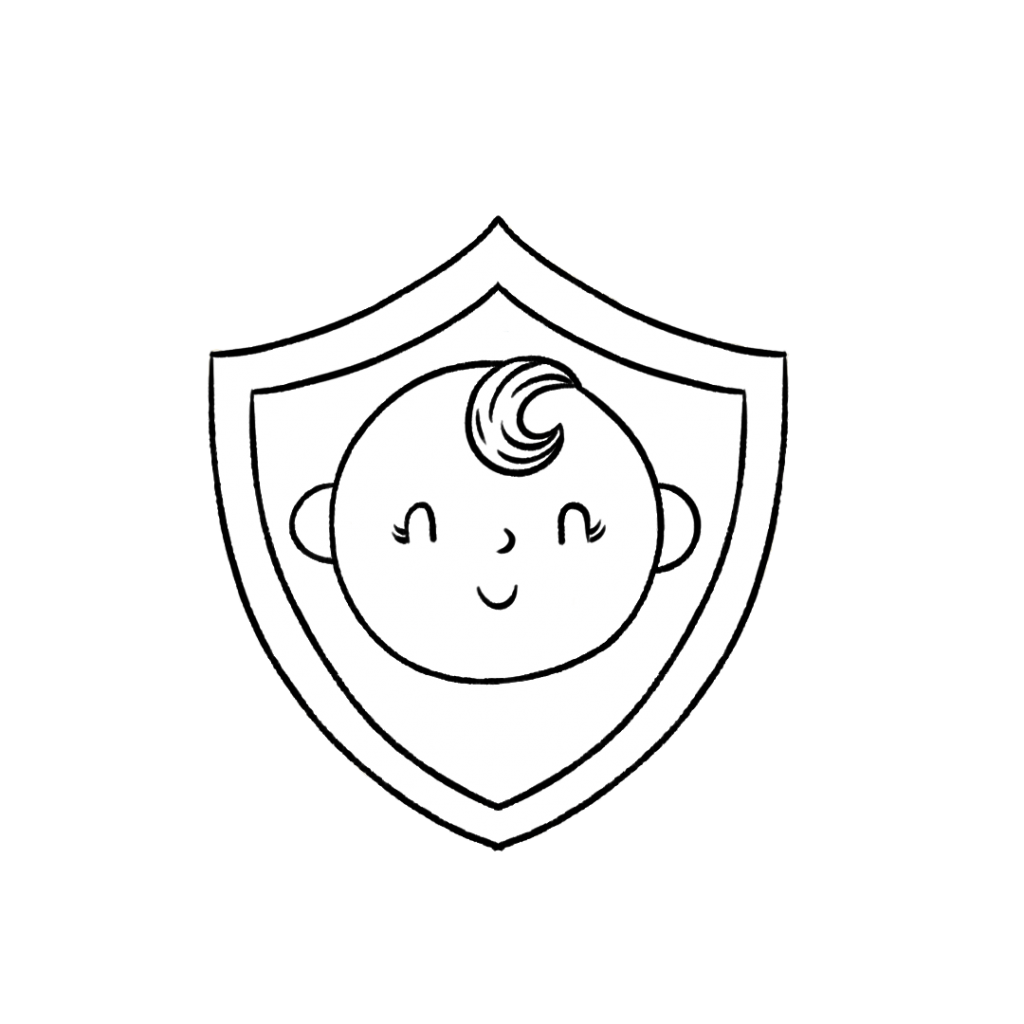 This recipe is safe to use with kids aged 2+.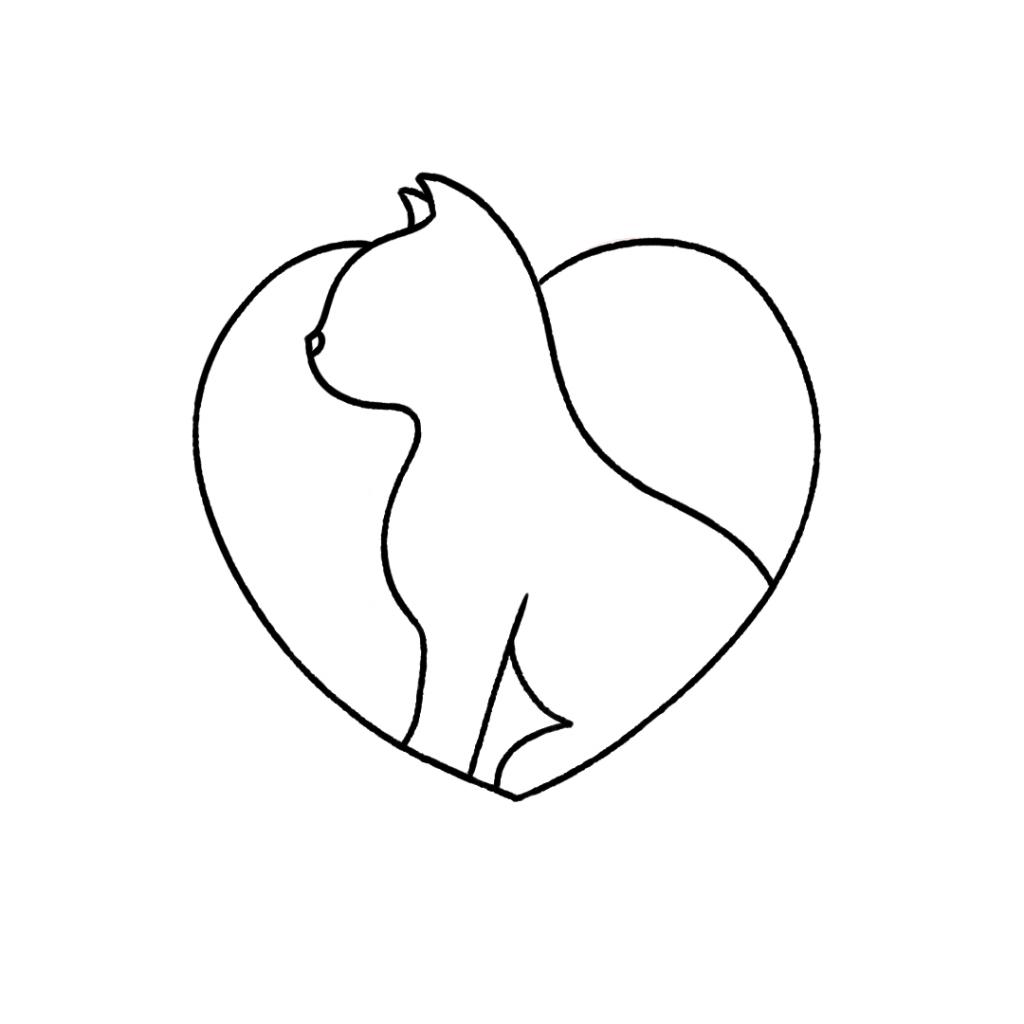 This essential oil recipe is generally safe to use around cats. For more information on using essential oils with cats, check out this blog post.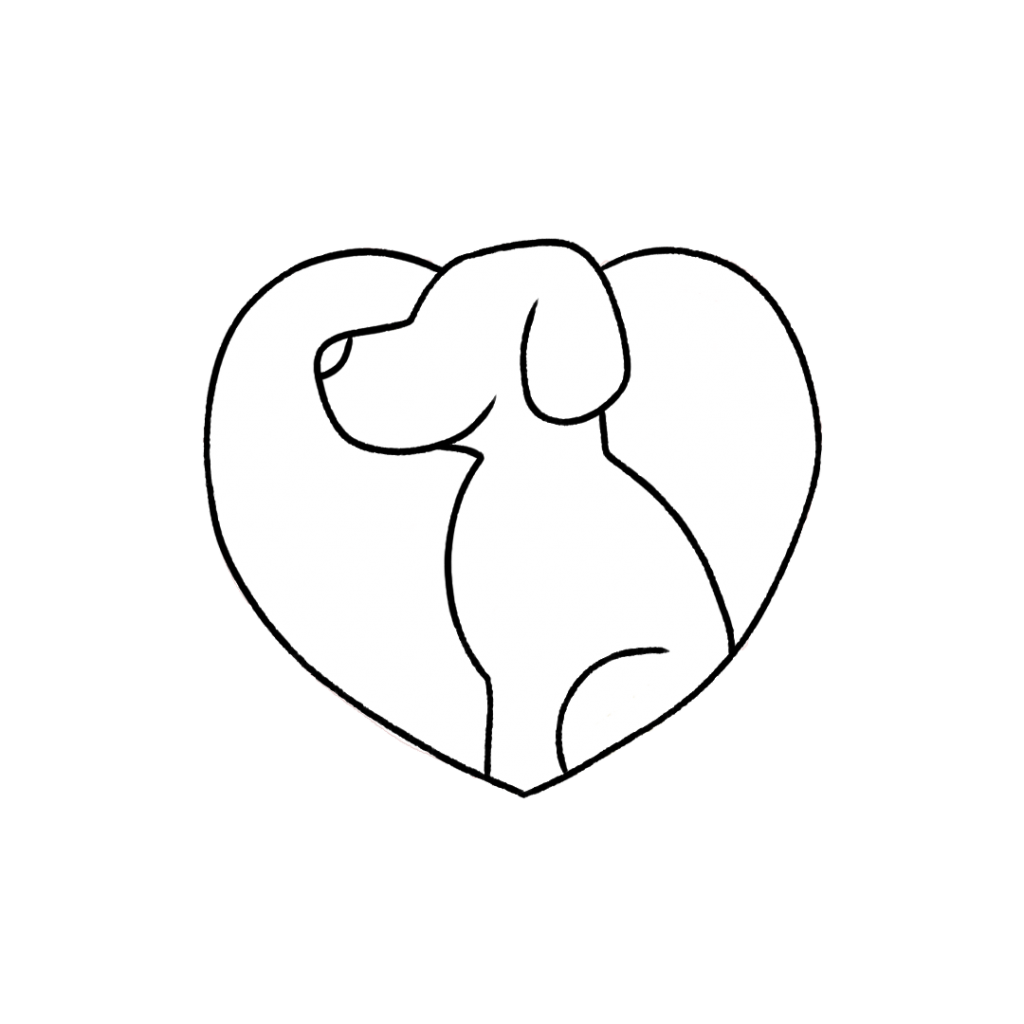 This essential oil recipe is generally safe to use around dogs. For more information on using essential oils with dogs, check out this blog post. 
We don't recommend ingesting essential oils unless under the direction of a doctor certified in aromatherapy. For more information on why we don't ingest essential oils check out this blog post.

*Please note: This post is a compilation of suggestions made by those that have extensively used essential oils and has not been verified scientifically with clinical tests nor reviewed by medical experts. It is anecdotal information and should be treated as such. For serious medical concerns, please consult your doctor. The statements given in this blog post have not been verified by the FDA
Moisturizing Hair Mask Recipe
All-Natural Moisturizing Hair Mask Recipe
Time: 5 minutes
Est. Shelf Life: 1 day
Yield: ~1.5 fl oz
Dilution Rate: >0.5%
Ingredients
1 Tbsp Aloe Vera

1/2 Tbsp coconut oil (solid)

5 drops Marjoram Essential Oil

1/2 tsp corn starch*
Directions
In a double boiler (or microwave using short intervals), heat the coconut oil so that it is just melted.
While the coconut oil is melting, use a hand mixer to mix the Aloe Vera and corn starch. 
Slowly add the melted coconut oil to the Aloe Vera and corn starch mixture while continuing to mix. Add essential oil.
Use immediately. Apply to hair, focusing on the ends, while mixture is still warm. Let the mask sit on your hair for 10-20 minutes before rinsing away with water. 
Achieve Healthy, Beautiful Locks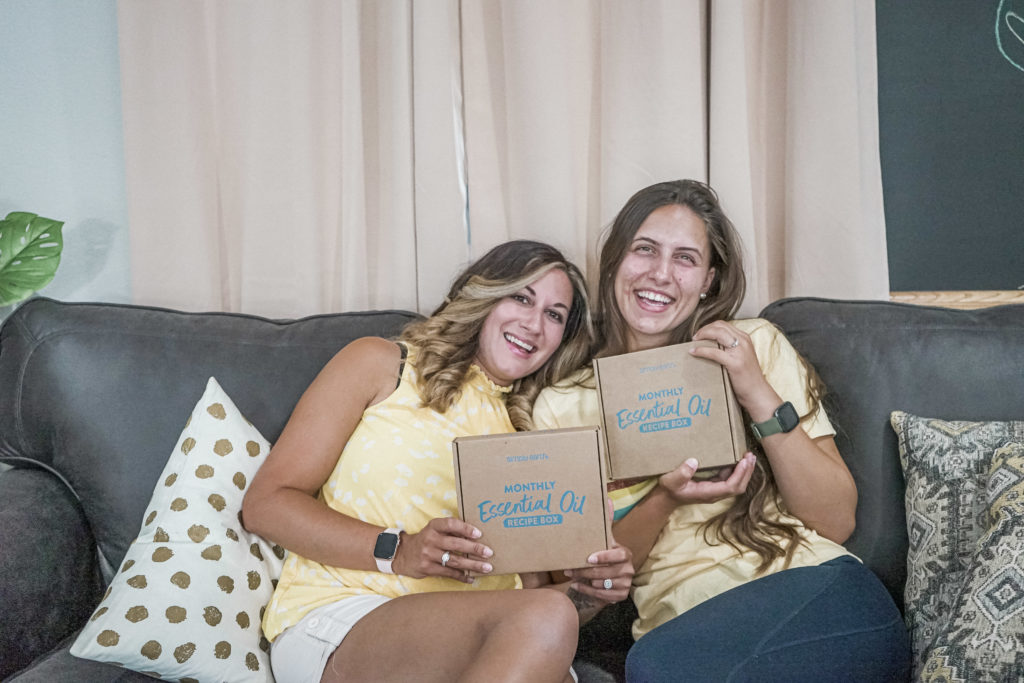 Our hair is our crowning glory, so we might as well make it shine and be lovely like a crown! What ingredient do you want to add to hair mask recipes like this one? We'd love to hear about it on social media with @fromsimplyearth and in the comments below!
Are you ready to master essential oils? You get FREE access to our Hero Course if you subscribe to our Monthly Essential Oil Recipe Box. With it, you'll receive 4 pure essential oils, 6 aromatherapist-created recipes, and more—all delivered directly to your door each month for just $44.99/month. Plus, we'll give you a FREE Big Bonus Box!
Don't miss out on the all-natural fun that comes with the Recipe Box; get yours today: Subscribe now to learn how to use essential oils!