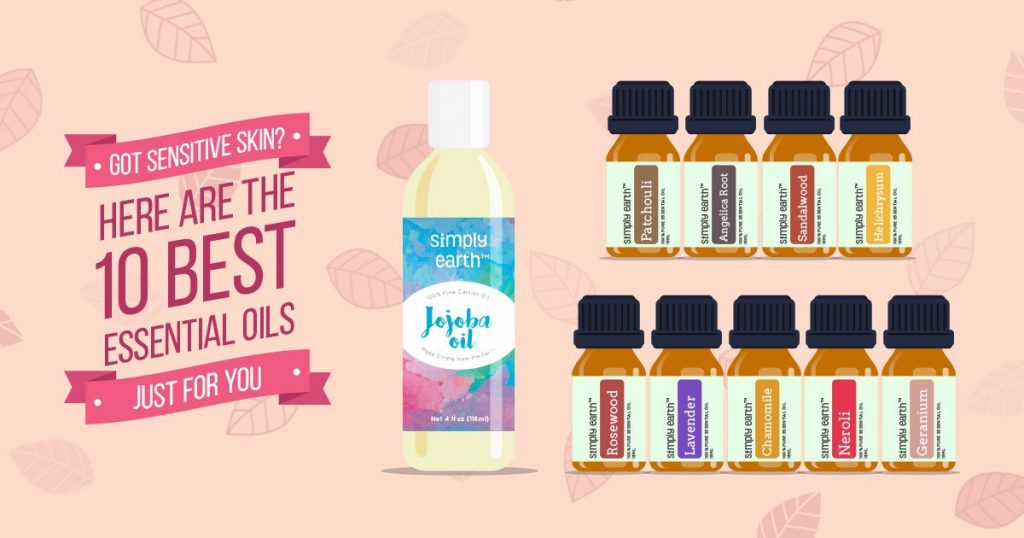 Whether it's eczema, psoriasis, rosacea, or just red and puffy, sensitive skin plagues many of us. If you are like myself and my two daughters, you know the struggle – accidently brushing up against a random thing can cause a breakout of hives, being out in the sun too long means your face turns redder than a tomato, eating spicy food makes your face red and puffy…and don't even get me started on the limited amount of cosmetics and skin care products we can use – and the ones that we can use are usually super expensive!
I've scoured the vastness that is the Internet and I have found the ten best essential oils for sensitive skin – and a few recipes that may help all of us soothe it naturally, and for way less!
Lavender Essential Oil
Lavender Essential Oil may just be the most versatile oil there is – it's gentle enough for babies and children, and it's soothing properties are perfect for sensitive skin conditions such as eczema, psoriasis, rosacea, and insect bites (which if you have sensitive skin, can resemble boils depending on the insect!).
Make a natural sensitive skin cleanser with Lavender Essential Oil – mix three tablespoons coconut oil, one teaspoon raw honey, one teaspoon baking soda, and five drops essential oil in a bowl, then store in a small glass container. Use twice a day for even the most sensitive skin!
Chamomile Essential Oil
As sensitive skin gets easily inflamed,  both Roman and German Chamomile Essential Oil's anti-inflammatory and anti-itch properties make it the perfect essential oil for sensitive skin. Chamomile is even gentle enough for babies (diluted in a carrier oil, of course)!
Try a chamomile bath to soothe irritated skin – add seven to ten drops of Chamomile Essential Oil, one tablespoon of coconut oil, and two and a half cups of milk to a warm bath. Soak in it for about thirty minutes, and enjoy!
Neroli Essential Oil
Neroli Essential Oil has been said to heal broken capillaries in the skin – making it PERFECT for rosacea sufferers (i.e., me!). It is also great for dry skin, irritation, general redness, and wrinkles!
Make your own natural skin healing butter – mix three to five drops of Neroli Essential Oil into an ounce of raw shea butter, and store in an amber glass container. Use whenever you need for most maladies, or as an everyday moisturizer.
Geranium Essential Oil
This gentle oil can be used on sensitive skin to help heal scars from acne or pox-related illness. Geranium Essential Oil's natural gentleness and astringent properties make it perfect for toning up sensitive skin.
Try this skin enhancing recipe – mix one teaspoon of coconut oil with five drops of Geranium Essential Oil, then rub the mixture on your trouble spot until you see results. Use on scars, pimples, cuts, and more!
Rosewood Essential Oil
Rosewood is a great choice for all skin types, especially sensitive skin! While increasing skin elasticity, it also acts as an anti-inflammatory and anti-wrinkle. It is even said to help clear up eczema and rosacea – two very common conditions among those with sensitive skin. As wonderful as this oil is, it is also considered an endangered species – so use wisely!
Use Rosewood Essential Oil in toner – mix one cup of distilled water, two drops of Lavender Essential Oil, one drop of Palmarosa Essential Oil, and one drop of Rosewood Essential Oil into a clean bottle. To use, shake well, apply toner to a cotton ball, and smooth all over face.
Patchouli Essential Oil
Patchouli is one of those oils that is an "acquired taste" – you either love it, or you hate it. Most people can't stand the smell, but there is much more to this musky, spicy oil than it's scent. Patchouli is great for the skin as a "tissue regenerator" – healing problems such as dry patches, eczema, and acne.
Patchouli is a great addition to this massage oil – combine eight drops of Sandalwood Essential Oil, three drops of Orange Essential Oil, two drops of Patchouli Essential Oil, one drop Ylang-ylang Essential Oil, and one drop of Ginger Essential Oil to ¼ cup carrier oil (fractionated coconut, almond, and jojoba are great options) in a dark amber glass or PET plastic bottle.
NOTE: Do NOT use Patchouli Essential Oil right before bed, as it will keep you awake.
Angelica Root Essential Oil
Those with sensitive skin will be thrilled to hear about Angelica Root Essential Oil. Not only is it gentle enough to use, but it also has powerful anti-aging properties, making it the perfect alternative to expensive facial creams.
Sandalwood Essential Oil
Sandalwood has a beautiful, earthy aroma and is great for skin! Most use it as a massage oil, but they are unaware that sandalwood is great for many maladies, from acne to evening out skin tone!
Add five drops of Sandalwood Essential Oil to three teaspoons of coconut oil, and apply to uneven pigmented areas of your skin. Do this until skin appears evenly toned, especially when freshly tanned.
Helichrysum Essential Oil
Helichrysum Essential Oil is a healing oil without all of the harsh side effects. It won't cause redness, swelling, and is not widely known to cause allergic reactions (of course, there is bound to be a rare case). These things make it great for sensitive skin! As we all known, sensitive skin is heavily prone to sunburn, and this oil can help soothe even the worst sunburn.
To make a natural sunburn soothing tonic, combine 10 drops of Frankincense Essential Oil, 10 drops of Helichrysum Essential Oil, ¾ cup of coconut oil, and two tablespoons of shea butter in a glass jar in a pan with two inches of water. Heat until ingredients start to melt, stirring frequently. Once ingredients are combined, spread over affected area and store in a safe place for later.
Jojoba Oil
Jojoba is a carrier oil that absorbs quickly into skin, making it supple. It's hypoallergenic qualities make it perfect for sensitive skin, as it contains no nuts and no dangerous compounds. Pure jojoba oil can be used in any of the recipes above that call for a carrier, and will add moisture to those recipes.

Where Will You Start?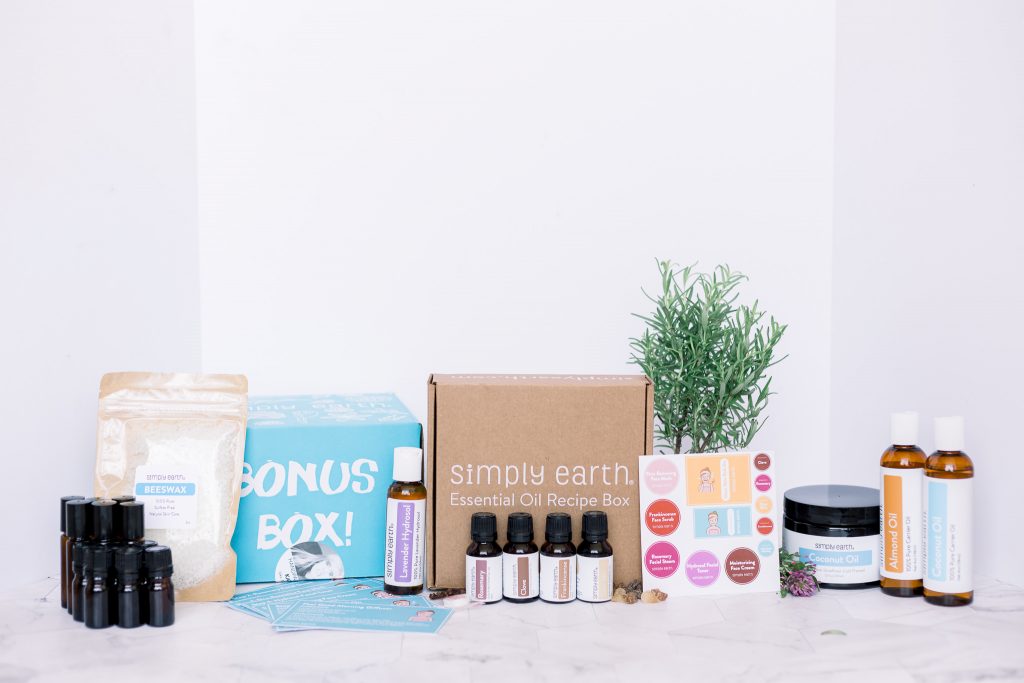 Having sensitive skin does not have to cost you a fortune in beauty supplies as long as you have essential oils! Let us know which ones you try out by commenting below or connecting with us on social media @fromsimplyearth!
Subscribe today to our Essential Oil Recipe Box. Each month, you can receive four full-size 100% pure essential oils, six natural recipes, plus the ingredients you need to make them in our Recipe Box.
With the box, you'll learn new ways to use essential oils, make more essential oil roll-on recipes, and have the peace of mind that you are making your home toxin-free. This month of April, we focus on Home Detox. This box is worth over $150 if priced from the Big Essential Oil Companies. You get all those goodies from Simply Earth for only $39. Go get it!