How do you prepare for holiday parties at your house? You get Christmas decorations out and make amazing food, but have you considered how to make your home smell great despite the number of bodies heading into your home?
Today I'll be sharing with you how to get your house smelling like Christmas with a Christmas Scented Room Spray.
What I Love about This Recipe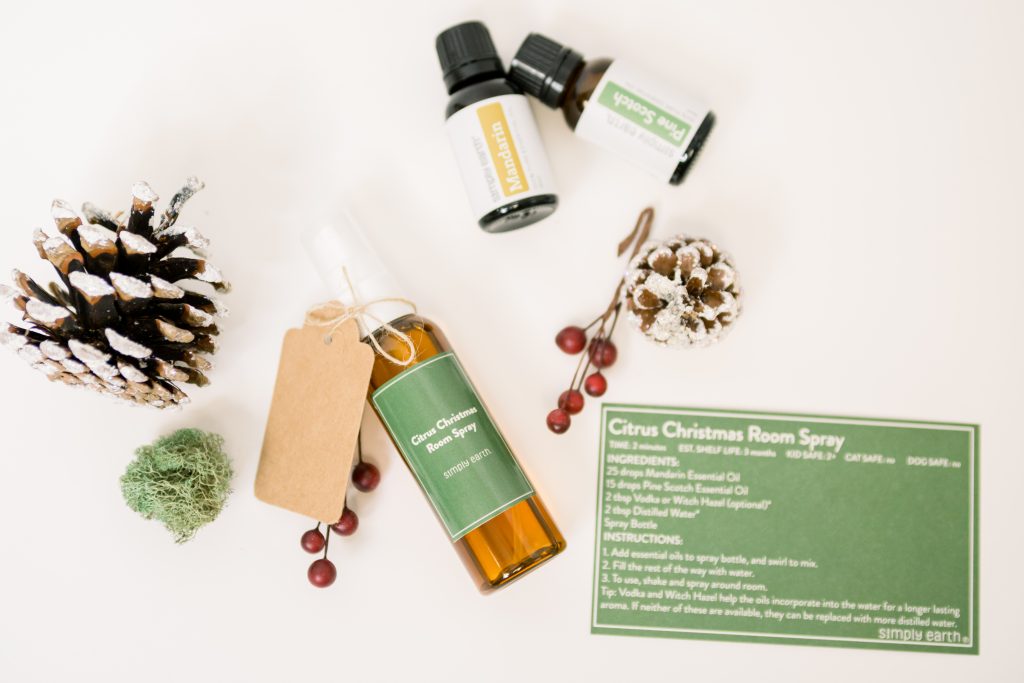 This recipe is toxin-free. Many plugins and store bought room sprays contain harmful chemicals. While those products may be helping to make your home smell cleaner, their toxins are putting you and your family at risk.
This Christmas scented room spray is an airborne deodorizer and has an uplifting and energizing scent. It will make your home smell like Christmas while adding positive energy to your holiday party. Plus, since it's a spray, you can easily bring it into any room that needs a little holiday cheer.
Natural Christmas Room Spray Ingredients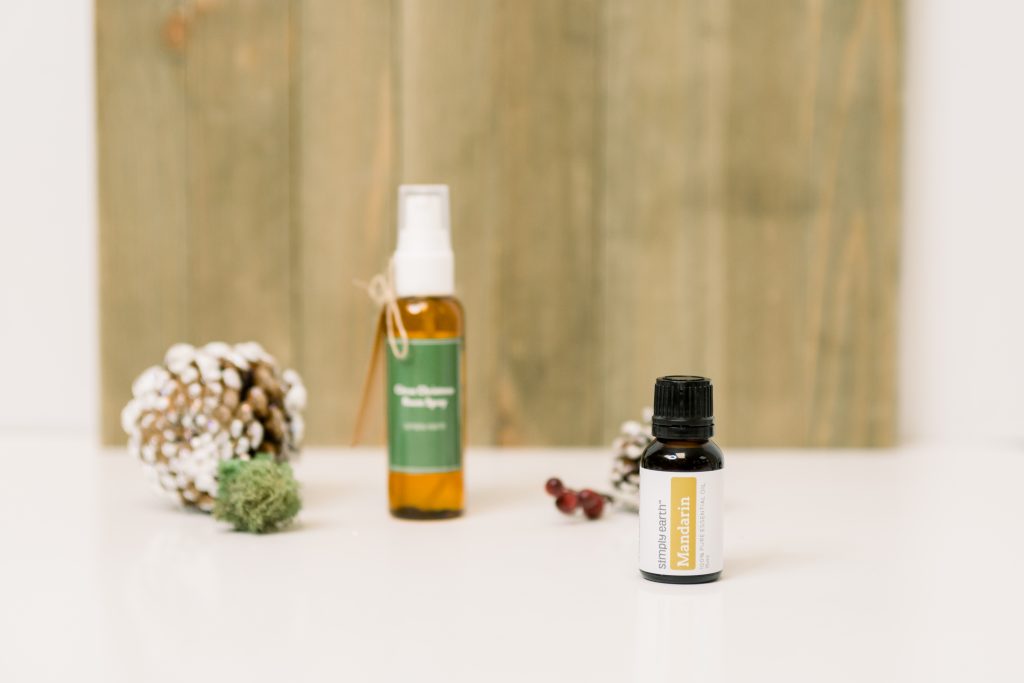 Mandarin Essential Oil
Mandarin Essential Oil is in this recipe to add an uplifting quality to the spray. It's also a natural cleaner, so you don't have to worry when a guest lets out a sneeze.
Pine Essential Oil
Pine Essential Oil makes this recipe smells like a Christmas tree, so even if you have a fake tree, you can get that fresh smell of pine when you use this spray. This oil is energizing and an airborne deodorizer to get your home smelling great.
Witch Hazel (optional)
Using Vodka or Witch Hazel is optional in this recipe. Using those ingredients will help the essential oils mix in with the water for a longer-lasting aroma.
Distilled Water
You'll also need water. Using distilled water will make this recipe last longer, but you can use regular water if you intend to use this recipe for only a short period of time.
Spray Bottle
A spray bottle is the last thing you'll need for this Christmas Scented Room Spray. Another way to help your recipe last is to use an amber spray bottle. This will protect the essential oils from the light which over time can cause them to deteriorate.

Things to Remember When Using This Recipe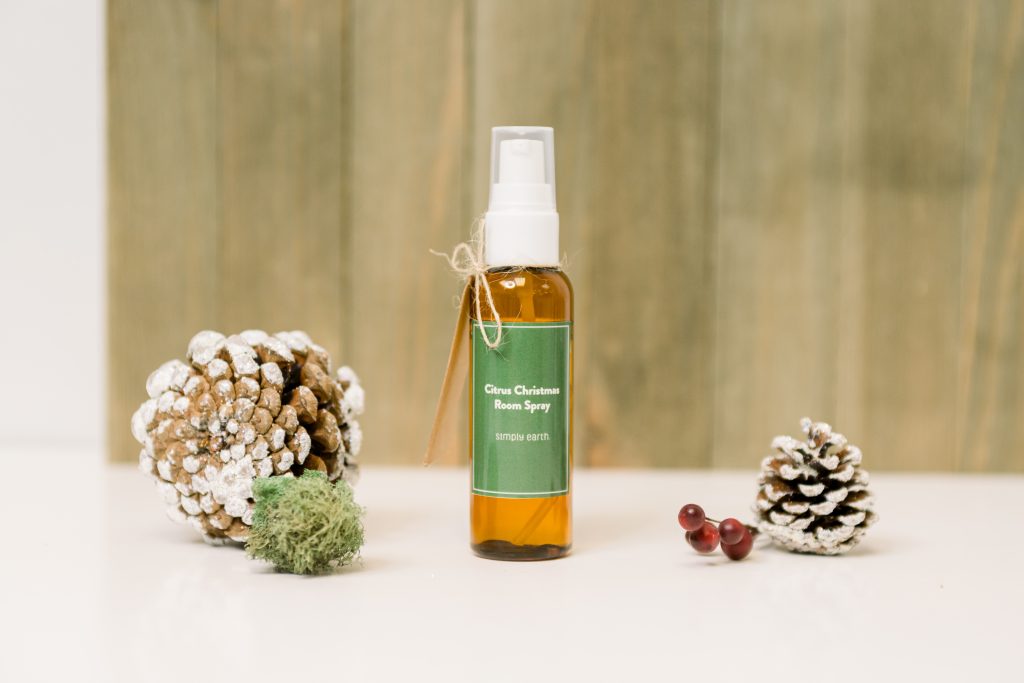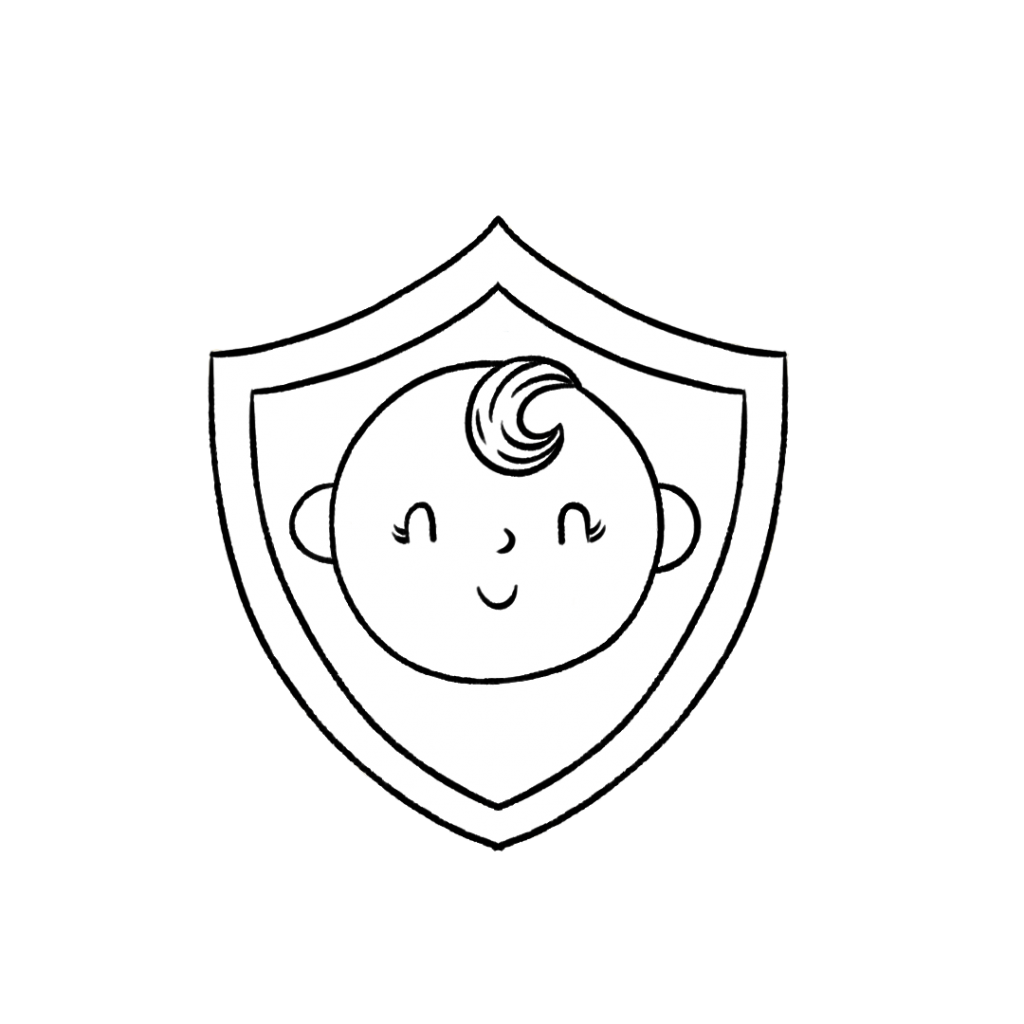 This recipe is safe to use around children 2+.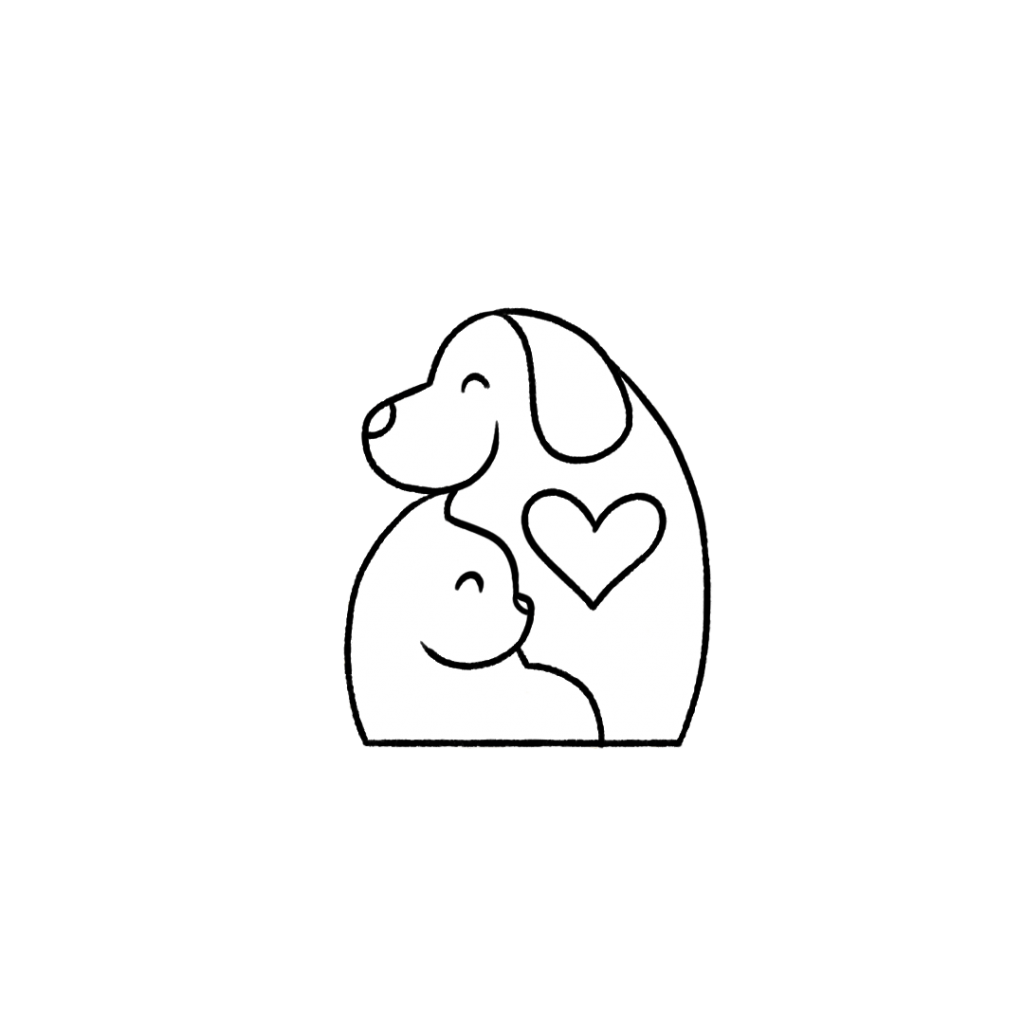 If you have a cat or dog use caution when using this spray. Make sure they have a space free from the aroma they can escape to if the smell becomes overwhelming for them. Pine Essential Oil is toxic if ingested by a cat or dog.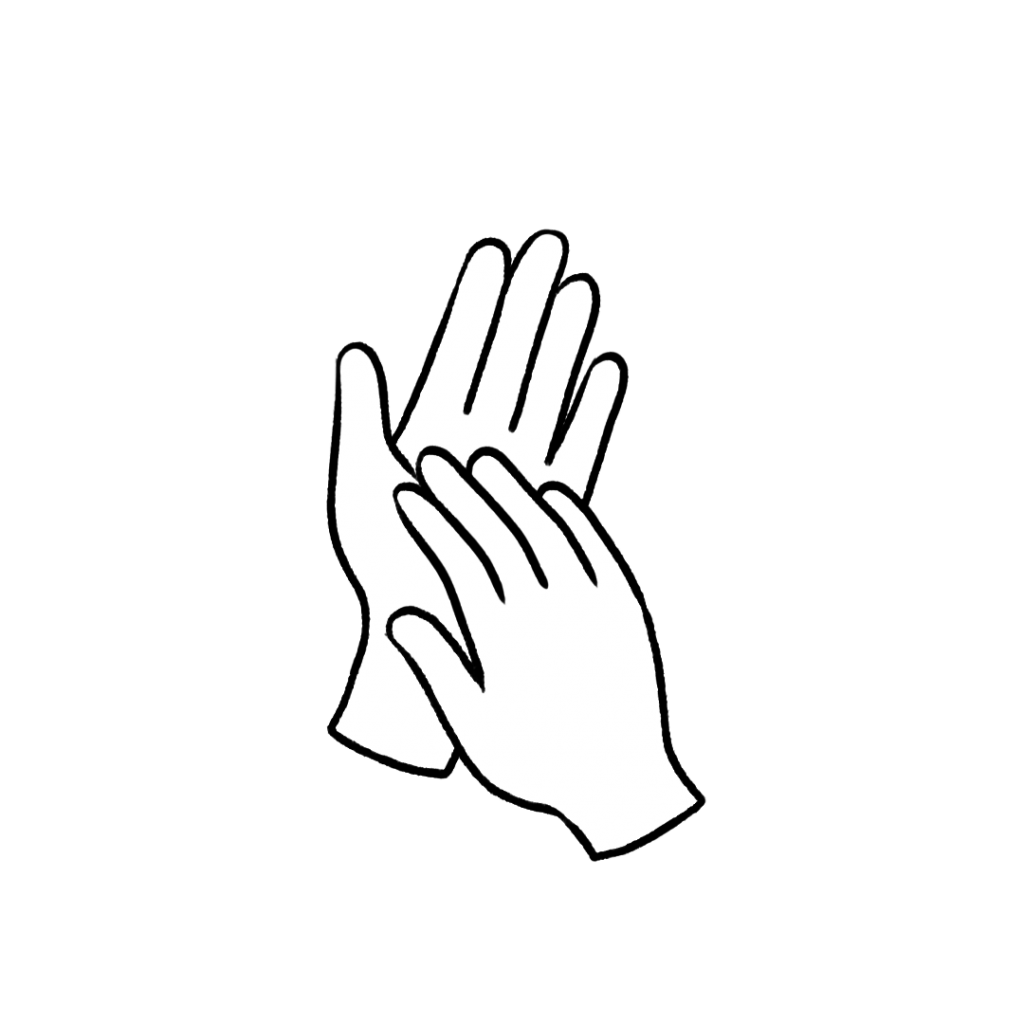 This Christmas Scented Spray is not meant to be sprayed directly on the skin.
Never ingest any essential oil, even if it's generally regarded as safe. For more information on why we don't ingest essential oils, check out this blog post.
"These statements have not been evaluated by the Food and Drug Administration. This product is not intended to diagnose, treat, cure, or prevent any disease."
Citrus Christmas Room Spray Recipe
Citrus Christmas Room Spray Recipe
Time: 2 minutes
Kid safe: 2+
Est. Shelf Life: 3 months
Ingredients
25 drops Mandarin Essential Oil

15 drops Pine Essential Oil

2 Tbsp Vodka or Witch Hazel (optional)

2 Tbsp Distilled Water*

Spray Bottle
Directions
Add essential oils to spray bottle, and swirl to mix.
Fill the rest of the way with water. 
To use, shake and spray around room. 
Notes
Tip: Vodka and Witch Hazel help the oils incorporate into the water for a longer lasting aroma. If neither of these are available, they can be replaced with more distilled water. 
How Are You Getting Your Home Holiday Ready?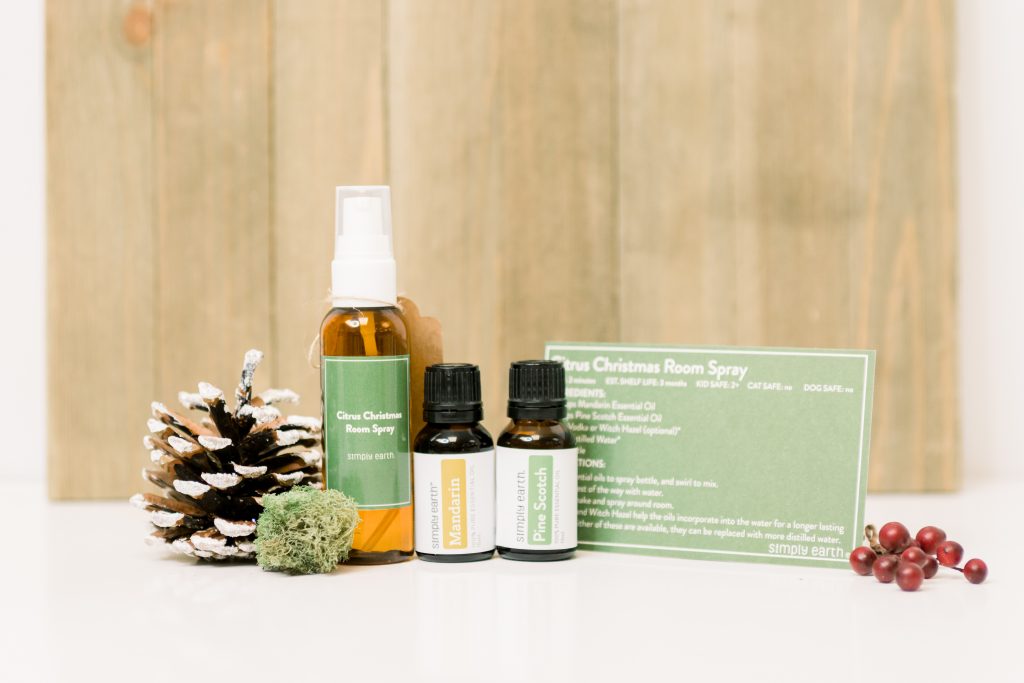 Are you going to use this Christmas scented room spray in your home? What other toxin-free ways are you using to get your home ready for the holidays? Let us know in the comments below or by connecting with us on social media @fromsimplyearth!
Subscribe today to our Essential Oil Recipe Box. Each month, you can receive four full-size 100% pure essential oils, six natural recipes, plus the ingredients you need to make them in our Recipe Box.
With the box, you'll learn new ways to use essential oils, make more essential oil roll-on recipes, and have the peace of mind that you are making your home toxin-free. This month of April, we focus on Home Detox. This box is worth over $150 if priced from the Big Essential Oil Companies. You get all those goodies from Simply Earth for only $44.99. Go get it!