In the world of shampoo and conditioner, I am constantly coming across two problems. The first problem is that DIY alternative recipes always contain castile soap.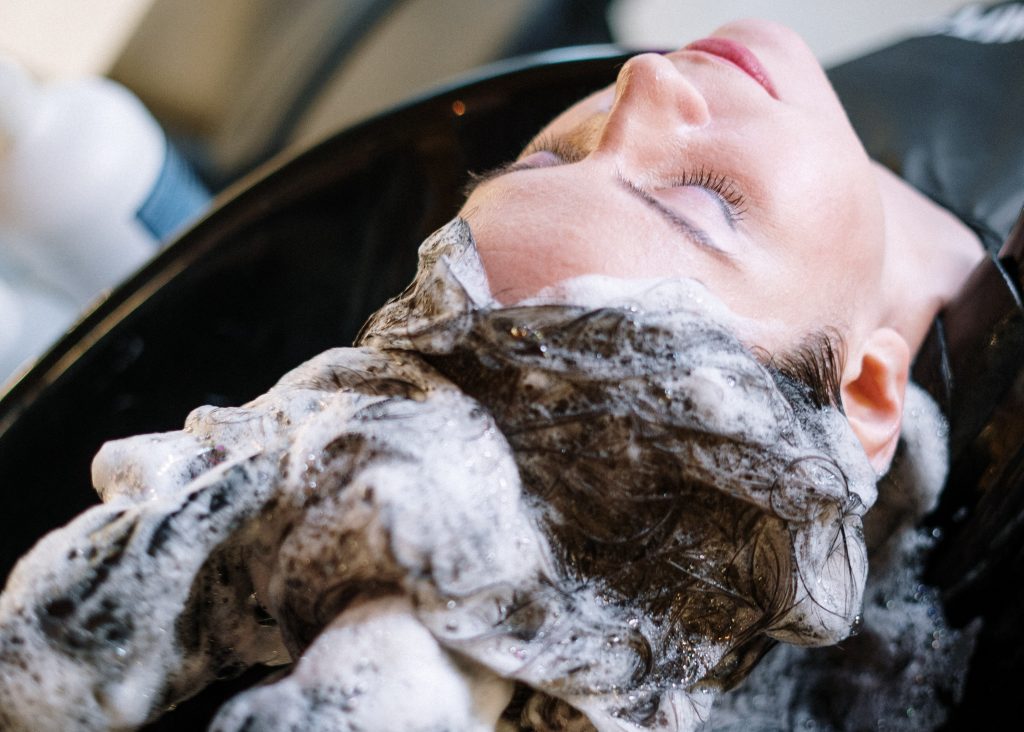 Castile soap is a natural soap that will clean your scalp but damage your hair. The pH of castile soap is different from our hair's natural pH which will cause your hair to become damaged and brittle over time.
The second problem is that store bought shampoos are full of toxic chemicals. Here are some of the nasty things we put on our head in the name of beautiful hair.
Five Nasty Chemicals in Shampoos
1. Ammonium Lauryl Sulfate or Sodium Laureth Sulfate (SLES)
This strong detergent can be irritating and can cause hair to become brittle.
2. Sodium Lauryl Sulfate (SLS)
Creates foam in shampoos but also strips the color of dyed hair. It also can cause irritation.
3. Parabens
According to the European Commission on Endocrine Disruption, there is strong evidence that parabens can disrupt the endocrine system. There are also some studies showing parabens can cause skin allergies.
4. Alcohol
Many shampoos include alcohol which has a drying affect on the hair. Note: this is different from cetyl alcohol which actually helps your hair retain moisture.
5. Synthetic Fragrances
Synthetic fragrances contain a multitude of hidden chemicals that can disrupt the reproductive system and may cause cancer or asthma.
What's in our Simply Earth Shampoo Base?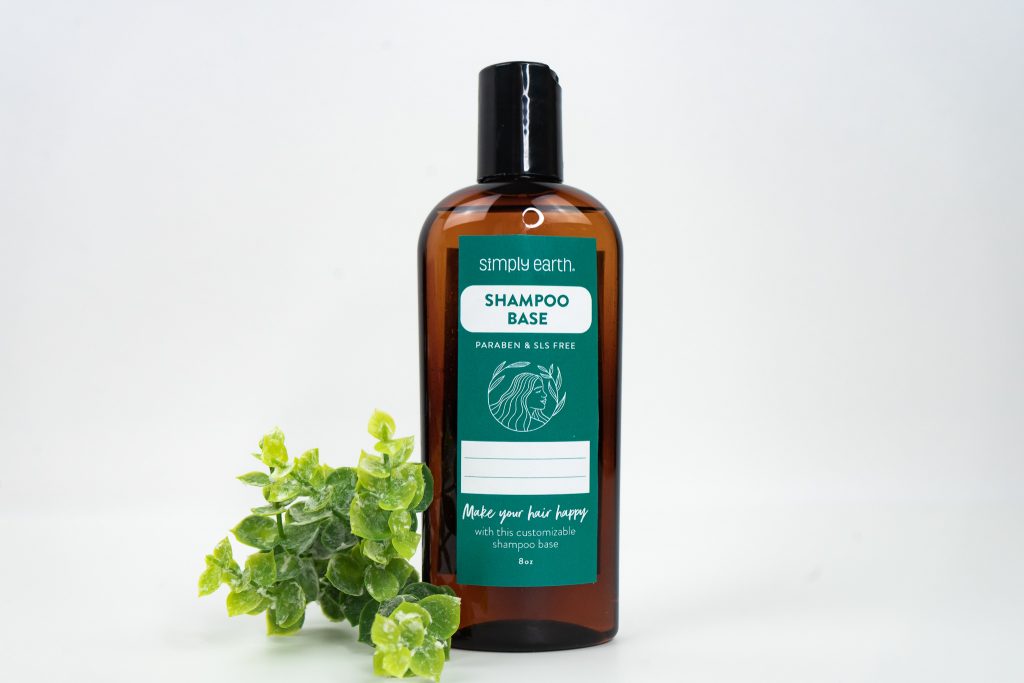 We love our Simply Earth Shampoo Base. It's SLS, SLES, Paraben, and Fragrance free! You read that right. None of those nasty chemicals commonly found in shampoos.
So let's dive into what's in our natural hair shampoo base. Shampoos are rather complex to make. There isn't a simple DIY alternative to them. While our shampoo base is very good, and I personally love it, there are a few ingredients that you may want to do some research to decide if they work for you on your toxin-free journey.
Here's a look at every ingredient in our shampoo base. I'll share any concerns there may be for an ingredient so you can make the best decision for you.
I'm using EWG's Skin Deep database for these scores and information (you can find a link to this site at the end of this article).
Water
Pretty self explanatory. Allows our shampoo to rinse well and helps give us its jelly-like consistency.
Cocamidopropyl hydroxysultaine | EWG Skin Deep Score: 1
This chemical replaces the surfactants. It's cleansing. Skin Deep (an environmental database) gives this chemical a rating of 1 for generally safe.
There is conflicting evidence that this chemical may cause environmental harm. Since it still receives a good score, I'm okay with this ingredient.
Cocamidopropyl betaine | EWG Skin Deep Score: 1 (when rinsed)
This ingredient is another cleansing agent derived from combining coconut oil and DMAPA (dimethylaminopropylamine). This chemical does have some concerns. Skin Deep gives this chemical a rating of 1-6, depending on usage.
If it's immediately rinsed, which we recommend with this shampoo, it scores a 1 (generally safe and low environmental risk). The concern with this chemical comes in if it's left on the skin.
Decyl Glucoside | EWG Skin Deep Score: 1
Another cleansing agent in this shampoo. This chemical also scores a 1 (generally safe). It's commonly used in products like baby shampoos or formulas for those with sensitive skin.
Our natural hair shampoo base contains less than 1% of each of the following ingredients
DL Panthenol | EWG Skin Deep Score: 1
Stimulates your scalp to support hair growth and scalp health.
Hydrolyzed Soy Protein | EWG Skin Deep Score: 1
This protein softens and smoothes hair while improving shine and manageability of hair.
PEG 150 – Pentaerythrityl Tetrastearate | EWG Skin Deep Score: 1-3
There isn't a lot of data on this particular chemical. But it is considered safe to use in cosmetics, even in food. Skin Deep didn't have much information on this ingredient but after looking at this study1 I feel confident that this ingredient is safe to use in shampoos.
Phenoxyethanol | EWG Skin Deep Score 2 (when used as intended)
This ingredient in our natural shampoo has an EWG score range 2-4 depending on how it's used. Most of this ingredient's concerns are related to being used on and around the mouth.
It gets a 2 rather than a 1 because in one study2 it was found to be linked to allergic-like reactions on the skin. However, I have sensitive skin and have used this shampoo for almost a year without any issues.
This ingredient is used as a preservative.
Polyquaternium – 7 | EWG Skin Deep Score: 1-3
This ingredient is a conditioning agent. EWG Skin Deep cites some studies that have found this ingredient to be an environmental toxin. However, it's not considered toxic or hazardous in the chemical's material safety data.
Rosemary Extract | EWG Skin Deep Score: 1
This natural additive is stimulating and will support hair growth.
Citric Acid | EWG Skin Deep Score: 2
Naturally occurring in citrus fruits, citric acid is used to adjust the shampoo's pH to 5.5 to match our hair's pH.
Peg-7 Glyceryl Cocoate | EWG Skin Deep Score: 1 (due to small amount in shampoo)
This ingredient is a lubricant helping make our hair soft and smooth. It also helps create the emulsion to mix oils and water, making it possible to add essential oils into this shampoo.
EWG Skin Deep gives this chemical a score range of 1-4. There isn't much data for this chemical but it has been tested and considered safe to use in cosmetics.
There is limited evidence suggesting this chemical may have some organ toxicity. But since it's in such a small amount in our shampoo that risk is extremely low.
Is This Natural Hair Shampoo Right for You?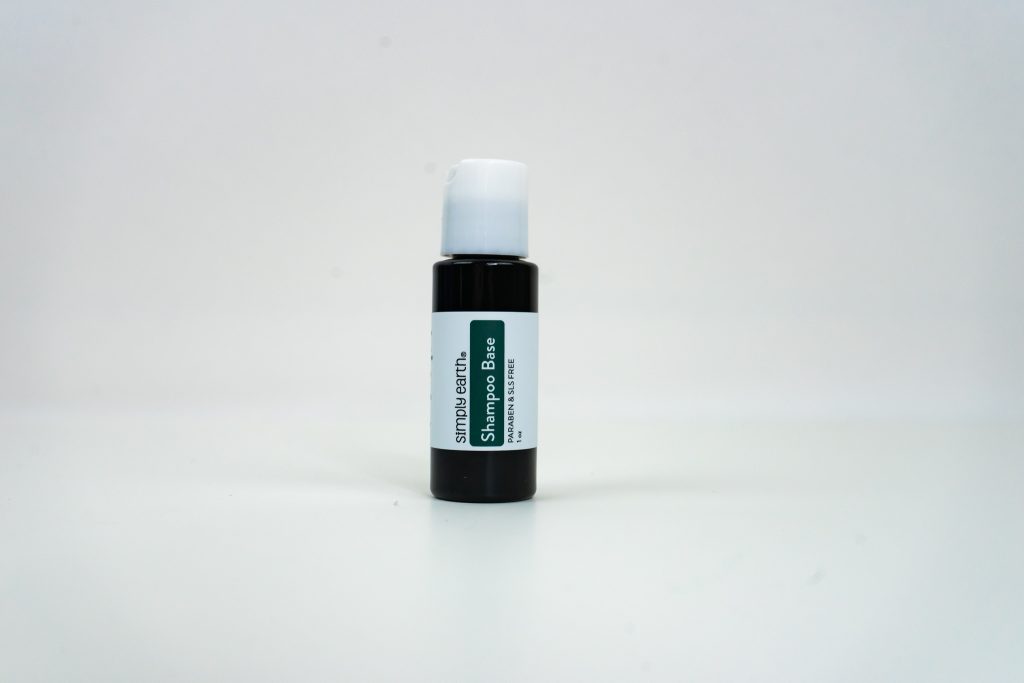 There are a lot of ingredients that need to come together to make a shampoo. Almost all of our ingredients have the EWG Skin Deep Score of 1. That makes this natural hair shampoo pretty remarkable.
I have fine, thin hair and love that this natural hair shampoo has made it easier for me to go longer between washes. In the past, I've never been able to go longer than two days without washing before my hair became a greasy mess.
I encourage you to do your own research to see if this shampoo is right for you.
This natural hair shampoo base is also
Vegan Certified
Kosher Certified
How to Use Simply Earth's Shampoo Base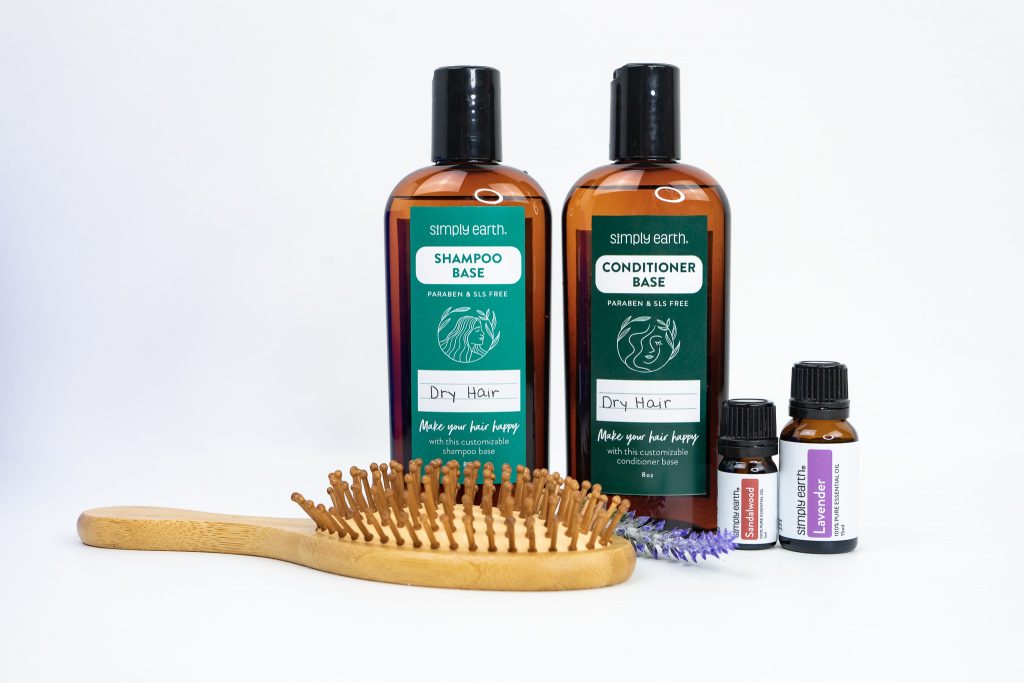 You can use this shampoo by itself or add essential oils or other natural ingredients to it to create a customized shampoo that works for you!
For our shampoo base we recommend adding ingredients up to 0.5% of the shampoo's volume. So if you are using the shampoo in our 8 oz container you can add 0.04 oz (about ¼ tsp) of natural additives to the shampoo.
I love adding essential oils to my shampoo base. It's nice to measure essential oils in drops. If you're wanting to add essential oils, 0.5% is about 23 drops in an 8 oz bottle.
When adding essential oils to the shampoo you can add them directly to the bottle. Our bottles are made from PET plastic which is considered safe to use with essential oils (otherwise essential oils can break down plastics and release harmful chemicals).
Here are some of my favorite essential oil combos and their benefits for our shampoo base.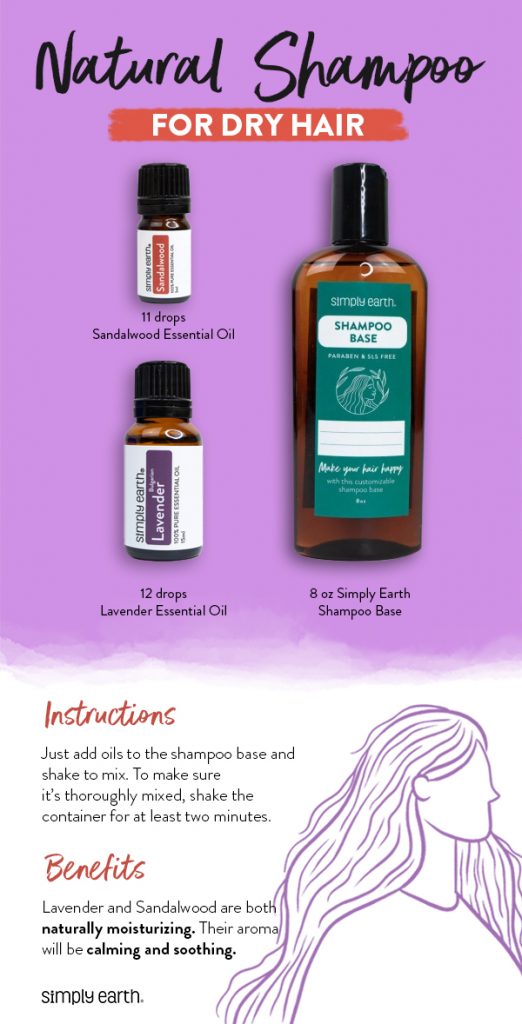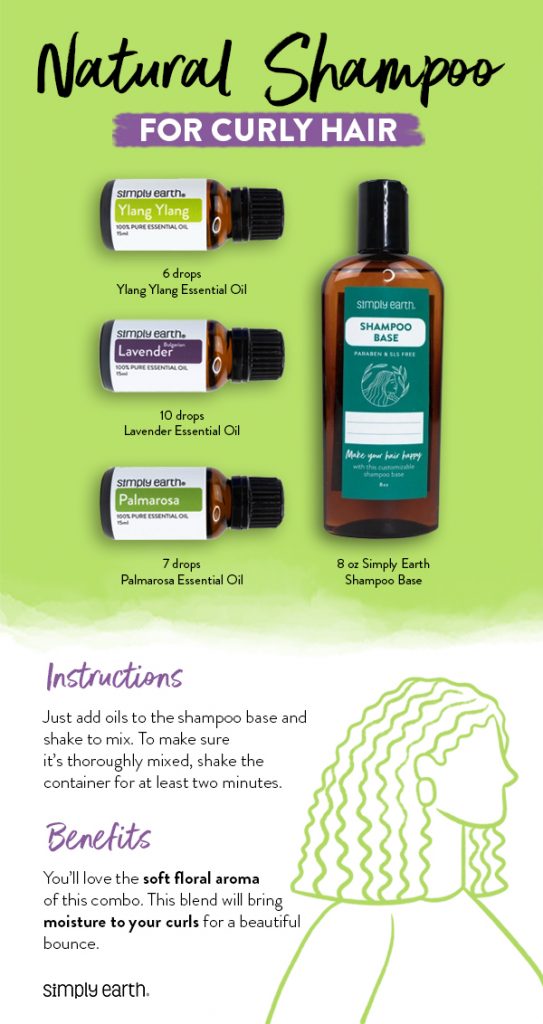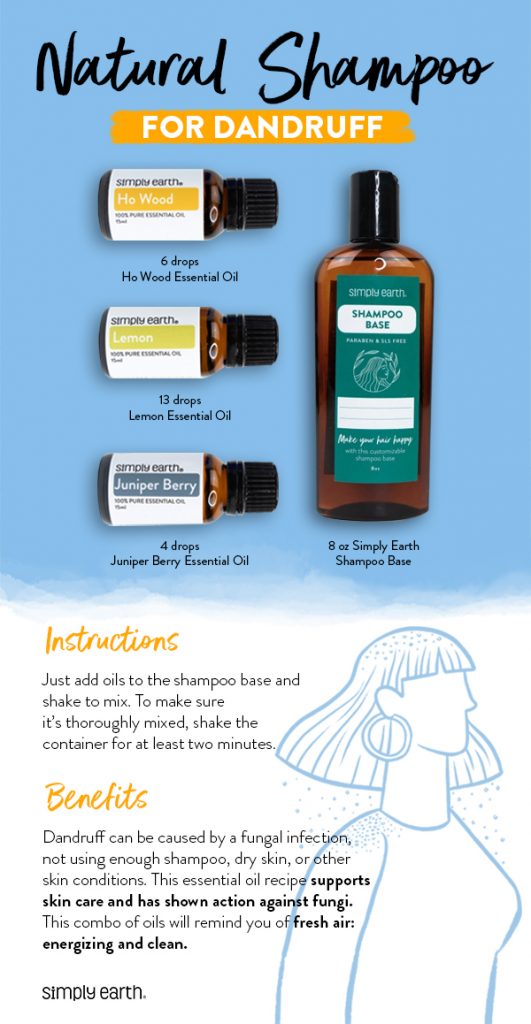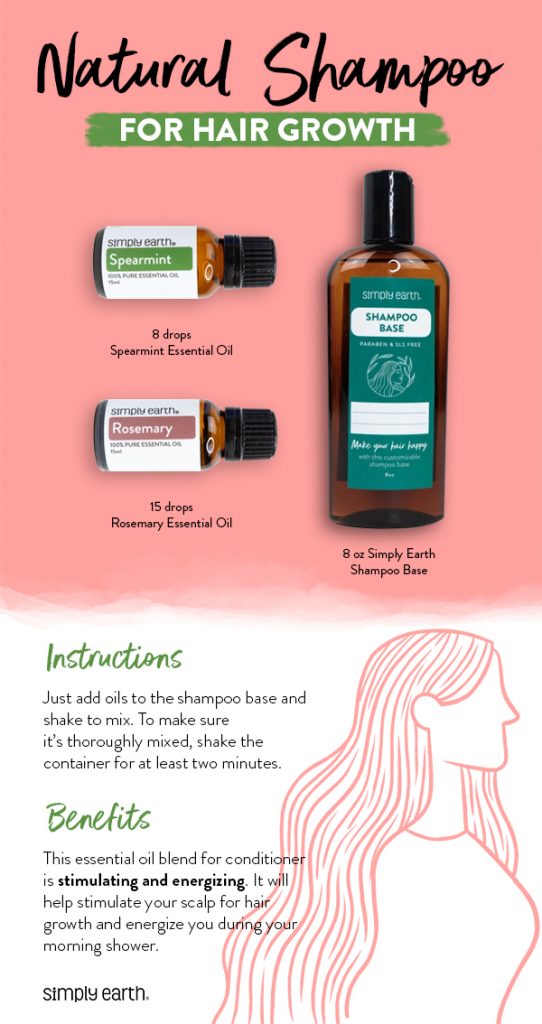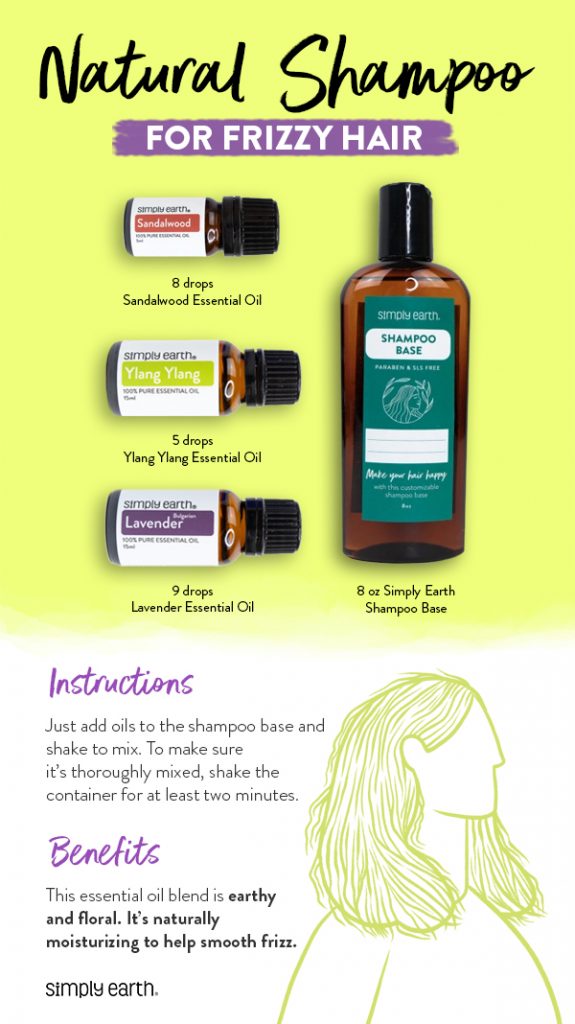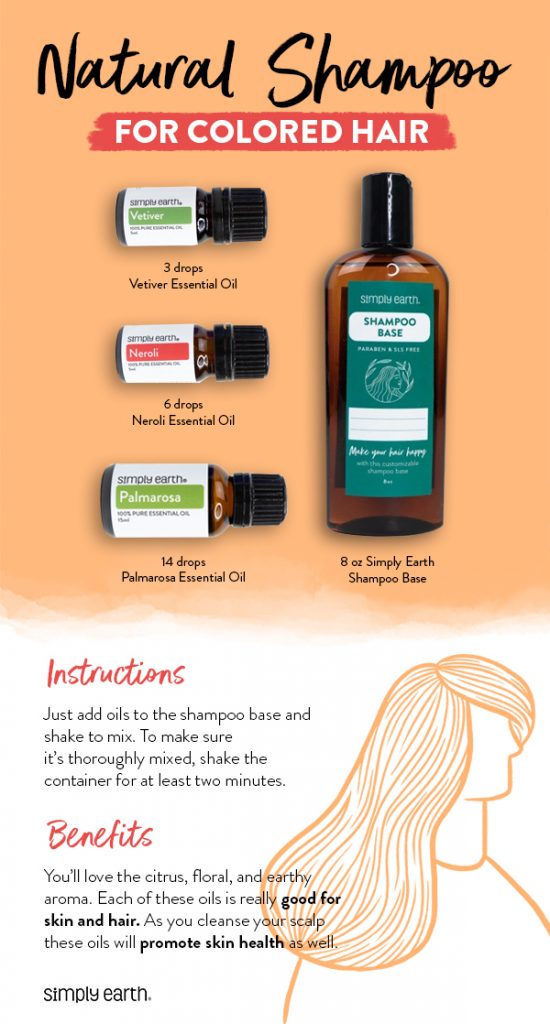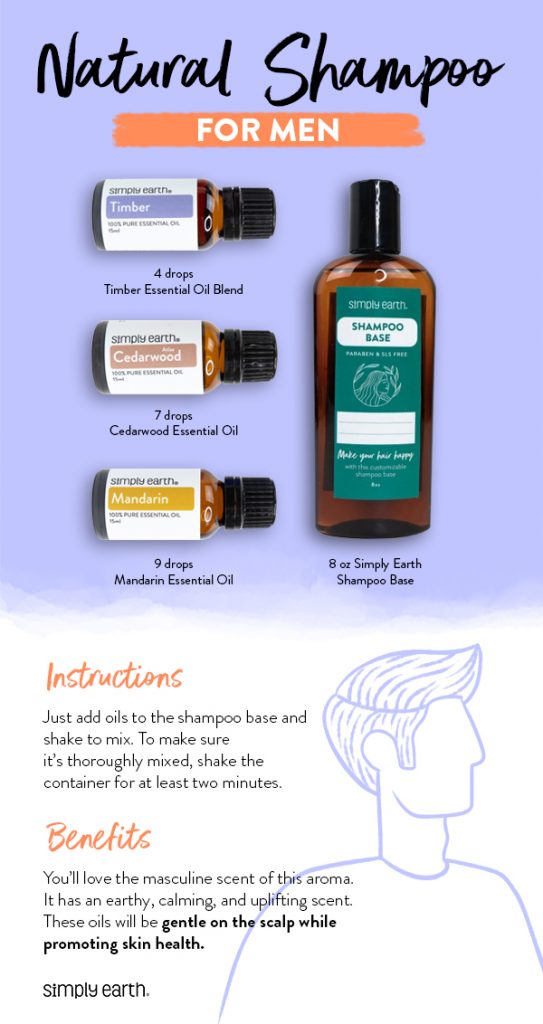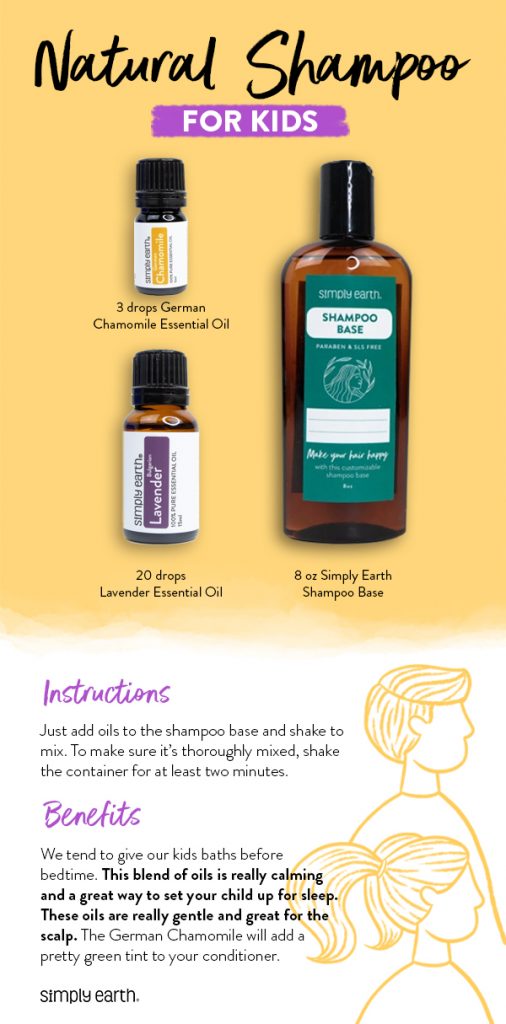 Follow Up With Our Simply Earth Conditioner Base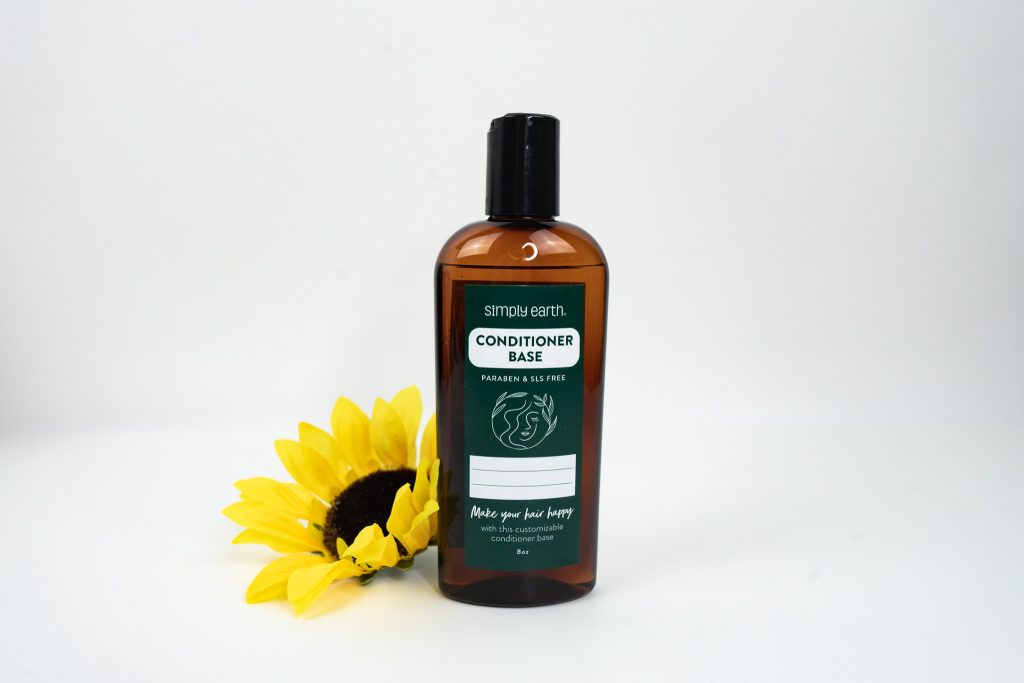 You can add the same oils to your conditioner to get uniform aroma & benefits.

Check out this blog post on our Simply Earth Conditioner Base to see a breakdown of ingredients and more things you can add to your conditioner base.

Please note: This post is a compilation of suggestions made by those that have extensively used essential oils and has not been verified scientifically with clinical tests nor reviewed by medical experts. It is anecdotal information and should be treated as such. For serious medical concerns, please consult your doctor.

---
Things Referenced in this article