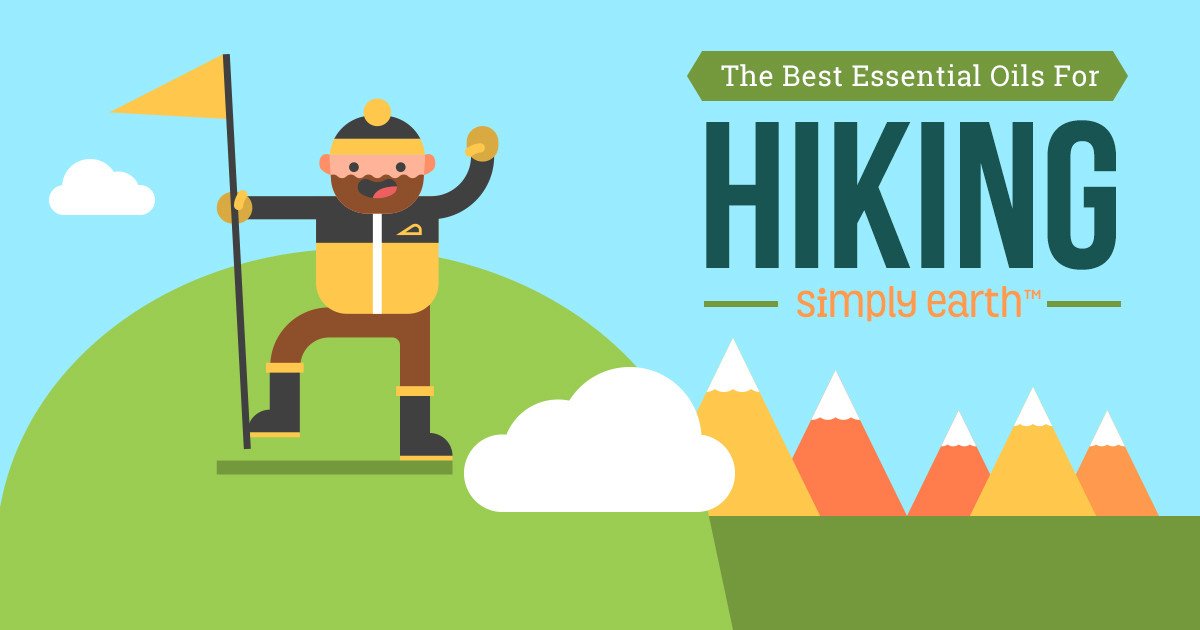 Essential Oils For Hiking
Going on a Hike?
It's finally hiking season after what seemed to be the longest winter. Hiking is a great exercise because you get to get to breathe the freshest air while working on your fitness. You also get to be surrounded with the lush greenery God has blessed us with. You're basically hitting three birds with one stone!
Whether you're just going for the day or staying overnight, essential oils are great to have in hand. They can be used for first aid treatment and to keep the bugs away. Here's a list of essential oils for hiking that will be good to have along.
Tea Tree
Although it is best known to help acne prone skin, Tea Tree Essential Oil has antibacterial properties that can help disinfect wounds, scrapes and even heal bug bites. It can also relieve colds and sinusitis! It's a great alternative for antibiotics as it does not have adverse effects. If you're planning to bring just one oil, tea tree is your best bet.
For bug bites, you can mix 1 teaspoon of any carrier oil of your choice and 1 teaspoon of tea tree oil. You can mix other ones like lavender too.
Citronella
Whenever you go on a hike, there would always be pesky bugs that bother you. Keep them away with the Citronella Essential Oil. It can be applied pure on the skin to repel the insects that can leave nasty marks on you. It's safe for both kids and adults to use.
Make your own insect repellant with 4 tablespoons of a carrier oil of your choice and 50 drops of Citronella Essential Oil. You can put it in a roller bottle for easy application.
Helichrysum
Just like tea tree, helichrysum is a great first aid companion. It can speed up the healing of burns, bruises and minor wounds. Helichrysum Essential Oil is also a great antiviral aid that will help you boost your immunity as it inhibits the growth of bacteria and viruses. You can also use it after your hike to soothe sore muscles and sprains.
To heal bruises and bumps on the go, you can 8 drops of helichrysum, 8 drops of lavender and 2 ounces of any carrier oil in a roller bottle. Roll the bottle between your palms to combine. Use as needed.

Digest Aid
Sometimes, our digestive system just acts up and we get flatulence. Yes, it's not the best thing to have when you've just wanted to go on a hike and marvel at nature's beauty. This special blend from Simply Earth is made with sweet orange, anise, bergamot and German chamomile. It can help you release that gas that has been causing your cramps. Don't worry about that release, nature loves carbon dioxide! 😉
Our Digest Aid Essential Oil Blend is available in a roller. You can apply it to your stomach or take a whiff of it to help relieve your flatulence.
Peppermint
Sometimes, the change in altitude makes us dizzy. Peppermint Essential Oil can help relieve you from that nauseous spell. If it's good enough for pregnant women with their morning sickness, it can help you out too. Peppermint can help soothe the muscles of the gastrointestinal tract so any puking can be avoided with just a little whiff.
When you go on a hike, feeling warm is inevitable. To help refresh yourself, rub a drop of peppermint to your temples, sinuses and the back of your neck to make you feel cooler amidst the heat. You can also use this if you have sore muscles.
Hiking is a great exercise and bonding experience for the entire family or group of friends. Make every minute of it the best with Simply Earth's 100% Pure essential oils.
References:
http://www.stylecraze.com/articles/benefits-of-citronella-oil-for-skin-hair-and-health/#gref