As a mom, I want to have a more environment-friendly home for my family, especially with my 2 daughters. To achieve this, I need to start throwing out all chemical cleaners I used to keep my home clean including the one I use to remove sticky residues on the table, countertops or any mess left behind. Yes, these products are effective but they are really harmful to our environment as well as my family.
Have you ever wondered how to remove sticker residue from stainless steel appliances? Or kitchen tables? Or maybe your walls have been made into a beautiful crayon mural that you aren't sure how to get rid of. With two young daughters, I end up asking questions like that pretty regularly. All of the commercially available sticky-stuff-removers are chock full of nasty chemicals that I won't use around my girls. Finding a "greener" alternative to remove the gunk can be a challenge. That's why I came up with my own sticky residue remover recipe using Lemongrass Essential Oil.
What I Love About This Recipe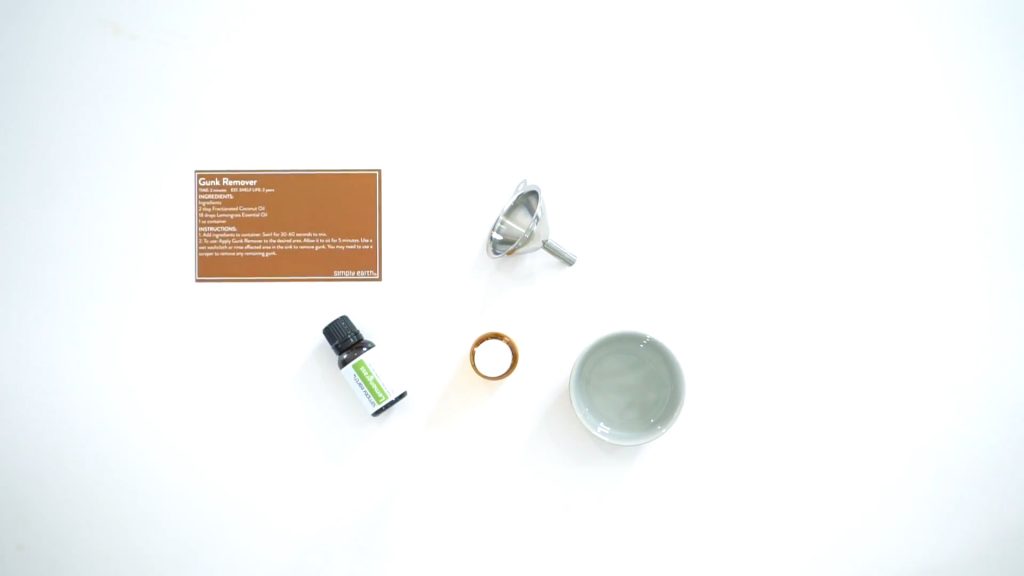 Katie here, I'm a Certified Aromatherapist for Simply Earth. I plan our subscription recipe box. I create and test the recipes you'll find on this blog. This particular recipe is included in our April Essential Oil Recipe Box.
I love this recipe as this is an alternative, non-toxic way to remove the gunk left over from stickers and other sticky things. You can also use this recipe to clean crayon drawings off your walls.
What's in This Sticky Residue Remover Recipe?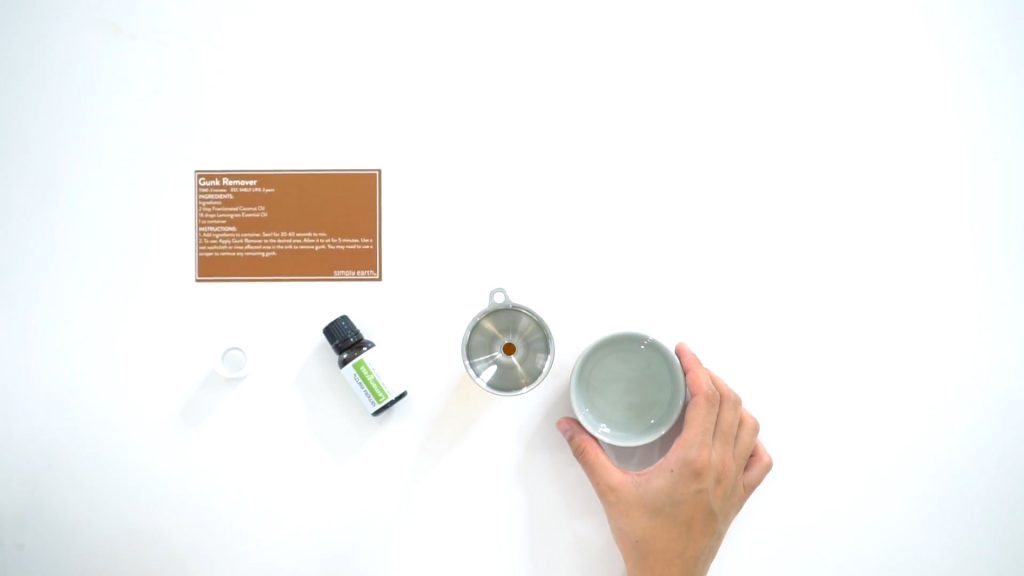 Fractionated Coconut Oil
The most common way to use Fractionated Coconut Oil is to use it to dilute essential oils, whether it's mixed and directly applied to the skin or made into a roller bottle blend. Other uses for fractionated coconut oil: hair conditioner, massage oil, makeup remover, and skin moisturizer. It can also be used in the home as a cleaner and polish.
For this recipe, its purpose is to loosen the gunk.
Lemongrass Essential Oil
Aside from being a natural insect repellant and good for the respiratory system, Lemongrass Essential Oil is a great cleaner. It also leaves the whole house smelling fresh when you use it as a cleaner.
This oil works as the main gunk remover making this recipe effective.

Things to Remember When Using This Sticky Residue Remover Recipe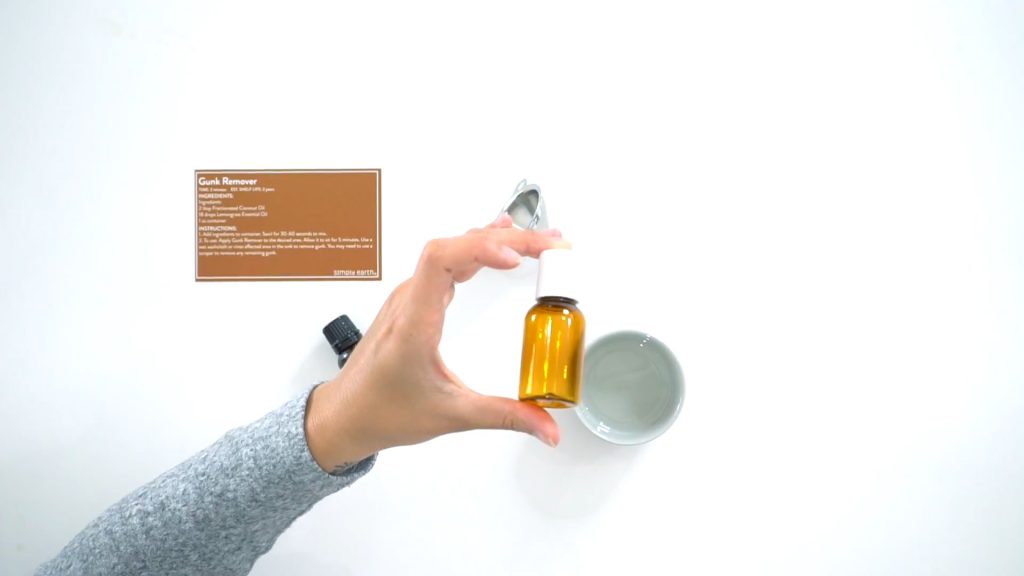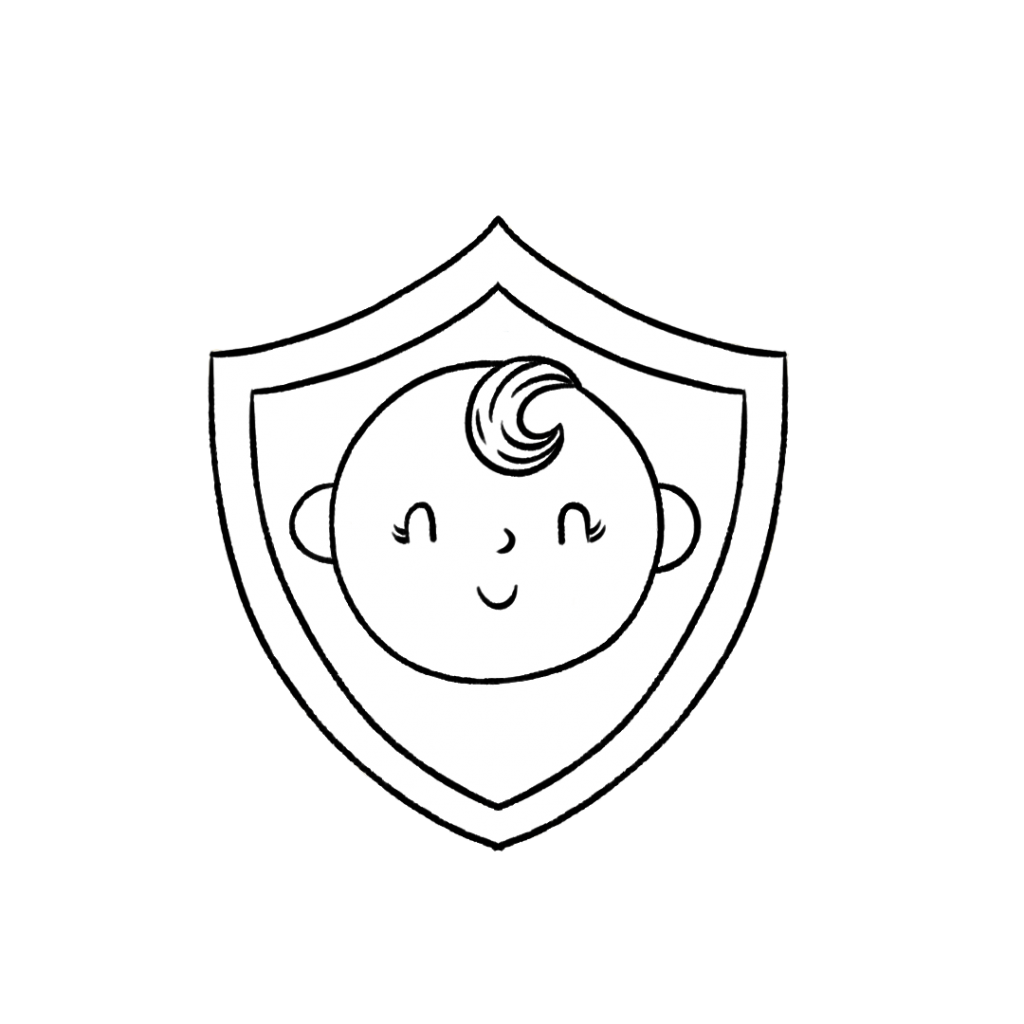 This recipe is safe to use with kids age 10+.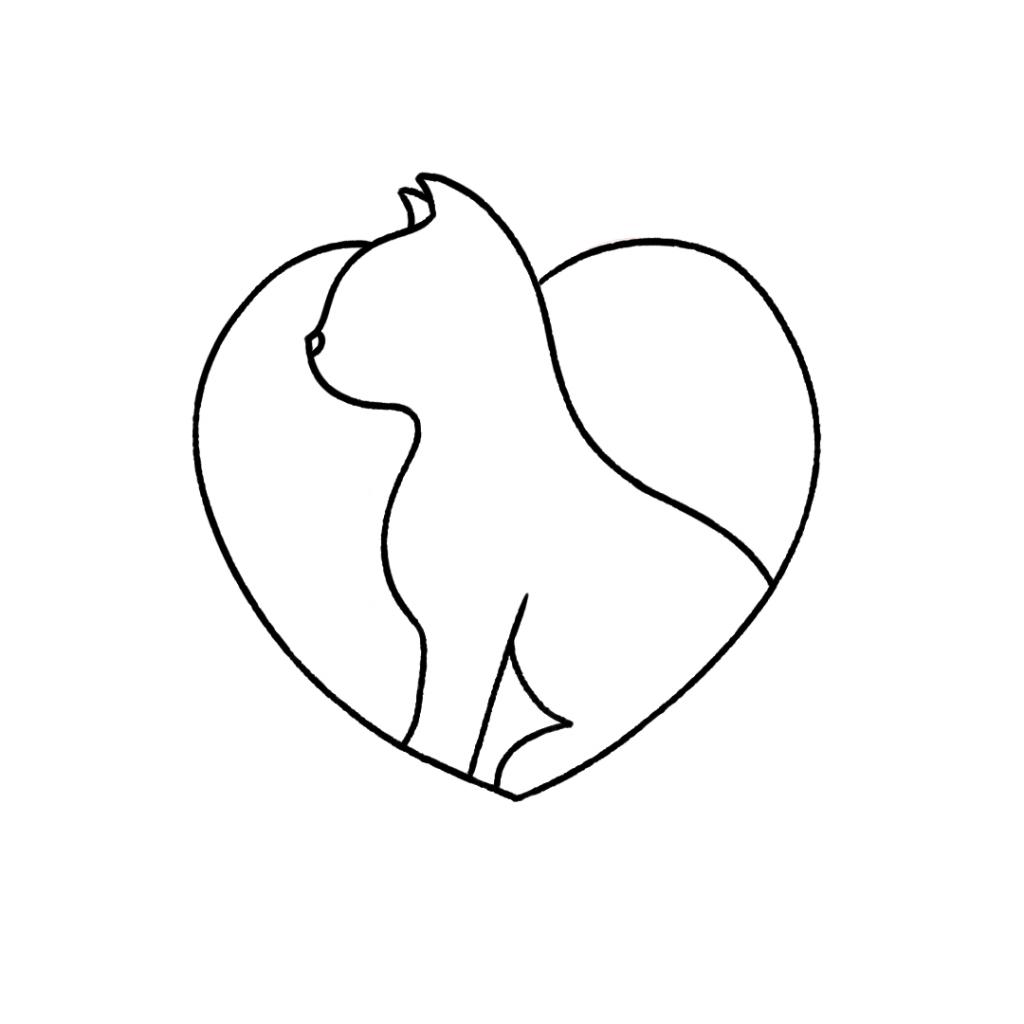 Due to Lemongrass Essential Oil, don't use this recipe around cats. For more information on using essential oils with cats check out this blog post.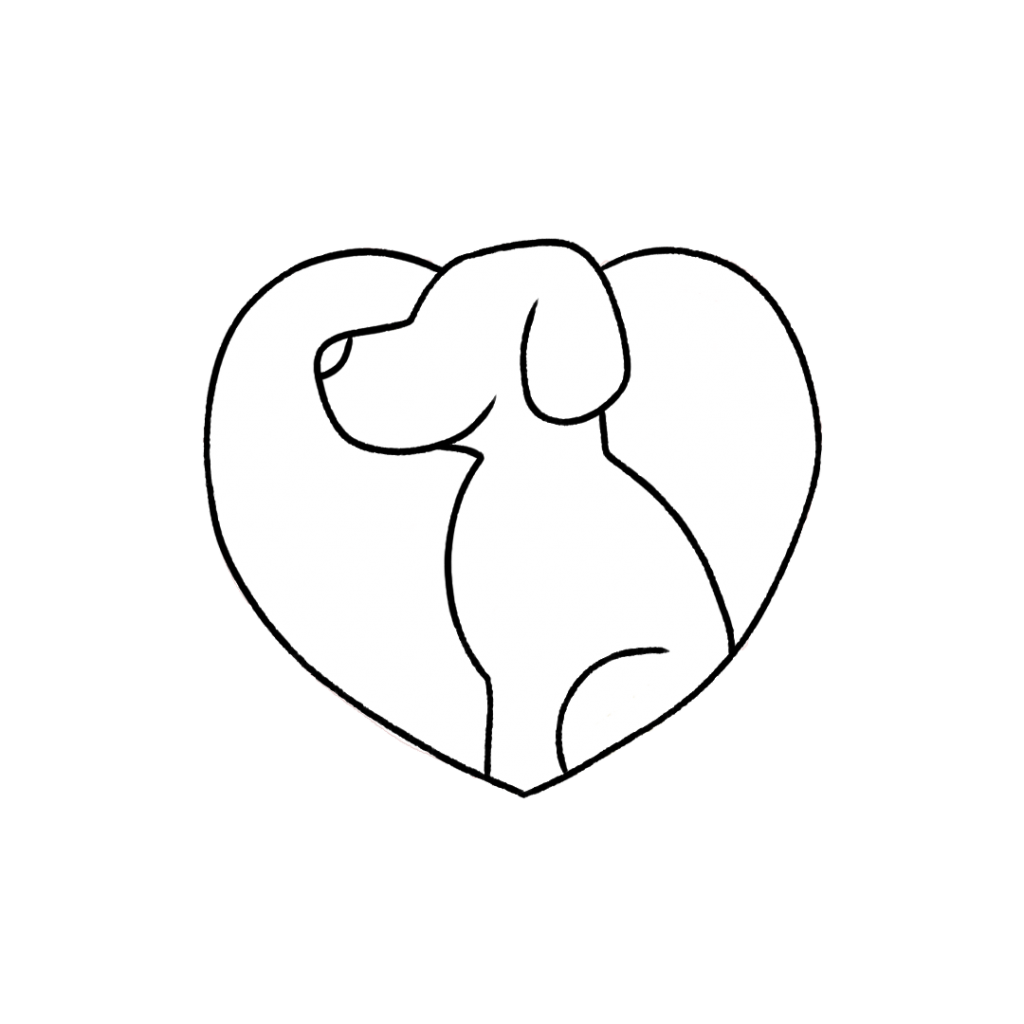 You can use this recipe around dogs. For more information on using essential oils with dogs check out this blog post.
Never ingest any essential oil even if it's regarded as safe. For more information on why we don't ingest essential oils check out this blog post.
"These statements have not been evaluated by the Food and Drug Administration. This product is not intended to diagnose, treat, cure, or prevent any disease."
Please note: This post is a compilation of suggestions made by those that have extensively used essential oils and has not been verified scientifically with clinical tests nor reviewed by medical experts. It is anecdotal information and should be treated as such. For serious medical concerns, please consult your doctor.
Gunk Remover Recipe
Gunk Remover
Est. Shelf life: 2 years
Ingredients
2 tbsp Fractionated Coconut Oil

18 drops Lemongrass Essential Oil

1 oz container
Directions
Add ingredients to the container.
Swirl for 30-60 seconds to mix.
To use, apply a Gunk Remover to the desired area. Allow it to sit for 5 minutes. Use a wet washcloth or rinse affected area in the sink to remove gunk. You may need to use a scraper to remove any remaining gunk.
---
Want to Get More Toxin-Free Cleaning Recipes?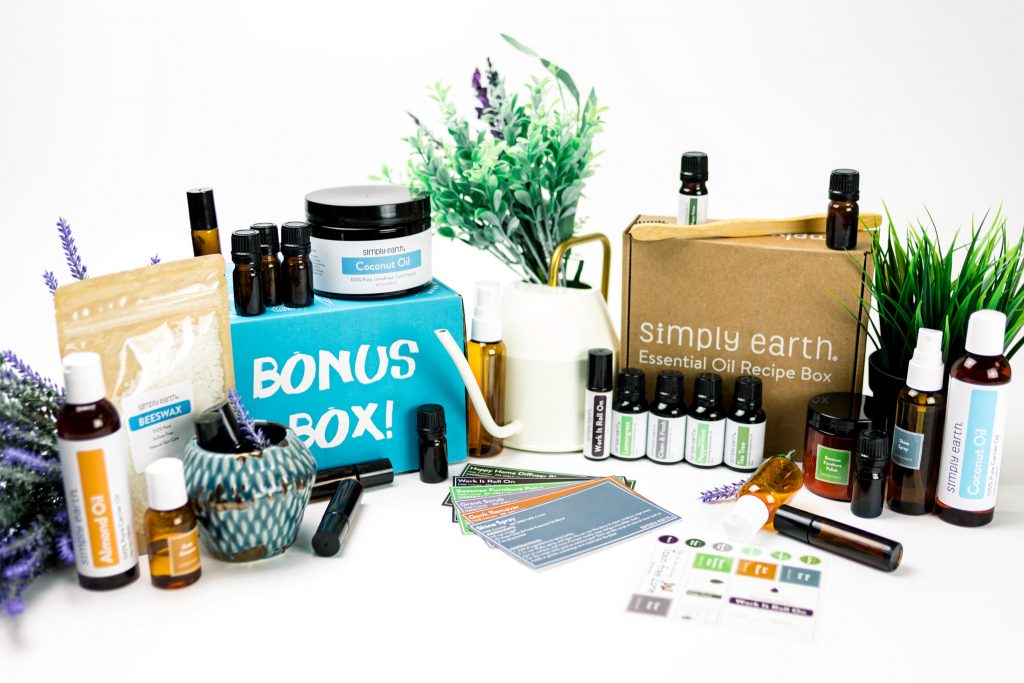 Natural cleaning can be a breeze with the recipes curated with this monthly box! Let us know when you use this gunk remover by commenting below or connecting with us on social media @fromsimplyearth!
Each month, you can receive four full-size 100% pure essential oils, six natural recipes, plus the ingredients you need to make them in our Essential Oil Recipe Box.
With the box, you'll learn new ways to use essential oils and have the peace of mind that you are making your home toxin-free. This month of April, we're focusing on Home Detox. This box is worth over $150 (if priced from the Big Essential Oil Companies). You get all those goodies from Simply Earth for only $44.99 when you subscribe today. 
Subscribe to make your spring cleaning safe and toxin-free!