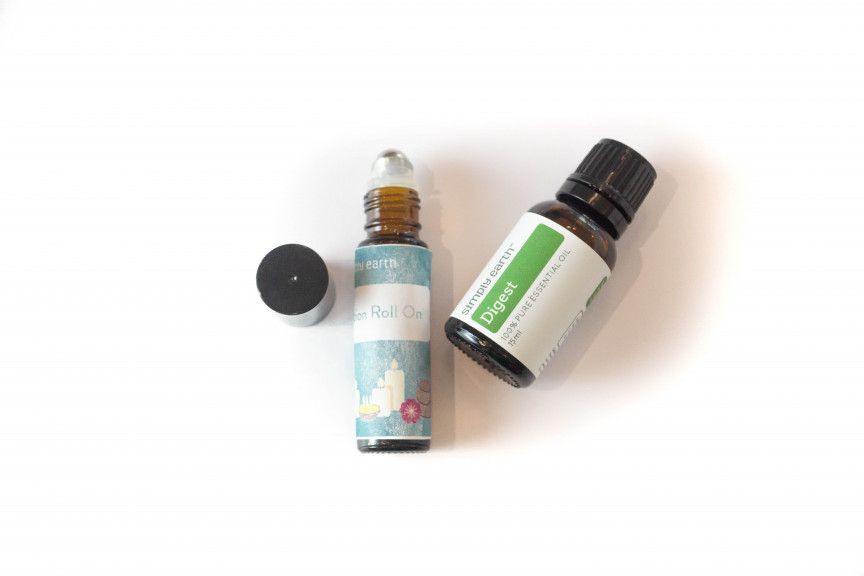 The first time I met my now-husband's parents we went out to eat and then played games. I don't know what it is that I ate, but by the time we were on our second game of cards I knew something was wrong. I felt like there was a balloon in my belly ready to pop. I was scared to go to the bathroom (who knew what would happen there?) and ridiculously uncomfortable.
Well, the memory of that night has not left me. That's why I've gotten so attached to my Digestion Roll On. It's easy to use because it's so small and can easily fit in my pocket or purse, plus it's intensely discreet! It gives almost instant relief for nausea, bloating, and gas when I "accidentally" overeat.
Here's the easy recipe for the roll on! I'm passing my knowledge on to you guys for you and your overeating woes.
What You Need:
What to Do:
Simply add 10 drops of Digest Essential Oil Blend in your roll-on bottle then fill it all the way up with Fractionated Coconut Oil to dilute.
Why I Love It:
Tummyaches come at any given moment. I like keeping this in my daily bag so I can relieve myself when I do get the occasional bad stomach!
It smells great, and it's all natural. No need to worry if there are harmful chemicals in it.
It's in a roll on so it's handy, and I've even given this to a few of my friends. We like eating a lot! 😉
Say goodbye to having bad tummy aches with this roll-on recipe. Make yours with the March Essential Oil Recipe Box.
These statements have not been evaluated by the Food and Drug Administration. This product is not intended to diagnose, treat, cure, or prevent disease.